Technology is supposed to make our lives better, but yet, we are finding that we are feeling more rushed and obsessed with our cell phones and going on social media to see what everyone is up to.
Rather than watching other people live their lives, why not set yourself up for success. Make your life much simpler and take advantage of technology, rather than be abused by it.
I've listed some of my favorite products that have helped me in my life. The items have simplified my life in one way or another.
It is freeing up my hands, time, and mind.
Many of these items I purchased, keeping a minimalist intention in mind. I don't like things that clutter my home. And I love efficiency. So every item listed here has its purpose.
There are many products out there, and the list I am sharing today is only a few of the options out there.
The list of products shared here will help you create a more simplified lifestyle. One that you love and enjoy by allowing you to free up your time and mind.
Keyless Door Lock
Before the advancement in technology, I had purchased a simple keyless door lock. No need to install apps, but it allowed me to carry less.
As someone who doesn't like carrying purses or bags, this allows my hands to be free and less weight on me. Plus, I don't always have to remember my keys.  
It's helped me when I would go for a run around the neighborhood, with no extra weight.
Check out similar locks:
Smart Door Lock
I've installed smart door locks, and honestly, they're cool, but maybe I'm not just that trusting in apps to control my door.  
I have used smart locks on my Airbnb units in the past, and it was helpful when I had to let people in the unit. I would just issue a new pin for every new guest that arrives.
Via the smart lock app, I can even remotely see when my guest's check in or if they left the door unlocked when they check out.
Being able to check the status of your lock through your mobile device is a game-changer! Plus, you can set it so that the door automatically unlocks when you get within proximity, so you don't even need to punch in a pin to open the door.
The downside is that many people are a little concerned about being hacked, and that's one of the reasons why I'm okay with the regular keypad door entryway.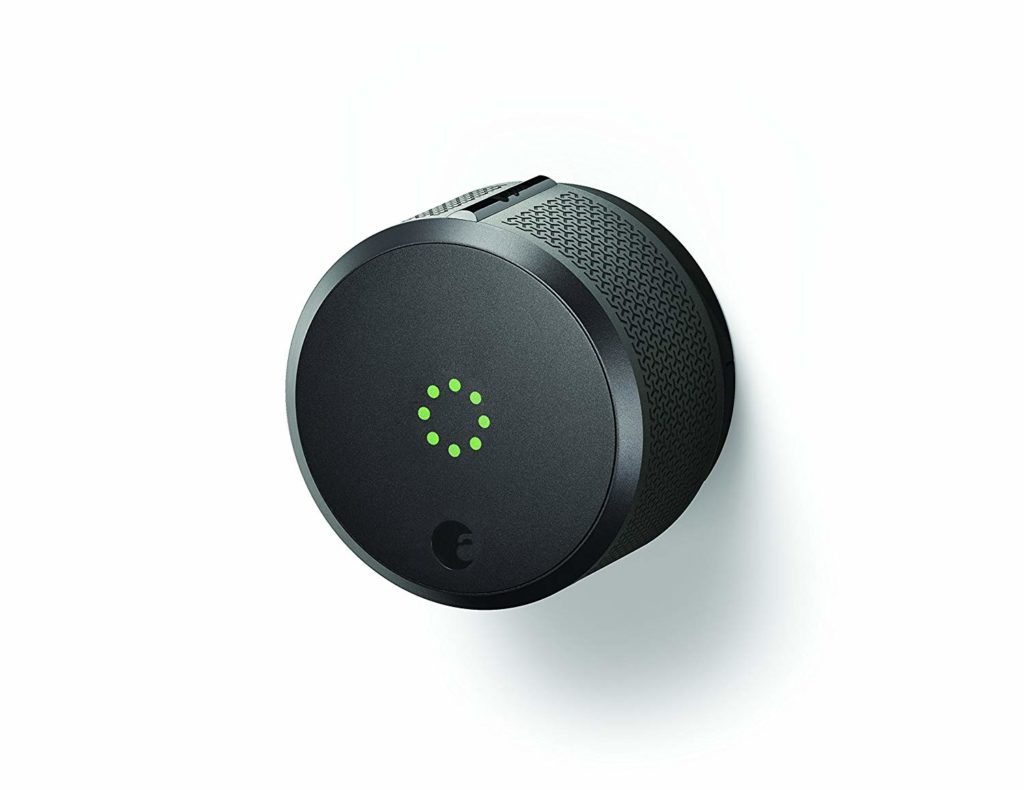 Check out similar locks:
Video Doorbell
Remember when caller ID first came around? I remember being super excited because I could screen my calls.
Well, the video doorbell is like screening your calls, but, this time you can screen the person who is ringing your doorbell, by checking the app on your phone. This technology has been around for some time now. 
You would typically see them on mansions or houses with people with extra money to spend. But now they are more affordable and much smarter.
You don't even need to be in the country to see who is ringing your doorbell. The doorbell connects to your home internet. 
So as long as you have an internet connection on your phone, you can have a real-time chat with the person that is at your door.
This also provides an extra layer of safety. By communicating with the person at the door, they will think you are home.
This can be a great thief deterrent for crooks ringing doorbells checking to see if people are home or not.  
I remember a time when I would run to the front door to answer it in my towel because I ran out of the shower, only to be greeted by an aggressive salesperson that wouldn't take no for an answer.
Those days a long gone, now that I can see who is on my front porch before I decide to rush to open it.
What I also enjoy about a video doorbell is the video footage of the front porch area where I receive my online orders, especially from Amazon, where they leave your package on the porch.
The video doorbell adds security so that anyone tempted to take the package will think twice.
Generally, you'll also save on your home insurance, feel more secure, and add value to your home.
I'm not s huge fan of security camera's all around my home, I don't live like that, but this little feature provides me with security and sanity since I'm not rushing to the front door if it's not an important visitor.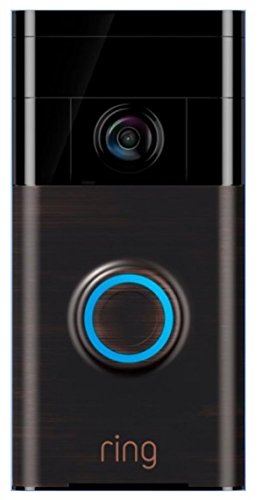 Smart Lights
Using smart lights has made my life simple by merely allowing me to turn them on and off without having to get up. Yeah, it sounds like I'm just lazy, and that could be part of it. 
But, imagine you're carrying all your grocers, which is what I do all the time, I can turn on my lights by giving commands to my google or Alexa.
It's also helpful when I know I have a visitor coming by at the night and my porch light is off, I can turn it on without having to run to the door to do it.
I also enjoy setting different times for them to turn on and off.
I set my living room light to turn on automatically in the evening before we get home from a long day. It also automatically dims at 9:00 PP and then turns off at midnight. 
This is an excellent indicator for bedtime, so I don't sit in front of the TV for too long. I like to hop into bed and read a good book before I go to sleep. 
It also simplifies my life, because sometimes we want a very bright light, but other times we need low light. It may not seem like it's a big deal, but it is a game-changer once you own one of these bulbs. 
I can work more efficiently in the living room with bright white lights on, to set the mood to work. And at night, the living room turns into a relaxing spot, when I lower the brightness setting to a more relaxing atmosphere.
I also enjoy setting different times for them to turn on and off. I set my living room light to turn on automatically in the evening before we get home from a long day. It also automatically dims at 9:00 PM, then turns off at midnight. 
This is an excellent indicator for bedtime. It helps me not to sit in front of the TV for too long. I like to hop into bed and read a good book before I go to sleep. 
These are great options instead of installing light switches. You can swap out your bulbs.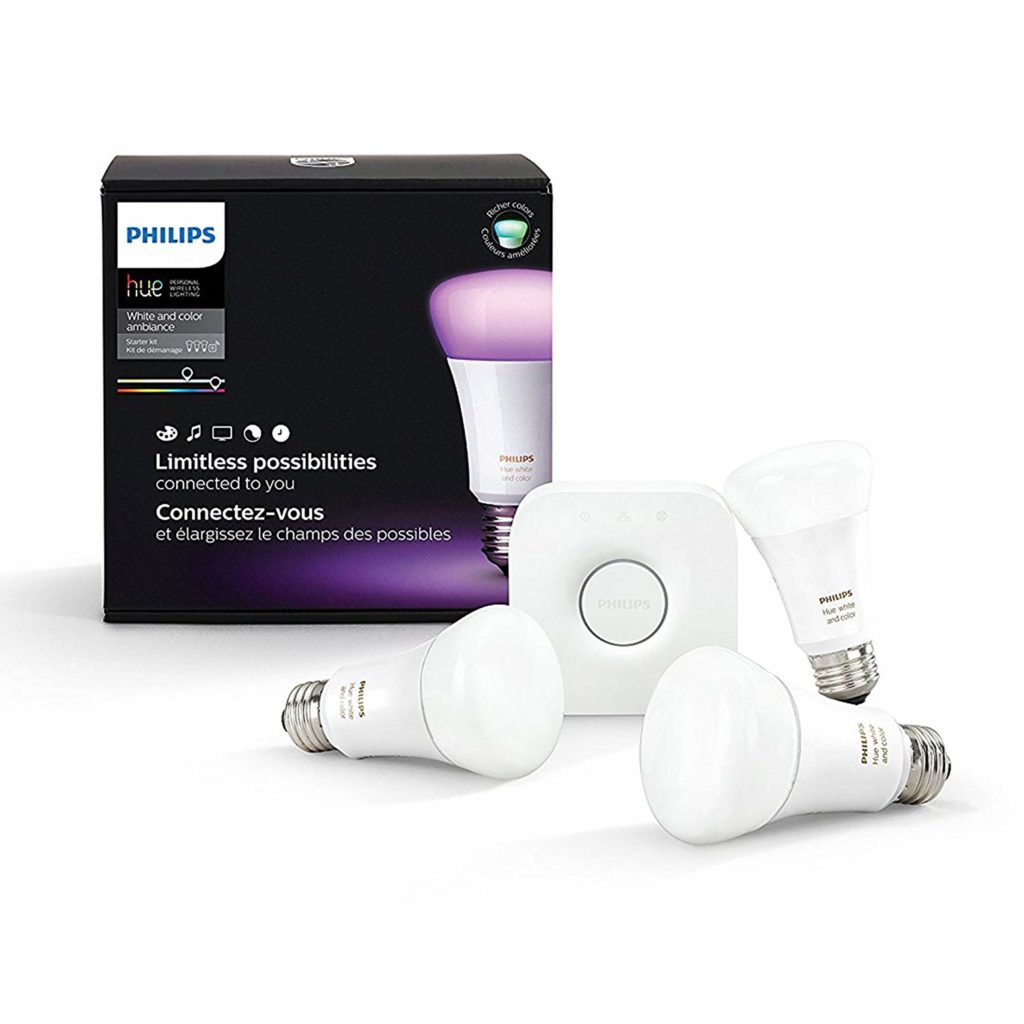 Instant Pot
For the longest time, the slow cooker helped us simplify our life. The idea of having dinner ready when you get home without all the fuss was terrific.
Now with the instant pot, you have the best of both worlds. You can use it as a slow cooker, and you can also use it to make some easy-to-make and delicious meals in a short period of time.
It also simplifies your life with less cleanup, and less worry about having to watch over the food while it is cooking. For the most part, you put all the ingredients in the pot, then set it and forget it.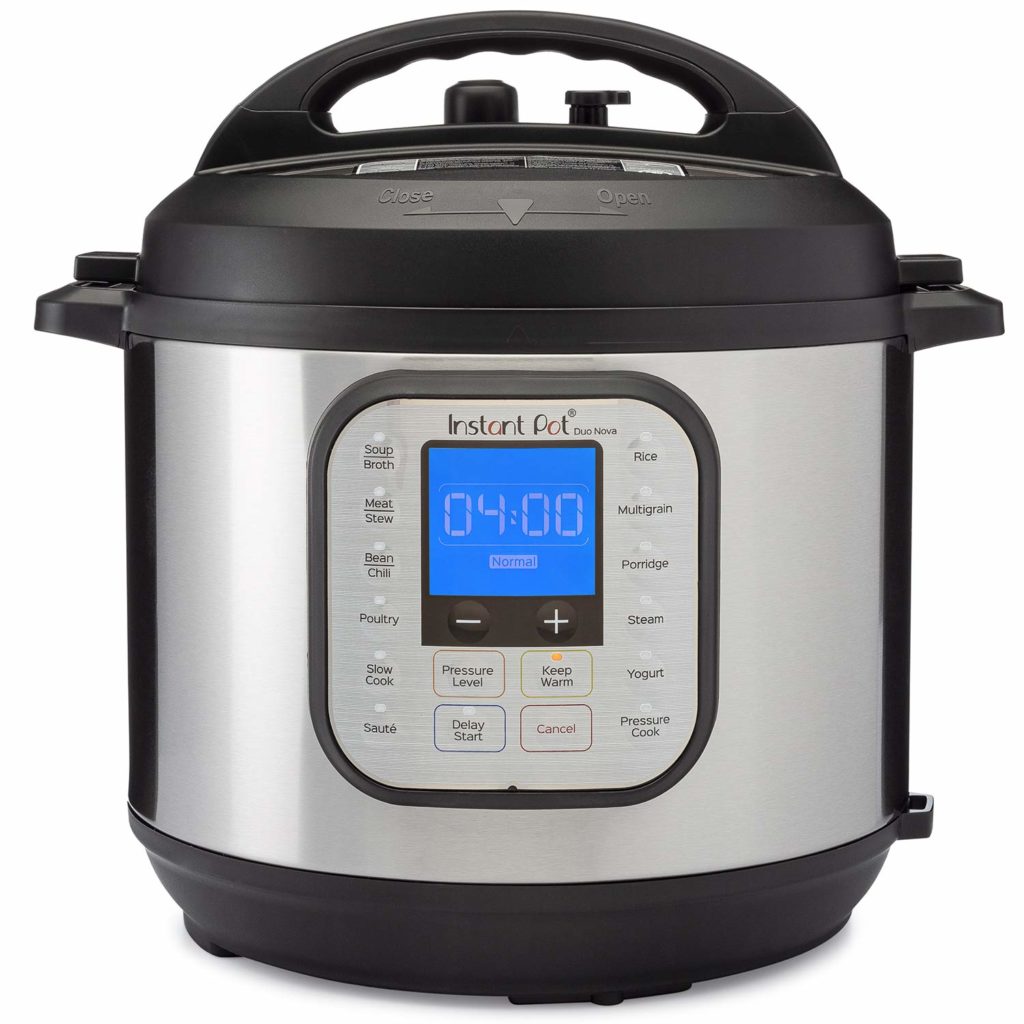 Check out other instant pots:
Echo Show 10 (3rd Gen)
Having someone who knows it all is pretty helpful. I use my echo show to ask it what the weather is like to prepare for the day, and what's on my schedule, and use it to give me step-by-step recipe guides.
I've since upgraded to the google home hub, where I now also use it as a digital picture frame.  
I love pictures, but I also keep like to keep the walls in my home bare, so having a place to host all my photos is excellent.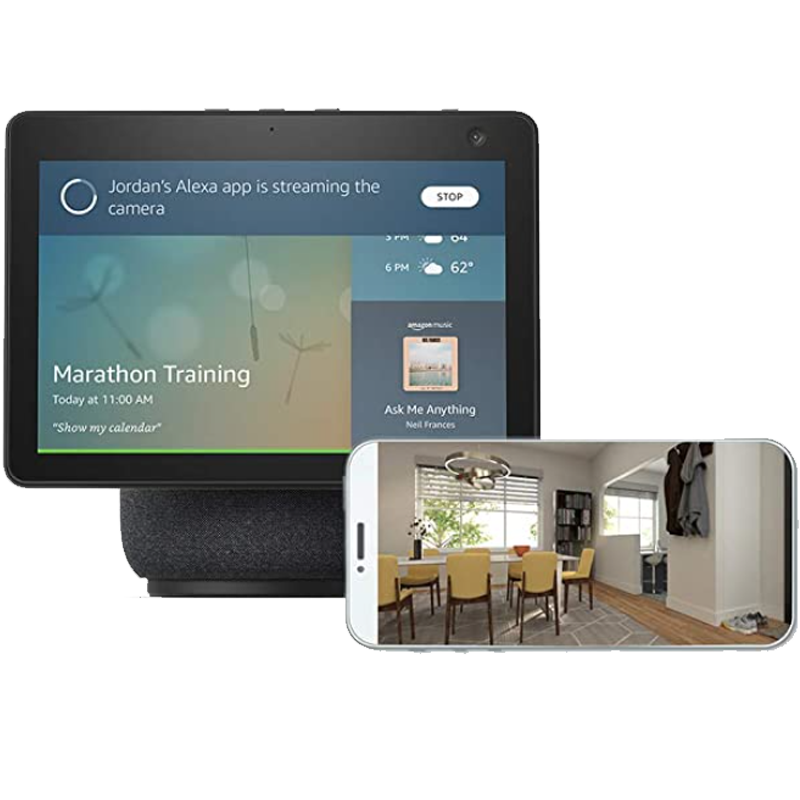 Smart Vacuum
How about a product that pretty much eliminates chores? I don't know many people who enjoy vacuuming.  
Since purchasing a smart vacuum, I love the cleanliness of my home without me having to do any work.
I don't know if it's a psychological thing, but it seems that I love a clean house more and more since I'm not the one doing the heavy-duty cleaning.
What I love about smart vacuums is that you can pretty much set it and forget it. I set the schedule for it to vacuum, but also, I can use the map to set which room(s) I need to vacuum at any given moment.
Dyson Airwrap
This one is controversial, and many people don't find that it is worth the price. And honestly, I could understand. If you're not looking for a blow dryer and curler all in one, then it won't be worth it for you.  
Why I decided to purchase it and why I think it makes someone's life simple is that it is a multi-purpose hair tool.
You have a lightweight blowdryer, a hairbrush straightener, you can get a professional blow-out look, and a curler. The bonus is that it causes way less damage to your hair.
This is how it has simplified my life. I was damaging my hair with my flat iron with its high heat, and then I would have to purchase many products to repair my hair or go to the salon to fix it.
With this tool, my hair maintains its health, and I can add a little style that changes from time to time with ease.
Please note that I am speaking for my hair type, which is pretty straight and smooth. If you have coarser hair and very curly, it will take you longer to straighten your hair if that is the look you are going for.
Wireless Headsets With Active Noise Canceling
This product may be for working-from-home people, but it is also beneficial if you are someone who uses their phone for phone calls.
Whether you are a mom who has to multitask, or maybe you like having your hands free and your neck not hurting from talking on the phone too long. An excellent wireless headset may be what you need.
I use this for work, so I need an excellent headset with a microphone when I talk on the phone or do a meeting online.
I use the Logitech zone wireless headset because I can connect to multiple devices. I can be connected to my computer and also my phone, so if I have to switch it's an easy one.
Smart Thermostat
Installing a smart thermostat in your home can save you money. The reason is that you can set schedules for your heat and air-conditioning to turn on only when you are home. It does not have to run all day.
Yes, you can save without one if you are a more conscious person and change your setting before you leave the house for the day and then turn it on again when you return home.  
But two main benefits of having a smart thermostat are that you don't have to remember to do this since you can set it on your app, and if you do forget, it is okay because you will be able to change the setting on your phone. Or, if your schedule changes, you can easily adjust the temperature on your smart device.
The great thing is that you'll be able to set a comfortable temperature before you even come home.  
Imagine, coming back in the winter, and your home is already set to a cozy temperature because you already have the perfect temperature set in advance.
These features are especially beneficial if you travel a lot. If let's say you are away for a month, you don't have to waste money on your heating/cooling, if you forgot to change your thermostat setting.
You can check it while you are away and control it as well.
Smart thermostats also have multiple zone temperature tracking.
This feature will track all the areas in your home and provide you with the best temperature setting to heat or cool the home.
This is great if you have tenants and trying to regulate the temperature. 
Bidet
Bidets are not usually something Americans use. We typically find them a little odd. They are generally separate from toilets and an extra bathroom fixture.
There are bidets that you attach to your current toilet, which are retrofitted, so you don't have to do any major renovation to your house to own one.  
Also, you don't have to worry about taking up extra space in your bathroom for another fixture, and they are straightforward to install, anyone is capable of doing it.
Using a bidet will save you some money, due to using less toilet paper. If you're concerned about hygiene, you won't have to jump in the shower every time you do a number two.
You can clean yourself up quickly and feel fresh and clean throughout the day.
Plus, you will also save on toilet paper. Due to using less toilet paper, your toilet probably won't get clogged again.
We haven't had a plunger in our bathroom for many years due to this. This is very cool because we have one less eyesore in the bathroom!  
You have a few options. You can either use a toilet retrofit, which is less expensive. Or you can change up your entire toilet.  
Ebook Reader
If you love books, then you should invest in an ebook reader. I love having books with me, especially if you are someone who commutes.
Whenever I have to sit around and wait, I would open up my e-reader and read. It keeps all my books, as well as saves my progress.
For a very long time, I refused to get an ebook reader because I loved physical books, the look, and the feel of them.
But, now having owned a couple of ebook readers, and reading from my phone and tablet. I love my ebook reader, and bring it with me wherever I go.
If you travel a lot and sit around the airlines waiting for your next flight, having multiple books on one device is very helpful.
Smart Blinds
Using smart blinds can save you time in the morning, especially if you are getting ready for a long day. I like to open all the blinds in my home to allow light to shine in, as it gets me going, but it also is vital for the plants in my house.
If you are someone who has plenty of plants in your home, especially in each room, then you must allow the light to come into your home for your plants to grow and survive.
For me, it's a routine to go around each window and pull open the blinds. But, now, with smart blinds, I can remove that chore.
I love it also because when I am not home for a while, I can automate the opening and closing of blinds while I am away to nourish my plants. That way, when I'm not back for a few months at a time, I can still come home, and my plants are healthy. I also don't have to bother someone to go to my home to water them for me.
The blinds opening in my room can be annoying if you enjoy sleeping in, but, on the other hand, it forces you to start your day, and the sun beaming in on you gives you energy.
Using it to wake you up more naturally is also great for your health. Get more vitamin D in your life.  
Bonus for a parent, you don't have to drag your kids out of bed, and you can let the sunshine wake them up; another less chore for you in the morning.
Smart Light Switches
An option for smart light bulbs is switching your light switches to smart switches. I recommend this to anyone who is updating their home.  
One of the benefits of smart light switches is that you have a switch for each room while being able to control it using voice commands and the app on your smartphone.
You may not get the many lighting options that something like the Hue Light bulbs offer, but you will still be able to dim your lights, using these switches.
You can also use regular light bulbs and be able to use your smart switches for other types of light bulbs, rather than being limited to the kind of lights you use.
This means that you can also use them for rooms where you have pot lights installed. There are even switches you can plugin so that you can control your lamps.
Smart Baby Monitors
Having a great baby monitor helps you be more aware but also productive.  
Having a traditional style baby monitor, you carry around with you the device which has the video feed. What is cool about the smart baby monitors is that you use the app on your phone to watch the feed, so you have less bulk to carry around.  
Most likely, you use your phone for other things, so you have one less thing to carry around.
This frees up your time and hands to do other things around the home.
The video quality is typically excellent, so you can feel secure in what you are seeing, and will be able to know your baby's needs even if you are not in the same room as them.
Many monitors also offer night vision, night light, and even sings lullabies to your child.
Another cool feature of the smart monitor is that it's possible to display the video on multiple devices, so there can be more eyes on the baby. If, for example, you work away from home, you can check in on your little ones and feel closer to them.
Nest Smoke Detector
Having a smart smoke and carbon monoxide detector simplifies your life because you have more peace of mind. You will be alerted even when you are not home, through your cell phone.
It gives you alerts if it becomes too smokey in your household. It gives you a heads up let's say if your toast is burning.
It also alerts you when the battery is running low.
Travel French Press Mug
I know there are many of us coffee addicts out there. This one is for you, the productive type-A personality, who cannot go a day without coffee.
The best-tasting coffee is brewed via French press, why because the coffee grounds are emersed in the water, and therefore the oils from the grounds are not filtered out, like in the drip process of how we typically have our coffee.  
This means that you'll have more vibrant, more flavorful coffee, yes, it also means it is stronger.
Now, who does not want that as a coffee lover?
What's another cool feature of this mug is that not only does it make you a delicious coffee, but it also can keep your coffee hot for a few hours.
It is perfect for sipping in the morning, and you don't have to worry about reheating it.
My favorite is the Espro Ultralight, because it doesn't add any weight to what I carry, and it has a tight seal so that I can throw it in my bag and not worry about spilling any contents out.
Conclusion
We all spend our money on different things. For me, where I spend my money is on things that help make my life easy and simple.
If I can take a chore away, which is mundane and doesn't add to my life, then I will invest the money to do so.
I love products that help me be a better person, so I can be productive daily, enjoy life, and spend most of my time spending it with people I love.
I genuinely believe in the products I have shared with you. For me, they make my life sweeter and more enjoyable.
I like to keep things as simple as possible so that I can enjoy life's little pleasures. And I hope they do the same for you!