Picture this: Your patio, that slice of paradise where you unwind, could be as effortlessly clean as your living room. No, we're not talking about hiring a butler named Jeeves. We're talking robot vacuums, the unsung heroes of leisure, making their grand outdoor debut. Imagine never having to swap your margarita for a broom again.
If that thought tickles your fancy—and your funny bone—then you're in the right place. We're about to introduce you to the game-changing gadgets that will elevate your patio from "meh" to "magnificent." Ready to be swept off your feet?
In this article, we'll explore the rugged robot vacuums for outdoor patios and their benefits.
Important Notice:
Although Makita DRC200PT & DRC300Z were designed for indoor use, an environment like a patio is okay as long as it's a dry surface and debris within the machine's clean-up size specs. I found nothing in Makita's warranty section stating that this use case would void your warranty. Also, avoid using devices on patios with loose gravel between the pavers. These machines will suck out your stylish-looking gravel. Moreover, these devices are not designed to be left outside!
#1. Makita DRC200PT (Teal Color Model)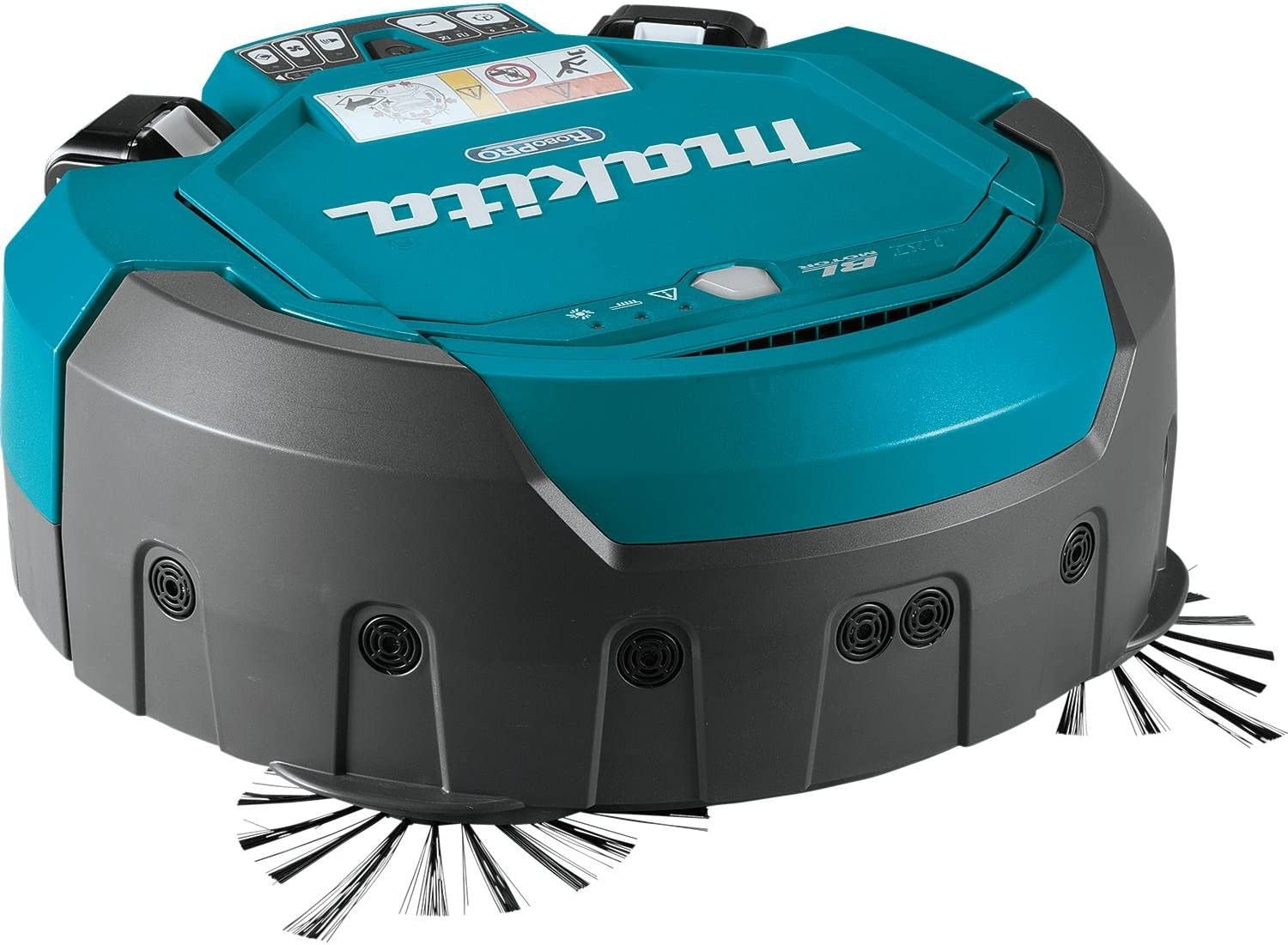 ✔

Cleans approximately 5,380 square feet of hard floor surfaces using two 18V LXT 5.0Ah batteries BL1850B


✔

Up to 200 minutes of continuous operation on hard floors in "main brush Plus vacuum" mode using two 18V LXT 5.0Ah batteries
What We Like:
3-stage cleaning utilizes side brushes, the main brush, and suction to ensure debris is picked up.
Equipped with a large side and large power brushes, great for hard and rugged surfaces.
Very Long run time of up to 200 minutes.
Massive coverage area of 5000+ sq ft.
Optimized brushless motor to conserve battery usage.
Two separate dust-collecting chambers that sorts large and small debris.
Swappable batteries: You don't need to wait for this to recharge just replace the battery as needed.
What We Don't Like:
May get stuck occasionally.
May be overkill based on your use case, especially for smaller patios (Can also be used in garages and workshops too)
Comes with:
Boundary Tape
Wireless Remote Control
X2 18V LXT Lithium-Ion 5.0Ah Battery
High-Efficiency Filter
Why Choose Makita DRC200PT For Outdoor Patio?
Its brushes are designed to effectively remove dirt, debris, and other particles from the surface, making it ideal for outdoor use.
Additionally, the robot vacuum features a unique design that allows the front of the device to lift while it is in motion. This allows the vacuum to easily navigate over small obstacles, but also helps to maintain consistent suction power as it moves over uneven surfaces like deck boards.
This makes it an ideal choice for outdoor patios, which may contain small stones or other obstructions. With its combination of power and versatility, the Makita DRC200PT is the good solution for keeping outdoor patios clean and tidy.
#2. Makita DRC300Z (White Color Model)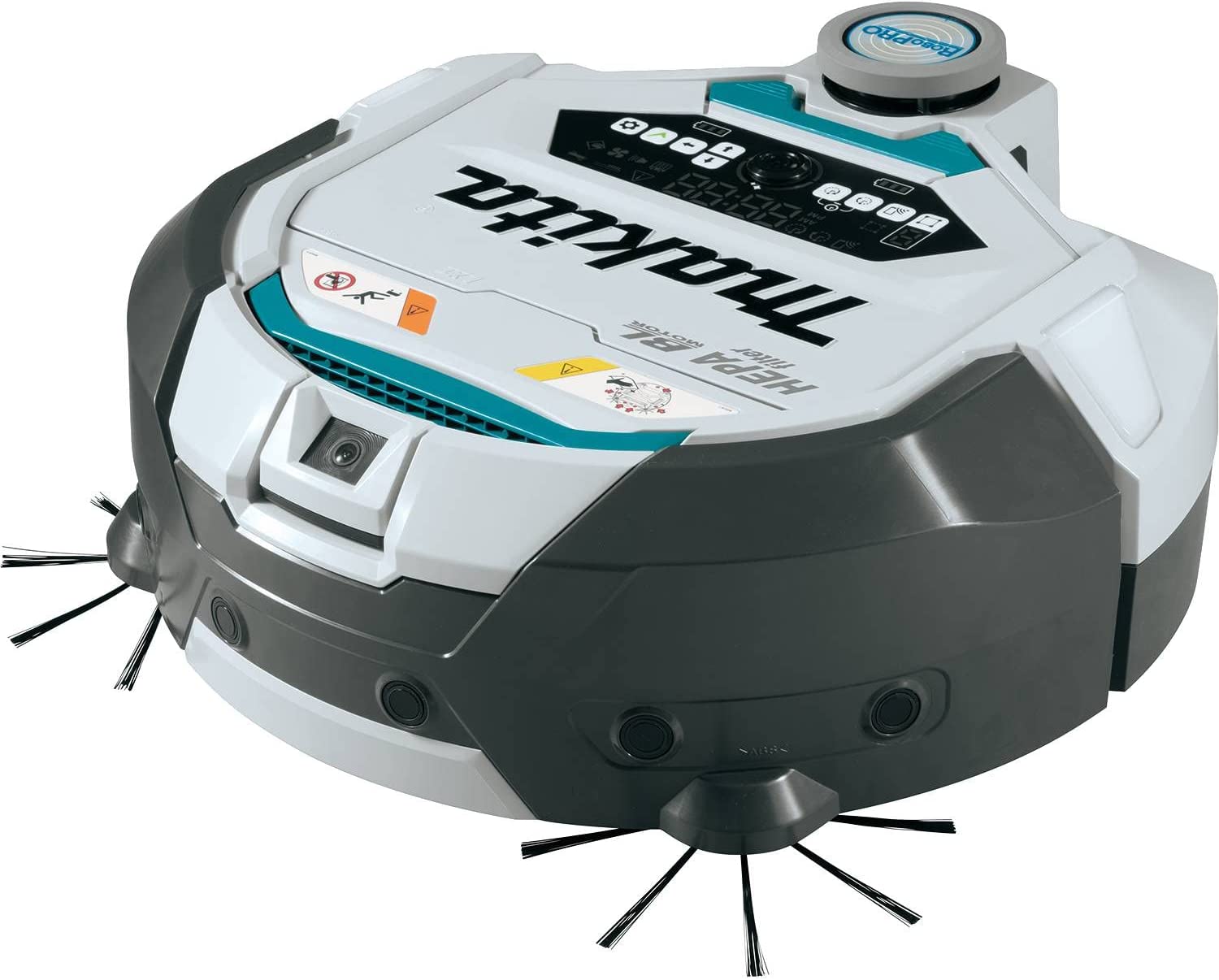 ✔

Innovative LiDAR sensor technology and front camera sensor help to map and save up to 5 rooms totaling over 100,000 square feet


✔

Connects to a smartphone (with dedicated app installed) for smart cleaning


✔

Obstacle detection with six ultrasonic sensors, one bumper sensor, and one
What We Like:
Using efficient laser-based LIDAR navigation technology ensures efficient mapping and navigation.
Huge coverage of around 5000+ sq ft area.
Equipped with advanced sensors along with LIDAR technology to avoid bumping into obstacles.
Use of HEPA filters that helps in collecting micro dust particles. Maybe not as important if mostly using outside.
Almost 3 liters of dust collection capacity.
Commercial grade product and built to last.
What We Don't Like:
Quite costly compared to other robot vacuums.
Battery and charger not included with this model
Why Choose Makita DRC300Z For Outdoor Patio?
This model almost doubles in price due to some key features not offered in DRC200PT (Teal / Greenish-Blue Colored Model).
The Makita DRC300Z is equipped with a game-changing feature called LIDAR. This is a superior navigation technology – a laser navigation system helps the robot vacuum to effectively and efficiently clean without encountering obstacles. If you have a patio with a lot of items, this LIDAR will ensure that your robot vacuum will navigate around obstructions with minimal issues and leave your outdoor patio spotless every time.
Also, this commercial-grade robot vacuum is designed to handle rough surfaces, ensuring that it will provide a thorough cleaning. With its large capacity to collect leaves, twigs, pebbles, dirt, and other particles, you won't need to worry about frequent stops to empty the dustbin.
Which Robot Vacuum To Choose?
When considering a robot vacuum, it is important to weigh the features and cost. The Makita DRC200PT, which is greenish-blue in color, is priced at a lower compared to the white-colored Makita DRC300Z model.
While the DRC200PT may be more affordable, the DRC300Z is equipped with advanced features such as HEPA filtration and LIDAR navigation technology for improved cleaning and navigation, Which may be less important in a patio environment.
So the choice between the two models ultimately depends on your personal needs and budget. However, rest assured, Makita is a trusted brand, known for its high-quality premium power tools.
5 Key Benefits Of Using Robot Vacuums For The Outdoor Patio:
When it comes to cleaning the outdoor patio, robot vacuums can be a great choice. Here are five key benefits of using robot vacuums for cleaning patios:
1. Hassle-free:
Robot vacuums are very easy to use and require minimal effort from the user. All you need to do is turn them on and let them do their job. This makes cleaning the patio a hassle-free experience.
2. Efficient:
Robot vacuums are incredibly efficient. They are equipped with sensors and advanced technologies that enable them to detect dirt and debris, so they can clean the patio more effectively.
3. Cost-effective in the long run:
You don't have to pay someone else – just a one-time investment in a robot vacuum, and you can enjoy its benefits for a long time. On average, robot vacuums are designed to last up to 5-8 years. Imagine, how many times you can use them to keep your patio spotless!
Robot vacuums are usually more cost-effective than manual cleaning methods. They are also usually cheaper to maintain than manual cleaning methods.
4. Versatile:
Robot vacuums are versatile and can be used for various tasks, from cleaning patios to decks to garage workshops and more.
Overall, robot vacuums are a great choice for cleaning the outdoor patio. They are time-saving, hassle-free, efficient, cost-effective, and versatile. With a robot vacuum, you can keep your patio clean and looking its best with minimal effort.
5. Active Time-Saving:
Robot vacuums are incredible time-saving tools. There is very little supervision and intervention for robo vacs to do its job. You don't need to spend hours outside whenever you need to clean the patio.
I'm a big advocate of automating cleaning because time is the most precious resource in the world. Every second that passes will never be seen again!
Automating your cleaning duties is best achieved with robot vacs that are more on the hands-off, autonomous side, which comes at a premium cost.
Recommended Read: Best Self-Emptying Robot Vacuum For Hardwood Floors
FAQs:
Can I Use Robot Vacuums Like Roomba Outdoors?
No, you cannot use an indoor Robot Vacuum like a Roomba on the patio. Robot Vacuums are designed specifically for use on indoor floors, so they are not suitable for outdoor use. The Roomba is not equipped to handle outdoor surfaces, so you may end up harming the robot vac, and you may even lose the warranty.
What Kind Of Debris Can Robot Vacuums Pick Up On Patio?
Robot vacuums can pick up a variety of debris from your patio, including dirt, leaves, pet fur, and even small pebbles.
Photo altered by simplelifesaver.com | Photo attribution: Collov Home Design