This post contains affiliate links.
Ever since I removed all my carpets and installed hardwood, I've been on the lookout for the best automated cleaning solution with minimal intervention. I'm not a stranger to robot vacuums, I've been through many over the past few years.
Let's face it; automation is only fully achieved once you get a self-emptying robot vacuum. The 3 self-emptying robot vacuums I listed below pretty much kick the pants off anything you can find online today.
I know it's a big claim to make, so I challenge you to find better ones. Keep reading to find out why these 3 self-emptying robot vacuums get the Simple Lifesaver golden seal of approval.
In A Hurry? Check Out Our Top Picks In The Chart Below:
| | | |
| --- | --- | --- |
| [Editor's Pick] | [Runner Up] | [Budget Pick] |
| Roborock S7 Max Ultra | Ecovacs Deebot X1 Omni | Dreamtech W10 Robot |
| Check Price (on Amazon) | Check Price (on Amazon) | Check Price (on Amazon) |
Key items to look for before buying a self-emptying robot vacuum:
Easy to obtain parts and consumables: Robot vacs are getting more advance and more costly to own, so before I invest in one, I like to check Amazon for replacement parts.
Return to base to wash cleaning pad: If you're buying a robot vacuum that also has mopping make sure it has the ability to return to the base to wash its cleaning pad. Over the several years of owning robot mops, I've witnessed them leave a white haze on the floor if the mopping pad is not cleaned frequently.
Long-lasting battery: This is a vital feature. If your bot vac cant store enough juice to complete the job, it will need to make several trips to the base to charge. This extended cleaning time can be annoying.
Strong suction power: If you have carpet in your home, good suction power is essential. For a robo vac to pull all the embedded debris out of your carpet, it will need good suction power.
Best Hands-Off Solution (Main) – Roborock S7 Maxv Ultra:
The Roborock S7 Maxv Ultra is the best option when it comes to one of the best self-emptying vacuum cleaners. With an auto mop washing and self-empty/self-refill system, it gives you the best hands-off cleaning experience for your home.
I have to say I'm a bit biased when It comes to the Roborock S7 Maxv Ultra. This robot vac is as good as it gets when it comes to a hands-off cleaning solution. The price tag does reflect its feature-rich capabilities.
Key Features:
It has a mapping and programming feature that keeps track of its cleaning.
mop washing and self-empty/self-refill system
You can adjust the mopping and vacuuming power according to your requirements.
It comes with app connectivity which is easy to navigate.
It has good suction (5100 Pa) and a smart AI obstacle avoidance feature.
Zone cleaning, I can send the robot vac to select areas in my home without doing a full clean.
The smart object avoidance will navigate around items left on the floor.
What I Like:
The first thing I like the most about this robot vacuum is that it will clean all surfaces without any intervention. If it detects carpet when it's vacuuming and mopping your hardwood floors, it will lift its mopping pad and just vacuum the carpet. It works well on all floors, not just hardwood floors, making it to the top of my list. It will mop and clean the hardwood floors gently without getting stuck.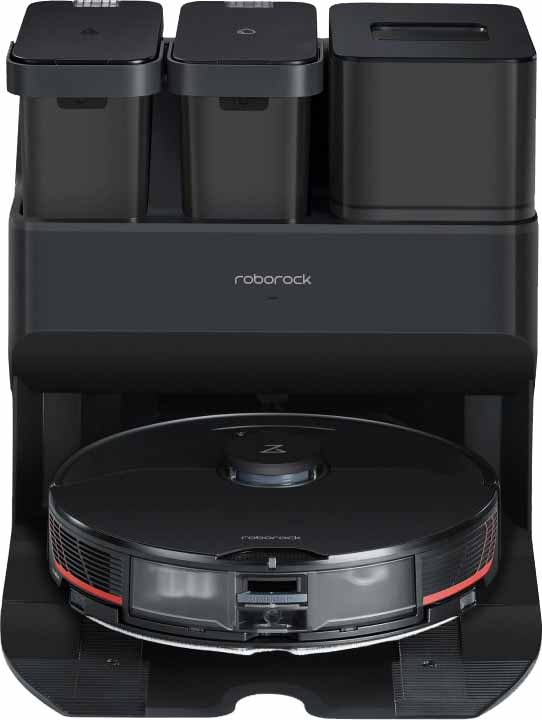 Whether you have kids or pets that make the hardwood floors dirty, just set up the scheduled cleaning, and it will do its job without any hassle.
The next best thing about this robot vacuum is the long battery life. So even if you want to deploy this robot vacuum in a big room, it should be able to do its job flawlessly.
This robot vacuum cleans and mops at the same time. Moreover, it returns to the base to wash the cleaning pad every 250 – 350 sqft (which you can adjust) and thus cleans, staying fresh during the entire cycle, and does not leave a white haze on floors.
What I Didn't Like:
The smart AI object avoidance does not always detect cords on the floor. But that said, let's face it, no robot vacuum can give you the ideal results 100% of the time.
Another small thing I noticed is that the dustbin that comes with the robot vacuum includes a packet that needs to be changed. I wish Roborock would have considered this aspect and would have included a reusable dustbin.
This is not really a dislike but more of a wishlist item. I wish it came with an area to connect a waterline and drain line so I wouldn't have to keep filling and emptying the water containers. This would be a game-changer!
Who Should Get This Product?
If you want to keep your hardwood floors pretty much spotless and free from dirt and paw prints, – the Roborock S7 Max Ultra is the perfect match for you. The Roborock S7 Maxv Ultra is pretty much the Rolls-Rolls-Royce of robot vacuums, and the closes thing to a total hand-off solution.
>> Check the current price here (on Amazon)
---
Mid Range Runner Up – Ecovacs Deebot X1 Omni
Another self-emptying robot vacuum that is relatively a bit less costly but still has some great features is the Ecovacs Deebot X1 Omni.
Key Features:
It has a dedicated voice assistant.
AI object avoidance technology is present.
It also comes with a security camera. 
Its maximum suction power is 5000 Pa, and comes with a 3L dust bag.
What I Like:
One of the best things about this robot vacuum is its ease of use and maintenance. Secondly, the mobile app is also quite simple to connect, and the overall setup process is easy. 
Moreover, the mapping feature of this robot vacuum works great. Since it also has a camera, you can see the house's condition anytime over the internet. 
What I Didn't Like:
If you have a mixture of carpet, hardwood, and other hard surface floorings, it will not go over the carpet when it's in mopping mode.
The base station feels a bit larger and considerably heavy. And as with the previous model, price is still a concern because this robot vacuum is also one of the top-end models on the market.
Who Should Get This Product?
Comparing this Ecovacs robot vacuum model with the Roborock, the differences are not that significant. For instance, the Roborock has a suction power of 5100 Pa, while the Ecovacs Deebot has a suction power of 5000 Pa. 
In terms of battery life, there is a tie between both robot vacuums. Also, both of them are feature loaded with self-emptying functionality, a self-cleaning mop, a camera, and more.
But Roborock does have more features, like a bigger built-in water tank and lifting technology that allows the robot vacuum for better performance around the carpets. So overall, if you have the budget, Roborock is surely the right choice, and a robot vacuum that is worth the price. 
But note that Ecovacs has a better overall design and looks than the Roborock. Also, it's slightly less costly than Roborock.
>> Check the current price here (on Amazon)
---
Budget Option – Dreametech W10 Robot
The Dreamtech W10 Robot is an intelligent self-emptying robot vacuum that costs less but offers mopping and vacuuming functionality and other features.
Key Features:
It has 4000 Pa suction power and comes with a 6400 mAh battery.
It has a unique D-shape, enabling more efficient cleaning of the corners.
It also has an obstacle avoidance feature and is compatible with Alexa.
And it is equipped with a four-liter large clean sewage tank.
What I Like:
The cool and sleek design that can add a modern touch to any setting is the first thing I like about it. The mapping feature also works quickly. 
Also, it's simple to empty the dust canister. Although the vacuum's suction power is not as great as the previous two models we saw earlier; it's still decent enough to pick up dust particles and dirt from hardwood floors and carpets.
What I Didn't Like:
It's a bit loud, especially when pad cleaning occurs, and you may not enjoy it at times. Also, the mopping pad could have been better, but overall, it does its job without any major issues.
Who Should Get This Product?
If you have a tight budget and are looking for a self-cleaning robot vacuum that mops and vacuums simultaneously, this product is the right pick for you.
>> Check the current price here (on Amazon)