Like most floor cleaners, The Bissell CrossWave comes with its own cleaning solution. However, branded solutions tend to be expensive, with the costs adding up over time. Most Bissell CrossWave owners are probably wondering if they can use other solutions, such as bleach, instead.
You can use very diluted bleach or other mild cleaning solution in your Bissell CrossWave if you don't mind sacrificing the warranty agreement that comes with your product. If you'd like to redeem the warranty, it's best to use the branded solution instead.
In the rest of this article, I'll go over what the Bissell CrossWave cleaning solution is made from along with the optimum solution mix if you decide to use bleach. I'll also go over other alternatives that you can use in your Bissell CrossWave.
Bissell CrossWaves can get gross and smelly, so after you finish reading this article, I highly recommend you check out our guide on how to clean & maintain the Bissell CrossWave. You can thank me later! 😉
Can I Use Bleach in My Bissell CrossWave?
You can use bleach in your Bissell CrossWave as long as you dilute the bleach to an appropriate level. Keep in mind that this solution may not be ideal for all parts of your home and can end up staining some surfaces. For more information on this, read our article on safely using a Bissell CrossWave on different floor types.
Whenever you use bleach, it's best to dilute it no matter what you plan to do with the solution. Undiluted bleach is a pretty toxic substance and can damage certain surfaces.
However, even when diluted to the appropriate level, bleach can react poorly with some surfaces. The interaction can lead to damage or 'bleaching', so the surface changes color. 
For example, bleach should never be used on hardwood as it can warp and decolor the wood. So if you're working with hardwood, consider using a different cleaning solution. 
Additionally, you shouldn't use bleach on the carpet as it's also absorbent. You won't be able to get every little bit of the product back out of the carpet, and any dye that's in it could be bleached away. Then you'll end up with patches of discoloration.
However, if it's your Bissell CrossWave that you're worried about, you can rest assured that bleach won't damage it. So long as the bleach is diluted, there are no components in your CrossWave that the solution can damage.
Can Bissell CrossWave be Used Without Cleaning Solution? [Water Only]
You can use just water in the Bissell CrossWave if there's not much grime on the floor or carpet and you'd like to give it a quick rinse. Keep in mind that you'll be spraying only water across the floor, so it won't clear out much debris or dirt if there's any.
Using just water in your Bissell CrossWave won't harm it and is the only alternative you can get away with if you want to keep the warranty. Remember, that water won't do much in terms of cleaning. 
Your Bissell CrossWave is designed to work with a cleaning solution and water to rinse. With just water, you'll miss out on the whole 'clean' effect and end up just rinsing your surfaces.
Useful Tips:
Bissell CrossWave's are amazing for removing dirt and debris on hard surfaces. But what if I told you there is a better way to keep your floors debris-free without lifting a finger?
Ever since I purchased a robot vacuum, I seldom take my Bissell out of storage. All I do now is set the bot vac's cleaning schedule to every other day, and the floors remain flawless. It is truly a hand-free cleaning experience when using a robot vacuum.
Can You Use Pine-Sol in the Bissell CrossWave?
You can use Pine-Sol in the Bissell CrossWave as long as you ensure that you're only using the solution on recommended surfaces. It's crucial to remember that using Pine-Sol will forfeit your warranty as it isn't an official Bissell cleaner.
While Pine-Sol is considered a multi-surface cleaner, there are still some surfaces it shouldn't be used on. Some of these surfaces include aluminum, copper, and marble. 
There are two ways to use Pine-Sol – diluted and concentrated. If you're trying to disinfect a surface clearly, you'll want to use Pine-sol straight out of the bottle and rinse it off after allowing it to sit for several minutes.
However, a concentrated solution won't work with the Bissell CrossWave, as there would be too much leftover residue. To use this product in your Bissell Crosswave, you'll want to dilute it down to the point where it no longer leaves visible residue on your surfaces after you're done.
Can You Use Mr. Clean in the Bissell CrossWave?
You can use Mr. Clean products in the Bissell CrossWave. Before using the solution, be sure to check whether the Mr. Clean product you select is safe for use on the surface, you're cleaning. Some are only meant for non-permeable surfaces, such as vinyl, while others are multi-surface. For more tips on maintaining your cleaning appliances, don't miss our essential maintenance guide for robot vacuums.
Can You Use Zoflora in the Bissell CrossWave?
You can use Zoflora in your Bissell CrossWave. Keep in mind that Zoflora isn't the most effective cleaning solution and was made to be a disinfectant, not a cleaner. As such, zoflora isn't the best option when it comes to removing dirt.
Although you can use Zoflora, this solution is artificially scented, and some people may be averse to the fragrance. If you have pets at home or someone with an overly-sensitive nose, you should probably consider a different cleaning solution.
Benefits of Using the Original Bissell CrossWave Cleaning Solution?
The main benefit of using the Bissell CrossWave cleaning solution instead of a homemade mix is that you get to keep your warranty. Some users also claim that the brand solution is more effective in reducing the streaks and visible residue on the floor.
When you purchase your Bissell CrossWave, it comes with a warranty that you'll only be eligible for if you follow their conditions. One of these conditions includes only using the specialized Bissell CrossWave cleaning solutions in your machine.
If Bissell finds out that you've used other solutions in their product, you won't get a replacement cleaner even with the warranty. Instead, you'll have to purchase a new machine with your own money.
The second benefit of using the Bissell cleaning solution is that it's formulated to work well with the Bissell CrossWave. 
While the cleaner is designed to remove as much solution as possible from the floor, some residue will remain. However, the Bissell CrossWave cleaning solution has been specially designed to leave very few (if any) streaks, so even if some of the liquid stays on the floor, you won't have to worry about stains.
Another advantage of using the Bissell solution is that there's a clear guide on which surfaces you can use it on, and you won't need to experiment. If you use bleach instead, you'll need to be more careful when choosing which surfaces to put the solution on to ensure you don't accidentally stain something.
The Bissell Multi-Surface Floor Cleaner solution has only six ingredients: water, alcohol alkoxylate (emulsifying agent), linear alcohol ethoxylate (wetting agent), methylisothiazolone (preservative), benziosthiazolone (preservative) and fragrance.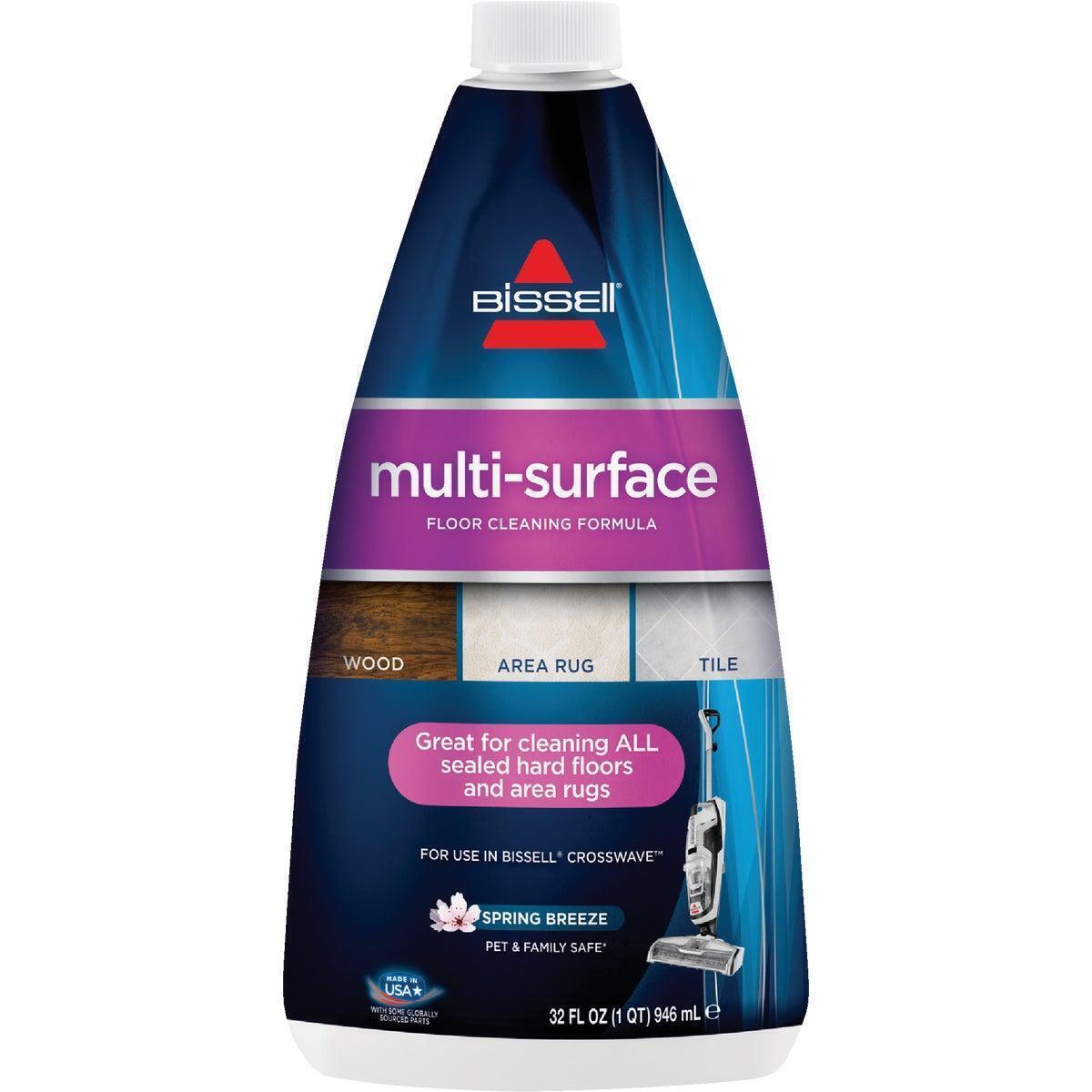 ✔

Dissolves dirt, grime, and tough sticky messes.


✔

Leaves a virtually streak-free clean.


✔

Formulated with a spring breeze scent.


✔

Safe to use on sealed hard floors and area rugs.


✔

Formula made for all BISSELL CrossWave and SpinWave machines and safe for use in JetScrub Pet Carpet Cleaners.


✔

Safe to use around kids and pets when used as directed.


✔

Bissell also has a Pet-friendly Multi-Surface cleaner that can be found here
Is Bleach an Effective Cleaning Solution?
Bleach isn't such an effective cleaning solution as it was initially made as a disinfectant and works well as one. You can only use bleach on certain surfaces, like vinyl, so it's not a versatile cleaner. If you want to remove dirt from your floors, it's best to use another solution.
Typically, when cleaning a floor your goal is to remove dirt and grime, not to sterilize the floor as you would in a hospital. While bleach can work as a cleaning solution, it's not effective at separating dirt from the surface so it can be washed away. Instead, it'll sterilize the debris. 
Another thing to keep in mind is that bleach can't readily be used on every type of surface and can stain and even damage certain floors.
If the surface is porous, like wood or carpet, it'll likely absorb the bleach, which in turn could lead to staining. Viny is the only surface you can be sure that bleach won't adversely affect, as it's non-porous and made for humid climates. There are several other cleaners, homemade and store-bought, that'll clean your floors better without running the risk of damaging them. 
I don't think most people realize how corrosive bleach is and what it can do to things like plastic. Here is another recent article I wrote that discusses using bleach in a plastic spray bottle.
Homemade Bleach Solution for Your Bissell CrossWave
If you're still adamant about using bleach, there's a certain mix you want to create with it before putting it in your cleaner.
When making your bleach solution, you'll first want to check whether the bleach has already been diluted. If it has, you need to ensure you aren't adding too much water and diluting the solution even further.
You only need two ingredients to make a homemade bleach-cleaning solution:
Note: Don't mix bleach with any chemicals other than water, as you risk setting off a chemical reaction that could be dangerous. Additionally, remember to use gloves when you're handling bleach, so you don't accidentally burn your skin.
The typically recommended ratio for household cleaning is ½ cup (64 g) of bleach to 1 gallon (4.55 L) of water. This mix should dilute the solution adequately to ensure you don't burn yourself or others. Even so, it's best to keep the area ventilated during and after cleaning so no one is exposed to bleach fumes which can inadvertently damage your lungs.
Bissell CrossWave Cleaning Solution Alternatives
If both the Bissell CrossWave cleaning solution and bleach don't sound like good options to you, there are other choices out there.
Generic Floor Cleaner
Perhaps the most common alternative cleaner for the Bissell CrossWave is a generic floor cleaner at any supermarket.
The Bissell solution tends to be pretty expensive, and many families can't afford to regularly spend that much on a floor cleaner when there are cheaper options available.
When you go to pick a floor cleaner for your Bissell CrossWave, read the packaging and ensure that it's safe to use the solution without have to wash it off. Some floor cleaners need to be washed off after being applied, or they might leave a visible residue.
Vinegar Solution
Homemade vinegar solution is another great alternative for those who want to use products lying around the house. 
The benefit of using vinegar is that it also has disinfectant properties but is a lot safer to work with and less abrasive. Vinegar can be used on nearly any surface as long as it's diluted properly. It's even safe to use on carpets.
If you decide to go with vinegar, you'll want to mix it in the same ratio as you would with bleach. That's approximately ½ cup (64 g) to every gallon (4.55 L) of water. And just like with bleach, check to see if it's already been diluted before you mix it with water.
Castile Soap
Castile soap is an interesting recommendation by many homeowners who have found it to be effective. This soap is intended for use on the skin. It is useful when you need to break through oils without damaging the surface you're using it on.
To make this solution, simply add liquid Castile soap to a bottle of clean water. There's no official measurement to this, and it'll likely take some trial and error to figure out what ratio will clean your floor without leaving any residue behind.
You can even add a few drops of essential oil to this solution if you'd like your floor cleaner to have a pleasant scent.
Baking Soda and Castile Soap
If you like the idea of using castile soap, but you feel like you need a little more oomph to clear up a mess at home, a combination of baking soda and castile soap will do the job. 
Baking soda will work with castile soap and enhance its ability to break down oil and grease. This combination makes for an excellent choice if you've ended up spilling an oily or greasy substance on your floor. The mixture should help separate the oil from the surface so it can be washed away.
A good mix of baking soda and castile soap would be approximately 1.5 cups (354.88 g) of water mixed with one tablespoon of liquid castile soap (14 g) and 2 tablespoons (28.3 g) of baking soda. The most crucial thing to remember is that you should always add twice the amount of baking soda as castile soap. 
Just like the previous castile-soap solution, you can add some essential oils or products to this mixture to add a scent. 
Ensure that whatever you add is dye-free, so you don't stain anything with the solution. Once you've added all your ingredients, shake the bottle, so everything mixes together well. Before you fill your Bissell CrossWave with the solution, allow the mixture to settle, so it isn't foamy.
If you love cool home hacks, here's a recent article I wrote on dishwasher hacks.
Alternative Floor Cleaning Solutions (Hands-Free)
Although the Bissell Multi-Surface Floor Cleaner kicks butt as a floor cleaning solution, I've since upgraded to more of a hands-off floor cleaning solution.
Robot vacuums have come a long way and can be a great alternative for specific cleaning tasks. If you're considering investing in one, our article on whether robot vacuums are worth the money can offer some valuable insights.
Some might call it being lazy, but I call it valuing my time and reallocating my time-savings (the time I would have spent cleaning the floors) to something else. To me, Bissell has always been a trusted source when it comes to cleaning. But did you know Bissell also makes a 2-in-1 Robot mop and vacuum?
There is still a bit of manual intervention when using the above Bissell bot vac.
In my opinion, the holy grail of hands-off floor cleaning is the Roborock S7 MaxV ultra. Don't let the price shock you, this robot vac is pretty much Rosie from the Jetsons. If you don't get the reference- Rosie is a cleaning-obsessed robot maid character in a futuristic cartoon.
Just like your Bissell CrossWave, robot vacuums also require regular maintenance. For tips on how to clean and maintain a robot vacuum, consult our essential maintenance guide.
A few lifesaving features
Self-cleaning mop pad
Self-emptying dirt bin
Scheduled cleaning
Zone/spot cleaning (I use this feature every day after I feed my son, love it)
Remote cleaning (for the days when you're not home and you have that unexpected guest drop by)
Avoids objects (This thing is amazing at avoiding kid's toys and animal waste on the floor)
Tangle-free vacuum brush roller
The Roborock S8 Pro Ultra: Cleaner Floors Without the Need for Harsh Chemicals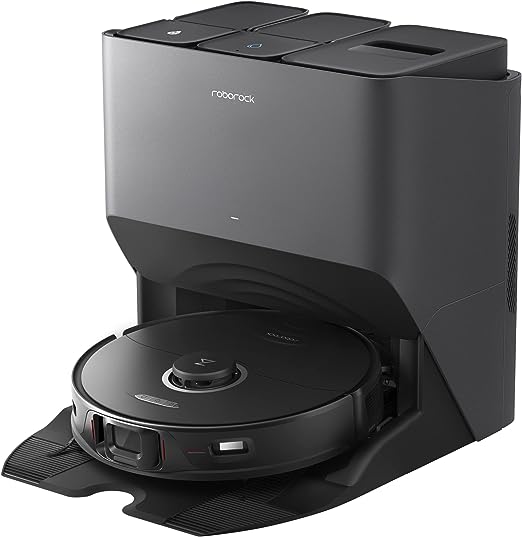 The Roborock S8 Pro Ultra takes smart robot mopping and vacuuming to the next level. This device offers a truly hands-free cleaning experience, enhanced by its advanced Empty Wash Fill Dock. This dock not only empties the dust automatically but also washes the mop and refills the robot's water tank. As a bonus, the dock cleans itself, ensuring a fully automated cleaning cycle.

The Roborock S8 Pro Ultra revolutionizes home cleaning by reducing the need for harsh or specialized cleaning agents. Its advanced features like Dual Brush Cleaning, Powerful 6000Pa Suction, and Sonic Mopping ensure that you get a deep clean without relying on chemical cleaners.
Dual Brush Cleaning for Comprehensive Coverage
The Dual Brush Cleaning system ensures that every inch of your floor is scrubbed clean, eliminating the need for chemical agents to break down dirt or stains. This feature is especially useful for households that prefer eco-friendly cleaning methods.
6000Pa Suction for Stubborn Dirt
With a powerful 6000Pa suction, the Roborock S8 Pro Ultra can lift even the most stubborn dirt and debris from your floors. This high suction capability means that the device can effectively clean without the aid of chemical cleaners, making it a more sustainable choice.
Sonic Mopping for Deep Cleaning
The Sonic Mopping feature uses high-frequency vibrations to dislodge dirt and grime, providing a level of deep cleaning that often only harsh chemicals can achieve. This allows you to maintain a spotless home while reducing your environmental impact.
In summary, the Roborock S8 Pro Ultra offers superior cleaning without the need for harsh or specialized cleaning agents. Its advanced features like Dual Brush Cleaning, 6000Pa Suction, and Sonic Mopping ensure that your floors are spotless, making it an eco-friendly and effective choice for any household
Conclusion
If you'd rather not use the Bissell CrossWave cleaning solution, you can switch to bleach or another cleaner that works well on your floors. However, remember that you're forfeiting the warranty that comes with your CrossWave.
When selecting the appropriate floor cleaner, keep in mind the kind of flooring you're going to be using it on. For example, while bleach can be used safely on vinyl, you shouldn't use it on hardwoods as it can seep into the boards and bleach the wood.
So match your cleaning solution to the floor, and you're good to go.