The introduction of robot vacuums has been one of the most significant game-changers in the battle of household chores. 
Let me start by saying I would never give up using my robot vac because it may potentially cause some minor blemishes on my furniture. 
After five years of owning robot vacuums, I've observed them getting stuck in corners, suffering roller jams from socks, getting jammed up from excessive amounts of hair, string, and lint, and aimlessly bumping into walls. 
So can robot vacuums cause damage to furniture?
Some robot vacuum models may cause damage when it repeatedly comes into contact with the base of wood furniture. 
I've witnessed my robot vac cause noticeable damage 
Over several years to my dining room chair legs and corner of my bed. Damage can be more noticeable on softer types of wood.  
When the robot vacuum repeatedly comes into contact with your furniture legs, it can cause the finish to come off. Table and chair legs that are made out of wood are typically more prone to damage.  
Here are several images from 
around my home of damage caused by my robot vacuum.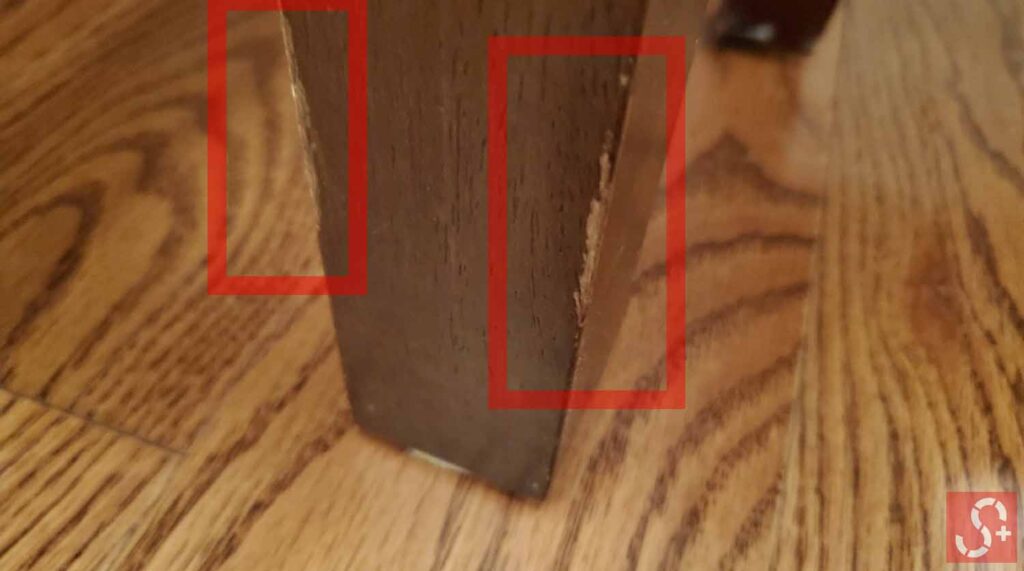 How To Protect Your Furniture From A Robot Vacuum
Add padding to the robot Vacuum
A simple, cost-effective way to protect your furniture from being damaged by your robot vacuum is by padding around your robot. 
You can use several types of padding to achieve this. 
Rubber adhesive – The can be wrapped right around your robot vacuum. Be mindful not to cover up any sensors. Also, be cautious taping over any seams. Some robot vacs have impact sensors, and some areas of the bot need to compress or adjust.  
Rubber bumpers – These clear rubber bumpers are typically used for cabinets but can be repurposed to help protect your wooden furniture. 
Protecting furniture with the right wood finish 
This section is exclusively for furniture with wooden legs.
I find that most of my furniture with wooden legs that have some type of finish(clear coat or polyurethane) holds up better to robot vacuum bumps. 
You might consider applying a clear coat to the chair legs.
Protecting furniture with tennis balls. 
Not my first choice, but very effective at stopping robot vac bump marks. Placing tennis balls on chairs or table legs will do the trick. I know tennis balls on chair legs are typically used to protect the floors when sliding your chair, but the method can add an additional layer of protection against robot vacuums. 
Using gentle navigation cleaning mode to protect furniture
Some brands of robot bot vacs come with a gentle cleaning option in the app settings. This allows the bot vac to navigate around at reduced speeds to lessen the impact on furniture and baseboards.
Speaking of baseboards, they can sometimes get damaged by some models of robot vacuums.
Here you will find a good article on how to protect your baseboards from robot vacuums.   
I went several months without realizing the gentle cleaning option existed in my app settings. I turned it on only after the damage was done. 
But as I already stated at the start of this article, the pros outweigh the cons. The damage is very minor. It's even less noticeable on light-colored furniture. I only notice the minor scuffs when I get really close to the ground to look.  
Having a robot vacuum has pretty much eliminated sweeping from my life. Sorry broom! 🙁 
I set my vacuum to run twice a week, and it keeps my floors immaculate! The only minor intervention is emptying the debris bin and little maintenance to keep it running. 
After upgrading to a more advanced robot vacuum with LIDAR and cameras, I find that there is no more bumping into furniture.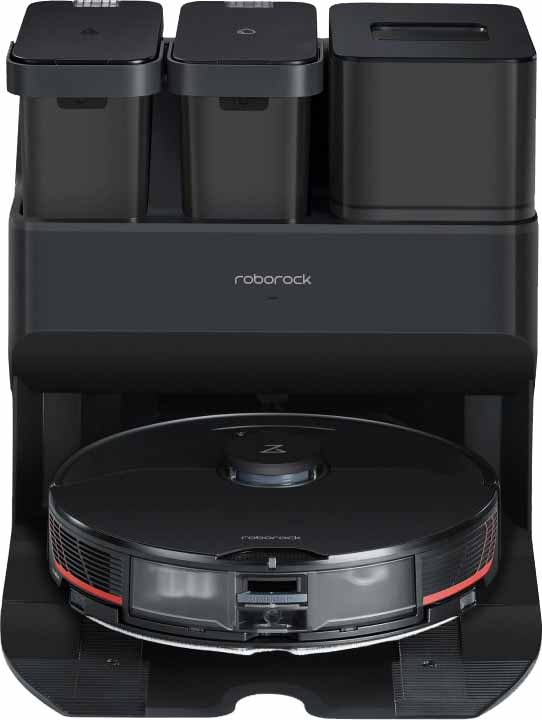 The Roborock S7 is one of the smartest robot mopping and vacuuming combos in the market. It provides an extremely convenient, totally hands-free cleaning experience. Using the Empty Wash Fill Dock, you get automatic dust emptying, mop washing, and robot water tank refilling. The dock even cleans itself too
Besides not bumping into things anymore, the Roborock S7 MaxV Ultra has cool benefits like self-emptying dust bi and washing its own mop pad. I've been using this robot vac for over a year, and it's like having an extra pair of hands in your home.  
Other models of robot vacuums have the ability to identify walls and other obstacles. This sensor allows the robot to slow down as it approaches objects and lessens the impact. 
The ECOVACS DEEBOT X1 Omni also offers advanced navigation using several built-in sensors and cameras.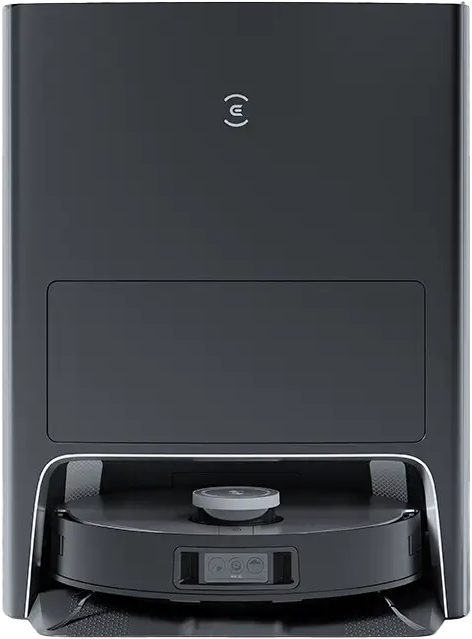 All-IN-ONE OMNI STATION. A first in the industry. After vacuuming, your DEEBOT returns to the station and automatically empties the dustbin. After mopping, it automatically washes the mop heads and dries them with hot air. Experience a whole new level of freedom from cleaning.
Some brands of robot vacuums may be less effective at sensing objects and slowing down when it's used on very dark or black surfaces or when the objects are really small to sense. 
Robot vacuums with advanced navigation are key.
Spot Early Signs Of Robot Vacuum Damage To Furniture
If you already own a robot, it's a good idea to survey the base of wooden furniture. Damage can typically be found on the corners of your furniture. 
If you start to notice some damage, I suggest trying the rubber adhesive or bumper method listed above. 
Types Of Wood Less Prone To Robot Vac Damage 
When I walk into a furniture store to buy a dining room set, the last thing I'm thinking about is the type of wood it is made out of. For me, the first thing I consider is if the set meets my style requirements and some durability factors.  
When buying Higher end furniture, it's almost expected that the wood would be of higher quality. Next time you're in the market for new furniture, it might be worth asking what type of wood it's made out of. 
The typical furniture materials in stores are Hardwood, softwood, MDF, and Plywood.  
You can find how dense natural wood is by a hardness rating. Woods like Yellow Pine falls in the 700 range. More exotic woods like Brazilian Walnut and Brazilian Teak are more solid and have a hardness in the 3000 range.
Here's a list of woods listed by their hardness rating.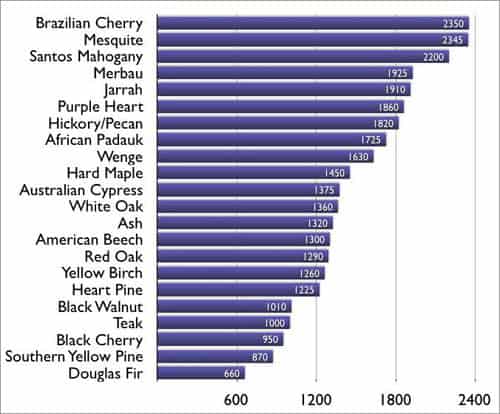 Other Types Of Finish Less Prone To Robot Vac Damage
From my experience, I find woods with a clear coat are less prone to damage by robot vacuums. 
I haven't seen any notable damage on my MDF or melamine furniture. The laminated material is pretty durable when it comes to the impacts of a robot vac. 
How To Repair Furniture Damaged By A Robot Vac
One of the best methods I use to repair/mask the damage on my furniture is using wood repair markers. Yes, the argument can be made this is more of concealment than repair, but let's just call it repair to keep things simple. 
Any spots you see where the finish is scratched off, you can use wood repair markers to fill in the areas. Although this is great for minor marks, this is not the best fix for large damaged areas. 
You can also use the wood repair markers to repair any old existing knicks and scratches, not just the ones caused by your robot vacuum.  
Wood repair markers can also be used on your hardwood flooring to cover up any unsightly marks.