Since I've damaged equipment with off-brand cleaning products, I've become much more selective about what I use in my devices. When I purchased my Roborock S7 MaxV Ultra, I first researched the best safe cleaning products I could use.
Key Takeaways:
Using non-branded cleaning solutions can potentially damage your mopping device and cause warranty issues. Roborock offers an official multi-surface floor cleaner that is compatible with all their vacuums with mopping ability. It should be diluted 1:300, or 1 part Roborock floor cleaner to 300 parts water.
I know it's very tempting to grab any standard cleaning product and use it in your Roborock, but STOP, You have to hear what I have to say about other cleaning solutions first.
Keep reading to learn more about what you can use in your Roborock robot mop, the potential risks of using the wrong solution, and more.
Roborock Cleaning Solution Alternatives:
Unfortunately, Roborock does not recommend using alternative cleaning solutions. The safe option is to use the Roborock branded cleaning solution or mop your floors separately. If you're wondering whether robot vacuums are worth the money, especially with these limitations, we've got you covered.
Cleaners that produce suds may cause the mopping feature to malfunction.
After reading the Q&A section on Amazon, a Roborock support agent suggested to a user to try the other cleaning solution, and if there is an issue, stop using the solution and clean out the tank with water. However, they did suggest not using other cleaning solutions at the start of their answer.

You may be tempted to use solutions like vinegar, a lemon juice mixture, or even baking soda. If you really want to use your favorite cleaner, I would make sure not to use anything that is acidic, produces suds, and to make sure to dilute it with water.
That said, I would still be inclined to use a branded cleaning solution just to be safe. Regardless of what an agent said on Amazon, you wouldn't want to run into any warranty issues when dealing with the manufacturer.
Here's why it might be time to upgrade your robot vacuum:
Robot vacuums have gone through another technological advancement. The latest robot vacuums in the market can vacuum, mop, empty themselves, and even clean their own mopping pad. It has been a game-changer in my household!
Time is the most valuable resource and the one thing you cannot buy. Every second that goes by will never be seen again! The more autonomous robot vacuums are, the more time you can spend doing the things you love.
Best Hand-Free Robot Vacuums in the market
Can You Put Vinegar In Your Roborock?
Generally, using vinegar in a Roborock is not recommended.
While vinegar is a natural cleaning agent that can effectively clean and deodorize surfaces, it is typically too acidic for a robot mop.
Most robot mops, including the Roborock, are designed to be used without any addition of any cleaning solutions. Or, at the most, using water or branded cleaning solutions. If you're concerned about the impact of robot vacuums on your furniture, you might want to stick to the recommended cleaning solutions.
Using a high concentration of vinegar or other acidic cleaning agents can cause the mop to become clogged or malfunction and dull the finish of the floors over time.
Can You Put Baking Soda In a Roborock?
While baking soda can be a useful cleaning agent, it can also be abrasive and may damage the internal parts of your robot vac.
If you want to use baking soda as a deodorizing agent, you can sprinkle a small amount of baking soda on the carpet before vacuuming.
The baking soda will absorb odors as the robot vac mops and cleans. Just be sure to use a small amount of baking soda, as too much can be difficult to clean up and may leave a residue on your floor.
Can You Put Soap In Roborock?
Putting soap or soppy solution inside any Roborock product is generally not recommended. Soppy solutions can produce suds and cause your device to malfunction.
Benefits Of Using Just Water in Your Roborock:
Using just water in the water tank of a Roborock robot vac can have several benefits:
Easier to maintain: The water tank is easy to refill and empty, and the Roborock filters can be easily rinsed and reused, making maintenance quick and hassle-free.
Eco-friendly: Using just water in the Roborock can be more environmentally friendly than using disposable cleaning products, as it reduces the amount of waste generated.
No white haze on the floor: Some cleaners can give your floors a hazy look, and it may take several passes over it with fresh water to give it a shine.
Can You Disinfect Floors With A Roborock?
Yes, you can disinfect floors with a Roborock, and that is by using the Roborock brand cleaning solution.
Here's the official Roborock Multi-Surface Cleaning Solution available on Amazon.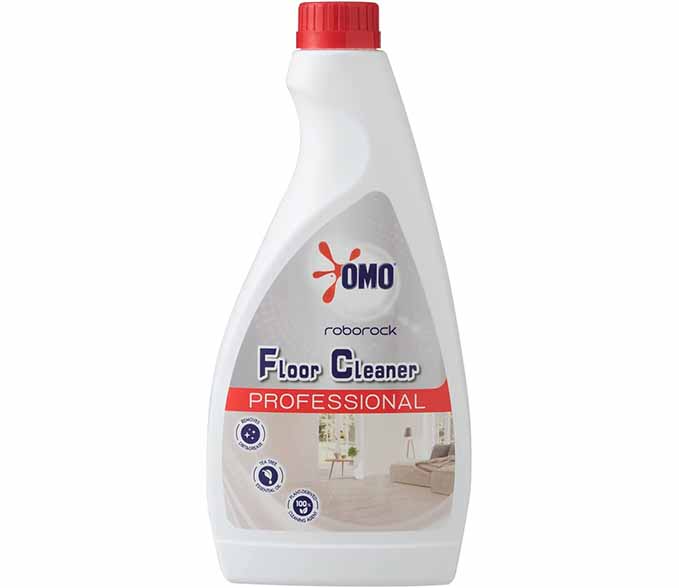 ✔

Compatible with Ultra and all other Roborock Robotic Vacuums, Dyad Cordless Wet/Dry Vacuum.


✔

Removes tracked-in dirt, grime, mud, and tough pet messes from sealed hard floors.


✔

Safe for use in homes with kids and pets (when used as directed).


✔

Floor Cleaner should be diluted 1:300, or 1 part Roborock Floor Cleaner to 300 parts water.


✔

Environmentally friendly ingredients leave a long-lasting fresh, and clean scent. Size: 16.2 oz (480ml).
Another way is to clean your floors with the disinfectant of your choice before vacuuming with your robot vac. This will allow the solution to thoroughly clean and disinfect your floors, and then the robot can pick up any remaining dirt and debris.
Although Roborock's are pretty good at cleaning up debris indoors, what if you wanted to clean more rugged areas and exterior spaces? You're in luck I reviewed the best robot vacuums for workshops, patios, and commercial spaces.
How To Clean A Roborock Waste Water Tank?
The waste water tank on your Roborock Ultra line can get really funky if not kept in check. You can use a low-acidity all-purpose cleaning solution like Mrs. Meyers to clean the water tank.
Remove the water tank from Roborock.
Empty any remaining water from the tank and rinse it thoroughly with clean water.
Spray and Use a soft, damp cloth to wipe the inside of the tank, paying special attention to the edges and corners.
Rinse the tank again with clean water and dry it thoroughly with a clean cloth.
It is important to clean the water tank regularly to ensure that it is free of any dirt that could interfere with the Roborock's cleaning performance.
Read Related: Best Robot Vacuums That Is Capable Of Cleaning In Straight Lines
The Roborock S8 Pro Ultra: Who Needs Harsh Chemicals When You've Got This Cleaning Dynamo?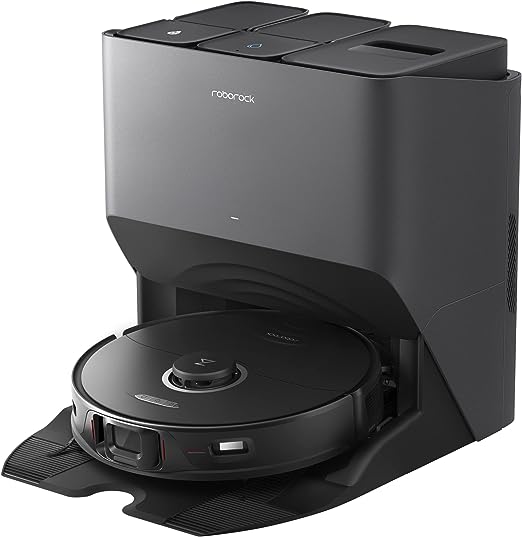 The Roborock S8 Pro Ultra takes smart robot mopping and vacuuming to the next level. This device offers a truly hands-free cleaning experience, enhanced by its advanced Empty Wash Fill Dock. This dock not only empties the dust automatically but also washes the mop and refills the robot's water tank. As a bonus, the dock cleans itself, ensuring a fully automated cleaning cycle.

I've been hooked on Roborock's for the past few years now. The upgraded models do an excellent job on my floor I can even tell you the last time I used a cleaning solution.
Say goodbye to nose-wrinkling cleaners altogether! The Roborock S8 Pro Ultra is here to show you that you can have sparkling floors without chemicals. How, you ask? Let's dive into the nitty-gritty—or should we say, the clean and shiny!
Dual Brush Cleaning: Double the Brushes, Double the Fun!
Why settle for one brush when you can have two? The Roborock S8 Pro Ultra's Dual Brush Cleaning system scrubs your floors so well, you'll think they've been to a spa day! Who needs chemicals when you've got double the cleaning power?
6000Pa Suction: Sucks Up Dirt Like a Pro!
This isn't your grandma's vacuum. With a whopping 6000Pa of suction power(I know you're probably thinking what the hell is pa, Just trust me 6000Pa is powerful), this little dynamo lifts even the most stubborn dirt like it's child's play. Forget about those harsh cleaners; this robot vacuum is all the muscle you need!
Sonic Mopping: The Floor's Personal Masseuse
Think of the Sonic Mopping feature as a deep-tissue massage for your floors. High-frequency vibrations shake loose the grime that even chemicals fear. Your floors will be so clean, they'll be the envy of every tile and hardwood plank in the neighborhood!
So, in a nutshell, the Roborock S8 Pro Ultra is the eco-friendly, high-tech cleaning wizard you didn't know you needed. With its Dual Brush Cleaning, 6000Pa Suction, and Sonic Mopping, who needs harsh chemicals? Your floors will be so clean, you might just start a new trend: floor selfies! 📸
Wrapping Up
In short, you can use either water or the official cleaning solution (OMO) recommended by Roborock. Other than that, using any other non-branded cleaning solution in your Roborock robot mop is not a good idea.
Finally, it's also essential to take care of the cleaning pads of your Roborock robot vac.
The frequency with which you should change the cleaning pads in your Roborock robot vac will depend on various factors, including the type of cleaning pads you are using, the condition of your floors, and the amount of use the robot vac gets.
In general, changing the cleaning pads on your Roborock robot vacuum every 1-3 months or when they become excessively dirty or worn is recommended.
Some signs that it may be time to change the cleaning pads include the following:
The pads are visibly soiled or dirty
The pads are no longer able to effectively pick up dirt and debris
The pads are tearing or falling apart
The vacuum is not cleaning as effectively as it should
If you are using a high-quality set of cleaning pads, they may last longer than the recommended 1-3 month period. However, it is still important to regularly check the condition of the pads and replace them as needed to ensure that your vacuum is functioning at its best.
It is also a good idea to periodically clean the cleaning pads to remove any built-up dirt and debris. This can be done by gently hand-washing the pads with warm water and a mild detergent or running them through the washing machine on a gentle cycle.
You can get the new Roborock cleaning pads replacement parts on sites like Amazon, eBay, and the official site of Roborock.