I've been using robot vacuums for years, and they are very effective at keeping floors debris-free and reducing labor costs. With the advancement of navigation and several other technologies, robot vacuums can now work in a variety of commercial spaces.
In this guide, we will be looking at the best robot vacuums for commercial use, providing you with an in-depth analysis of the best entry-level bot vacs.
We will also explain the benefits of using robot vacuums in commercial space and other relevant guidance. So whether you have a warehouse, office, or retail space, these robot vacuum cleaners are sure to make your commercial space clean and spotless.

#1. Makita DRC200PT (Teal / Greenish-Blue Colored Model)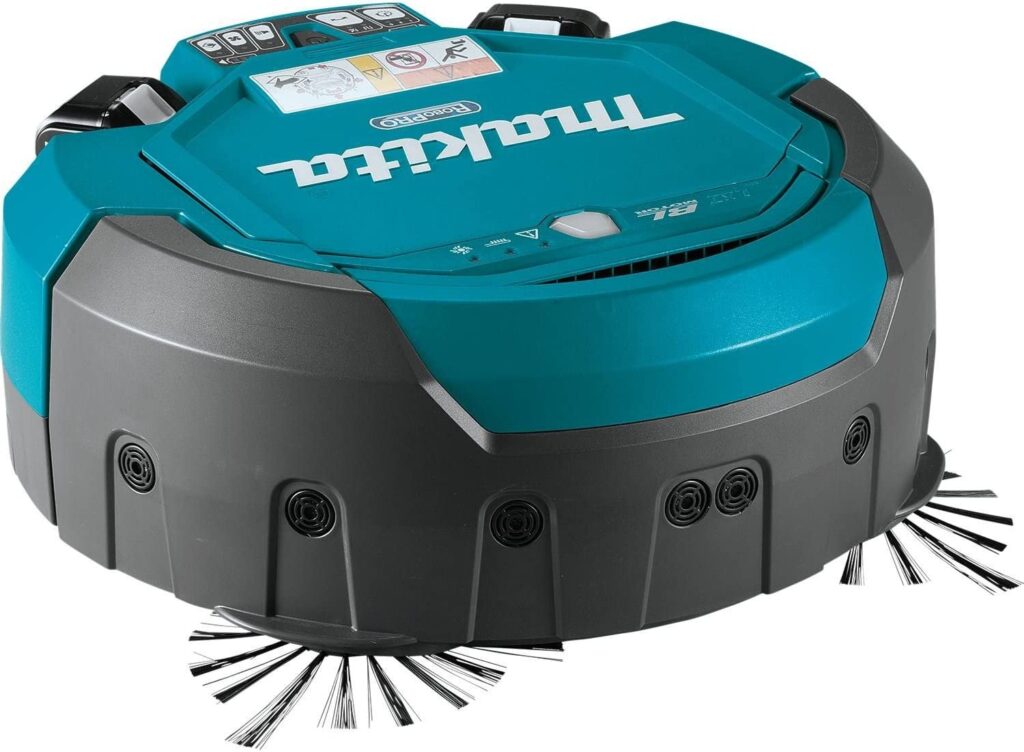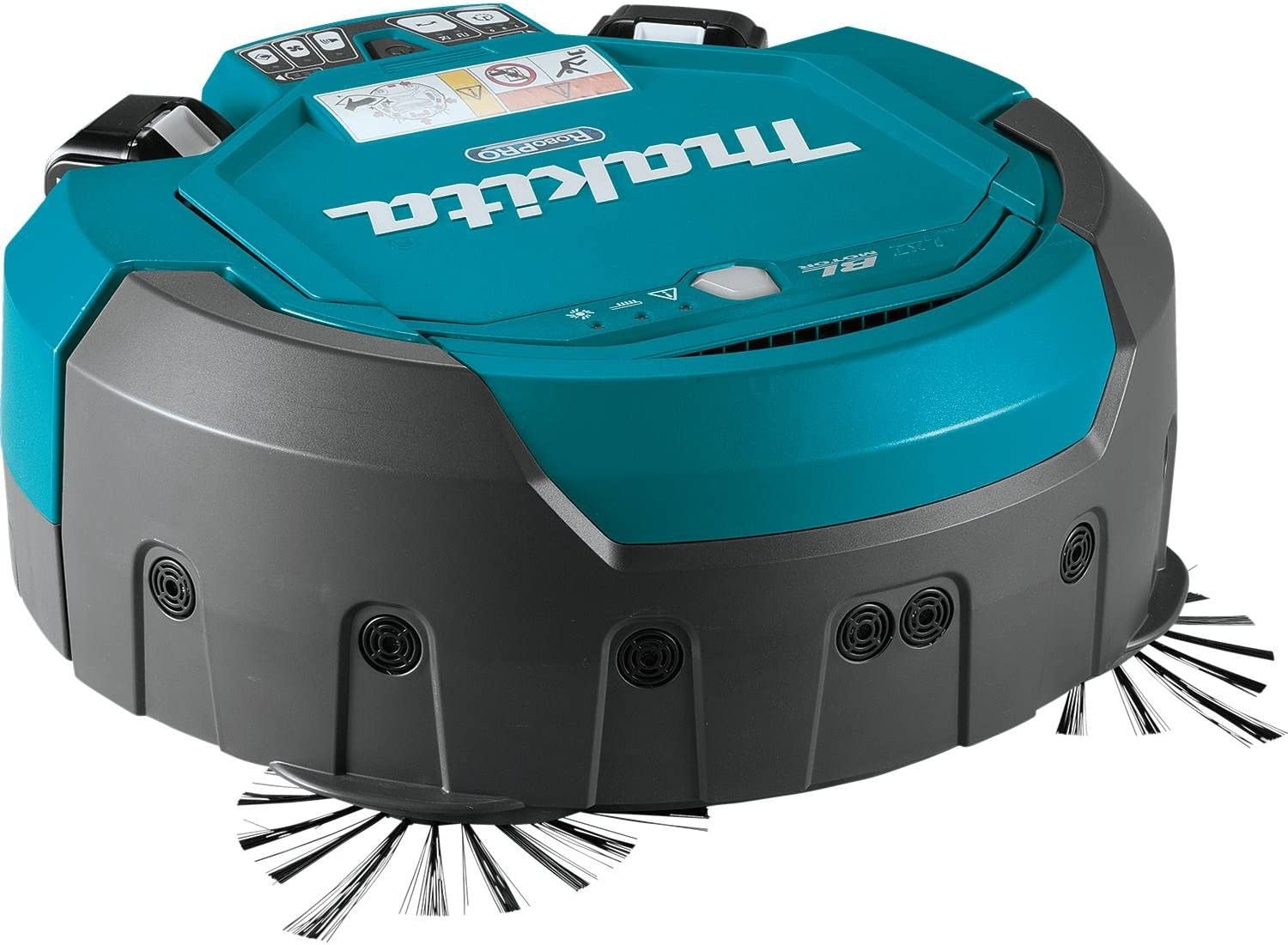 Cleans approximately 5,380 square feet of hard floor surfaces using two 18V LXT 5.0Ah batteries BL1850B. Up to 200 minutes of continuous operation on hard floors in "main brush Plus vacuum" mode using two 18V LXT 5.0Ah batteries.
What We Like:
A multi-stage cleaning process that thoroughly removes dirt and particles.
Equipped with large side brushes and power brushes for effective cleaning.
Capable of continuous operation for up to 200 minutes.
Suitable for cleaning large hard floor areas up to 5000+ sq ft.
Optimized motor design conserves battery life.
Two distinct dust collection chambers for efficient sorting of large and fine debris.
What We Don't Like:
Occasionally encounters obstacles and becomes stuck.
May be pricier than other options, particularly for smaller spaces.
>> Check Latest Price Here (on Amazon)
#2. Makita DRC300Z (White Colored Model)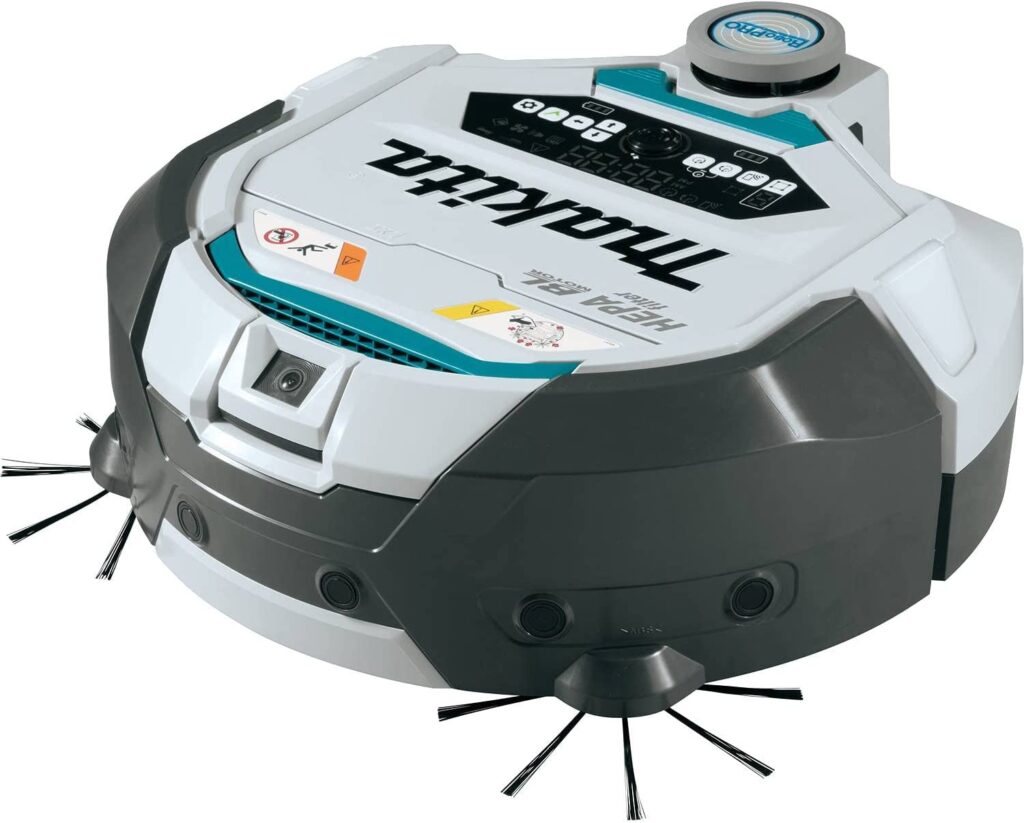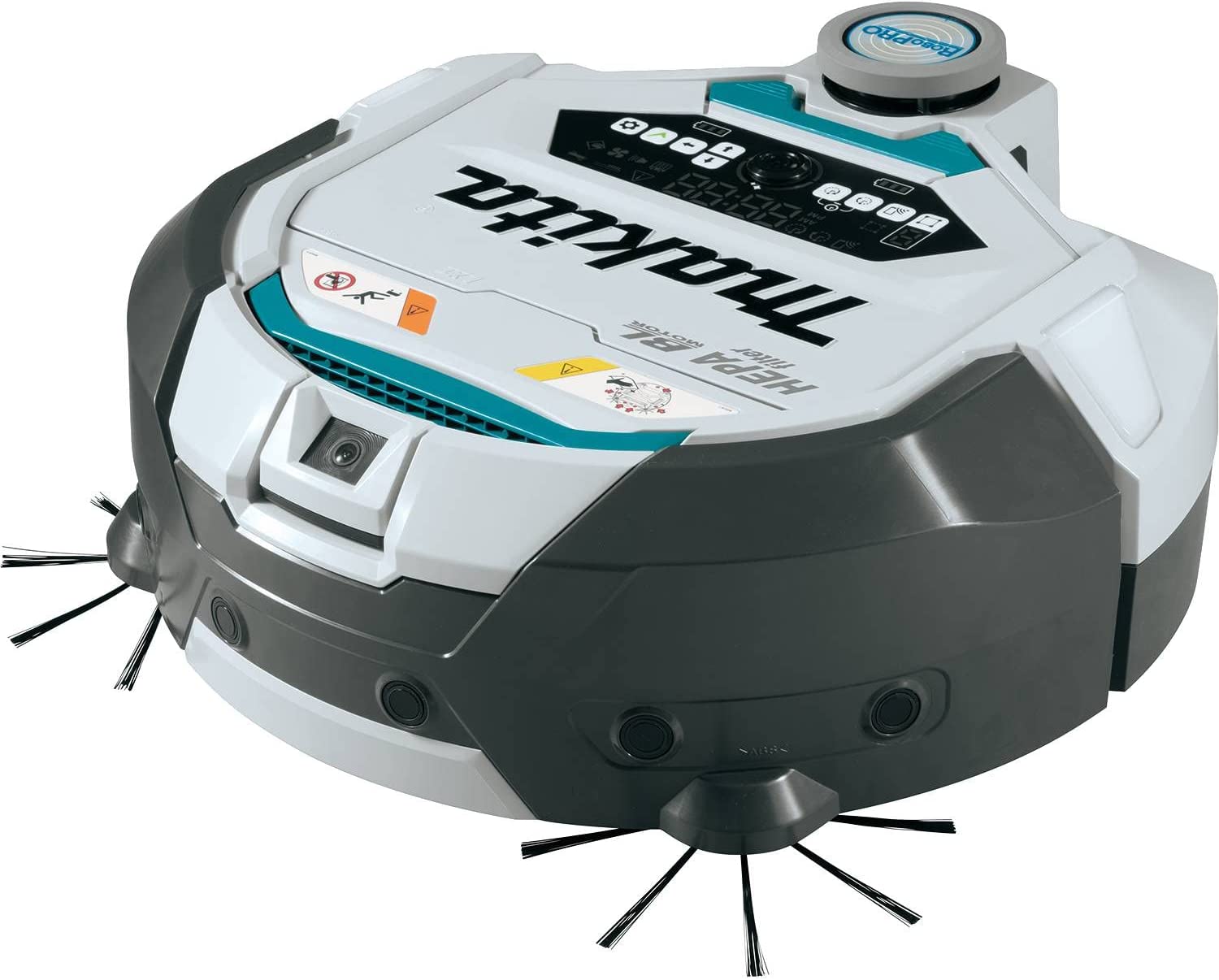 Innovative LiDAR sensor technology and front camera sensor help to map and save up to 5 rooms totaling over 100,000 square feet
What We Like: 
The use of LIDAR technology for efficient mapping and navigation.
Large coverage area of up to 5000 sq ft.
Equipped with advanced sensors to avoid obstacles.
The use of HEPA filters for thorough dust and particle collection.
Nearly 3 liters of dust collection capacity.
Designed for commercial use and built to withstand heavy usage.
What We Don't Like:
Higher cost compared to other robot vacuums on the market.
Battery and charger not included
>> Check Latest Price Here (on Amazon)
#3. Roborock S7 MaxV Ultra (Excellent For Small Office)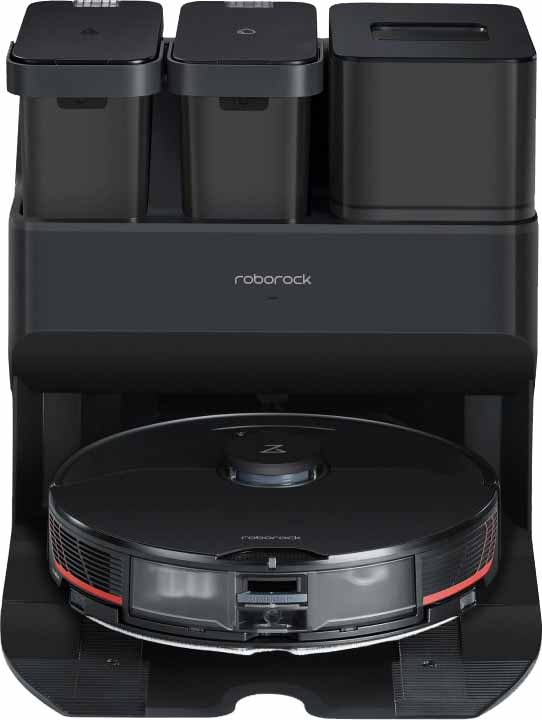 The Roborock S7 is one of the smartest robot mopping and vacuuming combos in the market. It provides an extremely convenient, totally hands-free cleaning experience. Using the Empty Wash Fill Dock, you get automatic dust emptying, mop washing, and robot water tank refilling. The dock even cleans itself too
What We Like: 
Self-Refilling And Self-Refilling Feature Available
Uses LIDAR for Advance Navigation and Mapping
Comes with decent size – 2.5 L dust bag
Powerful suction – 5100 Pa
What We Don't Like:
Comes with a camera that could be concerning for some privacy reasons
>> Check Latest Price Here (on Amazon)
Why Are Makita Robot Vacuums Good For Commercial Use?
Makita robot vacuums, particularly the DRC200PT and DRC300Z, are highly suitable for commercial usage due to their powerful and efficient cleaning capabilities.
The DRC200PT is equipped with large side and power brushes, and a suction that effectively removes dust, dirt, and other particles from hard floor surfaces. With a run time of up to 200 minutes, the DRC200PT offers continuous cleaning without the need for frequent battery recharge, making it a convenient and reliable option for commercial spaces.
The DRC300Z, on the other hand, is an upgraded version – equipped with laser-based LIDAR navigation technology, which provides efficient mapping and navigation, covering up to 5000+ sq ft.
It also has advanced sensors and HEPA filters, ensuring the vacuum avoids obstacles and collects microdust particles in environments where cleanliness is essential.
The vacuum has a large capacity for dust collection, with almost 3 liters of capacity, reducing the frequency of cleaning. With its tough design, the DRC300Z is a perfect choice for commercial usage.
Roborock S7 MaxV Ultra For Commercial Use [Pick For Small Offices]
Although this robot vacuum is designed for residential use, it has several capabilities that impressed me when using it in a commercial setting.
Firstly, it uses advanced LIDAR navigation technology to map out rooms precisely and avoid obstacles with ease. This technology makes it one of the most efficient robot vacuums on the market.
Additionally, it boasts a powerful suction and features advanced technologies like Sonic Mopping that make it highly effective in removing dry stains. The auto-mop washing, auto-tank refilling, auto-dock cleaning, and auto-dust emptying features also add to its overall value.
While there are some downsides, such as the user interface of its app needing improvement, and its camera function being a potential privacy concern for some, these are minor compared to its numerous benefits.
In short, the Roborock S7 MaxV Ultra Robot Vacuum offers top-of-the-line technology, powerful suction, and numerous convenient features, making it well worth its high price tag for anyone seeking an efficient and effective cleaning solution.
Five Key Benefits Of Robot Vacuums That Will Improve Your Commercial Space
1. Helpful For Factory And Warehouse Settings
A factory or warehouse can be a high-traffic and potentially hazardous environment, with lots of machinery, tools, and equipment that can leave debris such as screws, nails, and other small items on the floor.
If left uncollected, these items can pose a tripping hazard to employees, potentially leading to injuries. Additionally, boxes and other items stored in the warehouse can become damaged if small debris is left on the floor.
Makita robot vacuums are designed to help address these challenges by picking up screws, nails, and other debris from the floor, ensuring that the workspace remains clean and safe for employees.
The vacuums can navigate around the factory or warehouse, cleaning up the floor and removing any small items that could cause a tripping hazard.
In addition, the vacuums can help protect boxed items from becoming damaged by removing any small debris that could scratch or puncture them.
2. Reduces Labor Costs:
With advanced sensors and obstacle avoidance technology, robot vacuums can clean your space without any human intervention, freeing up your time and energy for other tasks. This also reduces labor costs because now you don't have to employ other people for the same task.
3. Efficient Cleaning With Consistent Performance:
Robot vacuums use advanced technology, such as laser navigation and multi-stage cleaning systems, to clean your commercial space quickly and efficiently.
With the ability to clean continuously for a long duration, robot vacuums ensure that your space remains spotless and tidy throughout the day.
4. Improves Indoor Air Quality:
Some robot vacuums (like Makita) are equipped with HEPA filters, robot vacuums effectively capture micro dust particles, improving indoor air quality and reducing the risk of allergies and respiratory issues.
5. Durable and Long-lasting:
With commercial-grade construction, robot vacuums are built to withstand tough usage and last for many years. This investment in high-quality cleaning equipment will save you time and money in the long run.
| | |
| --- | --- |
| Makita Robot Vacuums | Details |
| Battery Life | Up to 200 minutes |
| Coverage Area | 5,380 sq ft |
Things To Consider When Buying A Robot Vacuum For Commercial Spaces
Robot vacuums are well-suited for a variety of commercial spaces, including retail spaces, offices, and warehouses.
These spaces often require consistent and efficient cleaning, and robot vacuums provide just that with their advanced technology and continuous run time.
However, there are some potential cons to using robot vacuums in large commercial spaces. 
For example, large spaces with a lot of obstacles and furniture can pose a challenge for robot vacuums, as they may bump into things and get stuck.
Additionally, large commercial spaces with complex layouts and multiple levels may require multiple robot vacuums to effectively clean the entire space.
Robot vacs can also trigger motion sensors for alarms. An adequate cleaning schedule must be considered.
To solve these issues, it's important to properly assess your commercial space before choosing a robot vacuum.
Consider the layout, obstacles, and overall size of the space to ensure that the robot vacuum will be able to effectively clean the area.
Additionally, regularly checking the robot vacuum's performance and making adjustments as needed can help ensure that it continues to clean effectively.
By taking these steps, you can enjoy the benefits of using a robot vacuum in your commercial space.
What Kind Of Debris do These Robot Vacuums Pick Up?
Robot vacuums are designed to pick up a variety of debris, including dust, rocks, dirt, hair, pet fur, and other small particles.
They use multi-stage cleaning systems, such as brushes and HEPA filters, to effectively capture and collect these particles.
The type of debris a robot vacuum can pick up may depend on the specific model and manufacturer, so it's important to check the product specifications before purchasing.