Ah, the workshop—your personal playground where masterpieces come to life and, let's be honest, so does a mess that would make a landfill blush. You've got tools for every task, but what about the aftermath? Enter the robot vacuum debate. Can a tiny bot really tackle the sawdust, screws, and unidentifiable 'what-is-thats' that grace your floor?
Before you scoff and reach for the broom, let's dig into the machines that claim they're up for the challenge. Stick around; this could be the game-changer your workshop didn't know it needed.
Check out my top picks of robot vacuums for workshops:
#1. Workshop Option – Makita DRC200PT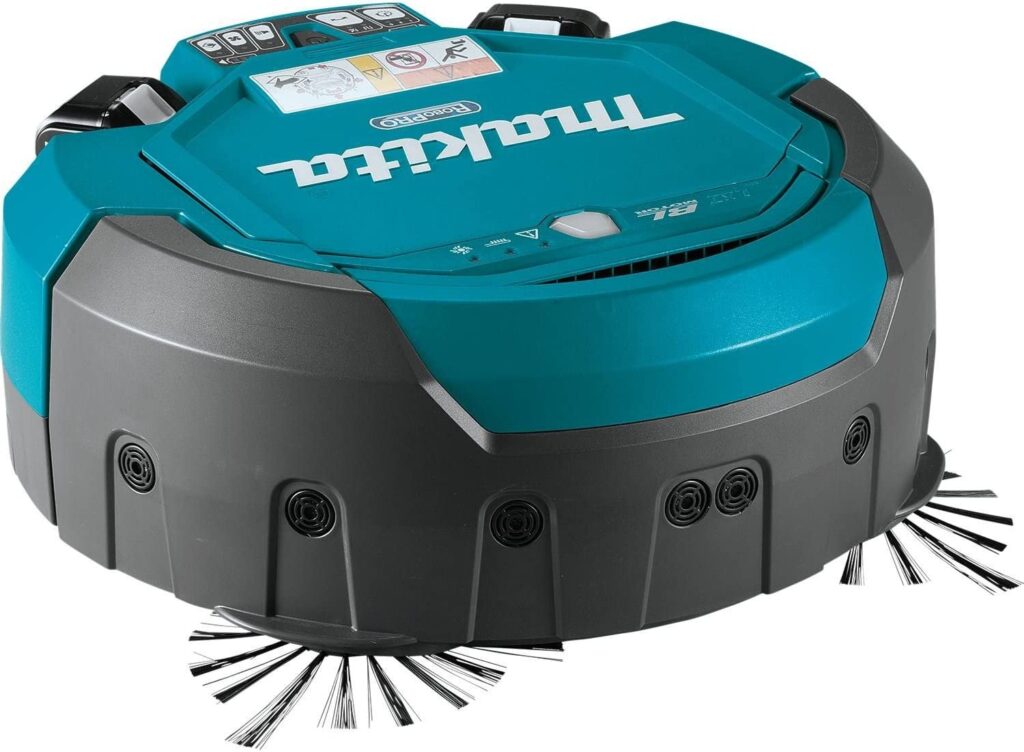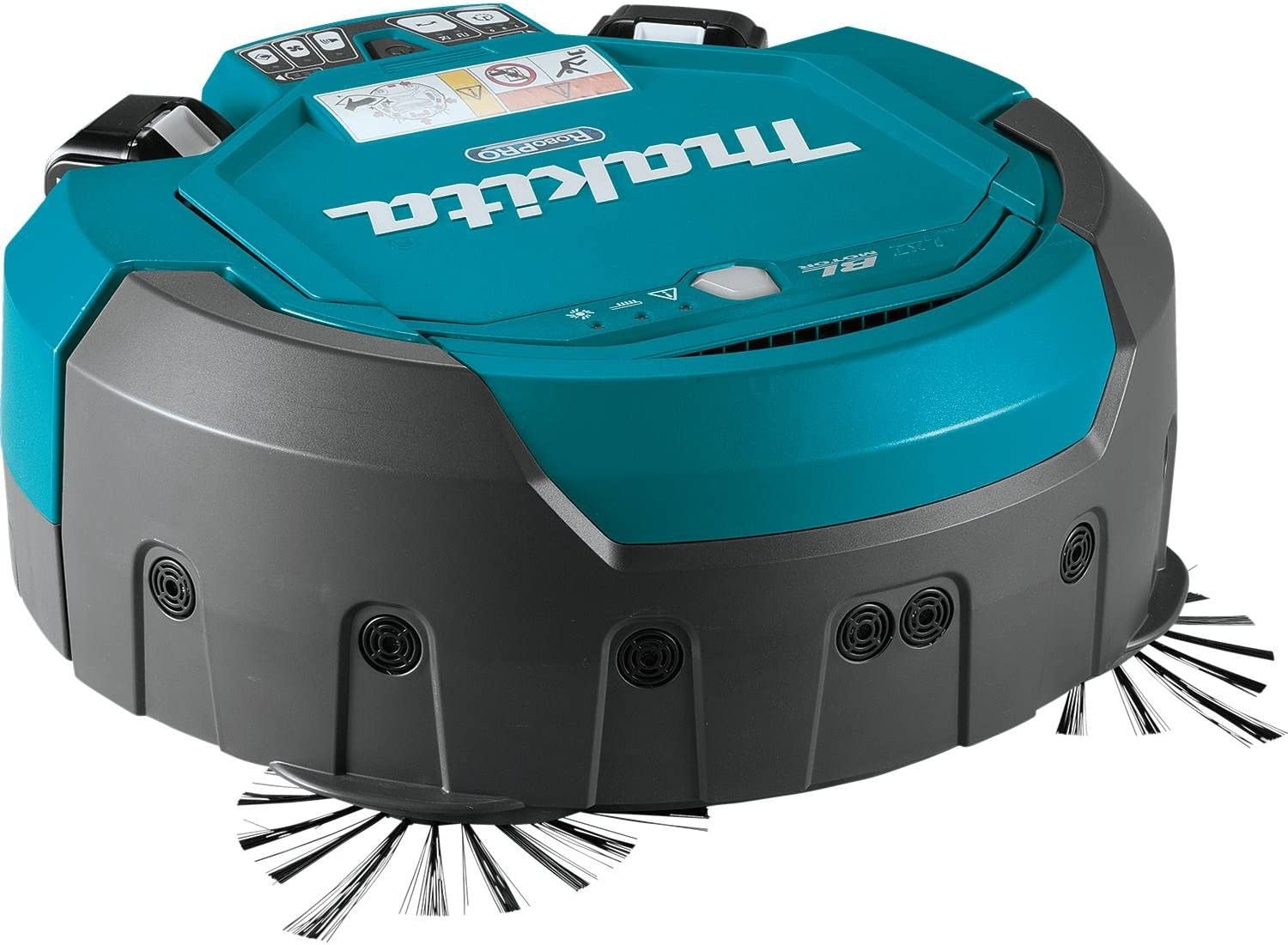 Cleans approximately 5,380 square feet of hard floor surfaces using two 18V LXT 5.0Ah batteries BL1850B
Upto 200 minutes of continuous operation on hard floors in "main brush Plus vacuum" mode using two 18V LXT 5.0Ah batteries
What We Like:
The Makita DRC200PT (Teal/Greenish-Blue) robot vacuum model offers several advantageous features that are appreciated by users. Firstly, it features a multi-step cleaning process that effectively removes dirt, dust, and other particles.
Secondly, it comes equipped with large side brushes and power brushes that increase its cleaning efficiency.
Additionally, it has a long battery life that allows for continuous operation of up to 200 minutes, making it ideal for cleaning large hard floor areas up to 5000+ sq ft. 
Furthermore, its motor design conserves battery life and enhances performance.
Lastly, the robot vacuum has two separate dust collection chambers, which makes it easier to sort large and fine debris efficiently.
What We Don't Like:
The robot may encounter obstacles from time to time and become stuck, which can be inconvenient.
In addition, the model may be more expensive compared to other options available in the market, especially for smaller spaces. But that said, considering the build quality and features, it's a highly helpful robot vac for workshops and other commercial settings.
>> Check Latest Price Here (on Amazon)
#2. Workshop Option – Makita DRC300Z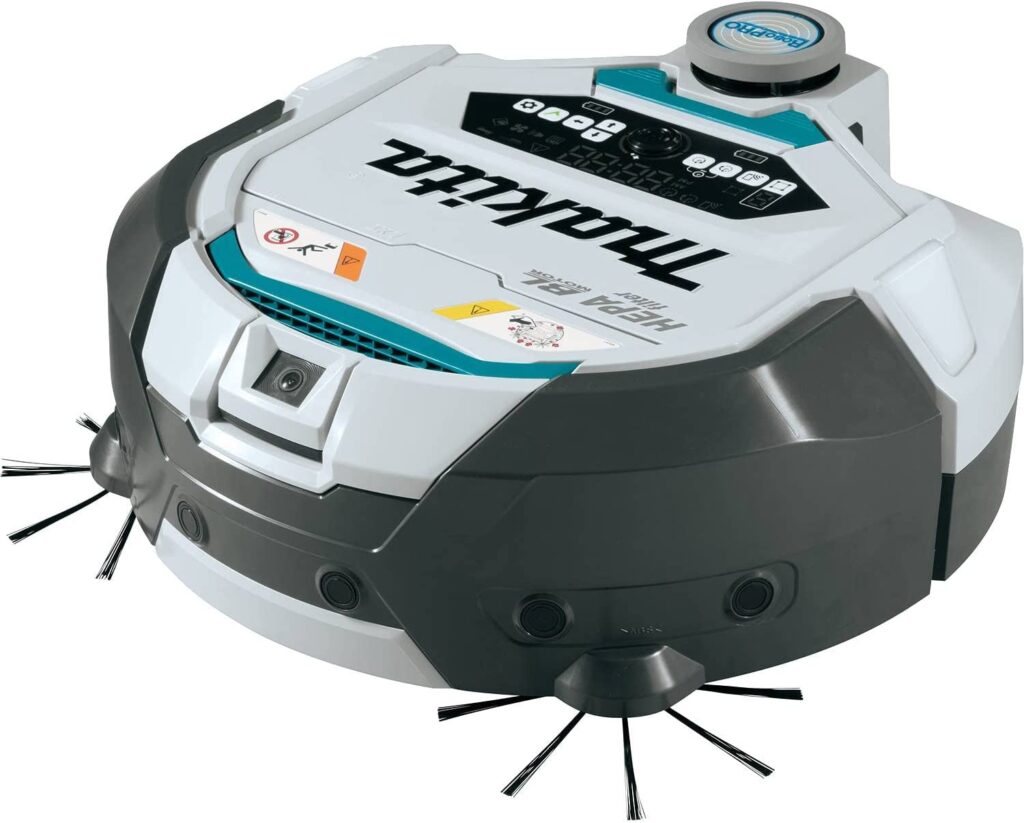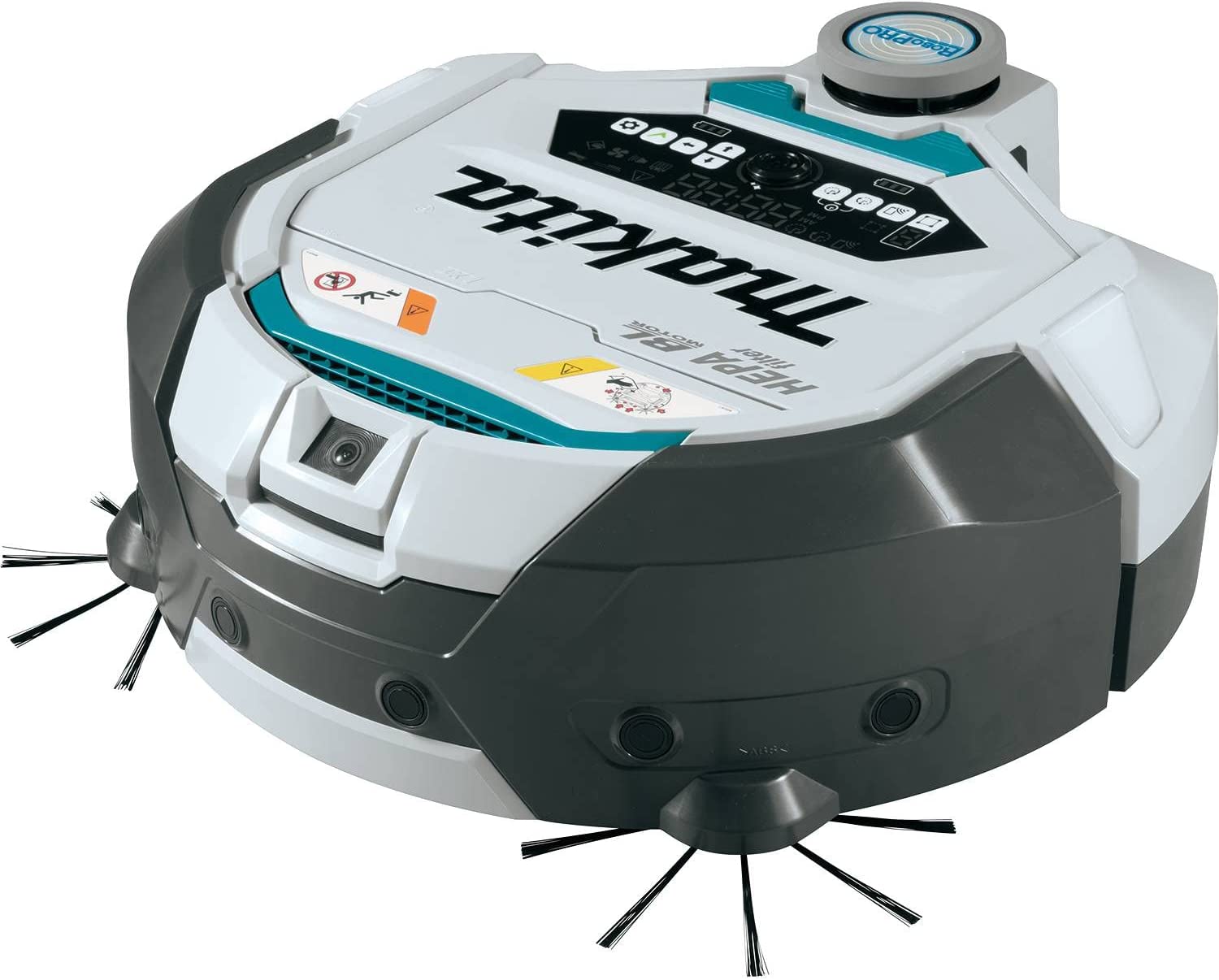 Innovative LiDAR sensor technology and front camera sensor help to map and save up to 5 rooms totaling over 100,000 square feet
Connects to a smartphone (with dedicated app installed) for smart cleaning
Obstacle detection with six ultrasonic sensors, one bumper sensor, and one
What We Like:
One of the standout features is its use of LIDAR technology for efficient mapping and navigation.
Also, another thing we really like about this robot vacuum is its capability to cover large areas of up to 5000 square feet with efficiency.
The vacuum is equipped with advanced sensors to help it avoid obstacles and navigate around furniture, reducing the risk of damage or collisions.
Another major advantage of the Makita DRC300Z is its dust collection capabilities. The vacuum features HEPA filters, which capture dust and other particles effectively and efficiently.
With a dust collection capacity of nearly 3 liters, the vacuum is ideal for use in a workshop or other commercial setting. The dust is stored in a separate chamber, making it easy to dispose of without spilling the collected particles
What We Don't Like:
One of the main drawbacks of the Makita DRC300Z is its Price point compared to other robot vacuums on the market.
Additionally, the battery and charger are not included with the vacuum, which may be an additional expense for some users. However, the features and performance of the robot vacuum makes it well worth the investment for those who need a high-quality, commercial-grade robot vacuum for their workshop or other similar places.
>> Check Latest Price Here (on Amazon)
What Makes Makita Robot Vacuums Suitable For Workshop?
Makita robot vacuums are especially suitable for use in workshops because of their durability and versatility. These vacuums are designed to handle tough industrial environments and can effectively clean workshop surfaces, such as concrete or wood, with ease.
One useful application of Makita robot vacuums in workshops is to keep the floor clean and free of debris.
For example, in a woodworking workshop, sawdust and other particles can accumulate quickly, creating a hazardous work environment. By using a Makita robot vacuum, workshop owners can maintain a clean and safe workspace without having to constantly stop and clean manually.
Their powerful suction capabilities and robust-built make them perfect for collecting fallen nuts, bolts, and other small metal objects that can easily clog up traditional vacuums.
Additionally, the robot vacuums feature separate dust collection chambers that allow for easy segregation of collected particles, making them ideal for commercial usage in workshops.
This helps ensure that the collected debris can be disposed of or recycled properly, making the cleaning process more efficient and effective.
Learn More: Makita Robot Vacuum: The Ultimate & Detailed Review!
Do You Need A Robot Vacuum For Workshop?
When it comes to keeping your workshop clean, a robot vacuum can be a great tool. Robot vacuums are designed to make it easier to clean up sawdust and other debris in workshops, so you don't have to do it yourself.
The importance of keeping your workshop clean is two-fold: safety and efficiency. A clean workshop is a safe one, since it reduces the risk of slips and falls. Plus, when your tools and the whole workshop are clean and organized, it's easier to find what you need, so you can get to work faster.
Pros of using a robot vacuum in your workshop include: 
Automation: The robot vacuum will do the work for you, so you don't have to. 
Convenience: The vacuum can be programmed to clean your workshop at a set time each day. 
Cost savings: Robot vacuums generally cost less in the long run than employing someone else for cleaning.
Cons of using a robot vacuum in your workshop include: 
Limited functionality: Robot vacuums can only clean certain types of materials and may not be able to pick up large pieces of debris. 
Maintenance: Robot vacuums require regular maintenance, such as battery changes and filter cleaning. 
Limited space: The vacuum needs to have a clear path in order to work efficiently.
Overall, a robot vacuum can be a great addition to your workshop if you want to save time and money while keeping your space clean. However, it's important to consider the pros and cons before making a decision.
Benefits Of Robot Vacuums For Workshop
Robot vacuums are becoming increasingly popular for workshops. They offer a number of benefits that make them a great addition to any workshop. 
First and foremost, robot vacuums are incredibly convenient. They can be programmed to run on a regular schedule, so you don't have to worry about manually vacuuming your workshop. This means that you can focus on other tasks while the robot vacuum takes care of the cleaning.
Robot vacuums are also incredibly effective at cleaning. They have powerful suction and are equipped with sensors that help them navigate around obstacles and get into tight spaces. This means that they can get into hard-to-reach places and clean them more effectively than a traditional vacuum. So no more moving tables and cabinets to clean underneath.
Robot vacuums are also very quiet. This means that you won't be disturbed by the noise of a traditional vacuum while you're working in your workshop. This also makes them ideal for workshops that are open to the public, as the noise won't be too intrusive.
Finally, robot vacuums are extremely efficient. They use less energy than traditional vacuums, making them more environmentally friendly.
| | | |
| --- | --- | --- |
| Vacuum Type: | Power Usage: | Usage Time |
| Traditional Vacuums | 1400 Watts | 1 Hour |
| Robot Vacuums | 90 Watts | 1 Hour |
With the right model, you can even set the robot vacuum to run on a timer, so it will turn itself off after it has finished cleaning. This helps to reduce energy costs even further.
Overall, robot vacuums are a great addition to any workshop. They offer a number of benefits that make them an ideal choice for cleaning and maintaining a workshop.
Read Next: Robot Vacuum For Warehouse & Storage Space
---