Ever since I've purchased the Mealthy Cristlid, I've often wondered what's the best way to clean it. Visually the interior perforated steel heating element of the lid can look a bit intimidating to clean. 
After some closer inspection and online research on the best way to clean the Mealthy Cristlid, I finally found the best manufacture recommended method of cleaning the Mealthy Cristlid. Before attempting to clean Mealthy Cristlid, make sure the device is unplugged and wait until the lid is completely cooled down. Use a damp clean rag and wipe the interior of the lid. If the perforated steel heating element is discolored, it is recommended to apply a mix of vinegar and water to the discolored area. 
Mealthy Cristlid proper cleaning measures 
It is essential to keep your Mealthy Cristlid clean. If there is a build of film from grease or other food debris, this can cause your Mealthy Cristlid to smoke when in use. 
If you correctly clean your Mealthy Cristlid after every use, you can avoid potential smoke ups when in use and reduce frequent deep cleanings.  
The inner area of Mealthy Cristlid is made up of two main areas, the outer glass of the lid and the perforated steel heating element.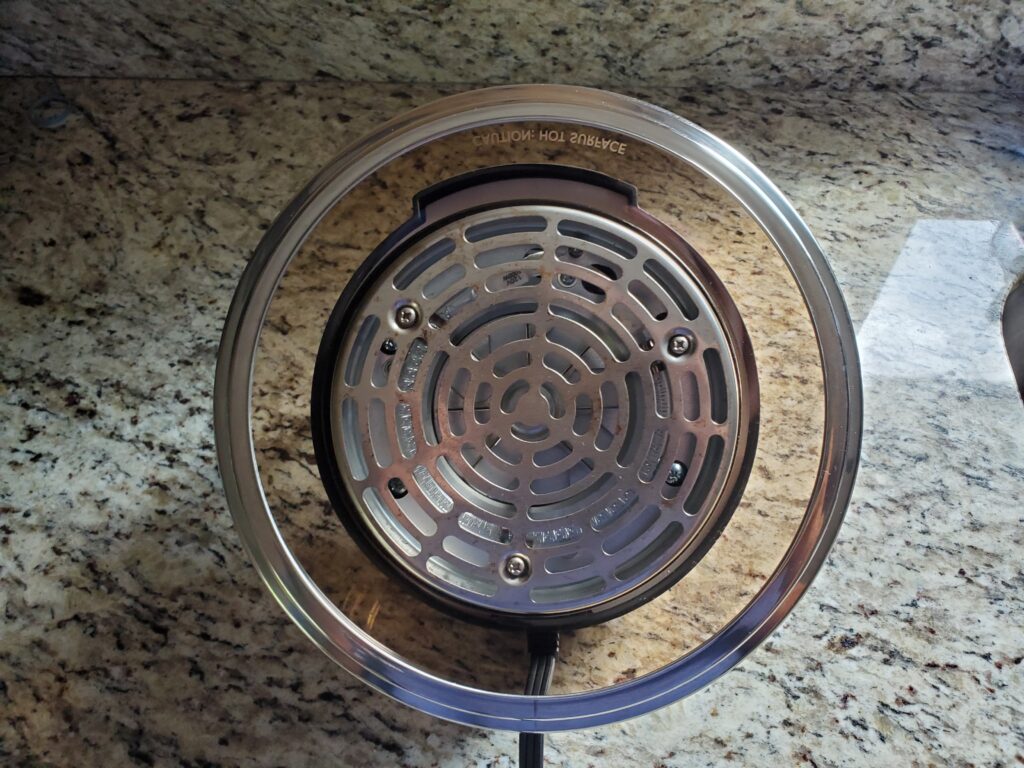 Depending on how dirty your Mealthy Cristlid is, it might take several wipes to get grease off.
Simple cleaning steps
After you're done using the Mealthy Cristlid, unplug the lid and place it on the silicon cooling pad that came included with your Mealthy Cristlid. Wait 3 to 5 minutes for your Mealthy Cristlid to cooldown.
When the Mealthy Cristlid is cool to the touch, use a damp rag with water and a small amount of dishwashing liquid to wipe the glass and perforated steel heating element area of the lid. 
Clean the rag, then dampen it with fresh water to wipe the glass and perforated steel heating element area of the lid. Make sure the rag is not filled with too much water. 
Use your damp rag with fresh water and wipe the glass and plastic casing located on the top of the lid.
Cleaning the cord 
Overtime your Mealthy Cristlid cord can inadvertently pick up debris and oil. 
To keep the device and cupboards clean, I suggest also wiping your Mealthy Cristlid cord before storing it away. 
Simply by pinching the base of the cord in one hand and firmly running a damp rag down the full length of the cord with the other hand until clean. 
Mealthy Cristlid items that are dishwasher safe. 
Your Mealthy Cristlid comes with four additional items that are dishwasher safe. 
To dislodge any solidified food debris, you can soak items in warm water.  
Additional items that come with Mealthy Cristlid
Trivet
Basket 
Silicone plate
Tongs 
Avoid caked-on food and grease on Mealthy Cristlid
Sometimes we get lazy and don't attend to our dirty dishes right away. It is best to clean your Mealthy Cristlid right after it's cool enough to handle by hand.
If left to sit for an extended period of time, food debris and oil can solidify and become quite hard to remove. 
If you happen to run into this issue, you can use a damp rag and cleaning solution to saturate the areas slightly.
Make it sit for several minutes, then wipe clean with a damp rag and freshwater. 
You might need to repeat this process if necessary, to remove any leftover built-up debris. 
Mealthy Cristlid cleaning method to avoid
If you're anything like me, then you love efficiency and practical methods. Cleaning your Mealthy Cristlid is a straightforward task and shouldn't become overcomplicated. 
Do not submerge your Mealthy Cristlid in water to clean it.
Do not clean your Mealthy Cristlid with a cloth that is filled with a lot of water. If your cleaning cloth is dripping wet, then you have too much water, and you must ring out most of the water.
Do not use any abrasive cleaning items to clean your Mealthy Cristlid. – no steel wool or other metal-based scouring pads.
Mealthy Cristlids are not dishwasher safe. Only the four additional items(Trivet, Metal basket, Silicone plate, and Tongs) that come with your Mealthy Cristlid can be placed in the dishwasher. 
Additional cleaning tips for discolored perforated steel heating element 
If your Mealthy Cristlid steel heating element still looks discolored after using vinegar and water mix, you can use a baking soda and vinegar mix. 
Stop food debris from sticking to metal basket
When cooking some types of foods like chicken, I've noticed that food debris really becomes lodged in between the openings of the metal basket. 
To prevent the food from sticking, I place small round sheets of parchment paper in a metal basket and put my food items on top. 
Brushing some high-temperature cooking oil also helps to prevent food items from becoming stuck on the metal cooking basket. 
Check out my chart showing which cooking oils are best for high heat. 
I find the parchment paper solution to be the most effective. 
Tips how to store Mealthy Cristlids in your cupboard 
To maximize the space in my cupboards, I like to place the Mealthy Cristlid upside down in my instant pot then place my Instant Pot lid on top of the Mealthy Cristlid.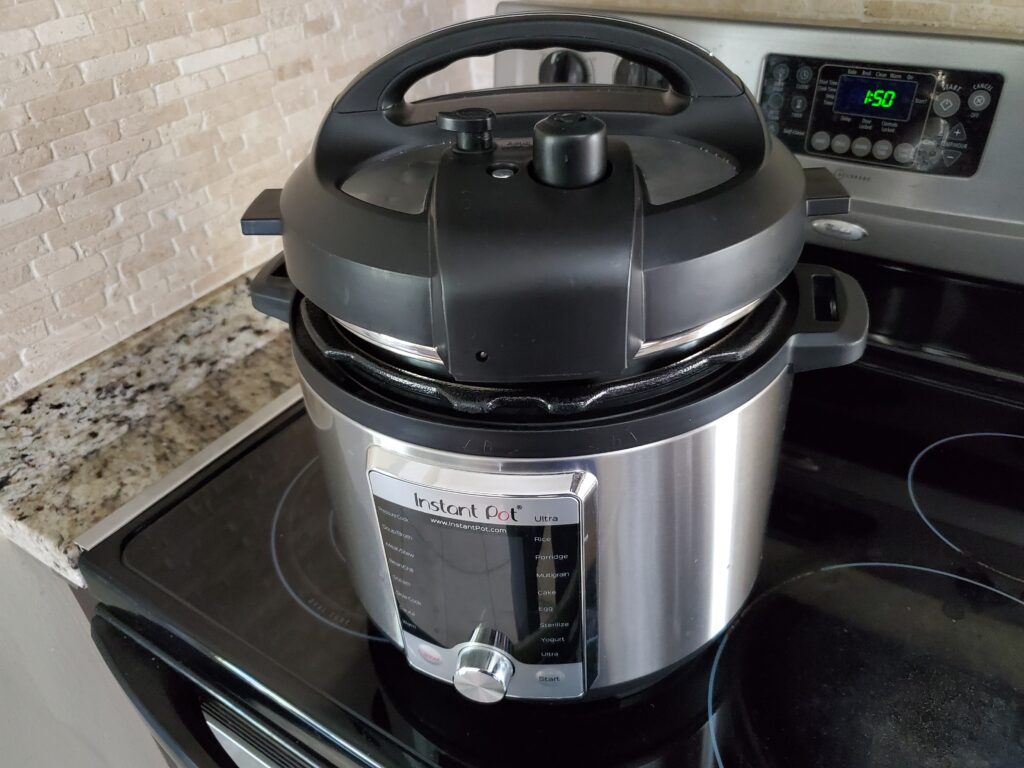 This method of placing my Mealthy Cristlid with my Instant Pot really compacts the items and makes it easy to store away.
I wrap the Mealthy Cristlid cord around the plastic casing of the lid to keep it out of the way.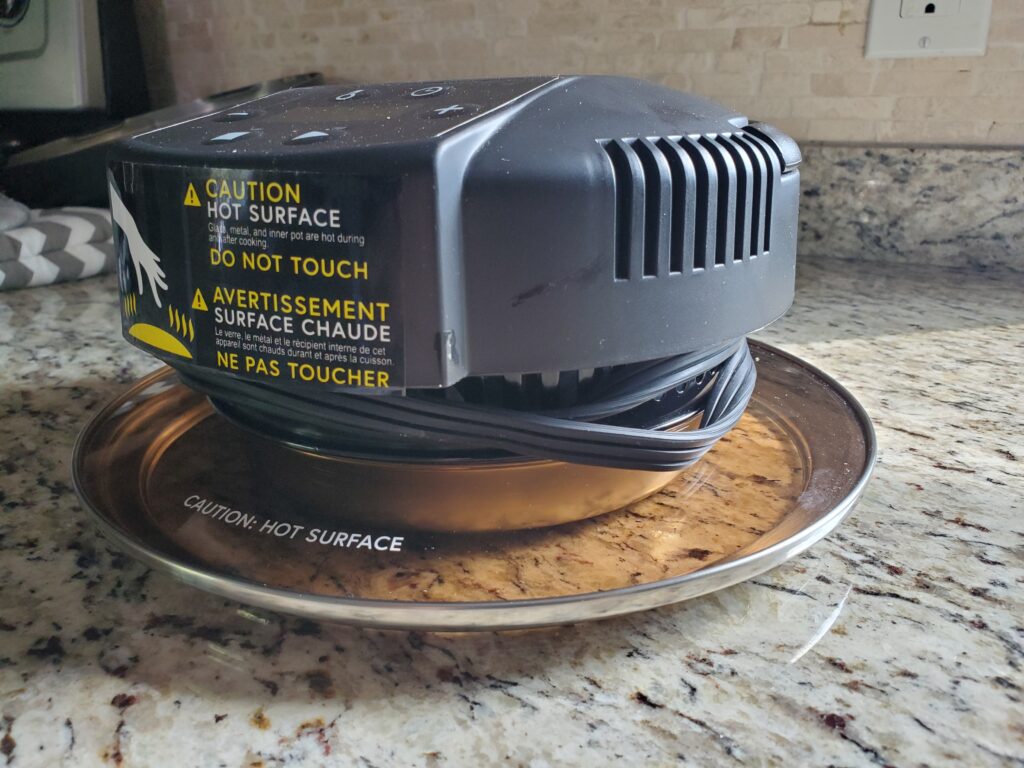 I also place items like the basket and silicone plate
inside the Instant Pot. This keeps most of the cooking items out of sight and frees up my cupboard space. 
And everything is in one place, so I don't have to go searching for all my Mealthy Cristlid items.