As the new low-profile microwaves have started creating a buzz these days, it's reasonable for shoppers to wonder if they are worth considering for their homes.
Here are a few main points to consider before buying a low-profile microwave:
✅ Are looking for more headroom over your range area?
✅  Do you want a more stylish look?
✅ Do mind paying a bit more than a traditional over-the-range microwave?
The low-profile microwave is well worth its price point. Depending on the model the price is pretty comparable to its full-sized counterpart. Also, they save space, have a sleek modern look, are well-designed, and offer all the features you would get in a full-size over-the-range microwave. Purchasing one would make a good addition to any home.
Keep reading to learn more about low-profile microwaves, their pros and cons, and more.
Low Profile Microwave Pros and Cons
| | |
| --- | --- |
| Pros | Cons |
| Sleek design blends well with most cabinet styles | Less space for cooking warming or cooking multiple dishes |
| A low-profile design allows a better view of your cooking area. (Good for taller people) | Slower air extraction(CFM) than range hoods. |
| Comparable price to its full-sized counterpart | |
| Lighter than standard over-the-range microwaves | |
Let's dive into the pros and cons in a bit more detail.
Low Profile Microwave Pros
The low-profile microwave is designed to look sleek and simple. If you already use a regular countertop microwave and are now looking for something better and something that gives you enough free space in the countertop region – the low-profile microwave is your answer.
The low-profile microwave is compact and minimal enough to fit in and not interfere with the view of the stovetop. And at the same time, it's spacious enough to put inside almost anything you would like to put in a microwave.
| Microwave Type | Interior Space |
| --- | --- |
| Low Profile Microwave | 1.1 cubic feet |
| Standard Over The Range Microwave | 1.9-2.1 cubic feet |
Low Profile Microwave Cons
One major con is the price. On the one hand, you can pick up a countertop microwave for $100, but for a low-profile range, you can pay anywhere from $600 – $1000 before sale price.
But depending on your space requirements and whether or not you prefer a compact microwave, it can be a good decision to pay several hundred dollars more to reap all benefits of a compact mounted microwave.
Best Low Profile Over the Range Microwave
After spending hours at Home Depot, Lowes, and Best Buy I settled on the 2 following models I decided are the most feature-rich and economical for any modern home.
| | |
| --- | --- |
| Style and Performance | Budget Friendly |
| KitchenAid 1000-Watt Low Profile Microwave Hood | Whirlpool 1000-Watt Low Profile Microwave Hood |
| 1.1 cu. ft. | 1.1 cu. ft. |
| 500 CFM | 400 CFM |
| Dark grey with PrintShield technology (resists fingerprints and smudges), white | Comes in Black, Stainless Steel, and white |
| Buy Here | Buy Here |
Brief Overview of a Low-Profile Microwave?
2018 saw the introduction of a revolutionary new type of microwave called the low-profile microwave, which was made specifically for use in tight places above the range where you would have previously required a range hood. 
This microwave is ideal if you desire the convenience of an over-the-range model but can't install one because of the height of your cabinets.
The little stature of a microwave is its defining feature. Traditional microwaves are bulkier and are best positioned on a counter or over a stove, while the low profile type is ideal for spaces with low-hanging cabinetry.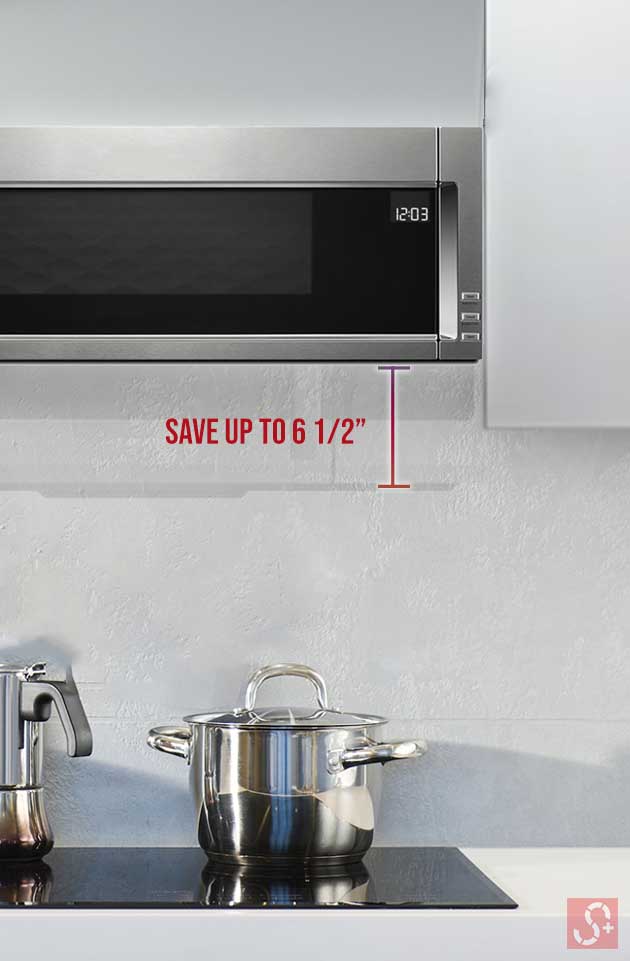 A low-profile microwave is around 10 inches tall, whereas an over-the-range (OTR) microwave is typically 16 to 17 inches in height. It doesn't need special installation like an over-the-range unit, either.
How Easy Is It to Install a Low-Profile Microwave?
Firstly, it's essential to ensure that you have a grounded electrical connection and outlet present above the countertop where you'd like to install the low-profile microwave.
The process of setting up a low-profile microwave oven is typically less complicated than you may imagine.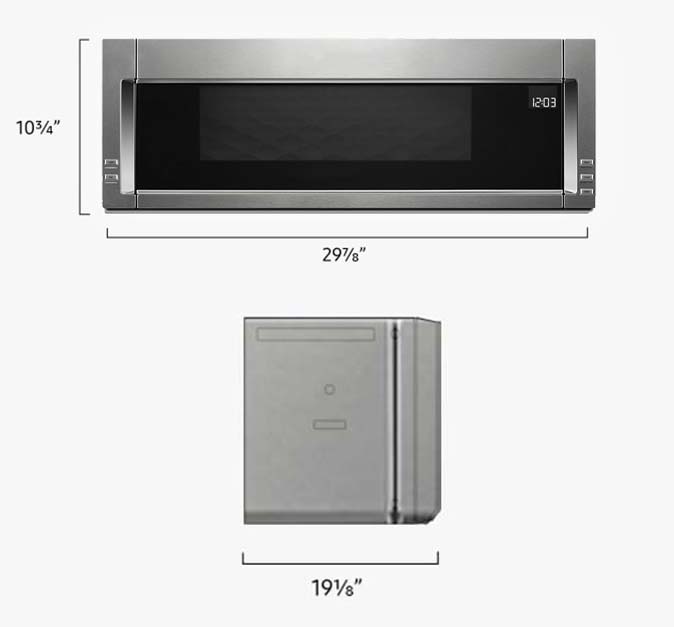 For example, when a new oven is being used to replace an old vent hood or microwave, installation is straightforward and only requires basic tools. 
An additional set of hands is required for this task, so ensure to have one of your family members or friend as a helper.
Over-the-range low-profile microwaves may look complicated, but they often come with mounting brackets, templates, and instructions that make installation a breeze. 
Installing a low-profile over-the-range microwave can be done in a couple of hours if the area is large enough, the adjacent cabinets are far apart, and there is an above cabinet to hide the ducting connections. 
The most fundamental part of the job is putting up a mounting bracket on the rear wall, drilling holes in the top cabinet for the power cable and exhaust duct to pass through, and then bolting the oven into position through the base of the top cabinet. 
Just hook up the venting, plug in the oven, and you're ready. However, there is often more to it than that while working on a home improvement project.
So for a better visual explanation of what to expect, please watch the following video on installing the low-profile microwave.
Overall, the installation process is easy. You must simply refer to the instruction given in the particular low-profile model's manual and use your DIY skills.
What About Operating The Low Profile Microwave?
The Low Profile microwave also performs well in terms of operation, thanks to its ease of use and touch screen features. The light of the microwave is bright enough to give a good experience while using the device, even during the night.
Moreover, you don't have to deal with a lot of buttons with the low-profile microwave (especially in the whirlpool 1.1 model).
Mostly the buttons are hidden inside. And on the outside, there is a touch screen that works like your smartphone. 
So you don't have to apply a lot of pressure while operating the controls. To open the microwave, you simply give the bottom of the door a light pull, and the microwave will pop right open. Overall, the touch controls are cool and gives you a modern style and feel.
Although getting used to the touch controls may take some time at first, once you get the feel of it – you'll enjoy operating the device.
Power Consumption: Low Profile vs. Full-Sized Over-The-Range Microwave
When it comes to power consumption, both styles of microwaves are pretty much on par. People may assume the low-profile over-the-range microwave would consume less power, I made this assumption at first. One may assume something with a smaller form factor may draw less energy.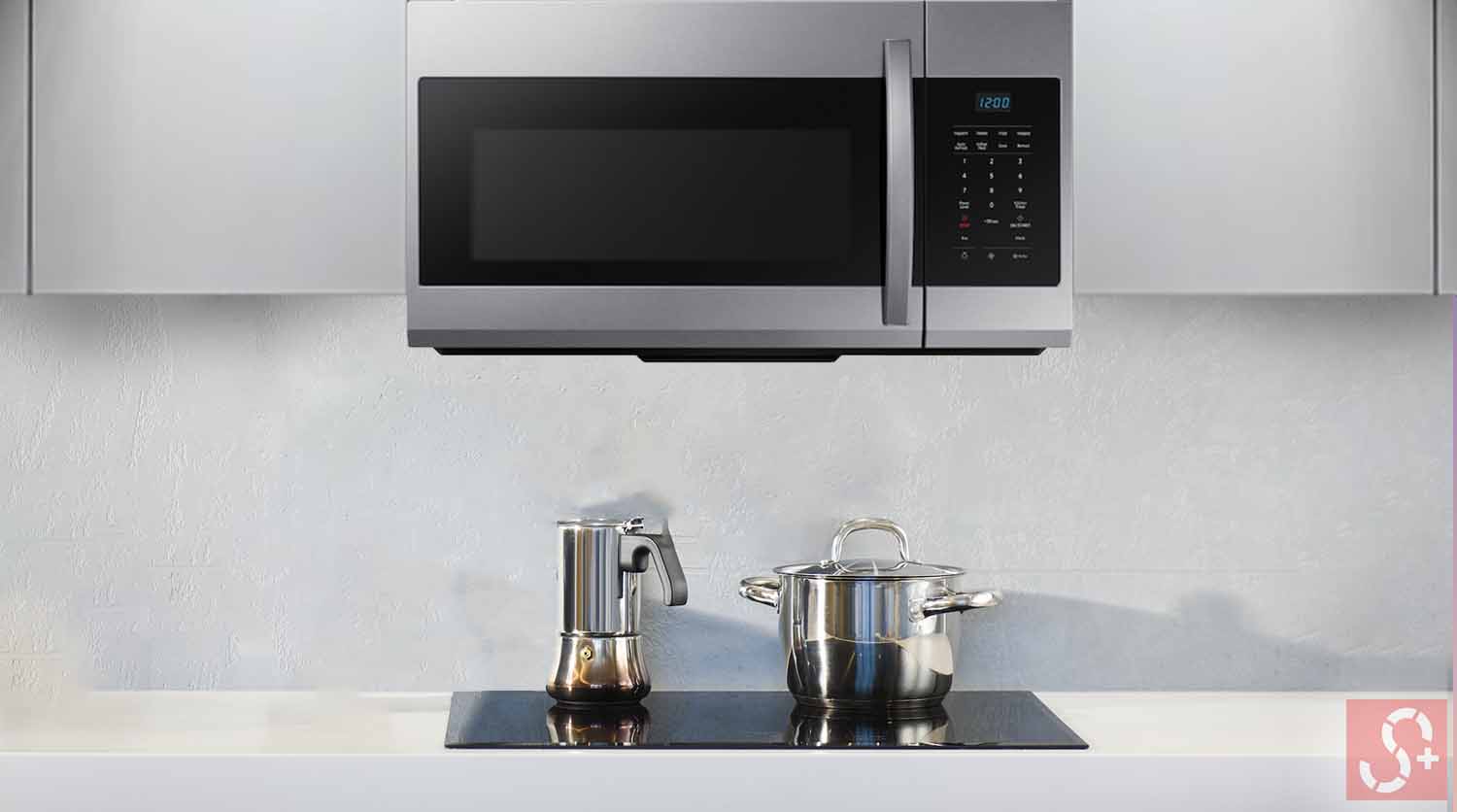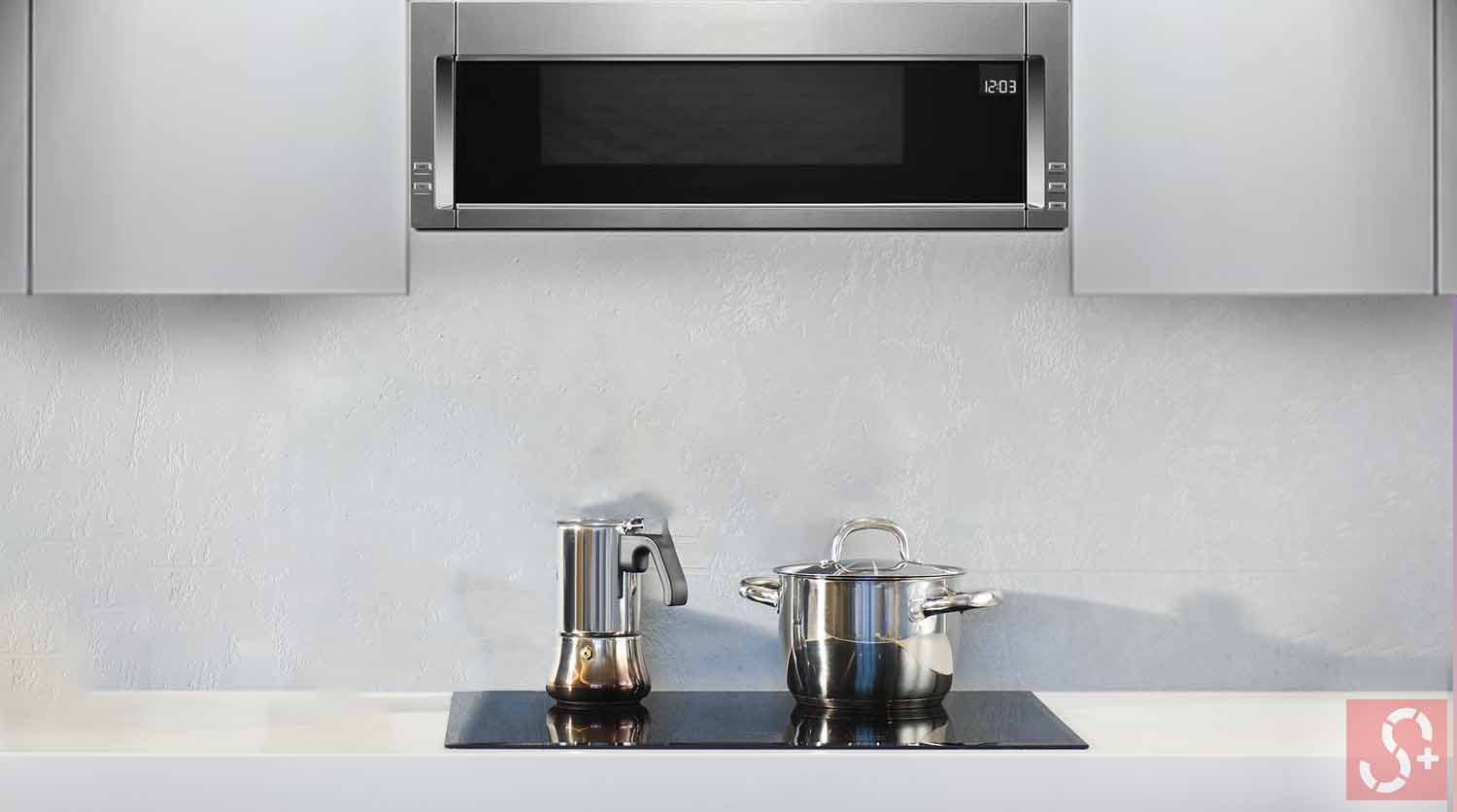 Rest assured low-profile over-the-range microwave boasts 1,000-1,200 watt cooking power just like its full-sized counterpart.
This is not a negative by any means. You would want the same cooking power to heat up all your favorite dishes.
Air Extraction (CFM): Low Profile Over-The-Range Microwave
Typically there is always some compromise on performance when trying to squeeze technology into a smaller form factor. Style is one consideration, but I have to outline some vital features like CFM.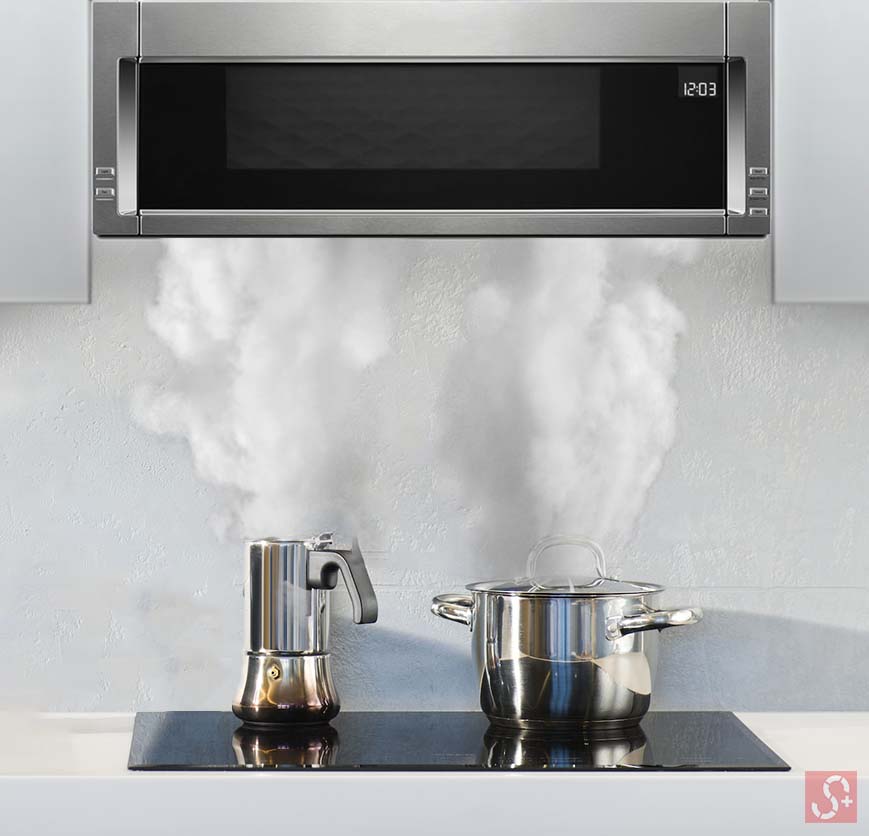 Many people don't think about CFM(how fast the air is extracted when cooking). When I was a new homeowner, I didn't know jack about air extraction in a home. Now after 15 years of home ownership and multiple rental properties, I can tell you air extraction is super vital to the air quality in your home.
CFM stands for Cubic Feet per Minute it's the measurement of airflow. The higher the CFM, the faster air is moved.
If you're planning to put an over-the-range microwave or even a regular range hood in your basement, please consider something with a higher CFM. Due to the nature of the basement, proper air extraction will keep your home smelling fresh. Here is a guide I wrote that goes more in-depth about CFM and purchasing the right range hood.
You can find inexpensive low profile over-the-range microwaves that are comparable in cost to a full-sized. Keep in mind you will get a reduction in performance.
Final Verdict
Any kitchen would benefit from having this sleek, low-profile microwave. The minimalist style makes it an attractive addition to the kitchen. 
It doesn't take up much room, has the same amount of power as a standard microwave, and has a large enough cooking area for most typical dishes.
Also, it is high enough that you can improve your line of sight when cooking.  
The low-profile microwave is perfect if you enjoy the simplicity and looking for a compact yet effective microwave that adds a modern touch to your kitchen.
Photo altered by simplelifesaver.com | Photo attribution: Marcin Galusz