When you're cooking Indian or Chinese dishes, do you notice the smell of food fills your home and even makes its way to the second story and into the bedrooms? It's mostly due to not having proper venting in your kitchen.
Indian and Chinese dishes require high heat and a wide variety of spices. This combination can cause intense aromas to fill the air. 
When cooking curry dishes or chana masala, smells permeate your kitchen and your entire home. 
I love many Indian and Chinese dishes. It got to the point where I was going out every other day to eat one or the other. 
I made a conscious effort to start making the dishes I love so much at home. I love the smell of Indian cooking. I'm just not too keen on having the strong lingering smell of food in my house. 
I started doing some research to find the best ways to control the smell of strong foods when cooking! 
Rangehoods with higher CFM and exterior venting are crucial for dealing with the robust aroma of Indian or Chinese cooking. A 700 – 900 CFM range hood will dramatically reduce the strong smell of foods in your home. Having a longer hood also helps capture smoke, heat, and steam.
LATEST VIDEOS  
Understand you won't completely eliminate all cooking odors, but a good quality range hood can reduce odors to make it more bearable, and you'll have better air quality in your home. 
Many low-end, inexpensive range hoods have a lower 100 – 300 CFM. Based on my experience, You will need something with higher CFM to minimize the food smell in your home. 
How a Range Hood Impacted My Life
I've been a landlord for over ten years. I've always been cost-conscious when it came to buying and installing new appliances in my units.  
For many years I didn't value a good quality range hood. I was always reluctant to invest in a good one.
I used to think they were all the same. I just found the cheapest one and installed it. As long as the fan was spinning, it was good enough.
Boy, was I wrong!
All my rental units were outfitted with your basic 100 CFM range hood. It was not until I had a family from Bengaluru move into the basement of my home. Every time they cooked, the intense smell of onions and other spices would fill the main floor of where I lived. 
The smell would make its way into the bedrooms and the rest of my home. There would be days when I would have to put the pillow over my face to block the smell when I was trying to sleep. The food didn't smell bad, I just found it hard to sleep, breathing the strong smell of food.   
So I went online and started researching the hell out of trying to resolve this issue! I read a truckload of the article and watched a boatload of videos on the topic. Having proper venting became a recurring theme in my research.  
I decided to buy a 600 – 800 CFM range hood. 
The sales guy asked what the size of my ductwork was. 
I told him it was only a 4-inch. He told me I would only benefit from the 600(Maybe even less CFM) because of my 4-inch exhausting duct opening. Little did I know the 600 CFM would still make a dramatic difference in my Kitchen!
The sales guy demonstrated the suction power of the range hood by placing a large white bowl under the range hood. As he removed his hand from the bowl, the suction power was enough to hold the bowl in place.  
This was an impressive demonstration! After seeing what it can do and getting a pretty good warranty, I was sold! 
After installing the 600 – 800 CFM range hood, it pretty much eliminated the smell. I was in disbelief at first that this simple change made such a big difference.
Here's a comprehensive chart of duct size requirements depending on your CFM
| | | |
| --- | --- | --- |
| CFM Range | Minimum Duct Size | Recommended Duct Size |
| 400 – 600 | 6″ | 8″ |
| 600 – 900 | 7″ | 8″ – 10″ |
| 900 – 1200 | 8″ | 10″ – 12″ |
| 1200+ | *10″ | * |
*Will depend on duct size, motor, and duct length.
When it was my tenant's typical dinner time, I didn't smell anything! 
So I would go outside to where their exhaust was located just to check if they were actually cooking. As I approached the exhaust, I would get slapped in the face with the intense smell of spices that I was very familiar with.
I was so pleased to witness the food smell being vented out and not lingering in the house anymore. 
Then I would go back inside to do a smell test. I would smell nothing after walking all around my house. 
I was thrilled that I eliminated the smells from my home! 
The Benefit of Ducted Range Hoods
I was shocked to find out people still live in homes that don't use range hoods that vent directly outside.
A range hood is one of the most important essential appliances in your kitchen. They're made to remove odors, smoke, and heat when you're cooking. 
They are essential for keeping the air quality in your home fresh, and It also removes oil and steam vapor that can settle in your home. This is what creates that sticky film on your cabinet that's a pain to clean.
Proper ventilation also helps reduce the growth of bacteria and mold in the home. This improvement in air quality will benefit people with respiratory issues. 
Most range hood brands come with lights. This helps to illuminate the cooking area. You can effectively spot dirty areas of your stove and the surrounding area that needs to be cleaned. 
Basic Understanding Of Ductwork 
Ductwork is tubing that runs through the home. The primary role of ductwork is to move air around your home. Think of it like a big drinking straw running from room to room in your home. 
It moves warm air, cool air, and vents air outside.  
Traditionally air ducts are made out of galvanized steel or aluminum and can be round or rectangular in shape. 
Many standard homes across North America come equipped with ductwork.   
Pros and Cons of Ductless Range Hoods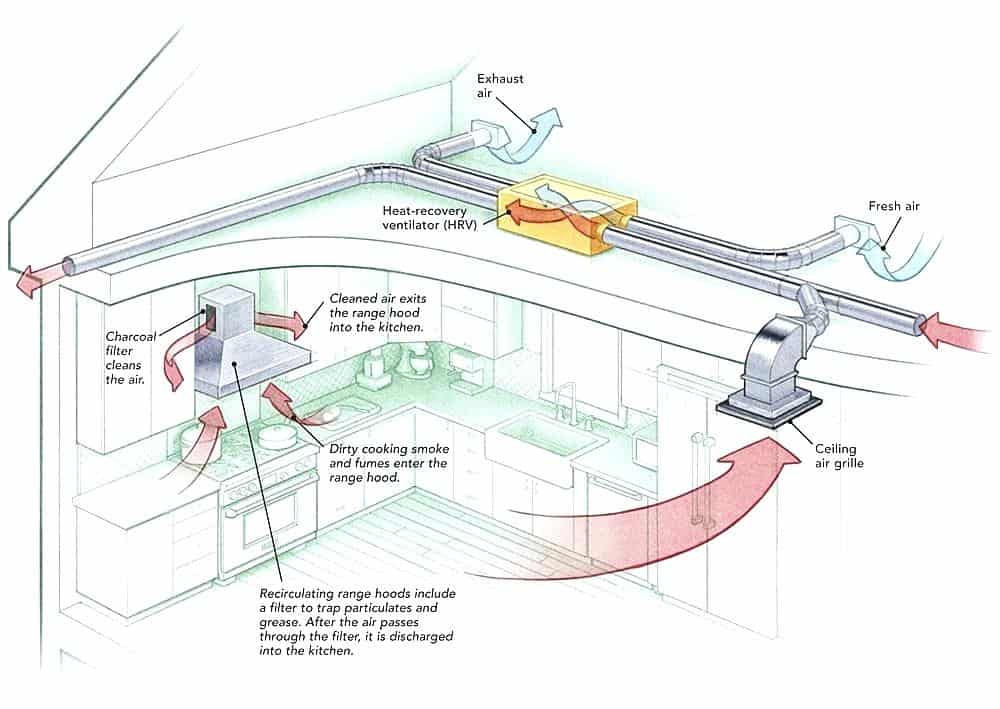 Just like the name suggests, there is no ductwork that vents the air to the exterior of your home with a ductless. 
Ductless range hoods filter the air and recirculate the air back into the home. 
One benefit of having a ductless range hood is that you don't need to install any ductwork. Although this might not be the best option for optimal venting, some venting is better than having none at all. 
Because the ductless range hood recirculates air, this gives it a significant disadvantage over its vented counterpart. 
Instead of venting out the heat, oil vapor, food smell, and musty air will linger in your home. 
This will dramatically affect the air quality of your home. 
You will also need to change or clean your filter more frequently to keep optimal performance.  
Why Higher CFM is Important
Do you notice when you're frying something like onions, the smoke fills up your range hood and billows out of the hood, and goes into your kitchen?
This is mostly due to not having enough suction power to evacuate the accumulated cooking smoke in time. 
CFM plays an essential role in evacuating cooking smoke. 
CFM is short for cubic feet per minute (cu ft/min). It is a measurement of the speed at which air flows move in or out of space. 
Two things affect the speed of airflow, The speed at which the fan spins, and the size of ductwork which the air flows through.  
Having proper CFM will reduce smoke, cooking smells, and oil vapor. Your CFM should be high enough to evacuate cooking smoke and smells before it fills the hood and billows into your kitchen. 
I've witnessed demonstrations of range hoods that are powerful enough to suck and hold a large bowl. This is one indicator of a higher CFM range hood. This is one way to illustrate how fast the range hood can evacuate the air. 
Larger Ductwork For Better Venting
Ductwork can come in various shapes and sizes. The opening size is more important than the actual shape. Opening size plays a significant role in how high your CFM is.
If you have the opportunity, I recommend using larger opening ductwork in your home. Not only does it exhaust more efficiently than its smaller counterpart, but it also moves to heat and cooling more abundantly.  
Over-The-Range Microwave
When it comes to microwaves with built-in venting, you cannot beat the convenience. 
With your microwave being mounted overhead, this frees up countertop space where a traditional microwave would go. 
Many people have grown accustomed to seeing over-the-range microwaves in modern homes. 
It's often considered stylish and sleek looking by new home buyers. 
Disadvantages of Over-The-Range Microwave
The typical over-the-range microwave is 300-400 CFM. 
Not only do you get less suction power on average, but it also has little to no hood.  
Hoods protrude out and help capture the bellowing smoke, steam, and heat. 
Using an over-the-range microwave is a classic case of sacrificing functionality for style and convenience. 
It will be more difficult for the over-the-range microwave to vent if you use the two-front burner stove because the typical over-the-range microwave doesn't have a hood on it. The smoke is more likely to rise and flow up into your kitchen. 
If you love your over-the-range microwave and not looking to change it, one solution is to use a hood attachment. 
Another option is using your back burners. I know it's pretty awkward using the back burners for cooking your main dishes. 
But it is one option if you're really looking for a way to reduce food smell without replacing your over-the-range microwave.  
Final Thoughts
In my opinion, the typical North American kitchen is not equipped for heavy cooking. 
If you hate lingering food smells but love cooking Indian and Chinese dishes, then you'll need to equip your kitchen correctly. 
Opening windows when you're cooking can help reduce lingering food smell and bring fresh air into your home.
An open window working in conjunction with a running range hood creates amazing air circulation. The window brings in the fresh air, and the range hood vents out the stagnant air. 
Ultimately, having the right equipment is the best solution if you are genuinely looking to reduce the cooking smell in your home.