Whether you've are already cooking with your Instant Pot, or if it's a new appliance to you. Owning one is a good investment. In this article, you'll find a complete list of accessories to help you get the most out of this mighty kitchen appliance.
You want to take it up to the next level and make more dishes aside from the single dishes you've been making with your one stainless steel inner pot.
The Instant Pot already makes cooking fast and easy. But some accessories can help you save even more time, simplify the cooking process, and gives you the ability to make a wider variety of meals.  
This appliance gaining popularity all across North America. There has been the development of many new accessories. And many accessories to choose from now! 
How do you know which ones are good or bad? 
In this article, I will highlight all the accessories in the market that I find useful and not so useful. I will talk about the good, bad, and ugly.  
Essentials
This is a list of the most essential accessories you should have for your Instant Pot.
1. Sealing ring  
Your Instant Pot comes with a sealing ring, but having an extra one available is a must.
One reason is if your current sealing ring breaks or cracks, you have a backup ready to go. And therefore, it will not delay nor stop you from making your dish at that moment.
Another reason to have more than one sealing ring is that the food smell can latch onto the silicon ring. It transfers over to your other dishes. I'm sure you wouldn't want your baked goods smelling like the robust Indian dish you made the previous day. 
It's a great idea to have one sealing ring to use for when you are cooking savory foods and the other for your sweet dishes.
Also, it can be dangerous if you're old sealing ring malfunctions. Keep in mind your instant pot holds built-up pressure. The sealing ring is one of the lines of defense to make sure the pressure stays in. This is another good reason to have a replacement on hand.   
Another pro tip is using different color sealing rings to help indicate the foods it goes with. Owning various colored sealing rings serves as a reminder of which sealing ring you use for your savory dishes and which one you use for your desserts. 
2. Silicone Lids
Making a big pot of food that you're thinking about bringing to a potluck or dinner party. Rather than having to scoop out the dish and pour it into another container, you can cover your inner pot with a silicon lid, and off you go.
Using a silicon lid on your inner pot seals the pot for easy storage, allowing you to store your leftovers.
3. Instant Pot Tempered Glass lid
One of the inconveniences about the Instant Pot is that you are not able to see the dish you are making.
A solution to this is using a tempered glass lid. You'll be able to peek inside your pot to see how your dish is cooking.
Keep in mind that you should only use this lid when you are slow cooking, sauteing, browning, or using the keep-warm function.
4. Instant Pot Stainless Steel Inner Cooking Pot
Having an extra inner pot is very handy. If you tend to cook more than one meal at a time, or your other pot is not available. This extra pot is readily available for you to use.
The only downside is that these pots do not stack into each other, so make sure you have extra space for storage.
They're also convenient to have if you are making multiple dishes. Once you finish cooking one thing, you take out that pot and use your other pot to make your second dish.
5. Steamer basket insert
Being able to steam your vegetables in the Instant Pot is much easier when you use a steamer basket.
You place your vegetables into the basket and put it into your instant pot. It's much easier to take out your vegetables from your pot once they're finished cooking.
The steamer basket has perforated holes that ensure all your items get uniformly steamed. 
6. Bamboo Steamer Basket
If you love making Asian-style steamed buns or dumplings, the good news is that the instant pot can do it!  
By mixing a bit of traditional and modern techniques, you can make delicious steamed buns or dumplings with a bamboo steamer basket and Instant Pot.
Multiple Dishes in One Pot 
Although you can make some excellent dishes in your Instant Pot. One of the challenges is being able to make numerous dishes at the same time.
One option to cook multiple dishes in your Instant Pot is to cook one dish, and then make the second dish. For example, make your rice dish, and then use another inner pot for cooking your main dish right after the rice finishes cooking.
This is definitely time-consuming, and you are probably thinking it is not worth the time, and having a multiple functioning cooker may not be a good idea. It might be best to own separate appliances.
Well, you're in luck. Due to the demand for being able to make your Instant Pot do more, there are many accessories that you can purchase to help you make multiple dishes in your Instant Pot, at one time. Rathe than cooking separately.
Here is a list of the best accessories which mean your multiple cooking needs:
7. Tier stackable steamer pans
Stackable pans allow you to make more than one dish in your Instant Pot at a time.
These pans are made from stainless steel. They come with two types of lids for you to use. Each has a specific function, depending on what kinds of dishes you are making.
Now, you can make two dishes that complement each other at the same time.
A word of advice when making multiple dishes at the same time, it to be aware of the food cooking time.
There are plenty of delicious pot-in-pot recipes you can follow.
[insert link]
8. 3-Tier stackable pan
Now, if you really want to go crazy and like a variety in your meals, you can cook up to three types of dishes using a 3 tier stackable pan. The downside of cooking 3 dishes is that the quantity of your meal is less than using a 2 tier pan.
One cool thing you can do with this style of multiple cooking is to make 3 one meal dishes that you can freeze. You could possibly have a whole week's worth of meals ready to go.  
9. Dunsten Stackable Steamer Insert Pans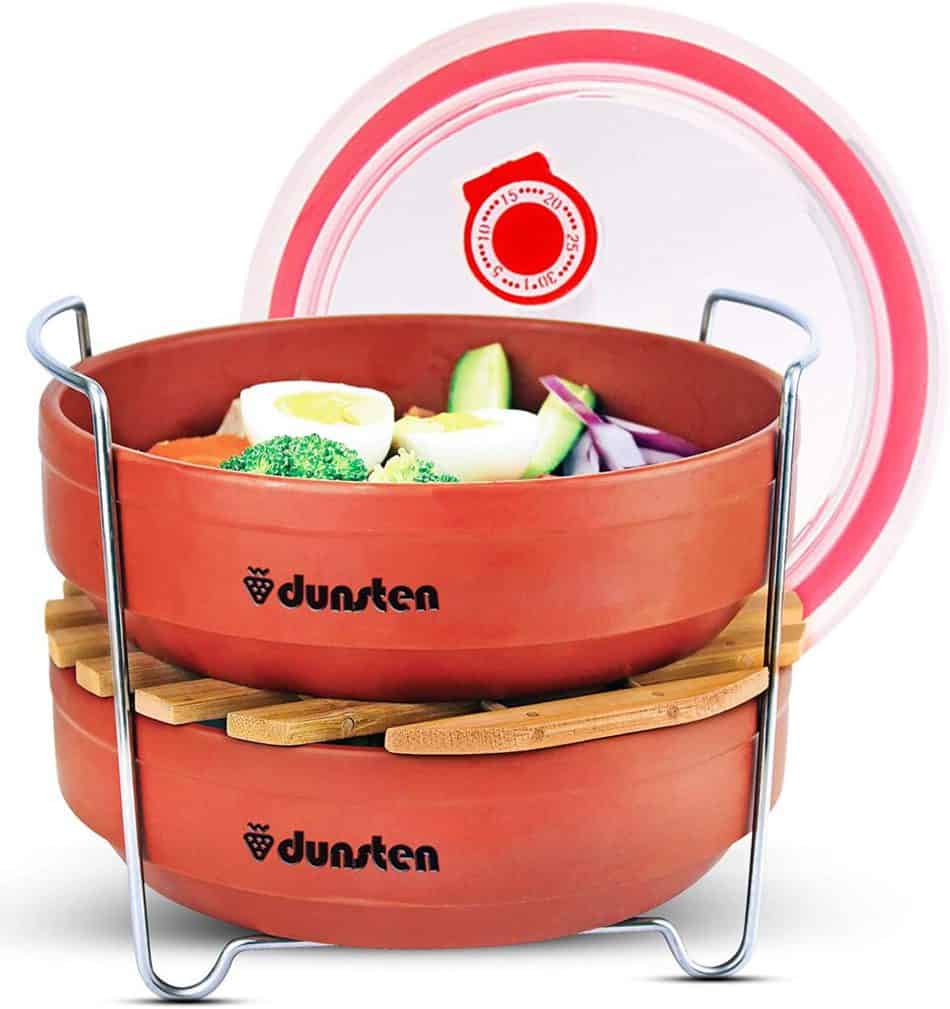 What's unique about this particular stackable pan is that it is a stoneware pan.
It comes with 2 pans, 1 bamboo rack for steam ventilation, 1 high-quality stainless steel sling, and 1 plastic lid to easily store leftovers.
The benefit of the bamboo rack is that it allows the steam to circulate throughout both dishes. It's also easy to clean.
You can use this stackable pan from cooking your dishes to serving them and then right to storing any leftovers. 
It's an excellent option for pot-in-pot cooking and reheating any leftover foods.
Baking
Making desserts using your instant pot is a dream. As long as you own the right accessories, you can make some delicious desserts to die for.
One thing to make sure of is that you use a trivet when baking and make sure you use at least 1 cup of water at the bottom of your inner pot.
10. Round Cheesecake Pan
It starts with the right size pan, and this 7-inch round cheesecake pan is the perfect size for your 5-quart and larger Instant Pot.
This pan's design allows for the bottom to be removable. 
It's crafted, so the contents remain inside of the pan and don't leak out the bottom.
Once it's finished baking, you can remove the bottom of the pan and use it to serve your cake/dessert.
11. Springform pan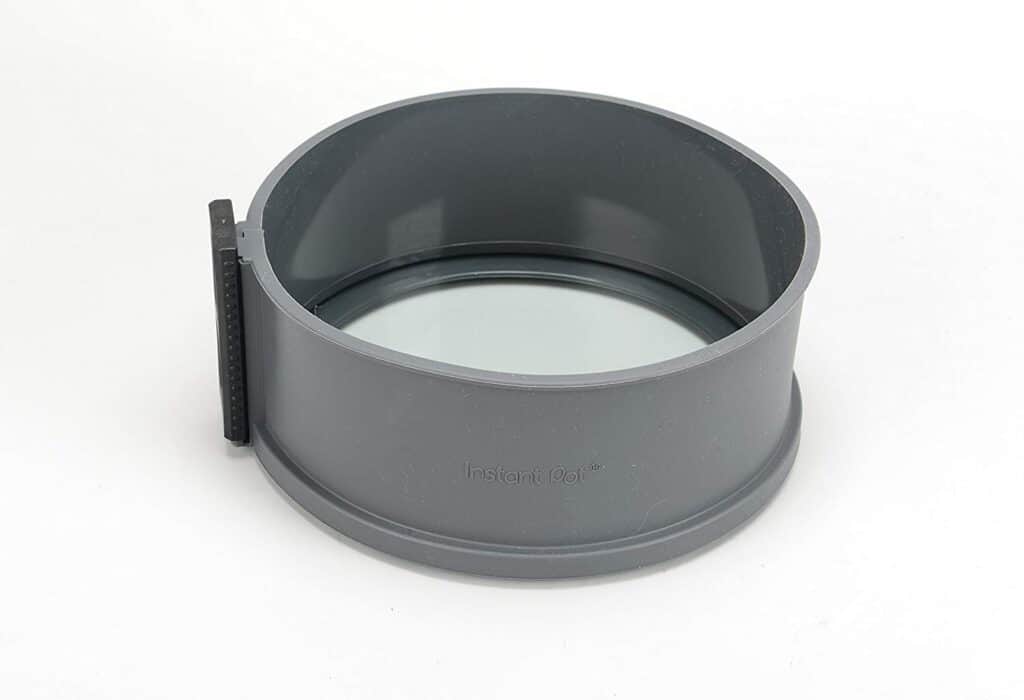 An alternative container to make baked dishes in your Instant Pot using a springform pan.
There is the Instant Pot version, which has a glass bottom. But you can choose one with a non-stick bottom.
You'll want to stay away from runny dishes, as they do tend to leak in springform pans.
If it's not a very runny dish, such as lasagna and cheesecake, then the springform could work.
The benefit is that you don't have to turn your dish upside down, you can unlatch it, and the bottom of the pan is a great serving dish.
Again, make sure you get the 7 inches for 5quart Instant Pot and larger.
12. Round cheesecake pan – non-removable bottom
Making lazy lasagna or cake can be made in a cheesecake round which doesn't have a removable bottom
These are great for making dishes which tend to be more liquidy.
13. Bakeware sling
The instant pot is deep, and when making dessert, you are usually resting your dish at the bottom of your Instant Pot, and it can be challenging to dig it out.
Instead of wrapping foil around your trivet to create a make-shift sling to pull out your dish. You can rest your container on this bakeware sling, and it will make taking out your dessert much more manageable.
Protective
The Instant Pot is a cooking appliance that creates a lot of heat. You should protect yourself, so you don't get burned.
These are the best accessories to do the job:
14. Gripper Clips
Using a gripper clip is one way to remove your inner pot from your Instant Pot if the food is freshly made, and you're ready to pour your dish onto a serving plate.
Rather than using cloth mitts, which could get soaked, you can use these gripper clips to hold onto the side of the pot and lift it easily out of your Instant Pot.
15. Instant Pot Mini Mitts
Use a pair of mini mitts to remove your cooking pot out of your Instant Pot. They are heat resistant mitts which allow you to lift your pot without getting burnt.
You can remove your cooking pot with ease, and you don't have to worry about getting your gloves wet. Plus, they are easy to clean.
Organization
When you are cooking a few things in your Instant Pot, you will want to have some accessories to keep things organized.
Check out this list of accessories:
16. Stackable Egg Steamer Rack
Want to make the perfect eggs without having to put too much effort, well the egg steamer rack and the Instant Pot combined will do the trick. 
One accessory, which helps make this a reality, is using a stackable egg steamer rack.
Now, you're not only cooking the eggs to perfection but also, you no longer have to worry about the eggs cracking in the pot.
By using this accessory, you are able to cook more eggs at the same time.
There are mostly two models that allow you to make between 14-18 eggs at the same time.
It's a great tool if you're making deviled eggs or egg salad, for example.
17. Steamer basket with divider
Using a divider is an excellent way to separate the different foods you are steaming, that you don't want to be blended together.
It's a simple insert that you place in your steamer basket and allows you to separate your food into three compartments.
Portability
Although some could argue that the Instant Pot is pretty large to bring about. It is quite a useful and handly appliance to own.
Bringing your Instant Pot on road trips and pot-luck parties is a genius idea.
You may want to own these accessories:
18. Carry Bag
Using a carrying bag for your instant pot may be overkill. If you've ever gone long driving, the Instant pot is a game-changer.
You can bring your Instant pot with you, especially for family trips. You can have some delicious meals instead of junk and snacks in your vehicle.
You'll save money instead of eating on the road.
Having a carry bag keeps your Instant Pot protected as it rests in your vehicle.
Even at home, it's a beautiful cover for your Instant Pot, if you don't particularly enjoy the look of your Instant Pot on your counter.  
Specialty cooking
The Instant Pot has so many functions. Some types of cooking may require a few more accessories to be able to do their unique cooking method.
Such as air-frying, baking, and sous vide.
Here is a list of accessories you may want to consider if you're looking to cook in a particular way:
19. Air fryer lid
Unless you own the Instant Pot version of the duo crisp and air fryer, your Instant Pot does not support the air fry feature. Instant pot creates their own air fryer lid attachment to make your instant pot Air Fry, Broil, Bake, Roast, Reheat, and Dehydrate directly.  
Owning the lid will save you time and space. Instead of owning another kitchen appliance, you can make this already versatile kitchen appliance do even more.
Air frying is also a great way to enjoy your favorite fried foods without oil and extra grease.
Imagine being able to make your own chicken wings at home without the mess and grease that comes with the traditional frying of chicken wings.  
20. Silicone egg bite molds
Starbucks has made egg bites very popular, and now you can make them yourself using an egg bite mold.  
But, it's not limited to egg bites. It is only limited to your imagination. You can use it for baby food, and make yogurt and brownies, for example. 
They typically come as a set, so you can make multiple bites if you stack them.
You can make some bite-size cakes and muffins, which are great to have at home or impress your guests at a party.
They come with a lid so you can keep your food fresh and easily store them away.
21. Silicon baking cups
It doesn't seem like the instant pot can make desserts, right? I mean, it's missing the basic function of being able to put multiple things in it.  
Now, you can maximize your Instant Pot, but using these silicone baking cups to make some yummy desserts.
What's great about them is that they are reusable and easy to clean.
22. Yogurt strainer
Getting yogurt from the grocery store is quite pricey and contains a lot of preservatives and sugar.
Making your own yogurt at home is very cost-effective, and you can have more control over how it's made.
Using this yogurt filter allows you to thicken your yogurt. It's great if you especially enjoy greek style yogurt.
23. Bamboo steamer
Love to make dumplings or want to try them, then owning this bamboo steamer is excellent for you.
It keeps your food sealed, and at the same time, the steam will be able to get into the container and make delicious buns and dumplings.
24. Premium Silicone Sous Vide Bags – Reusable
Sous vide-style cooking is usually done by professional chefs. The Instant Pot has made this style of cooking available for the home cook as well.
The Instant Pot Max is currently the only model that has the sous vide option built-in.
You can do sous vide with your Instant Pot Smart-Wifi and Ultra, but you will have to set the temperature manually. 
These bags are great to use when you are cooking sous vide style. They are definitely a better option than using one-time-use plastic.
If you're looking to cook sous vide more often, they check these reusable bags out.
25. Glass Jars
Looking to make some homemade yogurt, then you'll need something to store it in. 
Six-ounce glass jars are a great size for storing your yogurt. Of course, you can use them to keep other foods as well. They are also great to use if you do a lot of canning at home. 
Extras
Some accessories may not be necessary to buy for your Instant Pot. But, when you love your Instant Pot, you are open to all the bells and whistles to make yours function even better.
Here is a list of accessories which can add a little more to your tiny mighty kitchen appliance:
26. Ceramic inner pot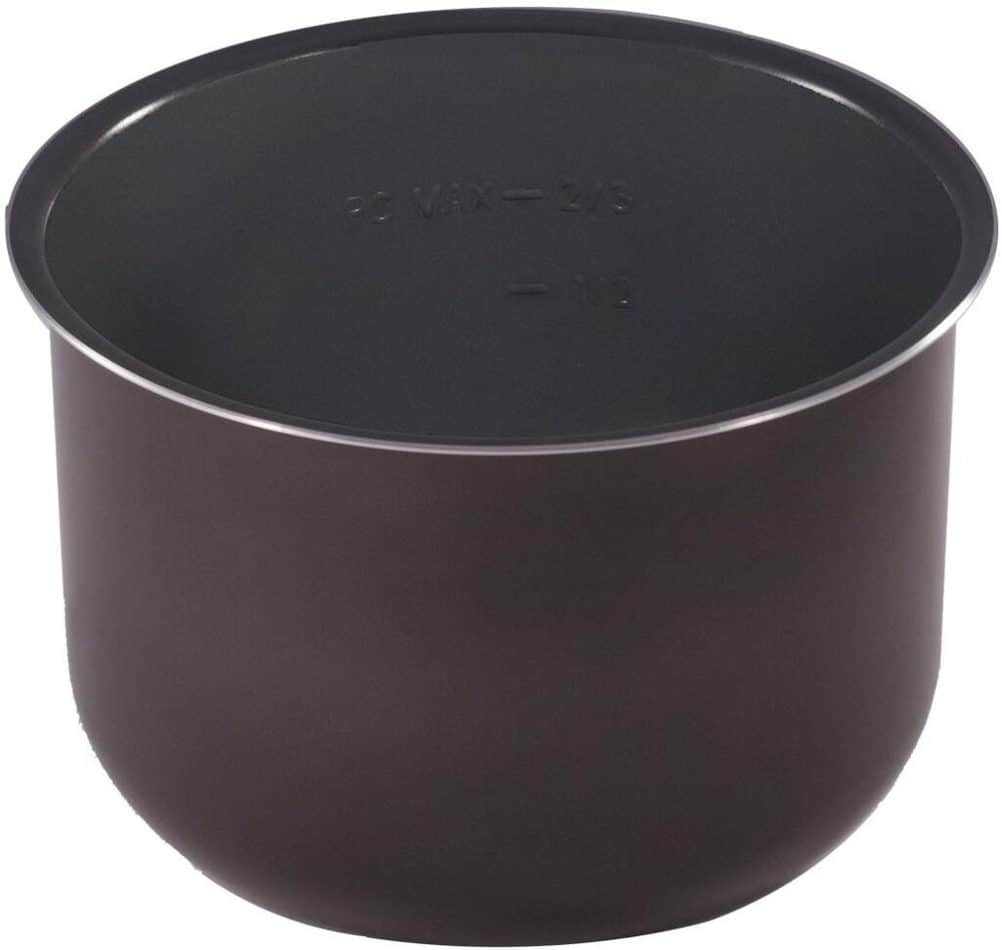 For those who do a lot of slow cooking and rice cooking, this ceramic pot is the perfect accessory.
It has a non-stick coating and can be safely transferred to your oven to cook for up to 360C/ 680F.
You can clean it in your dishwasher. And it comes in all 3 sizes to suit your Instant Pot.
27. Decorative Cover
You can add some style to your Instant Pot with these decorative magnetic cover.  
When you use your instant pot quite a bit, you tend to want to leave it out on your counter instead of storing it away.
You can make it more personalized and blend with your kitchen by using this simple to install the cover.
It's a great idea if you want to use your Instant Pot as a serving appliance. Rather than taking the pot out, you can place the entire instant pot on a table. You can do this if you want to keep your food warm when serving.
It's great for big gatherings.
28. Silicon mat
Silicon mats are useful to use to place your hot pot on.
They are easy to clean, dishwasher safe, and add a protective layer for your counter.
They are also slip-resistant. Therefore you don't have to worry about your pot sliding and accidentally cause your dish to spill over.
29. High trivet
The trivet is an accessory that comes with your Instant Pot, but they are short in height.
Having an extra trivet, which is a little taller, allows you to do more. Due to its height, you can, for example, make two dishes at the same time. Using a high trivet will enable you to have more space for your bottom dish.
It's also great to use if you are using a shorter container, such as a cheesecake round. Since the container will rest higher in the pot, you'll be able to take it out more comfortably.
30. Steam Release Accessory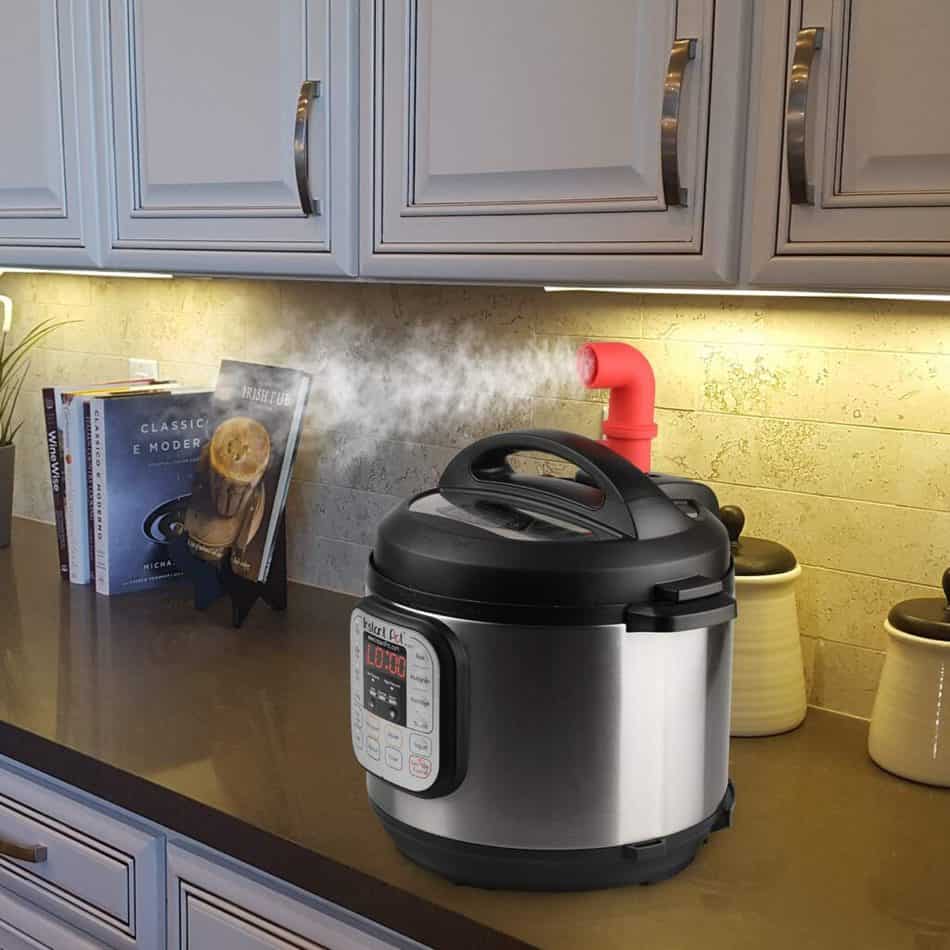 The Instant Pot releases a lot of steam, which can make your cabinets icky or ruin them.
Using this accessory directs the steam away from your cabinets.
31. Magnetic cook timesheet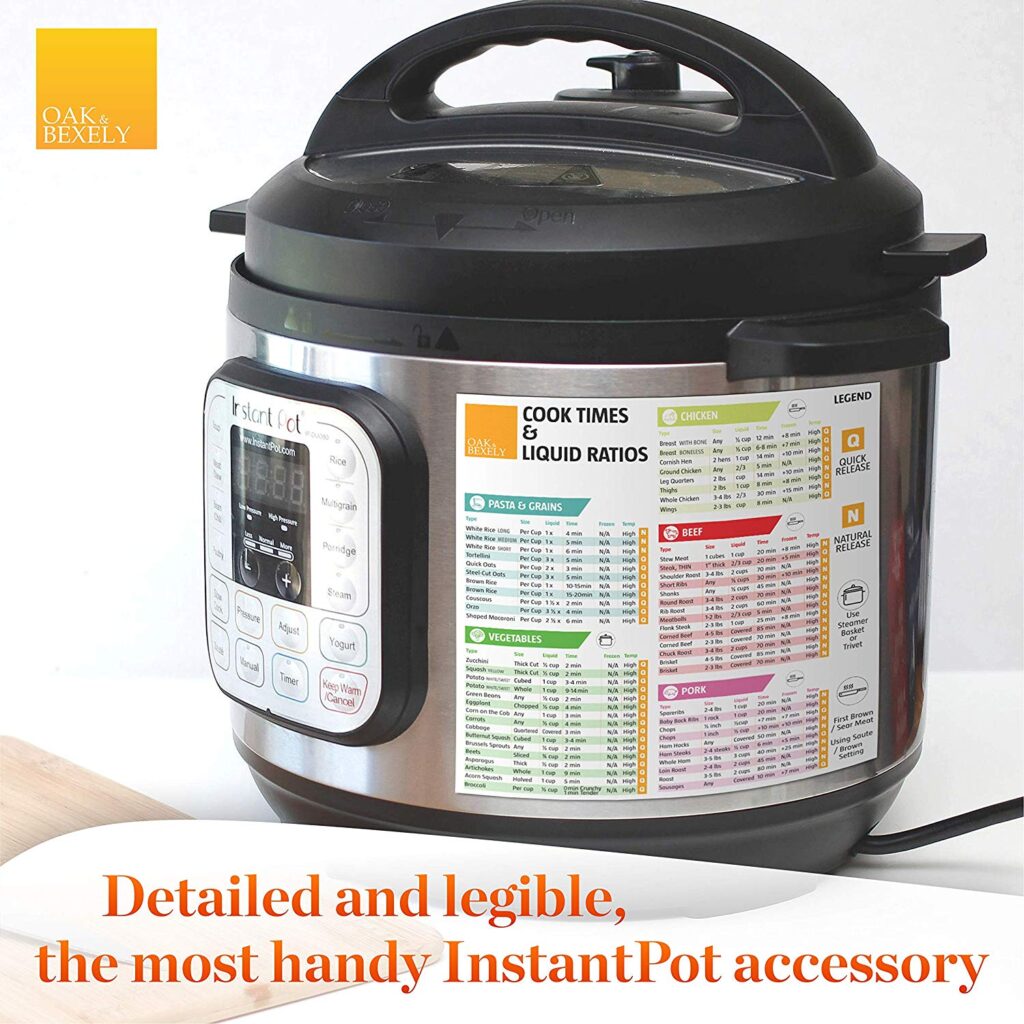 Do you always take out the piece of paper with all the cooking times? Well, save yourself the hassle and place this magnetic sheet on the side of your Instant Pot so that you'll always have easy access to the cooking times.
32. Sous Vide Weights
The tricky thing about cooking sous vide style is that the food floats. Your food turns out much better if it is submerged in the water.
Using these weights, keep your food down at the bottom of the Instant pot for better, even cooking.
33. Digital thermometer
Using a digital thermometer allows for better cooking accuracy.
It ensures that your food is fully cooked. You should be using one if you make yogurt and meat dishes in your Instant Pot. It's also useful to check the temperature of the water bath when cooking sous vide. 
34. Collapsable silicone steamer basket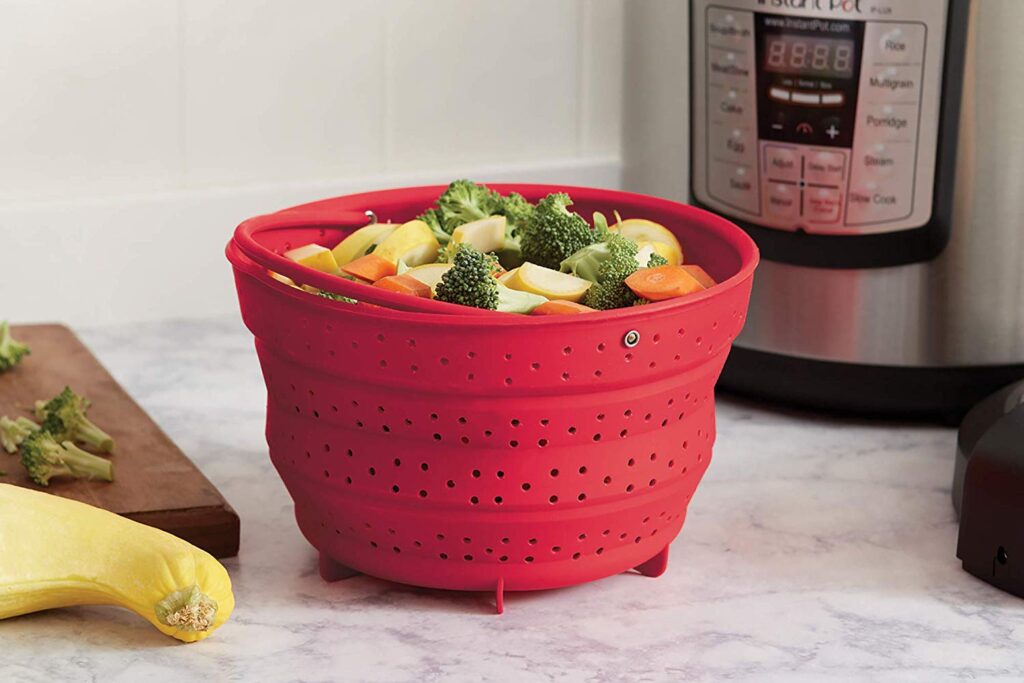 Owning the Instant Pot and many of its accessories can start to take up space in your kitchen. Save space with this collapsable steamer basket.  
Other benefits are that its non-stick, easy to clean in the dishwasher, and has a handle that allows you to remove it quickly from the pot.
35. Metal Basket – steamer basket
Another steamer basket option, this one is much taller and, therefore, can fit more food and comes with a handle.
36. 2-tier steamer basket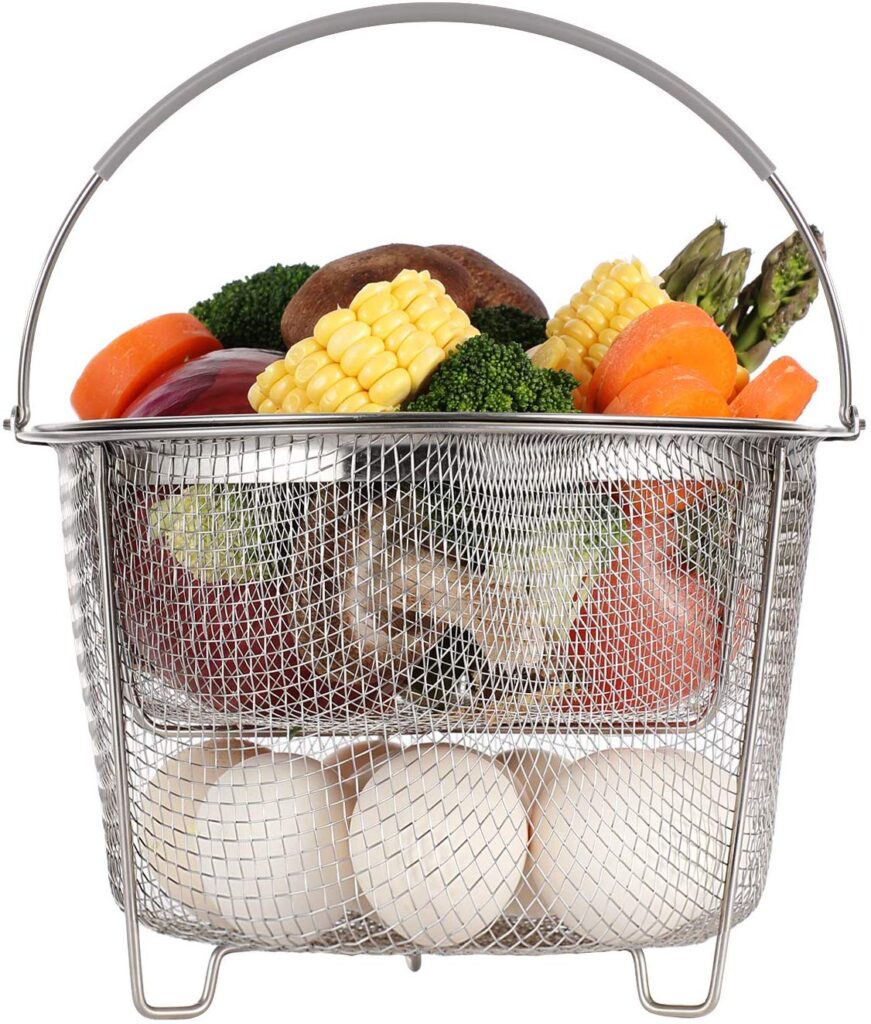 A steamer basket can fit a large amount of food and, at the same time, allows you to steam two types of dishes.
37. Silicone Snap Strainer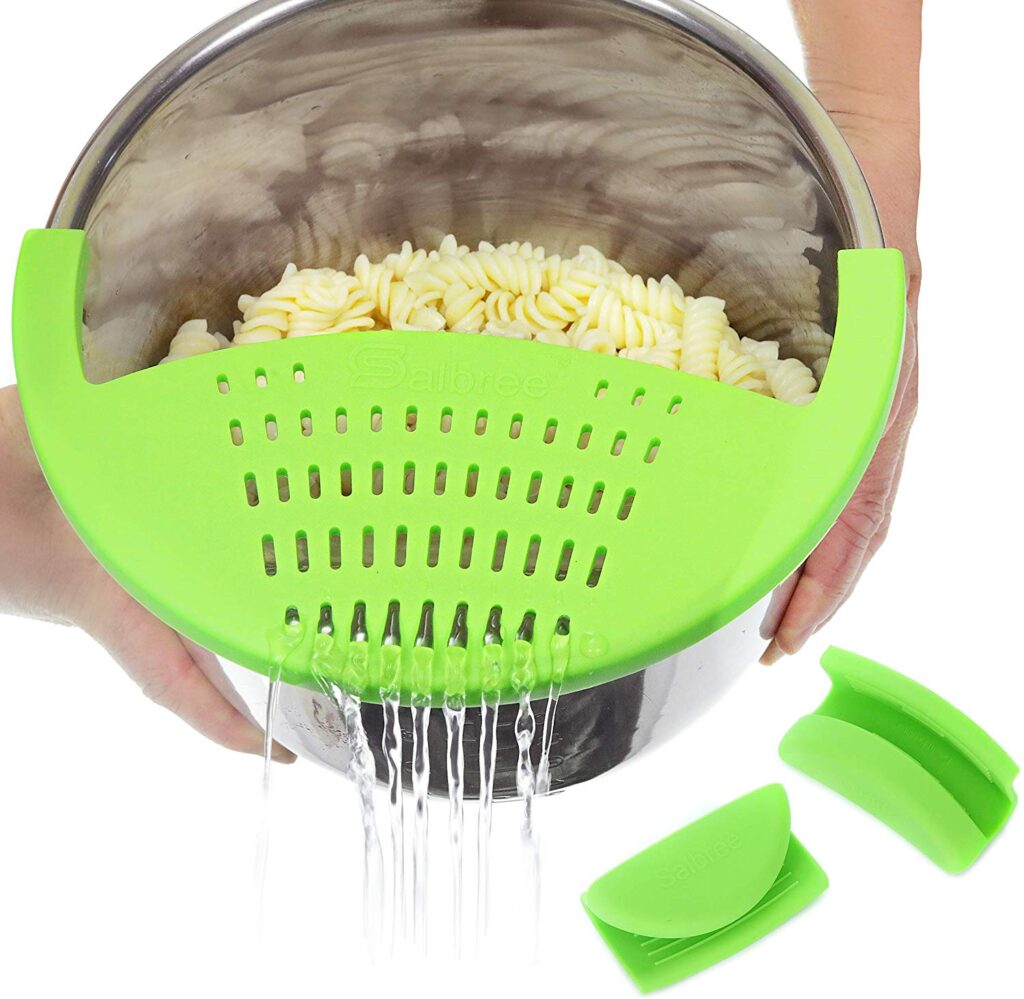 You will be able to easily strain the water from your Instant Pot using this simple lid that turns your inner pot into a strainer.
It also comes with a pair of universal mitts, which are designed differently from the typical gloves you see. It allows for anyone to be able to use it no matter the size of your hands or fingers.
Conclusion
Your Instant Pot is already an investment, and honestly, what you get in the box is enough for you to make some delicious dishes.
A person new to the Instant Pot way of cooking, should stick to the basics and get used to making food with it first, before investing in any accessories for it.
If you've beeing using your Instant Pot for a while, then try some of the amazing accessories to enhance how you cook. There is no guarantee that your food will taste better with these accessories. Still, many of the accessories assist in easier cooking, cleaning up, and allows you to be more creative to try new dishes to make.
Overall, make sure you enjoy trying new ways of cooking and preparing meals. Decide which accessories are right for your style and your life.
These accessories are meant to make your life and cooking easier.