Cooking can be fun, but no one likes the whole house smelling of your garlic mix and spices. 
Smells can move through the vents in homes and take over entire areas.
Of course, you can enjoy cooking, but you will not like smells to remain even long after you have finished cooking your meals.
Imagine going into the bathroom and bedrooms, and all you smell is the fish dish you made hours ago. 
If that sounds unpleasant to you, imagine how your visitors or tenants will feel when the guest room smells like a kitchen.
For those who live in apartments, you will surely not want to have issues with your neighbors because the smell of your food took over the entire place.
In a situation where they have told you that their rooms keep smelling of your food, You might feel embarrassed and worried as you might not know the next step to take. Worry no more! I can help with that.
The simple act of opening windows is one of the most effective ways to reduce cooking smells from traveling through vents.
But if you want to make an impact on lingering food smells traveling through vents in your home, do the following. 
By opening two adjacent windows and using window fans in each window, you can create a wind channel that will release trapped air in your home. One fan should be positioned to pull air in, and the other fan should be positioned to blow air out. 
LATEST VIDEOS
Using the method above is only half the battle.
Depending on the type of home you live in, you can achieve improved results by trying some of my other methods below in conjunction with the above solution.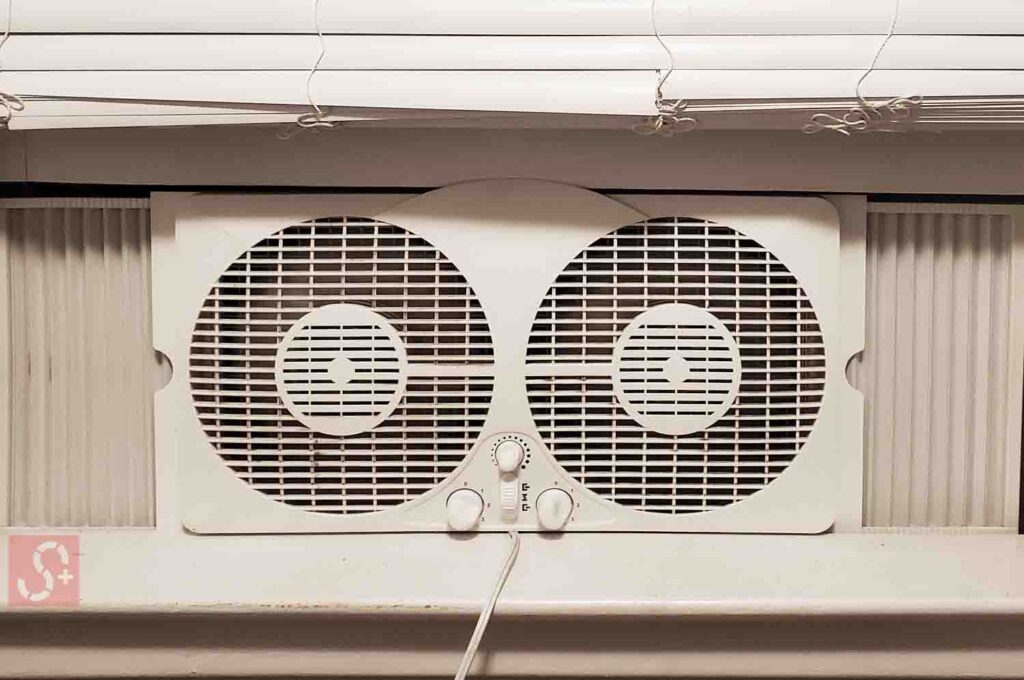 Ventilate the area where you are cooking
The first thing you need to do is create proper in-home ventilation when you cook. I recommended continuing venting 15 to 30 minutes after cooking to release lingering smells.
If you plan to make some dishes, do not wait until you start cooking before you open the windows and doors. Start to create some airflow in your home.
In a situation where it is somewhat cold outside, do not worry, as the room will heat up once you start cooking with the oven or stove.
By leaving the windows ajar, you will ensure that the food smells will leave the room instead of remaining inside the same space.
Once the kitchen and other spaces of your home are properly ventilated, you can be sure that the smell will diminish as it will be replaced by gusts of fresh air.  
Using a good quality rangehood 
Using a range with high CFM is an excellent way to diminish food smell right at the source. 
CFM is the measurement of how air is moved. The greater the CFM, the more air a rangehood will move.
I recommend something in the range(no pun intended) of 500 – 800 CFM. This range will provide adequate over the stove venting. 
You can never have too much CFM! Sufficient ventilation in your home impacts air quality, your health, and unwanted odors.
I wrote an article that goes in-depth about the benefits of a good quality range hood. Click here to check it out.
Installing skylights that can open 
Another thing that you can do to prevent the cooking smells from wafting through the vents in the house is to do an installation of skylights that can close and open with no stress.
If you do not have this, it would be nice if you could have it installed. 
Apart from helping you get rid of the cooking smells, it will also improve illumination with natural light. 
Using natural baking soda
Making use of baking soda in different parts of the home is another way to help you neutralize lingering smells.
Fortunately, baking soda is cheap and is known for having the ability to soak up unwanted smells.
Some people even put it inside the fridge to ensure that it gets rid of all kinds of noxious odors.
This is possible because the active ingredient in the substance, and that is sodium bicarbonate. 
It has been proven to work wonders in smelly shoes. If it works for that sort of thing, I'm sure it will help soak in food smells.
Once it is time for you to do your cooking and you happen to be cooking with ingredients that smell strong, put portable containers of baking soda in several parts of your home and replace them with fresh soda every few weeks.
Baking soda is more effective in smaller enclosed spaces. Depending on the size of your home, it may be a solution that does or doesn't work for you, but it doesn't hurt to give it a try to help reduce the smell.
I have a keen sense of smell, and I've noticed the difference when I use baking soda to neutralize odors in my home. 
Temporary covers for the air vents
If you are cooking food that is extra flavorsome and has a high level of scent, then depending on where your vents are, you could temporarily cover them with some cardboard or material.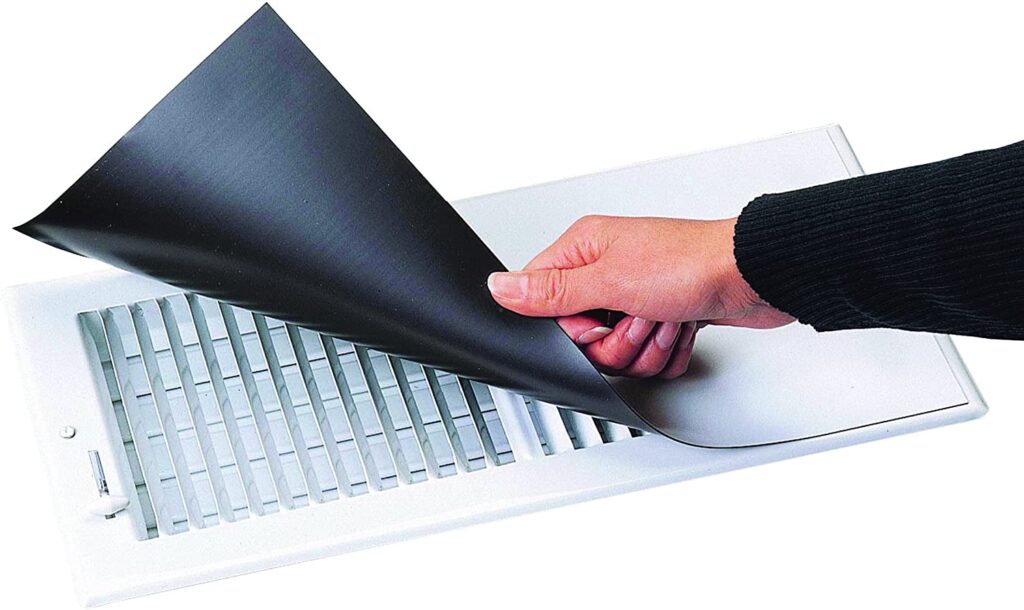 You can use vent covers that are often made with magnets, so they sit there. They are then easily removed without leaving any damage behind.
You can remove the whole grate if you want to and use a nonporous material to block up the vent or use some adhesive foam weather strips to block the holes.
If you are blocking up an air conditioner or heating vents, be sure to unblock them before turning them on. Otherwise, you will diminish the benefit of heating and cooling in your home.
Invite the complainers to dine with you
Instead of fighting fire with more fire, consider being extra nice.
If someone is knocking on your door because your food is too strong smelling and is traveling through their air vents, consider saying, "hey, we would love to have you over for dinner."
If people get a nice offer and perhaps an apology that your food smells strong, they are less likely to worry about it in the future. 
If you know who is complaining, then take a plate of food to them and perhaps they will taste it, love it, and won't worry about the smells anymore. 
It doesn't hurt to take a different approach; sometimes, it can surprise you.
Final thoughts
Many people living in apartment buildings won't cook certain types of food due to the smell and the worry of disturbing their neighbors.
There are many different things that you can try, which may help end the trouble of food smells traveling through the vents within your home. Try one or try them all. There is bound to be one that works perfectly for you.
If not, try and talk to your neighbors. Maybe they are going away for the weekend, which could give you the chance to cook up a storm and freeze some.
That way, you have plenty on hand and won't have to worry about the neighbors and the smell of your food cooking every day. 
Sometimes all it takes is just a friendly chat with your neighbors to reach an agreement or a solution that suits both parties.