Portable washing machines are an incredibly useful and space-saving solution for those washday blues. Compact in size, they are perfect for those for whom space is an issue, such as people living in smaller apartments. Or even as a backup machine for those days when the laundry pile looks more like a mountain!
However, they aren't something you want to leave lying around on the kitchen floor or worktop when they aren't in use. 
This article is crammed full of great solutions of how to keep your portable washing machine out of sight, when not in use. 
The practicalities of living with limited space can be difficult. But if that sounds familiar, then don't worry. 
We have some great solutions that will help you store your portable washing machine out of sight. 
This also applies to people who have more space but frequently find themselves staring up at that laundry pile from base camp!
Here is the quick solution:
One of the best solutions I've used for storing my portable washing machine is getting a machine small enough to store away in multiple locations. 
This is my machine that I keep stored away in this small closet.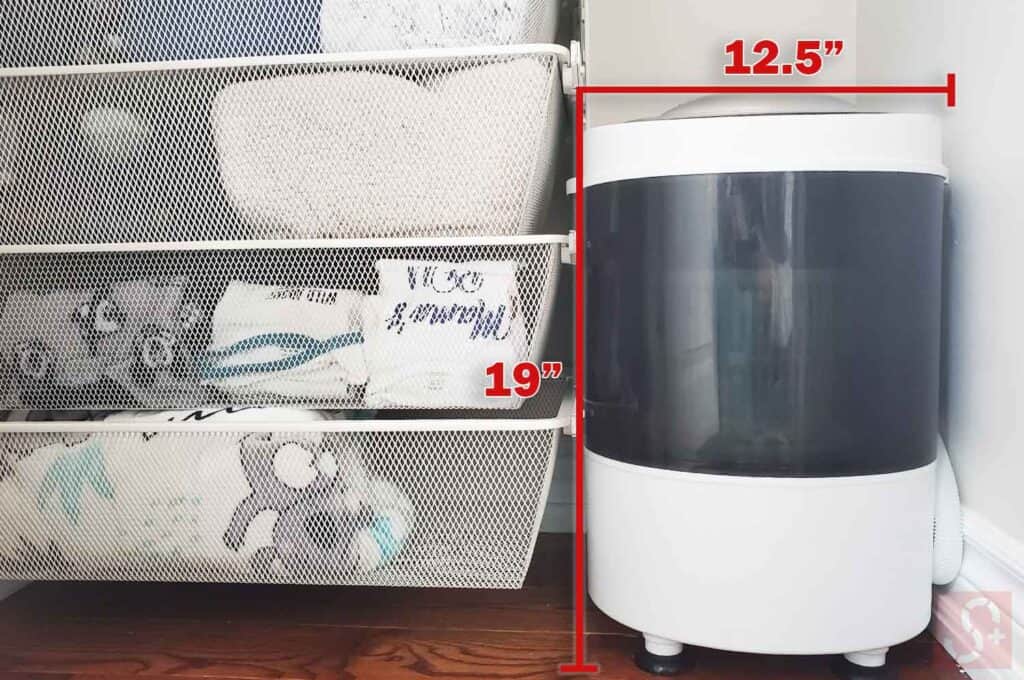 Now let's deep dive into this article to explore other practical solutions!  
Types of portable washing machines?
Let's take a quick look at just what a portable washing machine is. As you can see from this link, these machines come in a variety of smaller sizes and shapes. 
As well as being smaller in size, they don't require a permanent plumbing solution so they can be easily stored away after use. 
Some people like to get a bit of a larger machine to wash clothing like jeans. In a recent article, I wrote I talk about if jeans can be washed in a portable washing machine.
They come in a variety of shapes, sizes, and configurations, but they all have one thing in common, they are designed to deal with smaller wash loads without taking up the valuable space that standard washing machines require. 
Because of the smaller loads, you are very likely to need to do your laundry more frequently than with larger machines. So, wherever you store your portable washing machine needs to be convenient.
There is no point in just cramming it away in the back of an already full closet if you need to use it two or three times per week.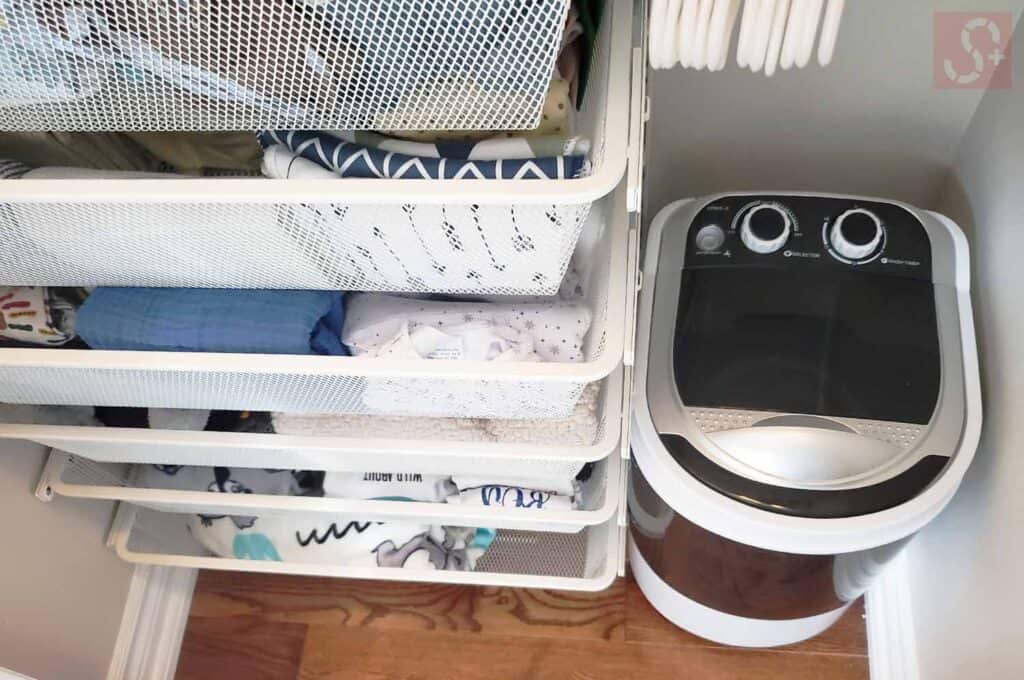 How to prepare your portable washing machine for storage
Like any washing machine, it is essential to ensure that you have drained as much water from the machine as is possible before you store it. 
This ensures that there isn't a stale and damp smell that can occur if it is left with water in it. This also helps in ensuring that there is a minimum of corrosion issues and will help prolong the life of the machine.
It also helps to leave the lid or door of the unit slightly open. This lets the machine 'breathe' when not in use and helps prevent nasty odors.
Leaving the machine door open very important when doing things like camping. Damp items tend to linger longer especially in smaller areas like a RV. In a recent article I discuss some of the best portable washing machines for camping.
Check out one of our previous projects [Simple Lifesaver TV]
We're always working on cool new projects at SLS.
How to keep your portable washing machine out of sight
Now that we know more about these useful machines and what to do before you store them let's look at some of the best hacks for keeping them out of sight when not in use. 
Cover it – Many compact washing machines are the perfect size to act as a small table or unit. Simply throwing a smart-looking cover over it and perhaps placing an ornament or two or a vase of flowers on top of it can make it enhance the appearance of a small apartment. 
Under the kitchen sink – Many portable washing machines are small enough that they will fit under a sink unit or other kitchen unit. This is a great solution if you have the room to spare as the washing machine is always in the right room.
A Storage Box – Many fantastic-looking storage solutions can help hide your portable washing machine when not in use. Although it is better to get a box that is impervious to water, this can be easily remedied by simply lining the container with plastic sheeting or merely placing the machine inside a strong plastic bag before storage. Storage boxes don't need to be boring either and can enhance the décor of a small apartment, check out these great-looking storage boxes.  
A Storage Bench – When space is really tight, why not combine a storage box with a bench? There is a huge variety of these to choose from, but as with the storage box solution, it is best to look for one that can cope with some water, just in case. Personally, I love this one. It is large enough and strong enough to cope with most portable washing machines. 
Utilize Vertical Space – Wall cabinets or units are large enough to store many portable washing machines. Just ensure it is securely enough attached to the wall to cope with the weight of the machine, and the unit itself is strong enough. And still large enough to store a few other items like detergent and bleach. In a recent article, I discuss the Do's and don'ts of using bleach in a portable washing machine.
Tuck it behind a sofa – This one is an old favorite for storing just about anything. If space is particularly tight, then the old 'behind the sofa' trick might be the best solution. Of course, water could be an issue in this instance, so it is a good idea to make sure you have it sealed in a storage sack before tucking it away.
On top of a wardrobe – Another commonly used solution for storage in smaller apartments, perhaps it isn't ideal as it does involve a bit of hassle getting it up and down, particularly if it is frequently used. But if you have a small set of step ladders, then this could be a great choice. This is another case where you need to be careful about water, so ensure it's appropriately sealed before storing it away. 
Open shelf unit with curtains – Many open shelf units are large enough to store a compact washing machine. If you want to keep the machine out of sight, why not just string some nice fabric curtain across them to hide the machine. 
Conclusion
These are great machines for many reasons, but most people would prefer to keep them out of sight when not in use, particularly in instances where space is tight. I hope this article helped inspire you to find a solution that is both simple and effective.
Just remember, if you are going to buy a storage unit like a box or storage bench, always make sure to check the dimensions to ensure your machine will fit in the unit.