A few weeks ago, I noticed my mother-in-law cleaning her marble kitchen floor. I playfully suggested that my robot vacuum could help enhance the shine. In hindsight, I should have been more sensitive, knowing how much she values her cleaning routine. But truly, a top-notch robot vacuum might offer her some extra leisure time to cherish moments with her grandkids.
I've used my Roborock S7 MaxV Ultra on wood, tile, laminate, and marble and it kicks butt on all hard surface floors! I have spent a few days researching other comparable robot vacuums that can match the performance power of the S7, and I'm confident you'll love my top 3 picks below.
In a hurry, check out our top picks below!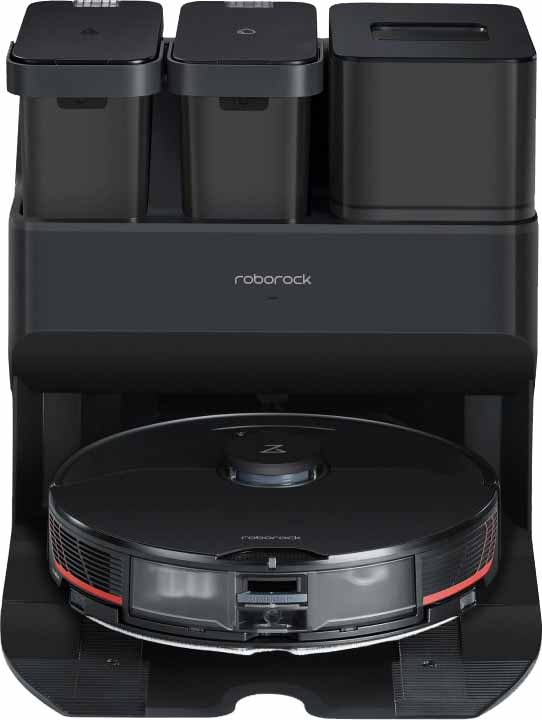 Roborock S7 MaxV Ultra
Editor's Choice
Check Price (Amazon)
Spec
✔
LIDAR navigation
✔
180 min battery life
✔
5100 Pa suction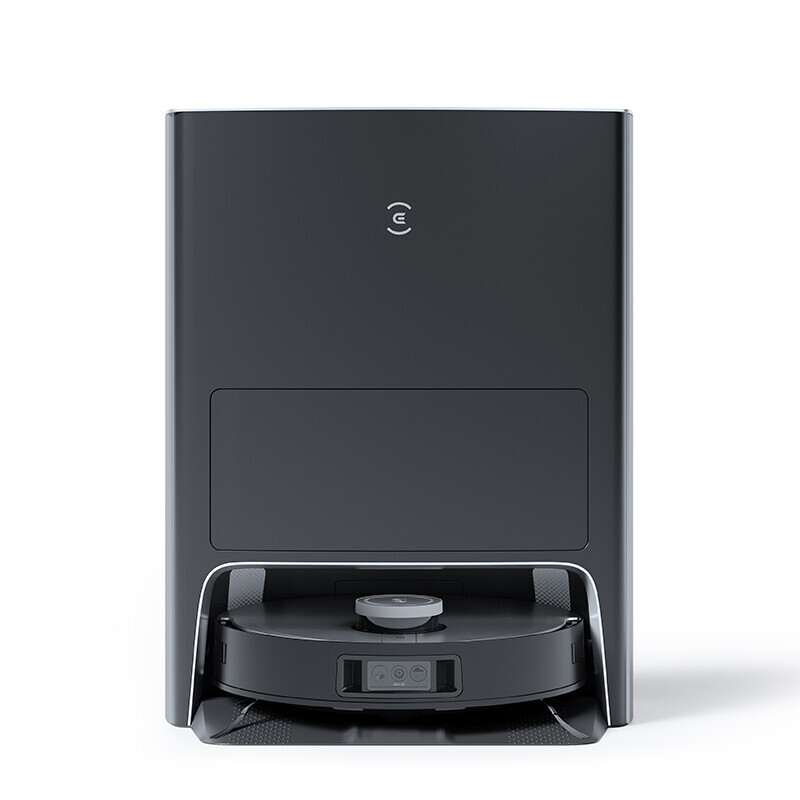 Ecovacs Deebot X1 Omni
Runner Up
Check Prices (Amazon)
Spec
✔
LIDAR navigation
✔
145 min battery life
✔
5000 Pa suction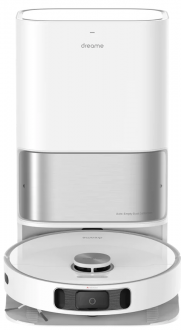 Dreametech L10S Ultra
Best Overall
Check Prices (Amazon)
Spec
✔
AI navigation
✔
210 min battery life
✔
5300 Pa suction
---
#1. Option for Marble Floors – Roborock S7 MaxV Ultra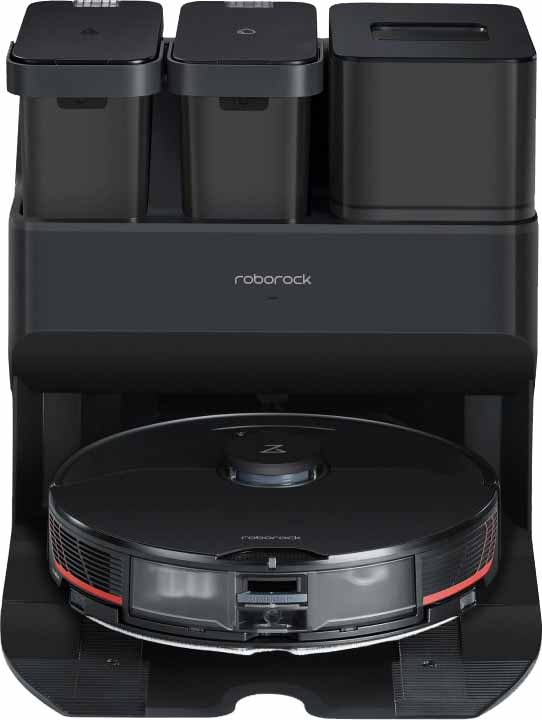 The Roborock S7 is one of the smartest robot mopping and vacuuming combos in the market. It provides an extremely convenient, totally hands-free cleaning experience. Using the Empty Wash Fill Dock, you get automatic dust emptying, mop washing, and robot water tank refilling. The dock even cleans itself too.
The Roborock S7 MaxV ultra robot vacuum is a high-end model with powerful cleaning performance and advanced features.
Its multi-directional floating brushes and powerful suction capability of up to 5100 Pa make it particularly effective in removing dirt and debris from marble floors and other hard flooring surfaces.
The vacuum's precision LiDAR navigation and mapping technology also ensure that it can move seamlessly around obstacles and avoid damaging delicate surfaces.
Additionally, the vacuum's mopping system allows it to clean and provide a polished look to your floors.
Overall, the Roborock S7 MaxV ultra robot vacuum is a top-performing option for those looking to keep their marble floors in pristine condition.
By the way, Roborock released an updated version, the Roborock S8. In this new version, they removed the camera and added several improvements.
What We Like: 
The LiDAR navigation system is used to create precise maps of the room.
5100 Pa suction power effectively removes dirt from surfaces.
Self-emptying and self-refilling features provide a hands-free cleaning experience.
The battery has a long life of around 180 minutes, allowing for thorough cleaning with minimal interruptions.
What We Don't Like:
The robot vacuum is comparatively more expensive than other models available in the market.
#2. Option for Marble Floors – Ecovacs Deebot X1 Omni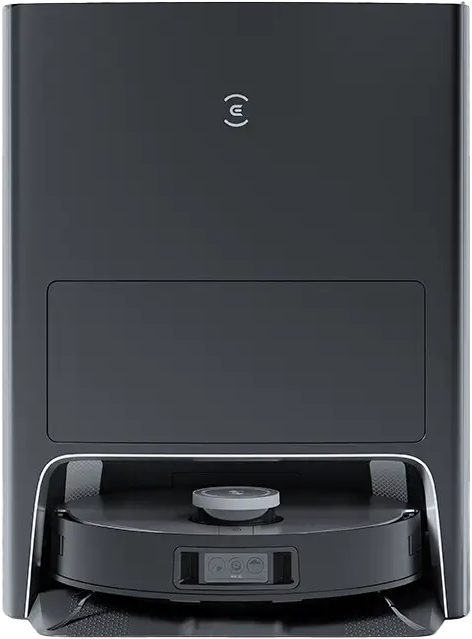 All-IN-ONE OMNI STATION. A first in the industry. After vacuuming, your DEEBOT returns to the station and automatically empties the dustbin providing a hand-free solution. After mopping, it automatically washes the mop heads and dries them with hot air. Experience a whole new level of freedom from cleaning.
The Ecovacs Deebot X1 Omni robot vacuum is a great choice for those with marble floors. It's designed to navigate around obstacles and has multiple cleaning modes to effectively clean different surfaces.
The X1 Omni has a high-precision laser sensor that allows it to create a detailed map of your home so that it can effectively navigate around furniture and avoid any potential obstacles.
What We Like: 
The thorough cleaning efficiency provided by dual side brushes and a floating main brush.
The convenience of a large 3-liter dust bin capacity, which means less frequent emptying.
The deep cleaning capabilities enabled by a high suction power of 5000 Pa.
A decent battery life of over 2 hours for extended cleaning sessions.
The efficiency and obstacle avoidance provided by laser-based navigation technology.
What We Don't Like:
The relatively large charging station may take up some space.
It has been a game changer since I purchased my robot vacuum. It's like an extra pair of hands in the home. Check out my recent "Are robot vacuums worth the money" to get a full overview of why these little wonder machines are worth it!
#3. Option for Marble Floors – Dreametech L10S Ultra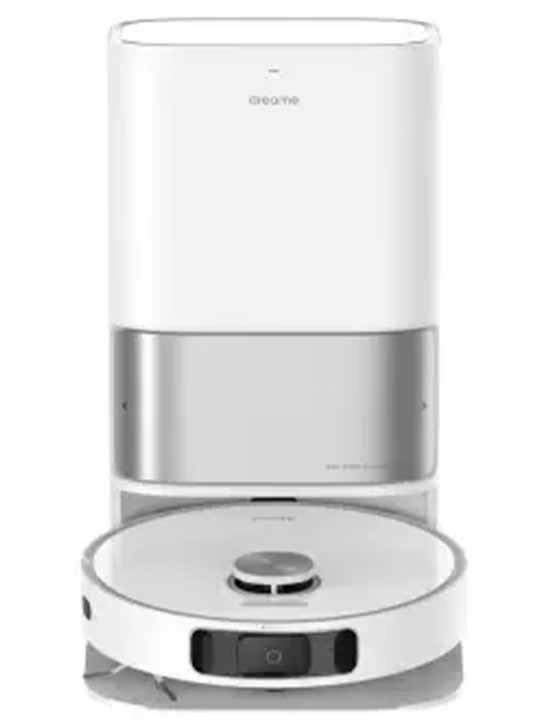 Fully Automated Cleaning: Automatic dust collection, mop-cleaning and -drying, water-refilling, solution-adding, fast mapping, and path-planning all combine to make hand-free, fully automated home cleaning a reality. The convenient auto-empty system utilizes our exclusive DualBoost 2.0 system to blow air into the robot's dust box and vacuum it into a 3L dust bag, giving you up to 60 days of automatic, hands-off cleaning
The Dreametech L10s Ultra robot vacuum is an excellent option for homeowners with marble floors. It has a powerful suction motor of 5300 Pa that can easily pick up any dust or dirt on the surface, leaving your floors spotless.
Additionally, the L10s Ultra has a long battery life of more than 3 hours, which means it can clean for extended periods of time without needing a recharge. This is particularly useful if you have a large home with multiple rooms that need to be cleaned.
What We Like: 
Offers up to 3 hours of uninterrupted cleaning experience due to its long battery life.
Boasts a powerful suction of 5300 Pa, enabling efficient cleaning performance.
Equipped with auto-mop washing, self-refilling, and self-emptying capabilities for added convenience.
What We Don't Like:
While it occasionally gets stuck, there's potential for improvement with future updates.
What Sets These Top 3 Picks Apart From Competitors?
When it comes to what sets these robot vacuums apart from their competitors, it's their unique features and the ability to navigate through various obstacles with ease. Additionally, these robot vacuums offer a range of cleaning modes that cater to different cleaning needs.
Benefits Of Using Robot Vacuum For Marble Floors
Effortless And Precise Cleaning
Using a robot vacuum cleaner on your marble floors is crucial if you want to keep the surface clean and free of germs and stains. Marble is a naturally porous stone, so it may absorb water and other liquids and harbor germs if it isn't regularly cleaned.
The use of a robot vacuum can help homeowners keep their marble floors stain- and bacteria-free by removing dirt and debris immediately without much effort.
Also, robot vacuums have sensors that help them navigate around obstacles and detect dirt and debris on the floor.
They can clean hard-to-reach areas and corners that might be challenging to clean manually. Furthermore, robot vacuums can adapt to different types of flooring, including marble floors, ensuring that the cleaning process is thorough and precise.
Low maintenance:
Robot vacuums require minimal maintenance, making them ideal for busy households. Most robot vacuums nowadays have a self-emptying feature that reduces the frequency of emptying the dustbin, and their brushes are designed to be self-cleaning. 
Time-saving:
Robot vacuums are programmed to function independently, which means they can clean the floor without human intervention. This feature can save valuable time and energy that would have been spent sweeping or vacuuming the floor manually.
Robot vacuums can be scheduled to clean at specific times, such as when you are out of the house or asleep, which can further increase efficiency.
Convenience:
Robot vacuums are highly convenient for busy individuals who cannot find time to clean the house regularly. With the robot vacuum, all that is required is setting the cleaning schedule and forgetting about it.
The robot vacuum can operate independently and clean the floor while you go about your daily activities, saving you valuable time and energy.
Cost-effective:
Although the initial cost of a robot vacuum might be higher than that of a traditional vacuum cleaner, it can be more cost-effective in the long run.
This is because robot vacuums consume less energy (almost 15x less) than traditional vacuums and can operate for long hours without any additional input, unlike traditional vacuums that require manual labor.
In short, using robot vacuums for marble floors has numerous benefits, including time-saving, precision cleaning, cost-effectiveness, low maintenance, and convenience. By investing in a robot vacuum, you can simplify your cleaning processes and maintain a clean and healthy home.