After owning several robot vacuums over the past few years, I finally discovered the best types of robot vacuums to use on hard surfaces like tile. Don't waste your hard earn money like I did buying inferior robot vacuums that wandered around aimlessly and didn't adequately pick up debris.
Kitchens and bathrooms are 2 of the most used places in a household. They are prone to spills and dirt that settle onto the floor. If you want debris-free kitchen and bathroom floors, then the only type of robot vacuum you should consider buying are ones that also include built-in mopping.
Read on to check out my top researched choices, along with other helpful guidance.
In A Hurry? See Our Top Picks Below!
1. Roborock S7 MaxV Ultra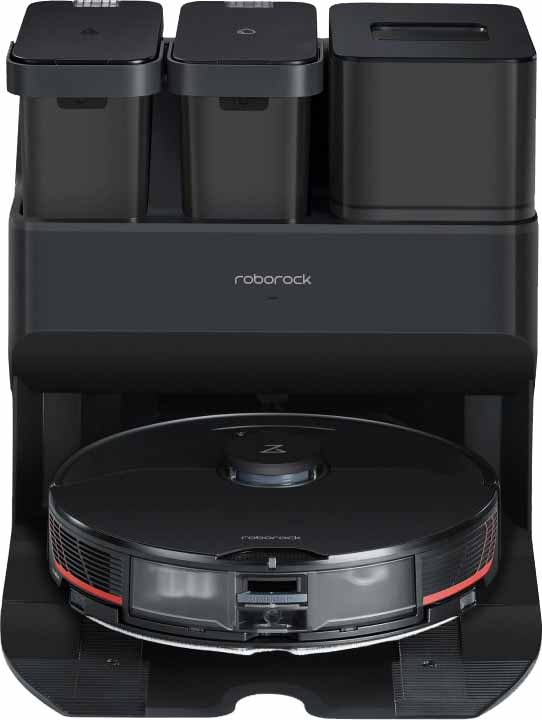 The Roborock S7 is one of the smartest robot mopping and vacuuming combos in the market. It provides an extremely convenient, totally hands-free cleaning experience. Using the Empty Wash Fill Dock, you get automatic dust emptying, mop washing, and robot water tank refilling. The dock even cleans itself too
What We Like:
Use of LIDAR navigation which allows precise navigation, and mapping of area.
Powerful suction pressure and mop pad vibrates vigorously, which ensures effective dirt removal.
Availability of self-emptying, self-refilling, and automop washing capabilities which allows a more hands-free cleaning experience than ever.
What We Didn't Like:
Costly but worth the investment considering all the features and technologies of the product.
Why Is Roborock S7 MaxV Suitable For Kitchen And Bathroom?
It's great for bare floors since the strong suction can take up a broad variety of trash, including pet hair. Its ultrasonic mopping function is ideal for use on hard surfaces in the kitchen and bathroom, and is particularly good in removing dried-on stains and debris.
The robot vacuum is equipped with a LIDAR sensor array and two 3D scanning cameras as part of its mapping and navigation system, allowing it to rapidly map its coverage area and respond to obstacles like footwear, pet waste, rugs, wires, and carpets. While you're away from home, you can easily check in on things via the cameras.
The Empty Wash Fill Dock included with the Roborock S7 MaxV allows for the effortless emptying of dust, cleaning of mops, and refilling of the robot's water tank. Even after use, the dock will automatically clean itself.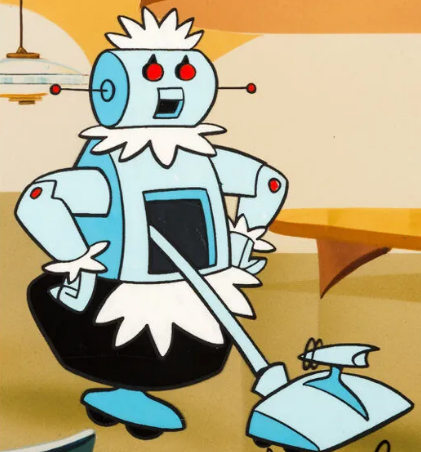 My Roborock S7 MaxV works so well that I gave it the nickname Rosie, after the sassy robot maid in the 1960s cartoon called the Jetsons. It truly does feel like an extra pair of hands around the home. Well needed especially if you have little ones running around.
The S7 MaxV's advanced obstacle avoidance technology, ReactiveAI 2.0, helps it avoid furniture, curtains, and other typical household dangers, even in total darkness.
The robot vacuum's cutting-edge intelligence also allows it to identify the various pieces of furniture in your house, after which it may make suggestions about cleaning patterns and scrub strength.
In short, the Roborock S7 MaxV's strong suction, efficient ultrasonic mopping function, sophisticated mapping, and navigation system, automated dust emptying and water tank refilling, and obstacle avoidance technology makes it an ideal option for kitchens and bathrooms. 
>> Check Latest Price Here (On Amazon)
2. Ecovacs Deebot X1 Omni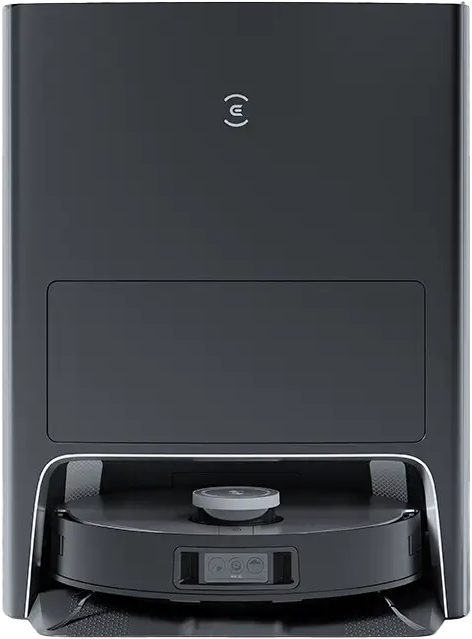 All-IN-ONE OMNI STATION. A first in the industry. After vacuuming, your DEEBOT returns to the station and automatically empties the dustbin. After mopping, it automatically washes the mop heads and dries them with hot air. Experience a whole new level of freedom from cleaning.
What We Like:
Like Robovac, Ecovacs Deebot Omni also comes with self-emptying and self-refilling features which makes the cleaning tasks more automated and hassle-free.
The robot vacuum offers a decent battery life of over two hours which ensures efficient cleaning in one go.
The robot vacuum also uses an advanced, laser-based navigation system that allows accurately mapping and avoiding obstacles.
What We Didn't Like:
The base station is a bit large.
The robot vacuum is a relatively expensive model but worth it considering all the features.
Why Is Ecovacs Deebot X1 Omni Suitable For Kitchen And Bathroom?
The Ecovacs Deebot Omni's high-tech features and convenient functions make it an ideal runner-up for cleaning bathrooms and kitchens. It has a high suction of 5000PA, allowing it to suck up dirt and dust from both hard surfaces and carpets, leaving your kitchen and bathroom spotless.
With its OZMO Turbo rotating mopping technology, even the most ingrained of stains can be scrubbed away, restoring your floors to like-new condition.
The robot vacuum utilizes TrueMapping, the industry's leading laser-based navigation technology, to analyze your house, determine the optimal cleaning route, and clean every inch. With the help of AIVI 3D Technology, the robot can see in the dark and avoid obstructions.
The OMNI station is also quite helpful, since it takes care of most of the cleaning for you and saves you time and effort. Cleaning up will be a breeze with the help of the voice control technology that responds to standard spoken directions.
The DEEBOT X1 OMNI is an elegant addition to any house because of its sleek and practical design.
>> Check Latest Price Here (On Amazon)
3. Dreametech L10s Ultra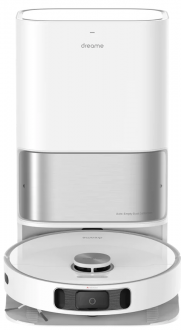 Fully Automated Cleaning: Automatic dust collection, mop-cleaning and -drying, water-refilling, solution-adding, fast mapping, and path-planning all combine to make fully automated home cleaning a reality. The convenient auto-empty system utilizes our exclusive DualBoost 2.0 system to blow air into the robot's dust box and vacuum it into a 3L dust bag, giving you up to 60 days of automatic, hands-off cleaning
What We Like:
Impressive suction power of 5300 pa that ensures proper dirt pickup and effective cleaning of the floors.
Long battery life of up to 3 hours which allows it to clean the area in just one pass without much interruptions for frequent recharging.
What We Didn't Like:
Although the robot vacuum has many impressive features, it is not equipped with an advanced laser-based navigation system.
Why Is Dreametech L10s Ultra Suitable For Kitchen And Bathroom?
Just like its above-listed counterparts, The DreameBot L10S Ultra Robot Vacuum has high-end core cleaning features that can be vital when it comes to cleaning the floor in bathrooms and kitchens.
Dust collecting, mopping, drying, automated water replenishment, rapid mapping, and route planning are just some of the cleaning automation capabilities offered.
The robot vacuum's sophisticated AI navigation enables it to get to know your house and adjust its cleaning routine accordingly. The powerful suction and carpet cleaning skills of this machine leave floors looking like new.
The device's two rotational mops provide the floors a deep cleaning while the mops are automatically washed and dried.
Using the app, you can alter the cleaning process as needed from any location, designate restricted areas, establish cleaning plans and routines, and even provide voice instructions.
The device's built-in navigation camera doubles as a surveillance system for your house.
>> Check Latest Price Here (On Amazon)
Benefits Of Using Robot Vacuums In Kitchen And Bathrooms:
#1. Convenience:
One of the main benefits of using a robot vacuum in the kitchen and bathroom is the convenience it provides. With the ability to operate independently, you can easily schedule it to run while you're at work or doing other activities, freeing up your time and effort.
#2. Efficient Cleaning:
A robot vacuum is designed to clean thoroughly and efficiently, with the ability to navigate tight spaces and hard-to-reach areas, such as under furniture, with ease. This helps to ensure a deep and thorough clean, leaving your kitchen and bathroom spotless.
#3. Improved Indoor Air Quality:
A robot vacuum is equipped with powerful suction and filters that effectively capture dust, dirt, and other allergens. This helps to improve the indoor air quality in your home, especially in the areas where you spend the most time, such as the kitchen and bathroom.
#4. Reduced Physical Strain:
For those who find it challenging to clean large areas, especially in the bathroom, using a robot vacuum can significantly reduce the physical strain and effort required. This makes it an ideal solution for elderly individuals or those with physical disabilities.
#5. Cost-effective:
The initial investment in a robot vacuum may seem high, but when you consider the time and effort saved, it becomes a cost-effective solution in the long run. With regular use, it helps to keep your kitchen and bathroom cleaner and more hygienic, reducing the need for deep cleaning and maintenance services, which can be expensive.
Recommended Read: Best Robot Vacuums For Outdoor & Indoor Patios
What To Consider While Buying Robot Vacuums For Kitchen And Bathroom
Choosing a robot vacuum for your kitchen and bathroom requires careful consideration of several factors to ensure it meets your cleaning needs and fits within your budget.
#1. Suction Power:
Look for a robot vacuum with high suction power, especially if you have pets or thick carpets. This will help ensure that dirt, hair, and debris are effectively picked up.
#2. Navigation System:
The robot vacuum should have an effective navigation system to move around your kitchen and bathroom without getting stuck. A good navigation system will also help it avoid obstacles, furniture, and walls.
#3. Mopping Functionality:
If you need the robot vacuum to clean your kitchen or bathroom floor, look for one with a mopping function. This will save you time and effort in keeping your floors clean.
#4. Battery Life:
Consider the battery life of the robot vacuum, as this will determine how long it will run before needing to recharge. A longer battery life will allow the vacuum to clean your kitchen and bathroom in one go.
#5. Filtration System:
Allergies and sensitivities to dust, pet hair, and other allergens are common, so look for a robot vacuum with a high-quality filtration system to ensure that these particles are effectively captured and not spread around your home.
#6. Noise Level:
If you have a small kitchen or bathroom, or if you plan to use the robot vacuum while you are at home, consider the noise level. A vacuum with adjustable suction power is ideal to set a low noise level that will be less disruptive to your daily routine.
#7. Price:
Finally, consider the cost of the robot vacuum. Look for one that offers good value for money and meets your cleaning needs.
By considering these factors, you can find a robot vacuum that is suitable for your kitchen and bathroom and will effectively clean and maintain your floors.