There's no doubt about it – burgers are awesome. They're juicy, delicious, meaty, and satisfying when paired with your favorite toppings and relish. However, while eating burgers at your favorite diner or burger joint is great, trying to cook them by yourself can be a little challenging. One of the most common issues when cooking burgers is they are burnt on the outside, and raw on the inside.
Burgers will not be cooked entirely on the inside when using consistent high heat. Using a low to medium temperature will provide enough time for the heat to penetrate the burger and cook it internally. Consistently monitor your burger, and this will save them from becoming burnt.
Above is a brief explanation, read on for details for achieving a perfectly cooked burger!
Here's How to Fix a Burger That Is Raw on the Inside
Usually, what happens when a burger is burnt on the outside and raw on the inside is because of high heat. The temperature that you use for cooking burgers is important, and if the heat of your skillet or frying pan is too high, you're more than likely to end up with a burnt burger exterior with a raw, bloody interior.
Here's how you can fix a burger that is still raw.
Here's How to Evenly Cook a Burger
When cooking a burger, you need to take into consideration the way that the patty reacts when exposed to a hot surface. The exterior of your burger patty cooks very quickly because it is the only surface that is directly on the hot skillet or pan.
The interior, however, still becomes quite raw because the heat from the pan is concentrated only on cooking the outside surface, and the heat does not penetrate into the interior of the burger patty.
To evenly cook a burger, you need to control the heat that you use to cook with. The key to perfect burger patties each time is to bring your pan or skillet up to medium, moderate heat first – this ensures that the heat from the pan or skillet gets a chance to penetrate into the inside of the patty and cook it thoroughly.
How to Control Your Cooking Temperature?
Okay, so we now know that the secret to cooking great burgers is to control our cooking temperature. But how exactly do we control our cooking temperature? And if I'm using an oven or a grill instead, is it possible to control the heat while it cooks?
On a grill
Controlling cooking heat on a grill simply requires you to move your burger patties away or into the direct heat of the fire below it.
Start by cooking your burgers along the side areas of the grill where there is the most indirect heat. Then, once it looks well cooked both inside and outside, finish it off with a quick sear right above the fire by moving the patty toward the center of the grill.
On a pan
Before you cook your burger patties, bring your stovetop up to medium heat by turning the knob up to the middle. Then place your pan over the heat to heat up the oil that you're using up to cooking temperature. Then place your burger patty on the hot surface and let it cook for about 8-10 minutes – this will evenly cook through both the inside and the outside of your burger patty.
Then finish off your cooking by turning the knob on your stovetop to the highest setting (it should look like a picture of the biggest flame). The end result will be a delicious burger cooked medium rare and juicy on the inside, with a delicious seared and crispy outside.
In an oven
Controlling heat while cooking with an oven is slightly trickier, but it can be done. Just like using the stovetop, you can adjust the heat inside your oven by turning the knobs up and down to the respective temperature levels you require.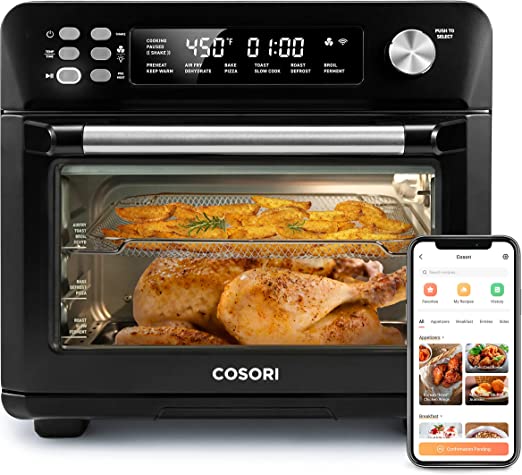 MORE THAN 12-IN-1: 12 functions for Air Fry, Roast, Bake, Broil, Toast, etc. Explore more possibilities by saving your preferred time and temperature.
FULLY MEET FAMILY NEEDS: 2-layer even cooking, The oven's 26 quart / 25-liter capacity 1 layer fits up to 6 slices of bread, a 12-inch pizza, or a 5lbs whole chicken
ENJOY MEALS IN MINUTES: 6 heat elements, a 2-speed fan, and temperatures up to 450°F allow cooking up to 30% faster than a traditional convection oven
Keep in mind that controlling your oven heat requires you to keep a closer look at what's happening to your burger patty. You can easily see the changes happening to your burger patty while it cooks on a pan, grill, or skillet, but you'll have to put in some effort to check your burger doesn't undercook, or overcook and burn while it's in the oven.
People often finish off oven-cooked burgers with hot butter in the pan or skillet to give them a nice sear at the end.
Is It Safe to Eat a Burger That's a Little Pink in the Middle?
By all accounts, a burger that is slightly pink in the middle is classed as medium-rare, so it's safe to eat. But here's the important thing – if the inside of your burger is not up to the minimum temperature of at least 160ºF – you're probably better off not eating it, as you increase the risk of contracting food-borne diseases such as salmonella or e.coli.
If possible, always use a meat thermometer to check whether the inside of your burger is fully cooked before serving, no matter if it's pink or brown in the middle.
Technical Reason Why Burgers Cook So Quickly on the Exterior
When beef is exposed to a hot skillet or an oven, it is subject to the Maillard reaction, which is a chemical reaction that browns food when it comes into contact with fire or heat.
And when it comes to beef and Maillard reaction, burger patties are a good example. Minced beef cooks very quickly when it is exposed to heat – in fact, minced beef is the quickest meat type to cook, as compared to chicken, fish, mutton, or others.
The interior is raw because a large proportion of the heat energy is concentrated on cooking the outside of the burger patty, where it is the easiest to reach. As a burger patty consists of compacted minced beef, it's a lot harder for heat to travel into the middle of the patty
The Wrap-up
Some people view cooking as either an art or a science – but when it comes to cooking burger patties, it's definitely both!
Remember that you want your burgers to cook fully both inside and outside by using medium and moderate heat that evenly cooks your whole patty. This usually takes no longer than 8-10 minutes for your patty to cook. However, this time frame may change according to the size of your burger patty.