This post contains affiliate links.
As a parent, I am always in search of products that can help me keep my household clean. Kids are always spilling liquids and dropping food items, and it can be a nightmare trying to get pasta stains out of carpets, AKA a pastastrophe!!
I have multiple types of household cleaning products and wondered if any of these would work with my Tineco vacuum and carpet cleaner. 
Key Takeaways:
According to Tineco, it is not recommended to use third-party cleaning solutions in their machines.  They have their own cleaning solution, which was made specifically for use in Tineco floor cleaners.
In this article will go through what I've discovered upon researching several alternative cleaning solutions. I hope that all my research will save you time and the headache of potentially ruining your Tineco or your floors.
Read on to learn more.
Is It Safe to Use Bissell Cleaning Solution in a Tineco?
I'm always on the lookout for machines that can help me keep my household clean, and therefore I've already tried Bissell products.  So, I have some Bissell cleaning solution on hand at home.  
I was hoping I would be able to use the Bissell multi-surface cleaning solution in my Tineco, but, because the ratio of the Bissell solution to water and Tineco cleaning solution to water a completely different. Tineco is a higher concentrated product than Bissell.
When using the Bissell cleaning solution, we have to use more of the solution in the tank, and it also depends on how much surface area we are cleaning. There is a specific guide on the upright vacuum mop.
Whereas with Tineco, you simply put only one cap full of the cleaning solution, and then you fill up the clean water tank with water.
Can You Use Pine-Sol in a Tineco?
Pine-sol has been used for many years. In fact, it was a staple growing up in my mom's cabinet.  Since the Tineco cleaning solution doesn't disinfect, many of us wonder if we could use pine-sol so that we can disinfect our floors.
Unfortunately, it is not recommended to use Pine-Sol cleaning solution in your Tineco machines, as Pine-sol may be too bubbly for the machine.
Generally, Pine-sol was not designed to be used with steam cleaners.
If you want to disinfect your floors efficiently, you would have to use Pine-sol at its full strength and not dilute it.  
The water tanks in the Tineco machine were meant to be used mainly with water and not too much cleaning solution.
Can You Use Vinegar In a Tineco?
According to Tineco, they do not recommend using vinegar in their vacuum mops, even if you dilute it with water.
Although this is what Tineco says, many people have said they have tried using vinegar in their Tineco and other steam mops.
Keep in mind that it is mildly acidic, and not recommended to use on your hardwood floors.  
You can always give it a try, but make sure not to put too much.  Just keep in mind that you could void any warranty and could possibly damage your vacuum mop.  One piece of advice is to thoroughly clean the water tank and run your vacuum mop to clear out any residue of vinegar left in your machine after use.
Honestly, I think that is too much work, I'd rather save time and not even bother using vinegar.  Plus, I'm not a fan of my house smelling like a bag of Miss Vickie's Sea Salt & Malt Vinegar chips.
If you decide to do so, make sure to only put a little vinegar in the water tank, and dilute it with water. 
One Reddit user said that they've tried it with lukewarm water, a splash of vinegar, and essential oils, and said that it hasn't damaged their machine.
Homemade Tineco Cleaning Solution
I've tried making my own cleaning solutions at home, following those do-it-yourself books and some blogs.  Mainly, it's made with baking soda, vinegar, and essential oils.  
This is a try-at-your-own-risk solution!  As I looked through the ingredients of the Tineco cleaning solution, there were lots of ingredients that I have no idea what they are and how I could possibly replace with my own ingredients.
Tineco has a specific concoction of ingredients that is highly concentrated, hence why you only need a cap full.
Whereas if you are to make your own cleaning solution, you may be running the risk of possibly clogging the machine and not allowing the machine to work at its full capacity.
You'll basically have to be brave enough to test it out yourself and use some common sense judgment.  For example, I probably wouldn't use baking soda in my machine. I'm even squeamish about using essential oils, as I find that oils are hard to clean from plastic surfaces.
Where Can You Buy the Tineco Solution?
You can purchase the cleaning solution directly from the Tineco website. 
You can also purchase it at Amazon. I highly recommend you stock up!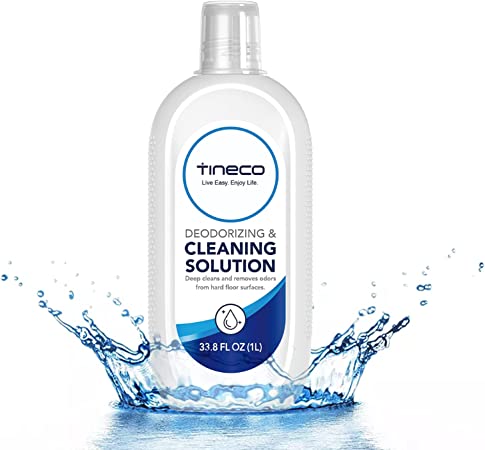 REMOVES GRIME AND STICKY MESSES: Easily and effectively clean everyday messes in high-traffic areas.
SAFE FOR USE ON SEALED FLOORS: including hardwood, vinyl, ceramic tile, laminate floors, and more.
CONCENTRATED FORMULA: For use in Tineco Cordless Wet Dry Vacuum Machines, iFLOOR, iFLOOR 3, FLOOR ONE S3, FLOOR ONE S5, FLOOR ONE S5 COMBO.
TOUGH ON STAINS: Remove dirt, grime, grease, and tough stains from hard surfaces.
ENVIRONMENT FRIENDLY: Safe to use around kids and pets when used as directed.
Other Cleaning Solutions To Consider
I found that overall, as I do more research and try to figure out what other cleaning solutions I can use, I have had no luck.
Many of the other products have very different instructions on how to use their cleaning solutions for their particular machines.  
The ratios are always different. For the most part, I found that the Tineco cleaning solution uses less of the solution, only a cap full, and the cap size is quite small.
I've come across the Hoover Multi-surface cleaning solutions, and even theirs is their cap full and water. But their cap size is much different than Tineco's.
Overall, if you want sureness and less headache knowing that you'll have your floors cleaned, and keep your vacuum mop in tip-top shape, it is best to use the proper cleaning solution from Tineco.
If you're adventurous and prefer the smell of other cleaning solutions, I would probably test it out only using a small amount.
And again, the best tip I could give is that you always clean out your Tineco machines.
I understand and know from experience that sometimes we want to use what's available, especially when we run out of a cleaning solution and can't find it at a nearby store.  So, in this case, just use water.
Hoover Renewal Deep Cleaning Carpet Shampoo
According to Tineco, they don't suggest using other cleaning solutions, but it seems more so because it can cause too many bubbles and fill up the dirty water tank quickly.
This could be concerning if you're not paying attention to how full your tank is.  Their solution is made specifically so that you don't have to watch the dirty water tank like a hawk, as if the clean tank is empty then 
Whereas if the solution causes too many bubbles, then your clean water tank may still have solution left, but then your dirty water tank may be filled up and overflow.
Although it could be annoying, if you try other cleaning solutions that tend to bubble up more, then just pay attention to how full your dirty water tank is, and dump it out.  This could be more of an inconvenience while cleaning.  
And really, isn't the reason you purchase this vacuum-mop combo to make your life and cleaning easier? But, at least it could be an alternative option, maybe you ran out of the Tineco solution and want to use what you have.