Looking to buy Homedics Total Clean Pet Plus 5-in-1 air purifier? Then you've come to the right place.
In this guide, we will share a detailed review of the air purifier explaining all the pros and cons, along with the maintenance expectations you should have before getting your hands on the product.
At A Glance Overview For Those Who Are In A Hurry:
| | |
| --- | --- |
| Product Name: | Homedics Total Clean Pet Plus 5-in-1 Air Purifier |
| Key Feature: | Removes pet odor |
| Other Features: | Helps In purifying the air and killing germs |
| Affordability: | Budget-Friendly |
| Best For: | Pet Owners, People Sensitive To Allergens, Families Who Want To Breathe Fresh Air |
| Our Score: | 9.5/10 |
What Makes Homedics Total Clean Pet Plus Stand Out From Others?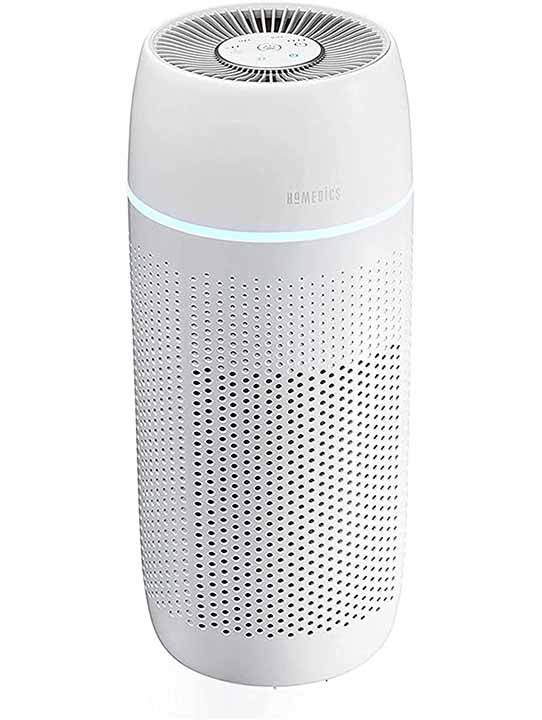 ✔

360-DEGREE HEPA FILTRATION: Remove up to 99.9% of irritants and allergens up to 0.3 microns. PetPlus odor filter helps eliminate pet and household odor.


✔

ULTIMATE CLEAN: Powerful UV-C light reduces up to 99.9% of bacteria and viruses. Reduce household allergens, odors, smoke, dander, and more.
The most noteworthy feature of the Total Clean Air Purifier is that they offer a 5-in-1 layer of air purification in one compact product – available at an affordable range.
Pre-Filtration, True HEPA Filtration, Active Carbon Filtration, UV Light application, and Ionizer are all the five stages used to clean the air in your room and make it odor free.
The all-in-one feature, with a cool design, good area coverage, and a decent price tag, makes it stand out from other air purifiers in the market.
What We Liked:
The first thing we liked about this air purifier is its decent coverage area. The Homedics Total Clean air purifier covers up to 266 sq. ft. of area. On average, the size of a  bedroom (in America) is around 132 sq ft. So this air purifier can easily cover the whole bedroom area.
The second noteworthy thing about Homedics air purifiers is their brand reputation.
Homedics is a well-known brand that has been in the market for years. It was first founded in 1987.
And since then, it has been offering quality home wellness items like air purifiers and personal protective gear. And you know what? Total Clean Pet plus 5-in-1 air purifier is one of their premium products.
We like that you get all five layers of filtration with this air purifier. From True HEPA filtration to Ionizer, the Total Clean Pet Plus protects you from dust and micro airborne particles.
What We Didn't Like:
There's not anything major that sticks out to us as a negative regarding this product.
The only thing you have to keep in mind is the cost can add up in the long run if you use this air purifier because you have to replace the filter.
Features
It offers 360° True HEPA Filtration, which means it can effectively purify the air in your room from all directions.
It uses UV-C technology which helps in getting rid of unwanted bacteria, germs, and viruses from the air.
It comes with an Activated Carbon Filter layer that minimizes the odd pet odors in your room.
It comes with three essential oil pads which facilitate you to apply aromatherapy in your room and enjoy the experience of a nice fragrance.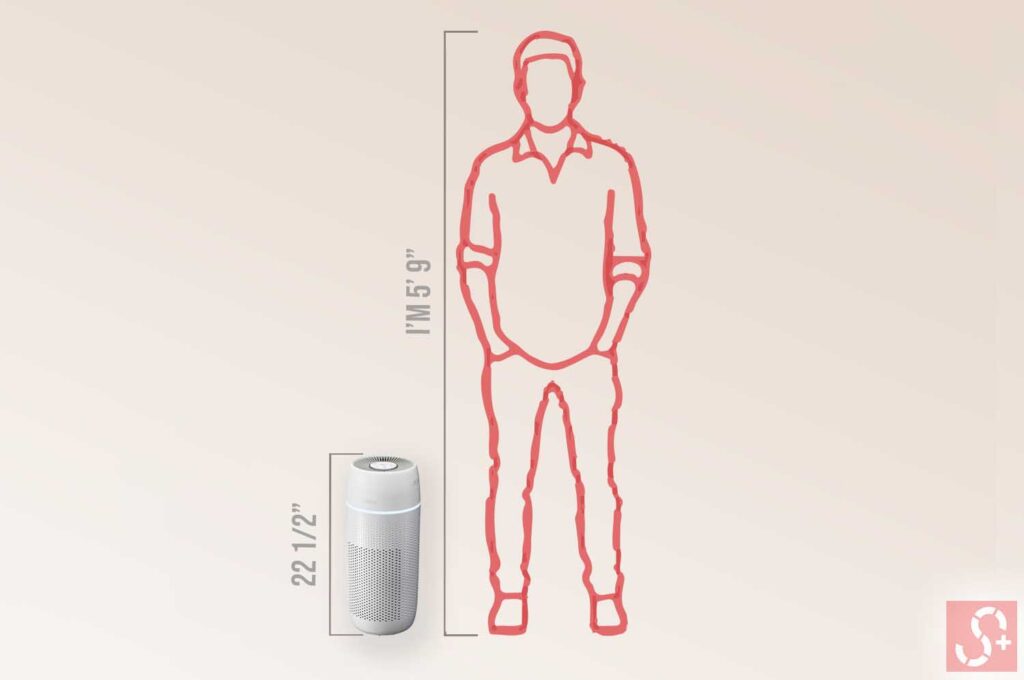 Pros And Cons
| | |
| --- | --- |
| Pros | Cons |
| It Offers True HEPA Filtrations For Effective Air Purification | It Can Be Costly In The Long Run Due To Parts Replacement |
| It Comes With An Activated Carbon Layer To Remove Unpleasant Pet Odors |   |
| Its UV Light Features Helps In Combating Germs |   |
| It Has A Nice, Compact Design And Also Comes With An LED Night Light (My son loves the night light) |   |
| It Is Available At An Affordable Price Range |   |
| It Has A Tray To Put Essential Oil Pad For Aromatherapy |   |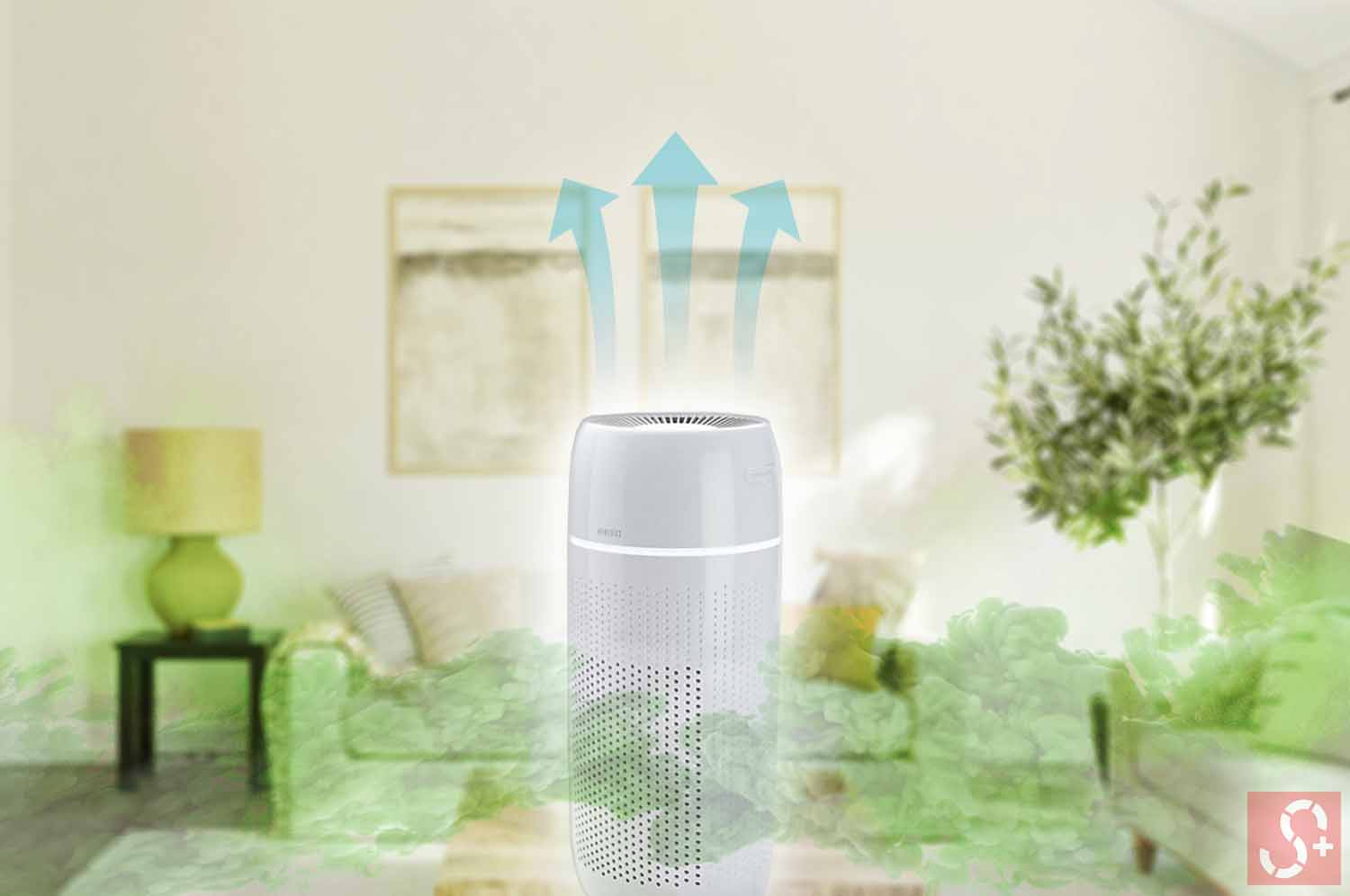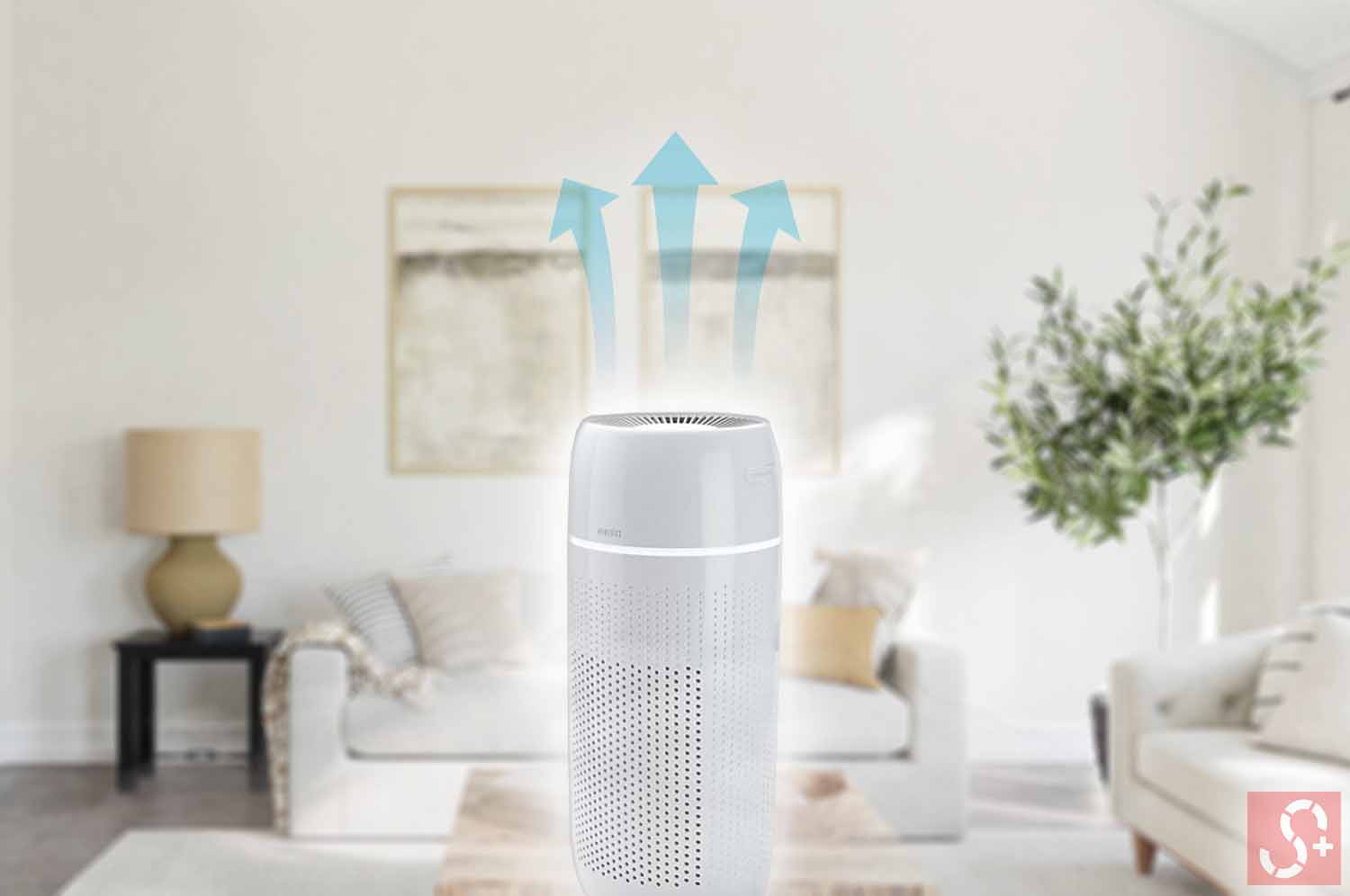 Setup And Operation
Follow these steps for proper setup and operation of the Homedics total clean pet plus 5-in-1 air purifier:
Put the air purifier outside the covering box and discard the protective plastic layer.
Choose a stable surface to place the air purifier on, and then plug its power cord into a power slot (AC outlet) in your home.
You will see a power button at the top of the air purifier; press it to turn it on.
And your device is ready to work to purify the air in your room. Isn't it an easy process?
Moreover, you can play around with additional settings as per your choice. A fan speed button (with the fan symbol) is present on the navigation and operating area of the air purifier (at the top).
You can press it to increase or decrease the fan speed. As a general rule, the faster the fan rotates, the faster air purification will occur.
There are also two additional options for using the UV light feature and the Ionizer. First, you can turn on the UV feature by pressing the UV-C button. And similarly, to activate the Ionizer feature, you can press the Ionizer Ion button.
Related read: Do Air Purifiers Work on Pet Odors?
Cost And Maintenance:
On average, air purifiers cost anywhere from $200 – $900. However, on the official site of Homedics, the cost of the Homedics Total Clean Pet Plus 5-in-1 air purifier is only around $139.99. So considering that the cost of this air purifier is not too much.
Air purifiers effectively reduce airborne contaminants, but they may be costly to run over time due to the need to keep them on constantly and the expense of replacing the filters twice a year.
Although Total Clean Pet Plus's various filter layers contribute to its effective air purification, they also contribute added cost in the long due to the frequency with which you must replace them.
Some odor-removal filters, made of activated carbon in general, must be changed as often as every three months and may cost as much as $50 for each unit. Those costs are in addition to the primary filters, which may cost anywhere from $20 to $200.
You should consider the expense and upkeep of an air purifier before buying one. However, if you value clean air free from unpleasant pet odors, the necessary upkeep and periodic replacements may be worthwhile.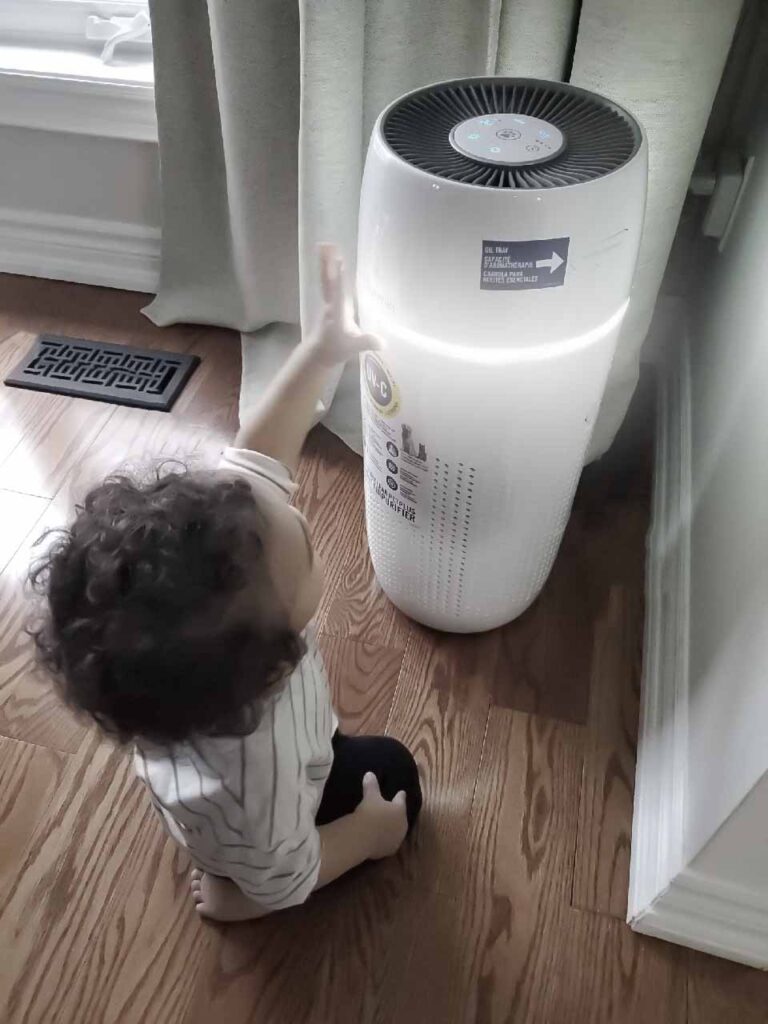 Consumables
The list of consumables for this air purifier includes:
True HEPA Filter
Activated Carbon Filter
Mainly, you have to replace the filters periodically. However, since these air purifiers don't have many bells and whistles, you don't have to worry about replacing many parts.
Replacement Parts
You can get replacement parts like the (replacement filter) for this Total Clean Pet Plus Air Purifier easily available on Amazon. Also, the replacement filters are available on the official website of Homedics. So you don't have to worry about replacing those parts.
Final Verdict
If you are allergic to pet dander, pollen, dust, or other airborne particles and want a nice, clean sleep, then Homedics total clean pet plus 5-in-1 is a worthwhile air purifier you can get.