The Instant Pot has fast become the must-have kitchen appliance for any home chef worth his salt. And rightfully so, since the Instant Pot makes whipping up meals, desserts, and just about anything and everything worthy of a weeknight dinner to a weekend feast with the family.
But as much as I like whipping up my culinary creations in my home kitchen, I love traveling, exploring the boondocks, and being on the road as well, whether in my car, van, or an RV. And the best part? Well – I always bring my Instant Pot along with me while I'm living off-grid! So if you're asking yourself the question, "Can you use an Instant Pot in a vehicle?"
If you're planning to use an Instant Pot in an RV or converted camper van with a built-in inverter, you can typically plug it in without any additional device. However, in a standard car, van, or even truck, you'll need a power inverter that supports at least 850 – 1500 Watts to run a 3-6 quart Instant Pot.
But there is more to know on the subject, so keep reading to avoid any issues when trying to use an Instant Pot in an RV, car, or van.
Using an Instant Pot in a van vs. car vs. RV?
Bringing along your Instant Pot on your road trips can be tricky, but the rewards truly outweigh the challenges. The convenience of cooking perfect meals in the comfort of your vehicle makes it all worthwhile.
Running an Instant Pot in a van
If you're planning to go road tripping in a van, the Instant Pot makes cooking meals such a simple task, which makes it a no-brainer to use it instead of the cumbersome propane stoves that are normally used by van travelers.
When you're traveling in a van, the most important thing you need to worry about is the conservation of the battery. Whenever you're running electrical appliances while traveling in a van, you'll always need to keep an eye out for the power consumption of each device, in case you run out of juice halfway, or worse, if the battery runs completely flat and you can't start your van without a boost from another vehicle (which, if you're going completely off-grid with no other cars around for miles – can be a terrifying experience).
Using a battery monitoring device to help keep an eye on your battery life can be a simple lifesaver! ;)You'll be able to simply pull out your smartphone and check the status of your vehicle's batteries.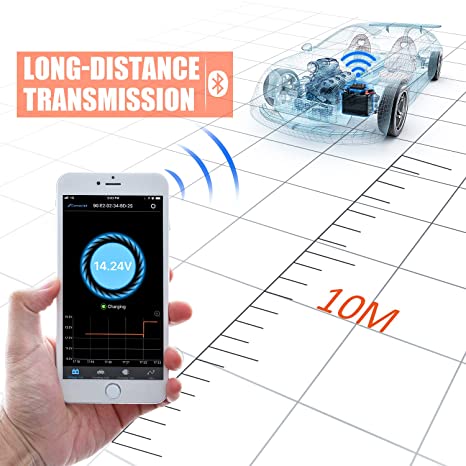 Luckily, the Instant Pot does not consume that much power at all. In comparison, cooking a pot roast in a standard home electric oven uses up to 2000 watts of electricity per hour when programmed at a medium heat setting. The same dish can be cooked in an instant pot for 1000 watts, which is half that of the conventional home electric oven.
The fact is, Instant Pots are already very popular with those who are living the #vanlife, due to the fact that it is so portable, and you can simply plug it into your van's power inverter or a standalone generator, place it on a flat surface, and leave it to cook all your favorite meals while you drive to your next location or when you're settling down for the day.
Running an Instant Pot in a car
Bringing your Instant Pot around while you're driving in your car is a bigger challenge, due to the fact that your car is probably going to be the smallest vehicle you'll have out of the 3 choices. However, it can still work, as many have done it before, and many more (including you) will be able to cook simple full meals while living in your car in the future.
When traveling with your Instant Pot in a car, you'll want to consider the space that it takes up, so using a 3-quart(the smallest model) would be your best option.
The best way to secure your Instant Pot while you're driving is to make sure that you've placed it right side up on a seat, and that you have securely buckled up the seat belt. You can use either the back seats or the passenger seat – the only thing you need to do is ensure that it is secured with a seat belt so that it doesn't fly around, spilling its contents all over your car interior while you make a hard turn or a sharp brake as you drive to your destination.
Another way I secure an Instant Pot is by placing it on the ground between the front seat and the leg area of the back seat. Then I slide the seat all the way back till it touches my Instant Pot. This transport method should clamp your Instant Pot so that it stays in place.
If you are willing to spend some money to make sure that your Instant Pot remains intact while you drive, you can choose to invest in an Instant Pot bag. These bags are purpose-built to fit standard 8-quart sized Instant Pots and their accessories, keeping everything you need to use your Instant Pot in a convenient and handy carrying case.
Operating your Instant Pot from your car requires you to have an inverter or an external generator. As mentioned above, Instant Pots operate at a maximum of 1000 watts per hour of use, which is definitely a feasible number for most sine wave power inverters or portable generators.
Running an Instant Pot in an RV
Traveling in your RV opens up a whole world of options to power your Instant Pot – you can run it off an inverter, a generator, or the dedicated wall sockets installed in your RV. In fact, using an instant pot while living in your RV is probably the easiest way to cook all your favorite Instant Pot meals due to the space and power availability you have in a standard RV.
Simply keep your Instant Pot stashed away in a cabinet or storage space in your RV, take it out when you need to use it, put in your ingredients, plug it in, and start it up and you'll have a fully cooked meal ready in no time. Washing up is also much easier, as your RV will definitely have a built-in sink cabinet with dishwashing liquid and a drainage system that you can use whenever you clean up your Instant Pot after each use.
How to plug instant pot into a vehicle
The biggest concern that many people have when traveling with their Instant Pot is the issue of adequate power supply to the Instant Pot according to its requirements. For most, if not all dishes, Instant Pot power consumption rarely goes past 1000 watts.
This means that your car, RV, or van's power inverter should be able to produce a steady supply of 1kWh power. Most sine wave power inverters are able to produce 2kWh power, which is more than enough for the Instant Pot and at least 1 more appliance as well.
Anything below 1kWh however, and you'd be risking producing less power than required for a regular Instant Pot meal, which can lead to undesirable results. For example, if you have a small 300W inverter, you're probably not going to be happy with your Instant Pot-made pot roast as the power supplied to the Instant Pot just isn't enough to cook it to the required temperature.
All 2000W inverters connect to your car battery terminals, and not your cigarette lighter socket. This is because your cigarette lighter socket only produces 12V of DC power, which is not enough juice for the inverter to turn into 2000W of power. Lower wattage inverters, such as 150W or 300W options can run from your cigarette lighter socket with no issue – but this unfortunately isn't enough to run an Instant Pot.
Best travel size instant pot
Generally, the best size of travel Instant Pot is the 6-quart Instant Pot. This is just the right size to make delicious meals for two (and still have some leftovers for the next day). The 3-quart size, although small and portable, just isn't as flexible as the bigger 6-quart version.
The 3-quart instant pot uses a maximum of 700 watts of power, while a 6-quart uses a maximum of around 1000 watts. This is not a huge difference in wattage, but if you consider the extra quantity of food that you get from a 6-quart as compared to half of that in the 3-quart, that extra 300W of power does go a pretty long way.
Best Instant Pot meals to cook in a vehicle (no kitchen needed)
Here are some great recipes for you to try the next time you use your Instant Pot in your vehicle.
The Chicken and broccoli stir-fry guarantees a mess-free Instant Pot dinner, while being delicious and nutritious at the same time.
What's more comforting than a big plate of hot mac & cheese? Especially if making it in the Instant Pot is so easy, even while you're on the road in your van, car, or RV!
This creamy pasta comfort dish can be made in an Instant Pot easily, and the best part is, you can make it at a fraction of the price you pay for it in restaurants.
You can also use your Instant Pot to whip up some delicious cake for dessert, after you've cooked all of your main meals.
Conclusion
Bringing your Instant Pot along with you while you're on the road may seem like a challenge, but if you have the right tools (sine wave power inverter or generator that produces at least 1000W of power), cooking in and transporting your Instant Pot everywhere you go will be a breeze.
You should also remember to keep your Instant Pot clean, especially the interior. Whenever possible, wash it with dishwashing soap and rinse it out thoroughly and dry it before storing it away, as this will prolong the life of your Instant Pot, so that you can continue to use it for however long you plan to live off-grid.