You may have heard of a saying such as "A day at the beach, soothes the soul."
Just the thought of spending a day or an entire week at the beach brings us a sense of calm.
We can't wait to get to our vacation destination for some rest and relaxation.
While thinking of the beach itself brings about these feelings, preparing and getting there can cause us some acute stress.
Rather than experiencing any stress, you can use this guide to prepare yourself for your next beach vacation trip. So that the entire journey towards your beach vacation is a breeze.
The right luggage
There is no one size fits all luggage for people when traveling. You have to decide which type of bag works best for you.
As general advice, it is best to use luggage, which is lightweight and versatile.
When preparing for your next beach vacation trip, why not keep things simple by bringing only a carry-on and a personal item. You don't want to pack too much since you will be mostly at a beach during your trip.  
If you must, you can add a checked bag, but this should be your max amount of luggage to bring.
Bag options
Backpack
Using a backpack as your carry-on bag is a great way to minimize the items you carry with you. It allows you to keep everything on you so that you can move freely wherever you are.
It is easier to breeze through the airport, and you'll be able to access your items much easier.
A great backpack to consider is one which has a clamshell opening, has a laptop sleeve, water bottle holders, and even areas to hook a few carabiners.
Carry-on
Using a traditional small carry-on is an excellent option to organize your items.  
Make sure your carry-on is lightweight and has a great set of wheels. This way, you'll be able to maximize your weight allowance (if there are any) and pack more items, which most likely will mean you won't need to use a checked bag. A great set of wheels allows you to push it easily and breeze through any space, especially if you use one with four wheels.
Duffel bag
Using a duffel bag has many great benefits. They are lightweight by design since the sides are soft, and they fit into just about any space.
You can toss your items into your bag, and it is very spacious.
Duffel bags now also can come in a clamshell-type opening, so it's great. 
Packing organizers
Since you'll be packing many different items into your bag, and these items will be a mix of shapes, sizes, and uses. A great way to stay organized is by using packing organizers.
Packing cubes
Using packing cubes is a great option to organize your items into types. These are best used for clothing. You can separate the type of garment into different cubes.
The neat thing about having different cubes is that once you arrive at your home away from home, you can take them out of your suitcase. Then store them directly into the hotel dresser. This makes unpacking easy and fast.
Using cubes also helps you to be more conscious of what you are packing so that you do not overpack for your trip.
Compression cubes
You can compress your clothing by rolling them and placing them into your packing cubes. Or alternatively, you can use packing cubes which compress.  
You can either fold your clothes the usual way and place them in the compression cubes, and the compression cubes will push the air out. Alternatively, you can combine the rolling method or Konmari folding method, place your clothing int he compression cube and push the air out. 
Doing this will save you a little more space in your bag or suitcase at the same time, keep your clothing organized.
Toiletries bag
Use a separate bag for your toiletries. It is best to use a clear bag to help when going through a security check at the airport.
You can have a few small bags so that you can separate your makeup, jewelry, toiletries, and any other necessary items you need to bring.
Electronics organizer
Rather than having your electronic chords all over the place, you can neatly pack them away in a bag which organizes them.  
If you have small electronics, you can store them in the bag as well. This way, you will know where everything is, and you won't have to scrummage around your bag to find it.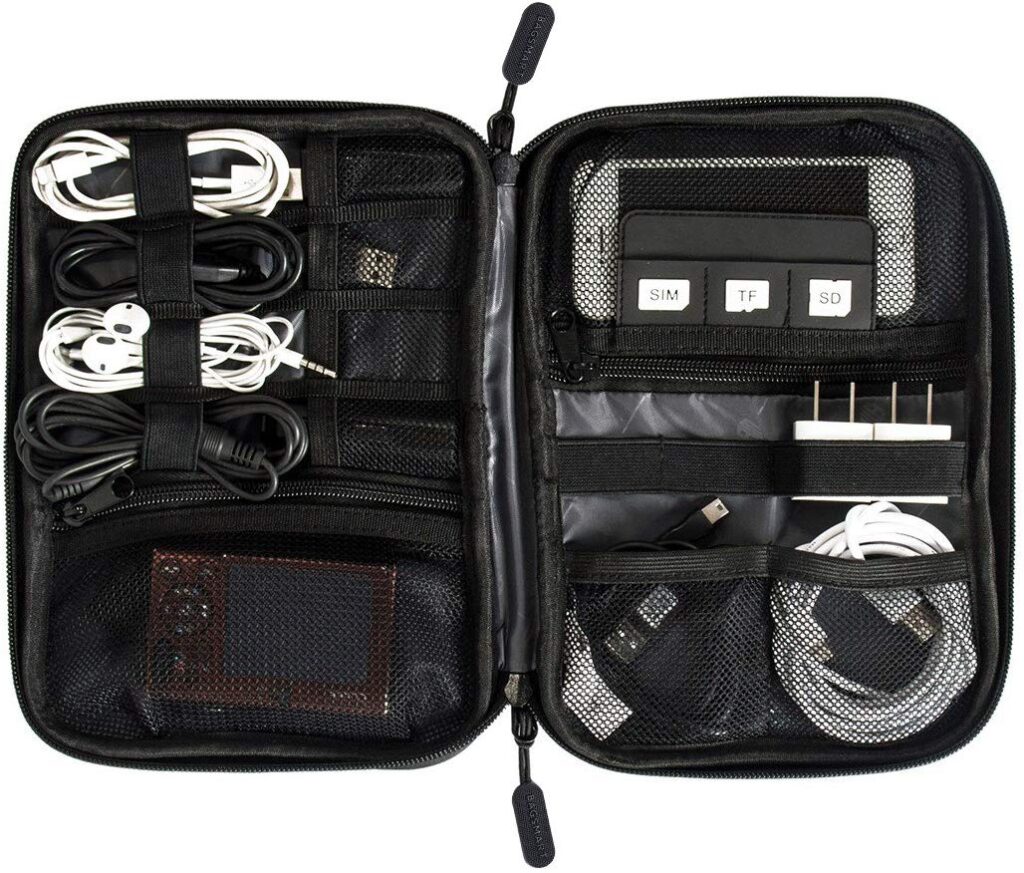 Packing Check List
To prepare for your upcoming vacation, you should put together a list of items to bring.  
So that you don't have to do much thinking and planning.
Here is a list of essential items for you to bring:
Swimwear
Underwear
Sunscreen
Sunglasses
Coverup/sarong
Hat
Tops
Bottoms
Pajamas
Toothbrush
Toothpaste
Sandals/flip-flops
Cell phone and charger
Light beach bag
Shampoo
Conditioner
Soap
If you plan on doing other things on your vacation, such as sightseeing, you may want to bring more items with you:
Walking shoes
Socks
Makeup
Other clothing for layers
Generally, when you are leaving the country some of these items, you may not bring with you. But, if you are long driving to your destination, you can easily pack these items to take with you.  
Toys to play in the sand
Sports stuff – beachball, frisbee, etc.
Goggles
Snorkel gear
Beach towel
Beach umbrella
Downloadable Checklist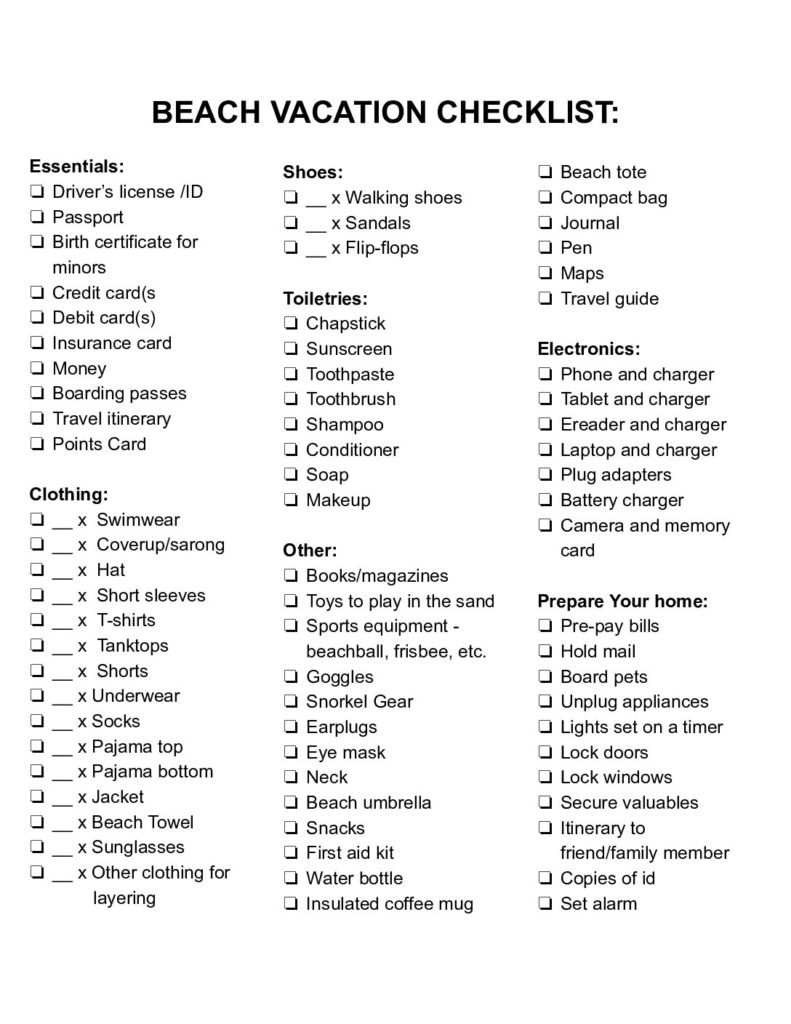 Travel Documents
With your travel documents, you will always want to keep them close to you. For easy access and for security.
You should have with you at all times:
Photo Identification
Passports
Birth certificates for minors
Insurance card
Credit cards
Debit cards
Boarding passes
Points cards (e.g., Airmiles)
One way to ensure the safety of these essential documents is by keeping with you a travel document organizer or a money belt.
You can keep other non-essential documents with you as well. Such as:
Other items
There may be other items which you may want to bring with you. You can keep these items in your personal bag or carry-on bag.
Light jacket
Neck pillow
Eye mask
Earplugs
Chapstick
Water bottle
Insulated coffee mug
Journal
Pen
Laptop and charger
Tablet and charger
Headphones and charger (if wireless)
Camera and battery charger
Converters or adapters
eReader (or a good book)
Safety
Heading to another country for your beach vacation is exciting, but you always want to be safe.
Carrying your essential documents and money with you is safer if you use a hidden belt or a bag that doesn't tear easily. You can also carry your items in an RFID wallet or bag to keep your identity safe.
Preparing your home
Before heading off, you want to make sure that the home you are leaving is also safe, and that you take care of things that you won't be able to attend to while on your vacation.
Here is a list of things to do:
Pre-pay your bills
Hold your mail or ask someone to check your mailbox
Make sure you don't have any deliveries scheduled
Find a home for your pets
Unplug necessary appliances
Have your lights set on a timer
Lock your doors
Lock your windows
Secure your valuables
Provide your travel itinerary to a friend or family member
Make copies of your ID – email them to yourself
Set your alarm
For a full list of packing checklist: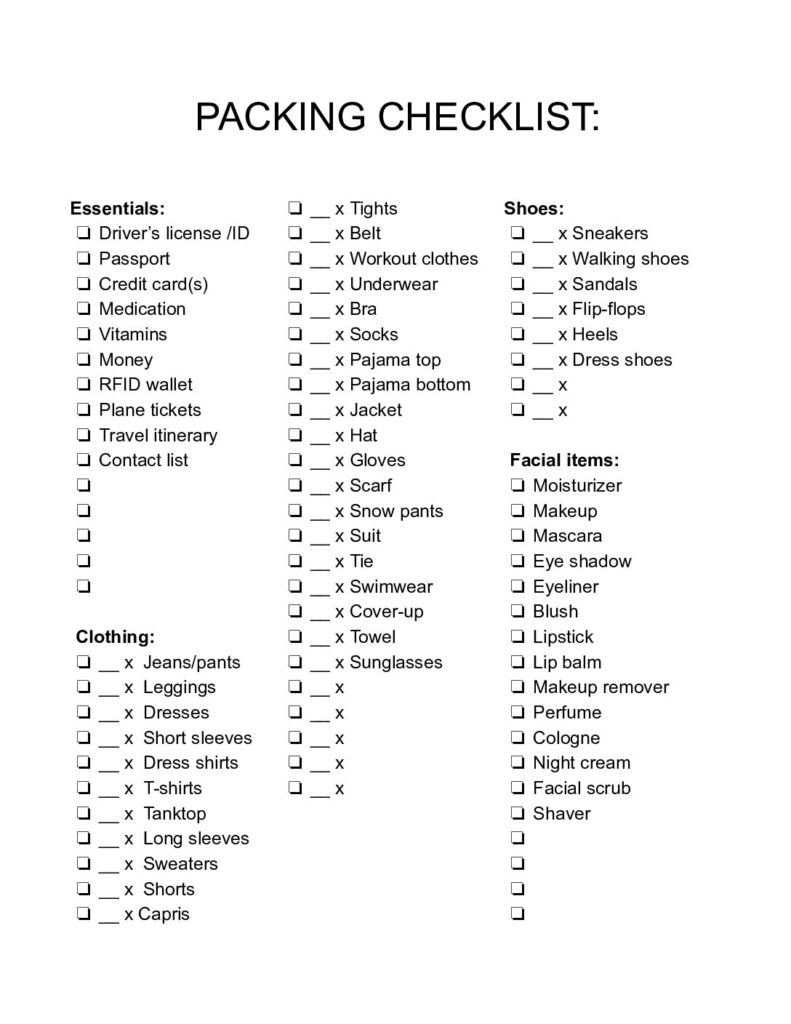 Conclusion
Going on vacation is fun, but the entire journey to getting there should be too. Use this guide and checklist to ensure that you are well prepared and put your mind at ease.
By following this guideline, you will have a delightful and carefree vacation.
So go ahead, kick off your shoes, and relax.
Have fun at the beach!