Most people view their toilet as a large white porcelain chair they only interact with when they need to use the washroom. We typically don't think about how much money literally goes down the drain every time we flush.
In this article, I will provide you with the tools to turn your toilet into a lean, mean money-saving machine! 
Toilets account for most of our water usage in the home. By retrofitting a dual flush and bidet system on a standard toilet, you can reduce your water cost when you flush and save money by using less toilet paper. These two toilet add-ons not only save you money, but also help protect the environment. 
The water your toilet uses
Every time we use the bathroom, we flush a full tank of water down the drain, regardless if we urinate or defecate. A complete flush is not necessary for those times you urinate.
According to Webmd.com, most people urinate between 6 and 8 times a day. If you're drinking plenty of liquids, it's not abnormal to go as many as ten times a day. You may also urinate more frequently if you're taking certain medications.
A regular American Standard you might find at Home Depot uses 1.6 (6 liters)gallons of water per flush, while older toilets use between 3.6(13.6 liters). A single person in the average home can flush up to 9.1 gallons of water a day, which is 3,321 gallons annually per person. That's pretty mind-blowing!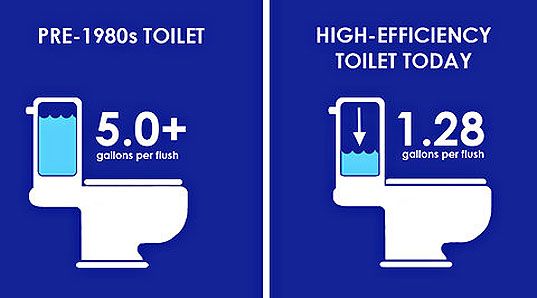 According to Wikipedia, Residential water use in the U.S. and Canada – Toilets use the most water inside the home. Watering your lawn only ranks number one if you're counting the water used outside of your home.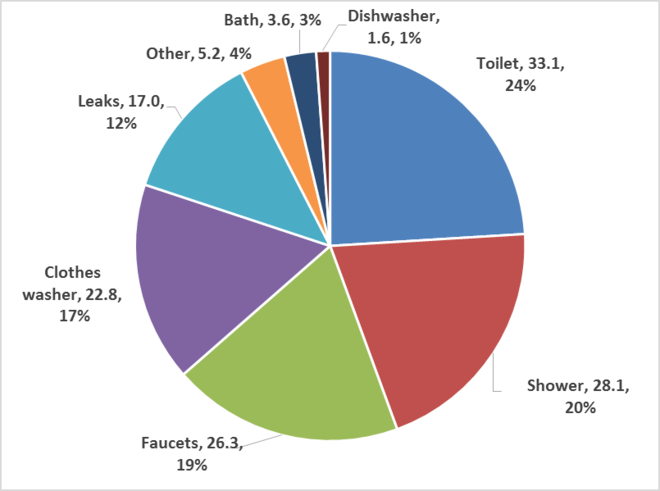 I bet after reading above, you see your toilet in a different light now. You probably think, what a little water hog!
Cost without using the low flush  
Healthline surveyed 2,000 participants. They reported that almost 50 percent of people defecate once a day. This helps illustrate that we mostly flush the toilet when we pee.
According to censtarenergy.com, the national average cost of water per unit falls at around $40 per month. 
24 percent (toilet use) of $40 is $9.60 a month. 
That's $115.20 per person annually. 
Save money with a dual flush retrofit 
This money-saving hack works on standard household toilets. If you're anything like me, then any extra savings will make your frugal jump for joy!   
After installing Danco HYR271T Hydroright Dual Flush Valve and Lever Handle flush retrofit, I've seen a reduction in my annual water bill. 
After installing all the components, the only visual difference from the outside on the toilet is the lever. 
The area that once housed the single flush lever now will have a split level that forms together as one complete-looking lever. 
Pushing the very tip of the lever will activate the full flush. Pushing more to the center will enable the half flush. 
You can adjust the settings to increase or decrease the amount of water for any flush setting. Depending on your settings, you can reduce your low flush to as little as 1 gallon per flush. 
Cost savings using the dual flush retrofit    
Based on standard water settings provided my Danco HYR271T Hydroright. The low flush uses 1 gallon of water per flush. Based on how many times the average person flushes, you can use 6 gallons of water a day. 2190 gallons annually.  Using this dual flush system, you can save 1131 gallons annually. 
Please acknowledge my calculations don't account for people working a full-time job or just not at home all the time. It's meant to give a basic understanding of water consumption. 
Save with a bidet retrofit  
Adding a bidet not only saves you money, but it improves hygiene and helps the environment. 
According to businessinsider.com, it takes up to 37 gallons of water to make one roll of toilet paper. 
On average, Americans spend $40 to $70 a year on toilet paper.  
A bidet attachment can significantly lower your toilet paper cost by 75% or more. 
There is a wide range of bidet retrofits you can install. 
I wanted my toilet to look as sleek as possible. So I opted for the whole seat retrofit.
The GenieBidet is an ELONGATED Seat with Self Cleaning Dual Nozzles. It offers rear wash & feminine cleaning. 
A brief history of bidets
The popularity of bidets started in France and spread all across Europe and other parts of the world. Using bidets in parts of the world is as common as we use toilet paper in North America.  
During World War II, the troops stationed in Europe would see bidets in the washrooms in local brothel houses. So Americans started associating bidets with sex work. That's one of the main reasons the bidet never gain popularity in America.  
In the 1960s, businessman Arnold Cohen tried to introduce bidets to America. But people were not interested.  
Bidets gained significant popularity in Japan. They have incorporated many cool useful features! You can now get bidets that have seat warming, blow-drying, and a built-in night light feature. 
Conclusion 
Household consumption can get out of control when we don't keep an eye on things. Cutting back on the excess we use will directly impact the money we spend and will help the environment as a byproduct. 
With the simple changes listed above, you can save without majorly altering your routine. I give this simple lifesaver two thumbs up!