Cooking chicken is a fairly straightforward process. It's the most popular type of protein choice in the world, and it can be prepared in all kinds of different dishes, making it super versatile. It is also very easy to cook, and requires very little prep time.
If you've noticed some white stuff or ooze that is coming out of your chicken when you cook it, this might be slightly concerning for you.
In fact, you might be questioning if the chicken that you're cooking is even safe to eat! Let's look at this seemingly strange occurrence and explore more about what it is, and why it happens to chicken when you cook it.
The "white stuff" or " white ooze" that comes from poultry when cooking is a mixture of protein, fat, and water that has been coagulating inside the muscle fibers of the meat, and is released when the muscle fibers are exposed to the high heat of cooking.
Please read on for a more in-depth look at the white ooze.
What is the white ooze that comes out of chicken when you cook it
This white ooze is basically water, mixed with protein and fat. This is why chicken meat is a great source of protein, because every part is literally chock full of it, in every chicken breast, thigh, drumstick, and wing.
One of the reasons why people love chicken as a source of protein is because the protein that comes from poultry meat is easily digested when consumed.
This is why, when raw poultry meat that is packed with soluble fat, water, and protein, is exposed to high heat during the cooking process, it denatures very quickly, leaking out the water, protein, and fat mixture that it holds together in the muscle fibers.
This is why when you cook fatty chicken parts, like thighs, on a relatively dry pan (with only a light layer of oil), you tend to end up with a sopping wet pan of chicken juices mixed with oil.
It also happens when you cook chicken breast, but generally, this happens more often with chicken thighs or other fatty chicken parts.
So if you see white ooze coming out of your chicken when you cook it, don't be alarmed. It's a perfectly natural process that happens when you cook chicken.
One cool cooking hack to cook a whole or pieces of chicken is using an air fryer oven. Not only do you get an even cook, you also save on your electric bill because you're using a small unit compared to your full-sized oven.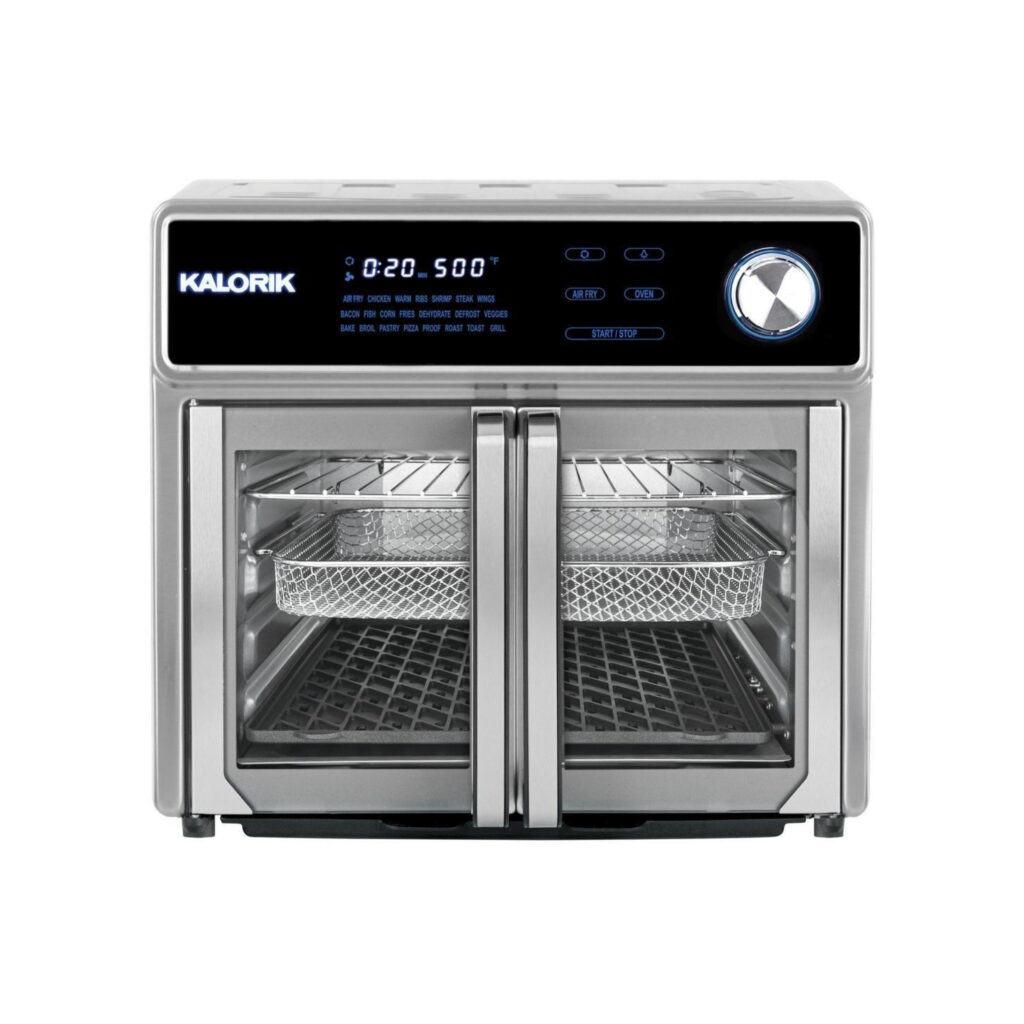 Enjoy the authentic outdoor flavor, made inside the Maxx with innovative smokeless sear technology, the as seen on TV Kalorik Maxx Air Fryer Oven Grill lets you enjoy the healthy, quick-cooking benefits of air frying and the great BBQ taste of outdoor grilling in a single countertop appliance.
Is the meat safe to eat?
Yes! The meat is perfectly safe to eat.
Unless you are sure that your chicken meat has gone bad, cooking fresh raw chicken and witnessing a white ooze coming out from the meat as it cooks is not a bad thing, and you won't get sick when eating it.
If you ever observe patches of gray, green, or yellow on your chicken, here is an important article you should read on whether your chick is safe to eat or not. Why Does Chicken Breast Change Color.
Always check if your chicken meat has gone bad before cooking it by smelling it and feeling it. Trust your human instincts that our ancestors have developed over the millennia – if it smells bad, and the texture is a little stranger than usual, then it's definitely expired and should not be eaten, white ooze, or otherwise.
If you are in doubt whether your chicken is undercooked, always follow the USDA guidelines for safe interior temperature for consumption of chicken meat. According to the USDA, the interior temperature of the chicken should always be at 165ºF before it is safe to eat.
In what conditions does this occur the most?
Raw chicken, or any raw poultry meat for that matter, keeps its soluble proteins locked into its muscle fibers until it gets released during the cooking process.
So if you have a particularly fatty piece of raw chicken meat, you're going to increase the occurrence of the white ooze coming out of your chicken meat as it cooks.
And if you're cooking your chicken from frozen, you're going to get more white ooze than usual. This happens because when you freeze your chicken, the soluble protein, fat, and water mixture inside the muscle fibers expand and burst the cells around it before freezing.
When your frozen chicken is exposed to high heat during the cooking process, this soluble liquid cooks uncontained, leaking out a lot more. And more often than not, this results in a dryer-than-usual piece of chicken after cooking.
Have you ever tried to cook a large batch of chicken for your family but didn't have enough space in the pan? I got the perfect recommendation for you below.
Can I reduce or stop this from happening?
As this is a completely natural process, there is not much you can do to stop the white ooze from happening when cooking raw chicken at room temperature.
But if your chicken is being cooked out of the freezer, or at a low temperature, you should ensure that it comes up to room temperature before you cook it.
This lets the protein/water/fat mixture stabilize and contain itself in the muscle fibers of your raw chicken before you expose it to the high heat of cooking.
There is also another factor that affects white stuff coming out of your chicken. Some industrial chicken meat packing companies brine their chicken in a 1% salt solution before they package it to be distributed in grocery stores.
This solution adds to the moisture of the chicken that you buy so that you always get a juicy chicken when you cook it.
But if you cook this chicken out of the freezer, you might get more white ooze coming out as the brine solution is mixed with the already naturally occurring fat/protein/water mix in the chicken meat.
So, check the label of the chicken that you are buying from the grocery store if you don't want a pre-brined piece of chicken that will ooze more.
Can this happen to other types of meat?
Yes, in fact, this happens to meat such as salmon, pork, and beef. The white ooze is pretty much the same thing as chicken.
Conclusion
If you've found a white ooze coming out of your chicken as it cooks on the pan or on the grill, don't be alarmed as it is a natural process that happens whenever you cook poultry, beef, or salmon.
However, you should always check if your chicken is fresh by smelling it, and feeling it to ensure that it does not smell off or feel strange to the touch – if it does, then you've got way more to worry about than white ooze if you cook and eat that piece of chicken!
Photo altered by simplelifesaver.com | Photo attribution: Denis Agati