Keeping your car clean is already a difficult task to take on—whether or not your floor mats stay put.
But, when they move around at any slightest movement, footprints can get all over the floor bed of your car—and, for the record, floor mats are much easier to clean than the bed of a car.
Here are our tips for keeping your car floor mats in their place:
One of the best general solutions I've found for keeping car mats in place is using aftermarket car mat clips. Clips like the Eagle Klaw grip onto the carpet of your vehicle and snaps to the car mat.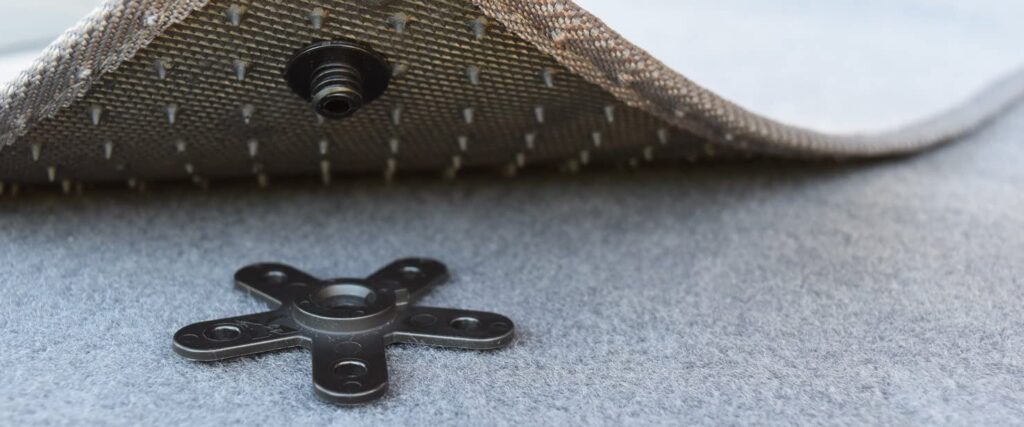 Eagle Klaw can be found on Amazon here. 
Although I found the solution above extremely effective, I've listed several more solutions below that work just as well.
LATEST VIDEOS
Using Built-In Car Hooks
Before you even think about how your car mats are attached or gripped to the floor, you first have to make sure your floor mats are conducive to non-slip technology. 
This is the most effective way to keep your floors clean and your floor mats in place.
Some car mats have built-in hooks or fasteners on the underside that you may not have even noticed at first glance. 
These are typically going to be the mats that your car came with, but there are also a lot of mats on the market that have this feature as well.
Usually, these mats have holes on the corners, and the cabin of your car has hooks or fasteners that feed through those holes.
Try fastening your mats to the floor—if that is accessible, and you haven't done that already—before you look into replacing them.
Using Heavy Duty Car mats
If you've decided your current floor mats don't fasten directly to the cabin of your car, you may need new floor mats altogether.
If you've never bought new floor mats, this is definitely the first place to start when looking to secure your mats. 
The fact of the matter is that those thin, lightweight mats that cars typically come with just won't do the trick. 
With such a lightweight and flexible, it's no wonder they move around so much!
Instead, replace your old mats with something thicker, heavy-duty ones. Without doing anything else, this could even solve your problem.
The weight of these mats alone could keep them in place.
Check out these car floor mats on Amazon here.
Use Existing Fasteners
If your car does indeed have hooks or fasteners on the floor bed, why not use them?
Your mats may come with holes all ready to use, but if not, you can try cutting or hole-punching new holes to make sure they fit directly in line with the existing fasteners underneath.
Using Carpet Tape To Keep Car Mats In Place
If there is still some movement after you've replaced your mats, you can apply carpet tape to the underside of your car mats. 
Carpet tape is an industrial-grade double-sided tape that is typically used for installing carpets.
To do this, simply pull up your floor mats and apply a couple of horizontal strips of tape on the floor. 
Pull back the paper on the second side, align your floor mats, and place them firmly on the tape.
The adhesive alone should keep your mats from slipping. 
Find carpet tape on Amazon here.
Non-Slip Adhesives To Keep Car Mats In Place
Much like carpet tape, you can find two-sided non-slip adhesives to put either on the corners or borders of your car floor mats. 
This will typically yield the same result as carpet tape, as these non-slip grips are explicitly made for this purpose.
Using Hook-And-Loop Fastener To Keep Car Mats In Place
Most people refer to hook-and-loop fasteners as Velcro. 
Hook-and-loop is the generic term, and Velcro is the brand. I grew up calling it Velcro, so in this section, I will be referring to hook-and-loop fasteners as Velcro.  
If the carpet tape and the non-slip adhesives aren't enough strength, velcro-ing your car mats down could be an excellent option to try. 
There are some heavy-duty, industrial-grade Velcro strips that will keep your mats from budging.
You can find industrial-strength Velcro tape here.
If you choose the same pattern that you would have installed your carpet tape—multiple long, horizontal strips—it could be challenging to remove your car mats for cleaning.
Measuring out your mat and placing them along where the borders will be could be a good option. 
Or, if even that is too much grip, try putting Velcro just on the corners or just a few strips in the center.
To install the Velcro, place the soft side of the Velcro on the floor bed of your car by peeling back the paper to reveal the adhesive side.
In the same alignment, place the hard, scratchier Velcro on the back of your floor mat so that when placed face down on the car bed, the velcro sticks together.
Nail Your Car Mats In With Floor Mat Anchors
If the carpet tape isn't doing the trick, or you just want to be extra certain that the mats stay put, you can nail them into place with floor mat anchors.
In fact, there are a variety of mats that come with screws and holes in the corners directly for this purpose (or, for use of the fasteners/hooks already in existence on the bed of your car).
A floor mat anchor is essentially just a plastic nail with a head that is wide enough to keep your mats in place.
However, if you're doing this yourself, you want to be careful that you'll be nailing into a safe place in your car body.
Using a hammer, hit on various places on the bed of your car until you hear a hollow thud; this signifies heavier carpeting in this area and that it is safe to hammer into. Look for two spots near the corners of the seat and mark them when found. Don't place the anchor anywhere you hear a metallic sound when hammering.
If your car mat doesn't have holes—you can make them with the anchors by turning them clockwise and gently pushing them through a small slit made with a knife.
Push the anchor through the holes, so the head is facing up.
Slide the washers onto the bottom side of the anchors to keep them in place.
Screw the bottom section of the anchor into place on top of the washers.
Place the mat back on the floor, aligning with the places you marked as safe to hammer into.
Hit the anchor caps to secure the mats into place.
You can easily unscrew the mats with a screwdriver whenever you want to remove or replace them.
Clip Car Mats Down
It may come as a shock, but there are clips designed specifically for the purpose of keeping car floor mats in place.
You can find floor mat clips at any automobile accessory store or any retailer that has an automobile section.
They're normally plastic, so rust won't be a problem as it would be with nails or screws.
Floor mat clips are made specifically for specific makes and models of vehicles. Some older vehicles won't have any clips available. 
So, when you go to your nearest store, make sure you look into what type of car the clip is made to be used in and what type of car you're using.
Using floor mats designed for your car
This is an excellent option if you're looking to eliminate moving mats and get maximum protection for your floors.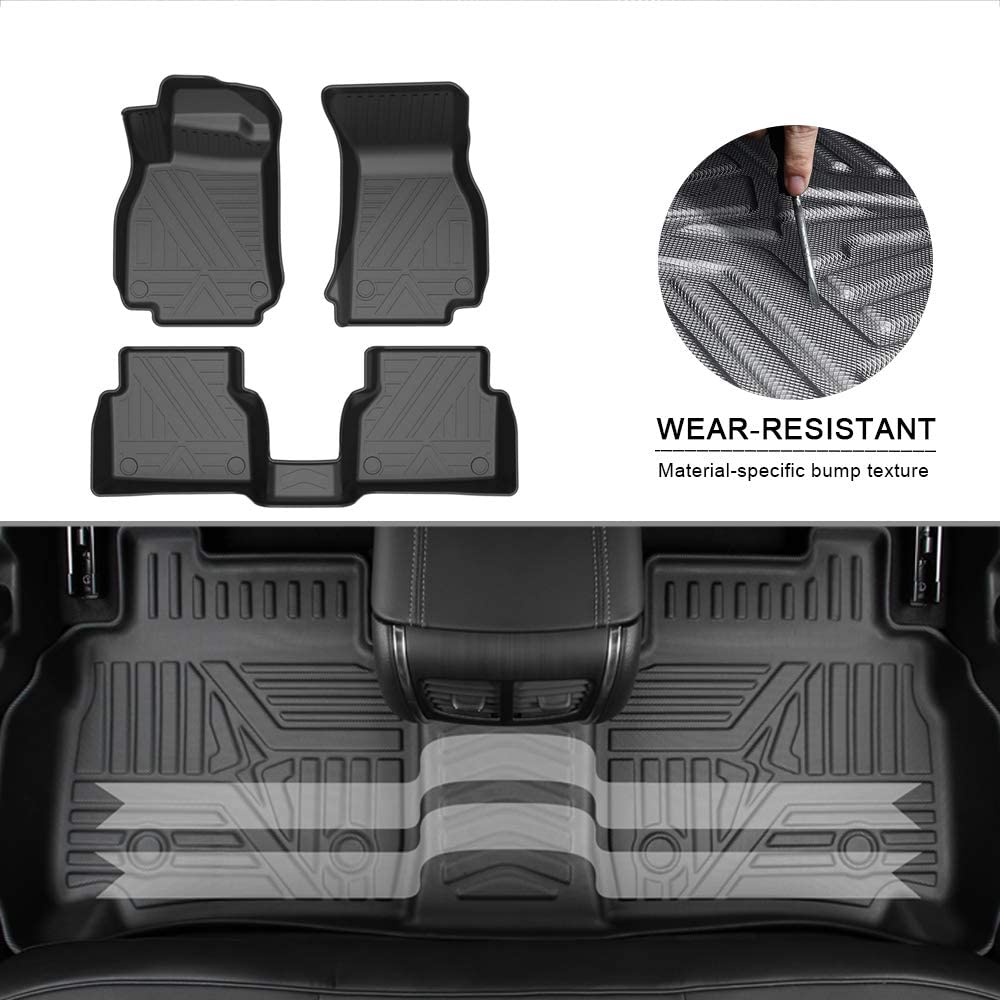 Because these car mats are designed for your specific car model, they sit snug on the floor of your car and cover more than 90% of your vehicle's carpeted floor area.
You can find the mats for your car on Amazon here.
These car mats are heavy-duty and will last the life of your car.