A hot cup of coffee in the morning to energize and get you started on your busy day is something many of us look forward to or even rely on upon waking up.
We make a drink, quickly get ready, and before you know it, we grab that cup before heading out the door, take a sip, and the coffee or hot beverage you were looking forward to drinking has already cooled off.
As you can see from the main post image, I'm a bit of a yeti fanatic! After witnessing my friend's drink staying hot for hours, I went out to buy the lot! 🙂   
Yeti is known for their coolers and for keeping your drinks cold. So, could the Yeti keep your drinks hot as well? There are various types of Yeti containers. 
The main drinkware is known as the Rambler. It comes in multiple sizes and styles and is the typical one that people purchase. 
Yeti Rambler drinkware is explicitly designed to not only keep your drinks cold but, also keep your hot drinks hot for a very long time. Yeti states that your beverages will be hot until your last sip.
That's a bold statement made by Yeti, and after doing research and trying out the Yeti Rambler tumbler myself, I'll share my findings with you.  
You can decide if the Yeti is an excellent option to keep your drinks hot during the day and save you money along the way.
Smart technology design and materials are what makes a Yeti great for hot drinks
Lots of research and science has gone into the design and build of the Yeti-insulated products.
Whether it is the Rambler tumbler, Rambler bottle, or Rambler mug, any of these products will keep any of your hot beverages, even food, hot throughout the day.
This is done by the following design:
Double-wall vacuum insulation
Stainless steel material
Inner copper lining
The plastic top as an insulator
Magnetic slider
1. Double-wall vacuum insulation
The Ramblers are composed of an inner wall and an outer wall, and there is a gap in between them.
Between the gap, the air is sucked out, which creates a vacuum. Therefore, there is nothing in between the gap. Without getting too scientific, it means no heat can be transferred through the air.
The bottom and the sides of the Yeti's all have this double-wall vacuum seal.  
There is only one place where the double-walls touch, and it is located at the top of the cup, meaning there is no vacuum seal there.  
But, this doesn't affect the cup's function, as the heat would have to travel upside the wall through the top, which will not happen. 
This intelligent design doesn't allow for the surrounding environment temperature to pass through and cool the drink.
2. Stainless steel material
Stainless steel is a terrible heat conductor, which makes it also an excellent insulating material.
Double-wall vacuum insulation is also only possible with this type of material. There are double-wall insulated tumblers out there that you could purchase, made out of plastic and glass.  
Be aware that although they are double-walled, they cannot be vacuum sealed, and hence heat will be able to escape.   
This means that your hot drinks will not maintain their heat for very long.
3. Inner copper lining
Radiation is a form of heat loss. Yeti Ramblers are designed with an inner copper lining, which protects it from being affected by radiation.  
The inner cup of the Yeti has a copper lining, which is on the outside of the inner wall; hence the lining doesn't come in contact with your drink.  
4. Plastic top
Plastic is also a terrible conductor of heat, so it does add some insulation to your tumbler. 
The Ramblers have a plastic top to cover the container; the combination of this with the other ways that the Yeti is designed is what allows the drinks to remain hot for long periods.
5. Magnetic slider
Some coffee tumblers have an opening at the top, even some of the Yeti products.  
An option is to purchase the cover with a magnetic slider, called the mag slider (or buy the tumbler with one that comes with it already).  
This magnetic slider covers the opening so that it can seal the heat inside your cup.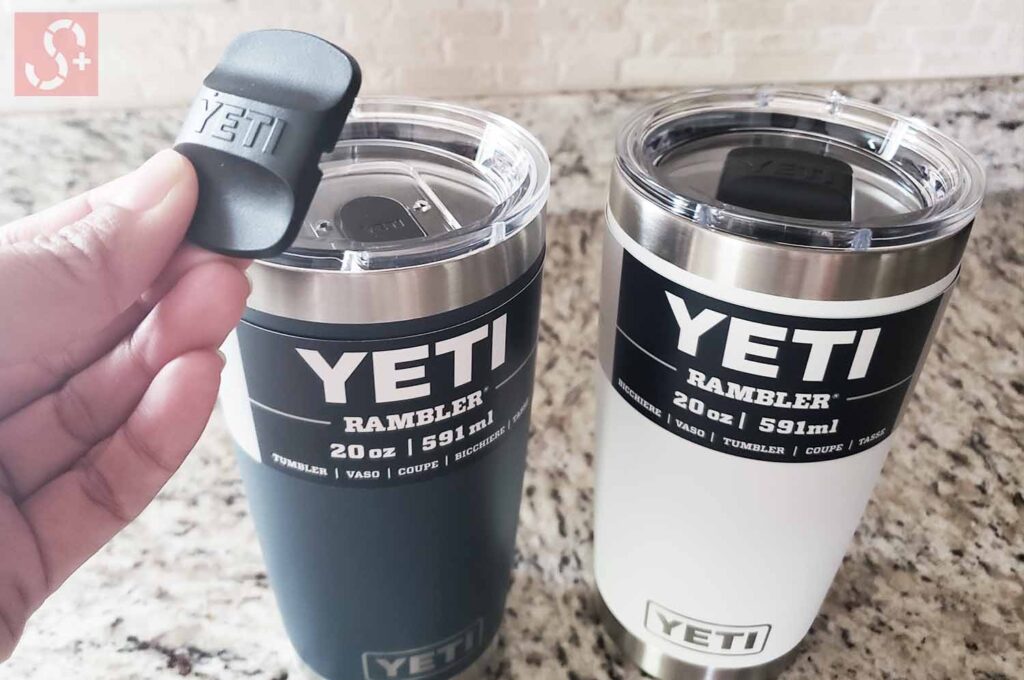 How long does the Yeti keep the beverage hot?
You'll be able to enjoy your cup of coffee even after 5-6 hours of leaving your drink in your Yeti Rambler.  
I would guess if you haven't drunk your coffee within that time frame, you probably wouldn't drink it anymore. So, 5-6 hours is more than sufficient enough for many of us to enjoy that last sip of coffee.
On the topic of coffee lasting, in a recent article, I discuss the longevity of coffee with milk. 
Yeti ramblers are ideal for those long drives, where you're taking a sip here and there.
I tested my hot drink using the 295 mL Rambler Tumbler. And after boiling a black tea to 200 degrees Fahrenheit and forgetting about the drink for 6 hours.
After that time (although it was lukewarm), it was still drinkable; even sipping it for another half an hour wasn't too bad.
It's great for those of you who get caught up doing your work or get distracted by other pressing matters. 
You can take sips of your drink, and you'll be able to enjoy it much longer, rather than rushing to finish it or letting your drink get cold.
If you decide to reheat your drink, make sure you don't reheat it in your Yeti. 
Pour your beverage into a microwaveable container, and you can repour it back into your Yeti and give it another round.
Before I had all my fancy hot beverage equipment, I had what I had laying around my house. In a recent article, I wrote I talk about how I used my percolator to make hot beverages like tea and hot chocolate.
More benefits of the Yeti Rambler:
1. Comfortable to hold
Because of the design and build of the Yeti, which we spoke about earlier, you'll find that the walls of the Ramblers are comfortable to hold. 
You'll never have to worry about burning your hand on the side of your cup. 
You'll be able to easily wrap your hand or hands around your Yeti and enjoy sipping your hot beverage. 
2. No condensation
As long as you ensure that you don't have spillage alongside your cup from overfilling, you can leave your cup on a desk or table without worrying about leaving a circular residue behind.   
You don't have to worry about condensation around your cup, your hands getting wet, or ruining your table.
3. Sturdy design
Another great feature of the Yeti is that it's built to last. You'll be able to drop it here and there, and your cup won't shatter to pieces. 
It's scratch-resistant, so your Yeti will look as new as the day you received it. It's made for the great outdoors, and these things are capable of taking some hard hits.  
Having said that, you still should be taking care of your drinkware for it to have a long life span.
Purchasing one to me is an investment. Take care of it so that it continues to function at its best and last you years to come. 
Although we do have accidents, you'll want to minimize dropping it, so that you don't want anything sharp to puncture the walls of your mug. Remember, this is what keeps your beverage warm. 
Speaking of sturdy design, after you finish this article, check out this cool guide on Best Water Bottle For Construction Workers. These are some of the toughest water bottles in the game. If it's good enough for construction workers, they are built to last.
Tips for using your Yeti 
1. Safety Tip
A little safety tip is to be sure to open the lid once in a while to allow some heat out for the heat not to build up inside the mug.  
This tip is for your really hot beverages in the tumblers with the seal-tight lid. You don't want that hot stuff opening up to your face when the steam lets out.  
Or at least be careful not to open it too close to your face. The best cover to use for your Rambler is the one with the mag slider.
The mag slider cover allows you to slide a magnetic piece over to enable the opening to be exposed so that you can drink and will enable some heat to escape.    
This cover is available for the Ramblers, whereas the Yeti bottles have closed caps and seal the opening tight, keep this in mind when deciding which drinkware you want to purchase.
2. Use the hottest water you can
To ensure your beverage stays hot for as long as possible, use the hottest water you can. Having said that, each beverage is different.  
Different types of teas and how you like your coffee are also different in temperature.  
With instant coffee, you may have it quite hot if you boil your water to the highest temperature, but it will cool off a little if you add some milk or cream to your drink.  
Drip coffee and coffee from a shop are typically lower in temperature. Keep in mind that Yeti recommends not to have your drinks go over 185 degrees Fahrenheit.  
I'll confess, I do boil my water to 212 degrees Fahrenheit, and so far, no issues with my Yeti mugs. 
3. Pour your beverage immediately
The moment you have your hot drink, pour it into your Yeti and seal it shut with the lid.  
Doing so allows you to seal in that heat, and therefore your drink will remain hot longer.
4. Keep it out of the cold
Keep your drink as hot as possible and, for as long as possible, by reducing exposure of your tumbler to cold environments.
5. Insulate your Rambler
Although not necessary, to ensure that your Yeti doesn't get exposed to cold environments, you can keep your Rambler in an insulated bag or sleeve.
6. Don't overfill
When pouring your beverage into your Yeti, make sure that you don't fill it past the base of your cover.
This ensures that when you cover it with your lid, the liquid will not spill out.  
7. Use the correct Yeti container
Any of these can be used to store your hot drinks:
Rambler Tumbler Standard Lid
Rambler Tumbler MagSlider Lid
Rambler Bottle HotShot Cap
Rambler Bottle Cup Cap
Rambler Jug Lid & Cap
Rambler Bottle Chug Cap
Rambler Bottle MagDock Cap
8. Cleaning Your Yeti for longevity 
It's good to get into the habit of cleaning your yeti rambler. 
As good as Yeti's are when it comes to keeping drinks hot or cold, prolonged exposure to beverages like coffee can cause stains and grime build-up. 
Build-up from the beverage can get trapped behind the gasket and leave residue on the clear plastic lid. 
Remember to remove the gasket to clean the crevices of the lid. Stay away from abrasive metal-based cleaning pads. 
In a recent article, I explain how to clean residue off glass and metal and what to use to do it.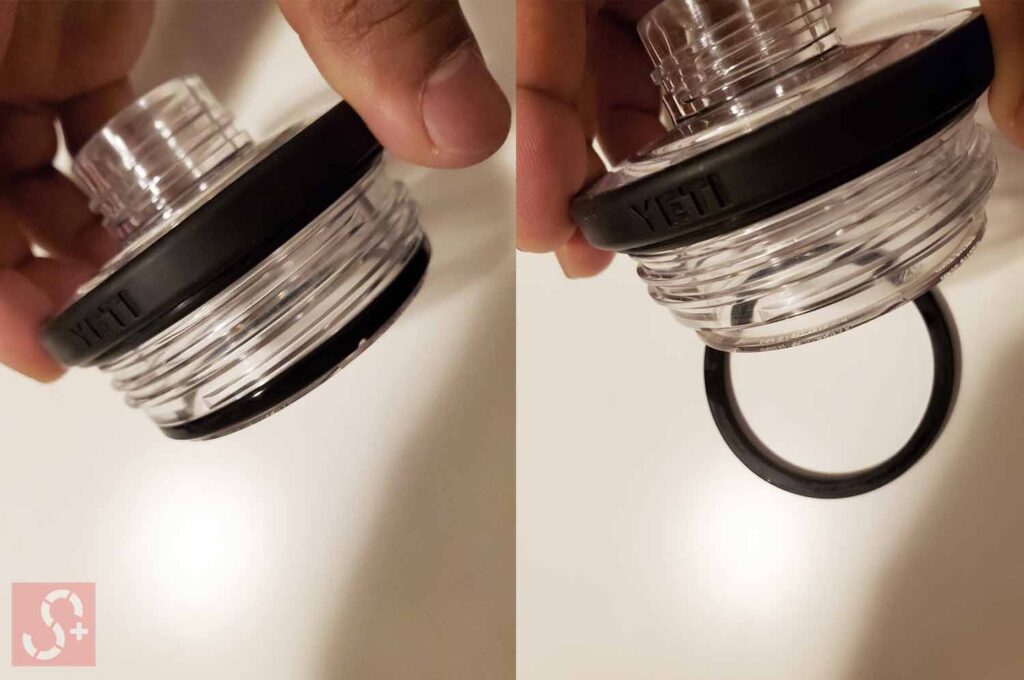 Important health note: All Yeti products are BPA-free! 
Final thoughts
As you can see, Yeti products are for multiple uses. If you're someone who loves cold drinks, it is built to keep your drink cold, and if you enjoy your cup of coffee or tea, you can enjoy it until it's done.  
It makes your life comfortable, easy, much less hassle, and you can have a joyful day, knowing that your favorite drink will stay hot in your cup.