If you spend most of your time in the kitchen at home whipping up meals for yourself or your family, you're probably no stranger to the clutter that comes with owning so much cutlery and cookware in your cupboards. 
An assortment of pots and pans that you've accumulated over the years means you've got specialized equipment for different purposes, such as boiling pasta, grilling meat and fish, or baking cakes and pastries. 
But more often than not, at least half of these items never get used – and spend literally all their lives taking up space in the back of your cupboards or dish drawer.
And on the occasion that you do find a use for them, you'll have to spend a long time painstakingly carefully removing all of the stuff that's in front of it, taking the required item out, and then putting all of the aforementioned stuff back into the drawer, which leaves you with the question: "how can I make this easier for myself?"
Making Cooking Smarter
Enter the multi-cooker. In case you haven't heard of it, it is a smart all-in-one kitchen appliance that literally allows you to do away with cooking equipment such as the microwave, non-stick pans, and roasting tins that you once thought you couldn't live without. 
The multi-cooker feels like technology straight out of the Jetsons. It does everything from pressure cooking, crock-pot style slow-cooking, steaming, and much, much more. 
They are immensely popular due to the fact that they are simple to use, easy to clean, and effectively declutters your kitchen. With this one device – you basically replace half of your kitchen appliances. 
And the best part? It only takes up the space of no more than 2 or 3 of those other appliances. 
Sure, they may not be super compact devices – but for those looking to scale down their kitchen space and maximize efficiency when cooking their daily meals, the multi-cooker is a tough gadget to beat. 
It cooks fast, cooks accurately, and minimizes your cleaning time. 
Here are some of the best all-in-one kitchen appliances you can find on Amazon today. Cooking has never been this easy.
Roundup: Top 3 All-In-One Kitchen Appliance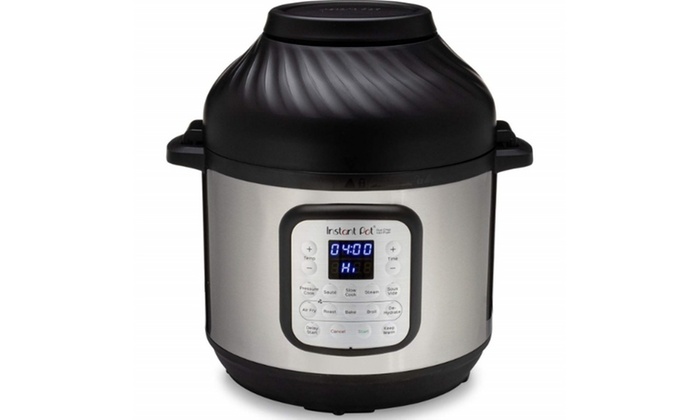 Sauté, steam, pressure cook, sous vide, air fry, roast, bake, broil – the Instant pot Duo Crisp 11-in-1 Air does it all. 
With an astonishing 11 smart cooking programs engineered into such a compact package, it truly deserves a place at the top. 
Out of the 11 cooking programs, 6 are wet cooking functions (pressure cooking, steaming, slow cooking, sous vide, warm, sauté), while the other 5 are dry cooking functions (air fry, roast, bake, broil and dehydrate. 
You can choose between wet or dry cooking by switching out the lids – there is one dry cooking lid and one wet cooking lid that comes with every purchase. 
It is designed with convenience and ease of use as a top priority. The wet and dry cooking functions are all on the front of the unit on an easy-to-read control panel. 
When you're preparing your meals, simply prepare your ingredients, pick your cooking function at the touch of a button, and let the Instant Pot Duo Crisp 11-in-1 Air Fryer work its magic. 
When it's washing up time, simply wipe clean the sleek surfaces, and place the pot, air fry basket, or broil/dehydrating tray in the dishwasher. 
The instant pot brand has many different models and can be confusing to some consumers. We've written this well-thought-out guide to help explain all you need to know about the Instant Pot. 
Instant Pot has gained international success! So there are many cool accessories you can add to the pot to improve its functionality. Click here to see all the cool accessories you can get for your Instant Pot.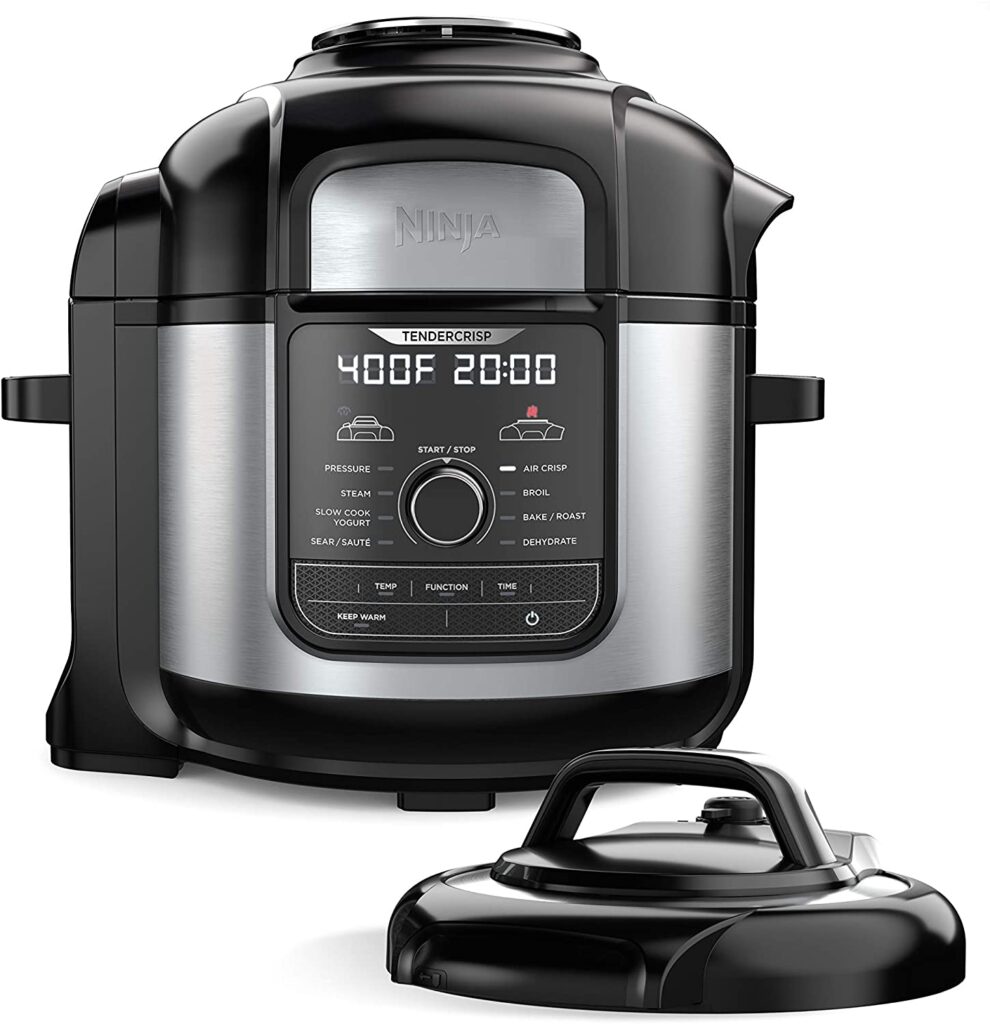 The Ninja Foodi Deluxe Pressure Cooker is a deluxe pressure cooker that crisps – making it easy for you to make almost any dish you desire thanks to its versatility.
You can choose between 3 different cooking capacity options, and the cook & crisp basket and deluxe reversible rack give you the option to efficiently cook for small groups or larger ones. 
When using the pressure cooker function on the Ninja Foodi, you save up to 70% of the time taken to cook in an otherwise traditional pressure cooker. 
The Air fryer function makes crispy, delicious french fries and other fried foods with up to 75% less fat than traditional deep fryers. The real icing on the cake here is the TenderCrisper function. 
It first pressure-cooks your food (even from frozen, in as little as 20 minutes) to lock in all of the juices, then finishes up the cooking with a superb crisp to create scrumptious meals with only half the effort.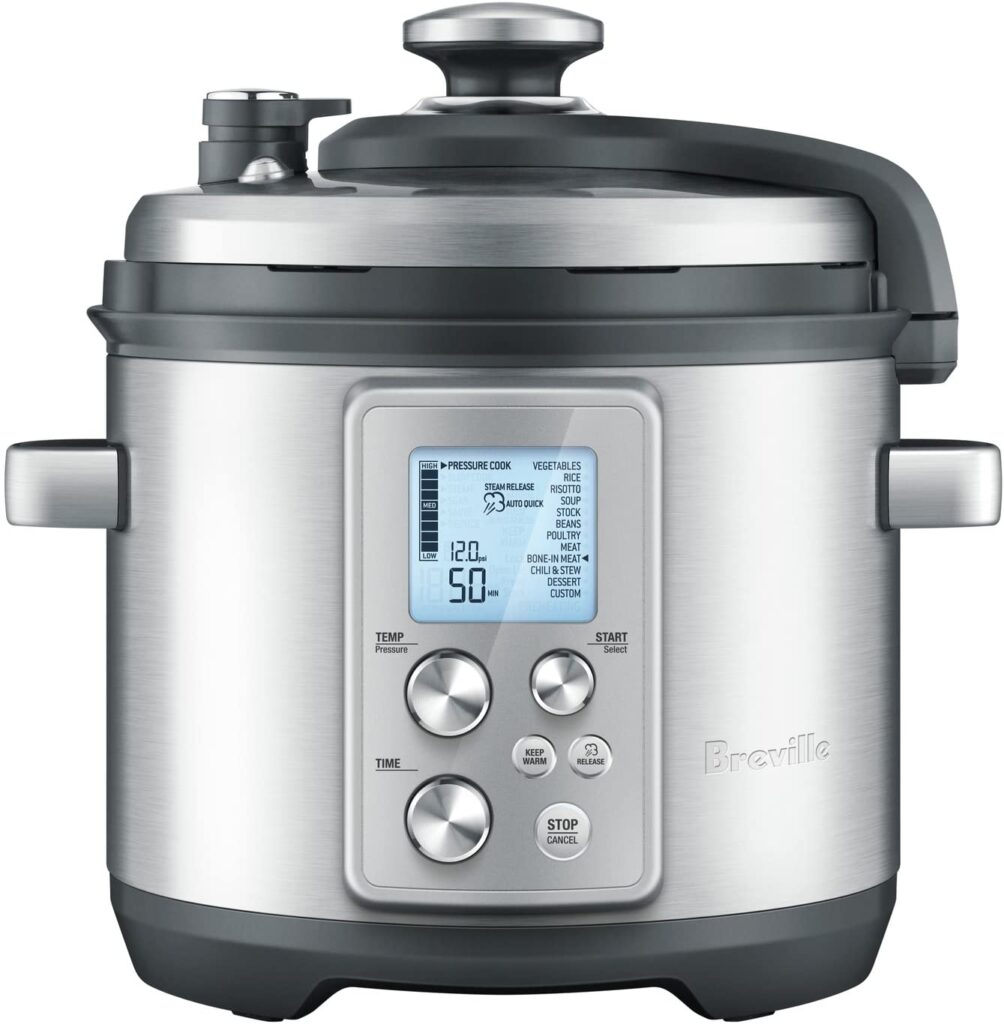 For a highly experienced chef, knowing exactly what temperature, pressure, and timing each food ingredient needs to be cooked at is one of the skills honed from years of practice. 
For the home chef (i.e., you), you probably don't have the luxury of training for years in professional kitchens worldwide to have this knowledge at your fingertips. In situations like these, the Fast Slow Pro Cooker by Breville can help. 
It is a combination of pressure and slow cooker that knows the exact time, temperature, and cooking pressure that different ingredients require in order to cook perfectly. 
Once you pop in your ingredients, choose from 11 pressure cook settings or customize your own settings according to your recipe book. 
Installed on the top and bottom halves of the unit are pressure sensors that accurately monitor and set temperature and pressure control for the food that is cooking. 
The 3-Way Safety System (safety locking lid, hands-free auto steam release, and safety valve) ensures that your hands will always be kept out of the way of any releasing steam, which may result in burns.
The lid is dishwasher safe, and the easy-to-clean unit makes for a complete mess-free clean-up experience. 
Honorable mentions: All-In-One Kitchen Appliance
Apart from the top 3, we've listed down a few more all-in-one gadgets that you'll definitely want to look at first before you make a final decision.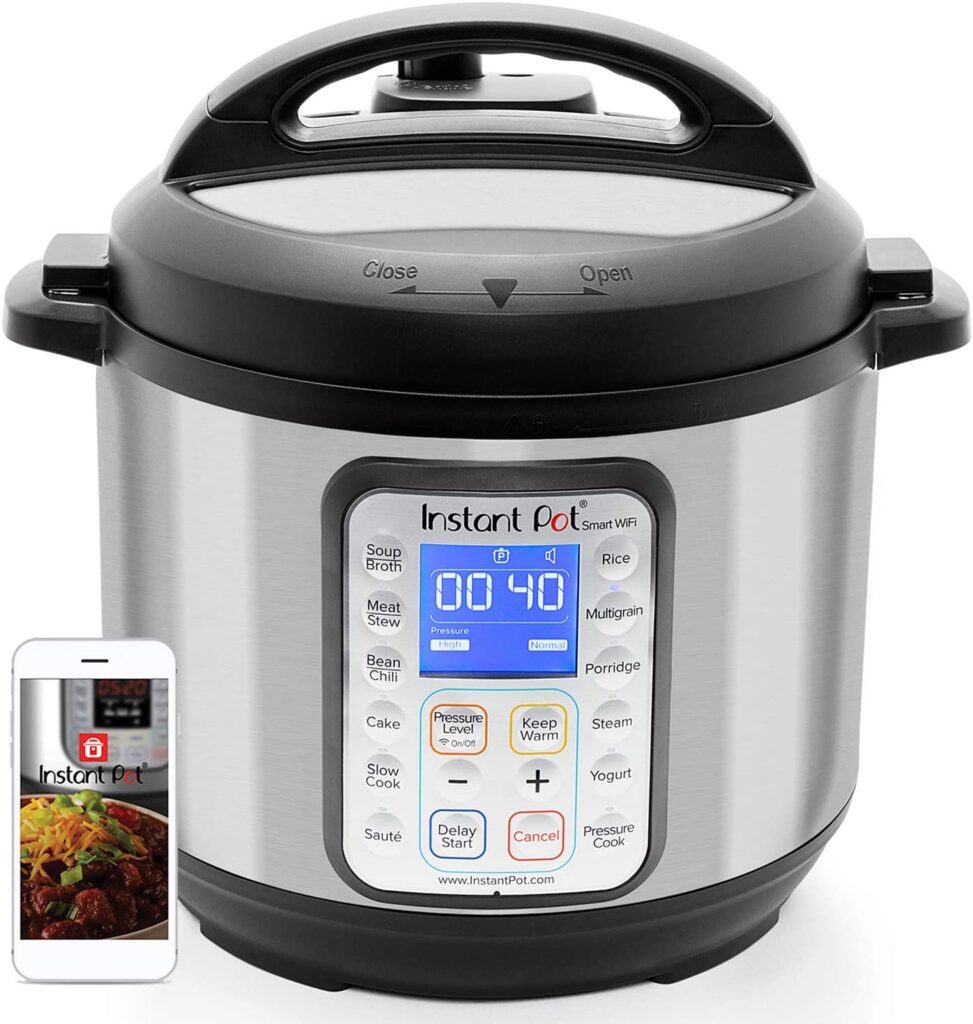 If you have smart-enabled devices at home, the Instant Pot Smart wi-fi should fit right into your arsenal of smart home devices to make your everyday life much more comfortable. 
This programmable pressure cooker comes with wi-fi connectivity, which is pretty revolutionary when it comes to kitchen appliances. 
Simply pair this cooker to your smartphone app, and you'll have total cooker control in the palm of your hands.
Functions such as scheduling, adjusting, and monitoring the progress of your cooking can be done from wherever you are, at your own convenience. 
It goes without saying that this little multi-cooker replaces eight common kitchen appliances in 1 – namely pressure cooker, slow cooker, rice/porridge cooker, yogurt maker, cake maker, sauté/searing, and keep warm (up to 3 choices of keeping warm temperature). 
You can choose from 13 smart programs to cook anything from soups to stir-fries, and the smartphone app actually comes with 750+ pre-programmed recipes for you to choose from – you basically only just need the specified ingredients to start cooking some healthy, delicious meals for you or your family!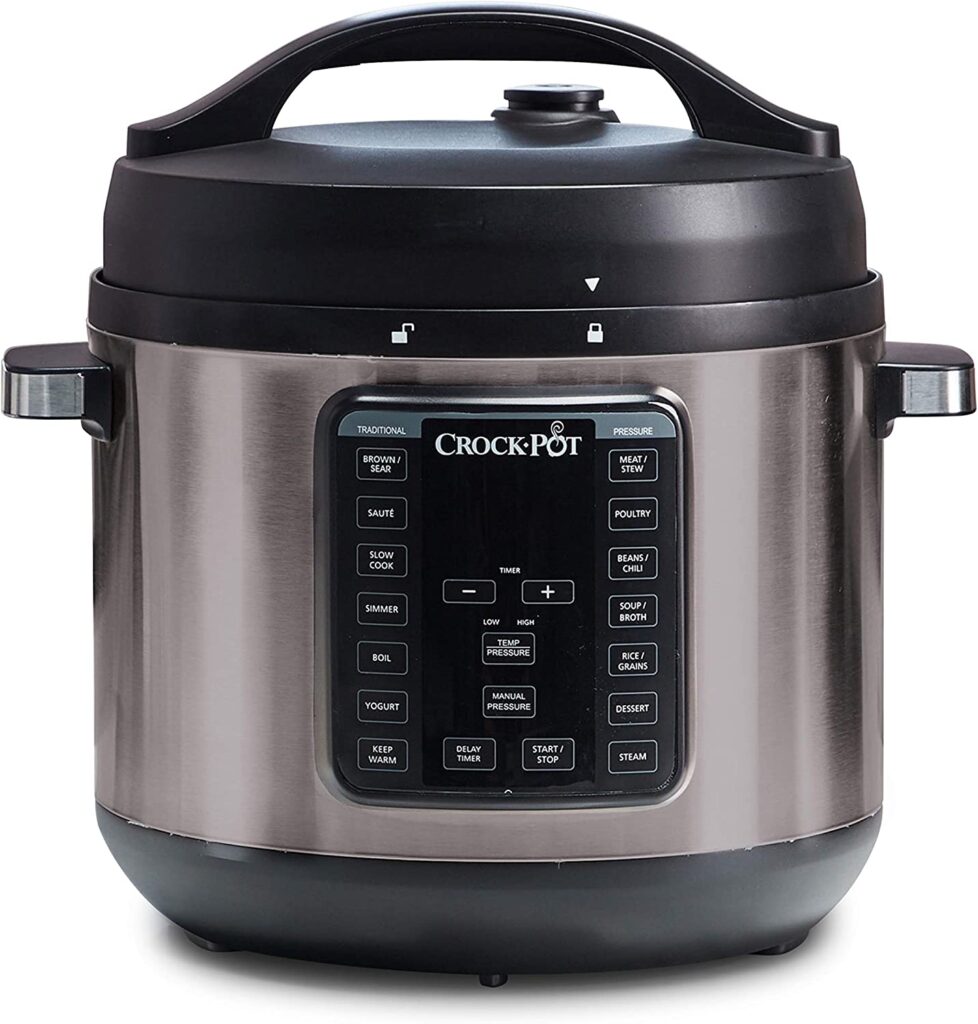 If you have a large family, or if you are a serial host for dinner gatherings in your home, you'll want to have a multi-purpose cooker that can handle a heavy-duty workload. 
With this Crock-Pot 8-Quart Multi-Use XL Express Cook, we're talking dinner parties for 7+ adults sorted – the easy-to-use front panel lets you choose from pre-programmed functions like pressure cook, slow cook, brown, sauté, steam, boil and simmer, making quick work of cooking your dishes thoroughly. 
Say goodbye to accidentally burnt hands, as the easy-release steam dial ensures your hand stays clear of any hot steam that is released on the opposite side of the dial—no need for oven mitts or any other utensils. 
For complete control over the cooking process, the manual pressure function allows you to set any cooking time at high or low pressure so that you can cook your favorite dishes using your own personalized recipes. 
The non-stick cooking pot resists any stuck-on food, and it is completely dishwasher-safe for easy clean-up and storage. With the Crock-Pot 8-Quart Multi-Use XL Express cook, the one-pot meal just took on a whole new meaning.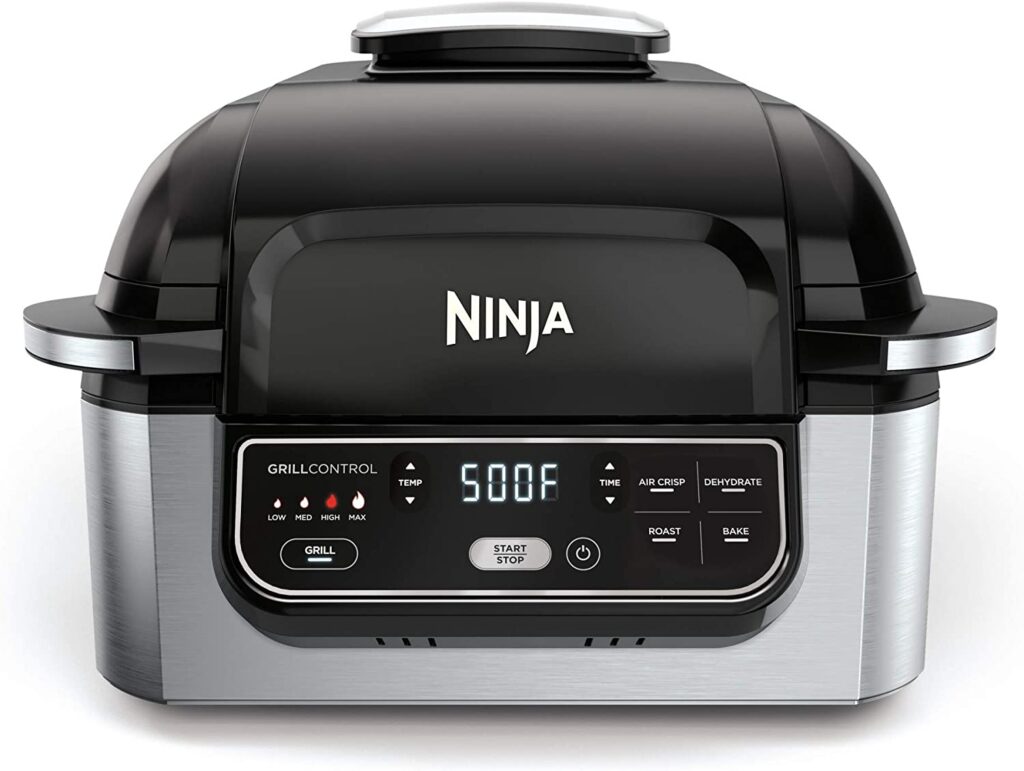 Another one from Ninja Foodi is the 5-in-1 Indoor Grill. This is a grill that sears, sizzles, and air fry crisps. 
It is both an indoor grill and air fryer, capable of tackling steaks, salmon, and chargrilled chicken, as well as producing super crunchy french fries, juicy sausages, crispy chicken wings, and delicious roasted veggies. 
The grilling process features a temperature-controlled grill gate, a splatter shield, and a cool air zone to make it virtually smoke-free – meaning you are able to make BBQ-quality dishes without any of the smoke fogging up your kitchen. 
Five hundred degrees of cyclonic air heats your food all around, producing surround searing that gives you even browning and delicious charring without the risk of burning it. 
Unlike regular grills, there is no flipping required when operating the Ninja Foodi Indoor Grill. 
The quick-cooking and simple operation lets you grill proteins and roast veggies not only for a special occasion or a weekend dinner – but for any day of the week.
Prepare a steakhouse-quality meal in just 11 minutes, and enjoy the guilt-free air-fried food that uses up to 75% less fat than regular deep fryers. 
And if you've forgotten to take the chicken out of the freezer to defrost, simply use the Ninja Foodi to transform any frozen foods into juicy, chargrilled meals in 25 minutes or less.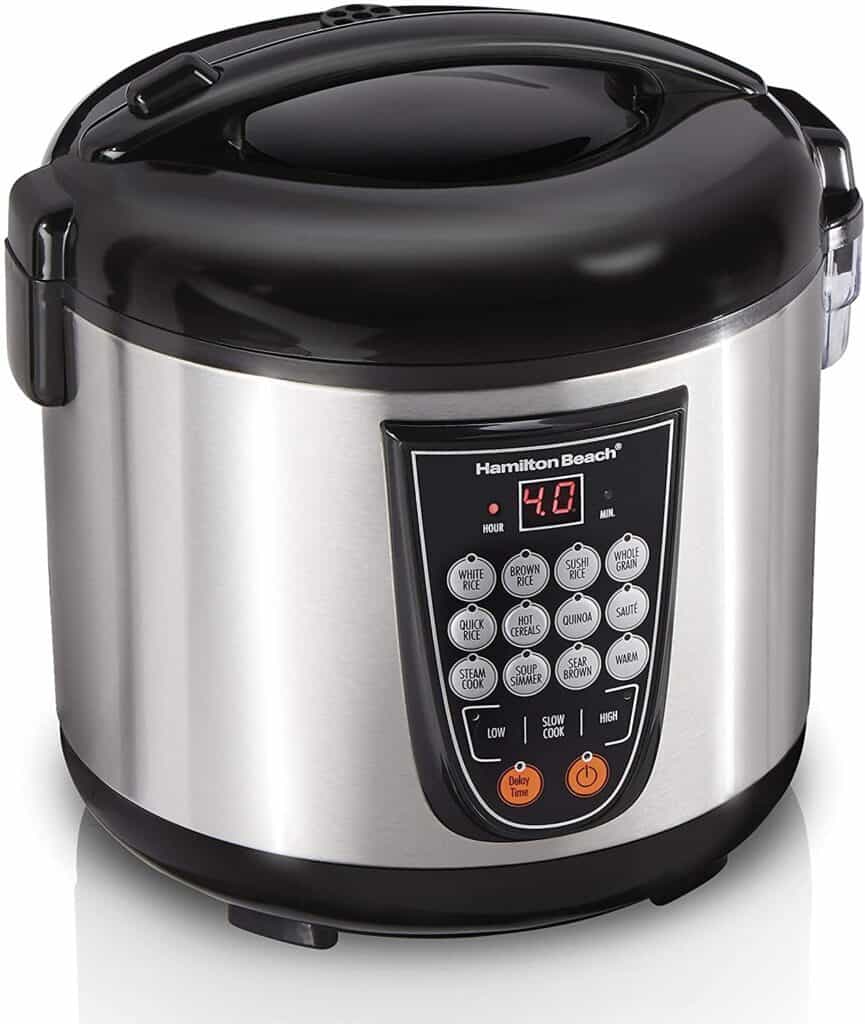 Hamilton Beach is one cooker with endless possibilities. Unlock maximum cooking versatility in just one appliance, with its 14 pre-programmed settings that allow you to slow cook, steam, sear, simmer and sauté, and many more. 
The 4.5 quarts (up to 20 cups of rice) capacity ensures that you'll always cook enough for the whole family. 
The control panel push buttons are intuitive and let you switch between the cooking functions quickly and effortlessly. 
You also have the option to set a delayed start (up to 15 hours in advance) on all the functions, and a programmable timer allows you complete flexibility to start cooking when you need to. 
The included dual rice rinser is a nifty feature, combining the functions of a colander and a steaming basket. 
While you're cooking your rice in the pot below, place the steaming basket on top of the rice to prepare steamed seafood, poultry, or vegetables at the same time for maximum efficiency. 
The inner pot is made out of non-stick material, removes easily, and is dishwasher friendly for simple clean-up. It comes with a five-year warranty as well, for your added peace of mind. 
Pros and cons of all-in-one kitchen appliances
– PROS –
Saves time. On average, multi-cookers cuts your cooking time by at least half, depending on what dishes you are preparing.

Saves money. Multi-cookers do especially wonderful things to cheap cuts of meat and dime-a-dozen staples like beans.

They cook in such a way that these mid-quality ingredients transform into totally delicious dishes that you wouldn't believe were possible otherwise. 

Saves space. If kitchen space is one of your top concerns, multi-cookers could be your solution.

They replace a variety of kitchen appliances, like the rice cooker, pressure cooker, yogurt maker, and steamer, just to name a few. As multi-cooker technology becomes more advanced, the list just keeps getting longer.
– CONS –
Requires supervision. Because multi-cookers cook a lot faster than slow cookers, they require you to be there as it cooks to avoid overcooking.

This is unlike slow cookers, where you can just switch it on in the morning and come home to a cooked meal at the end of the day.

It may result in less flavor. The high-speed cooking time of a multi-cooker means that most of the time, you can't fully replicate the complexity of flavor that you'll get from cooking methods that take a more extended period of time.

However, this can be easily remedied by consciously marinating your ingredients more than you would for other cooking methods.

Limited pot size. If you're cooking for four, limited pot size might not be an issue. Cooking for larger groups might need some proper planning, like dedicating the InstantPot to only one dish, or if you're making multiple things in the one-pot start cooking ahead of time, so all your meals are done before your guests arrive. 

Here's a cool article on How to cook multiple things in one Instant Pot.