The Instant Pot is now America's most loved multicooker. It is capable of many functions. It is a slow cooker, rice cooker, pressure cooker, steamer, warmer, it sautés, and can make yogurt.
You can also find models that have programs to cook eggs, bake cakes, and even sterilize. As you can see, it is a very versatile kitchen appliance.
Hearing all the different things that it can do is great, and I'm sure you are considering making a purchase right away. For some people, like me, it took me a while to purchase one. I was doing extensive research before committing to this new kitchen appliance.  
What Does the Instant Pot Do?
I briefly mentioned the things the Instant Pot does, but let's dig a little deeper.
It is a multi-functioning electric kitchen appliance, so it can replace many of the kitchen appliances you have, or instead of purchasing a bunch of kitchen appliances, the Instant Pot can be your one investment.

It is a slow cooker, as it simmers your meals at low temperatures, which allows you to cook it without attending to it. It's a way to make dishes that can take hours to cook. Therefore you leave it unattended without worrying about it.

It is a rice cooker; all you do is put your desired amount of rice and water ratio, and allow the pot to cook it. You don't have to watch over the rice being cooked over the stovetop. And you don't have to worry about burning or overcooking the rice.

It is a pressure cooker, which allows the pressure to build up inside of the pot and will cook your food faster. The design of the Instant Pot allows for the pressure cooker function to be much safer than the conventional pressure cookers many of us have known growing up.

It is a food warmer; you can either warm up leftovers or keep the food in which you recently finished cooking, warm. 

It sautés your food, so you don't have to take out a pan to sauté food separately before cooking it in the Instant Pot.

It is a yogurt maker, allowing you to make your yogurt in the comfort of your own home. You will have more control over what you put in your yogurt, making this option healthier than buying it from the stores.

It is a steamer and makes perfect steam veggies that melt in your mouth. The Instant Pot eliminates the guesswork when it comes to streaming. Image-making the perfect creamy potatoes with the click of one button.
In some models, it has a sterilizing function, which was designed for sterilizing baby bottles, jars, and utensils.  
If you are a new parent(s), owning an Instant Pot saves you from another appliance on your kitchen counter and one less thing to purchase when you're preparing your home for parenthood.
In some models, it has a cake feature, which allows you to make a cake and other similar baked dishes.
In some models, it can cook eggs. The Instant Pot egg setting creates the perfect hard-boiled egg, but you can also make softboiled if you adjust the setting slightly.
I don't know about you, but I've never been good at making hard-boiled eggs, so using this setting is very helpful.
As well as being able to do all these things above, the Instant Pot also offers preset dials for dishes you want to cook, such as soup/broth, meat/stew, bean/chili, poultry, multigrain, and porridge.
As you can see, it is a very versatile kitchen appliance. If you have a smaller space or want to have less stuff in your kitchen, then this could be a good option for you. It eliminates the need to own multiple appliances.
What are the different types of models?
If you got into the Instant Pot game when they came out, then there was not much to think about. Now, there are many types of Instant Pots, and it can be daunting to decide which one is right for you.  
For me, it was all about how much I was willing to spend and the maximum amount of features I could get that I needed. Knowing the kind of cook you are will help in deciding which one to choose.
For the average household, the 6-quart Lux, which is the most basic model, is more than enough to do what you want. But, most people opt for the Duo series, as it has just a little bit more functionality and preset options.   
Duo Evo Plus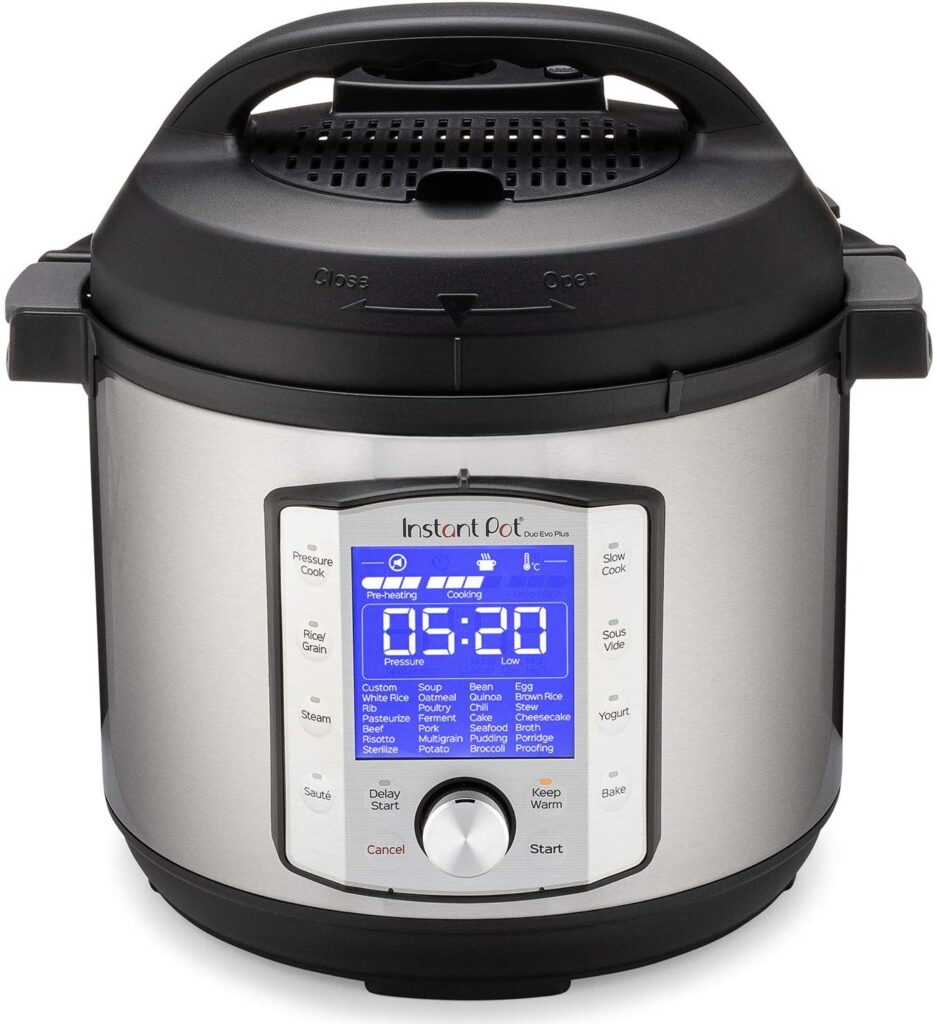 The Duo series has evolved with this Evo Plus model. This model of the Instant Pot comes in 6 and 8 quarts. It has ten in one-touch programs. 
The pot which comes with it can go on your stovetop, and the cool thing about it is that it has easy-grip handles, so you can move between appliances if your recipes demand it.  
It has 48 preset settings, where you tell it what you are cooking, and it is intuitive enough to adjust the cooking to suit your needs. This is a great feature if you want the settings laid out for you, rather than figuring it out on your own.
The other cool feature it has is that it has this new cooling technology so that the slow release is much faster than the other models. 
Duo Nova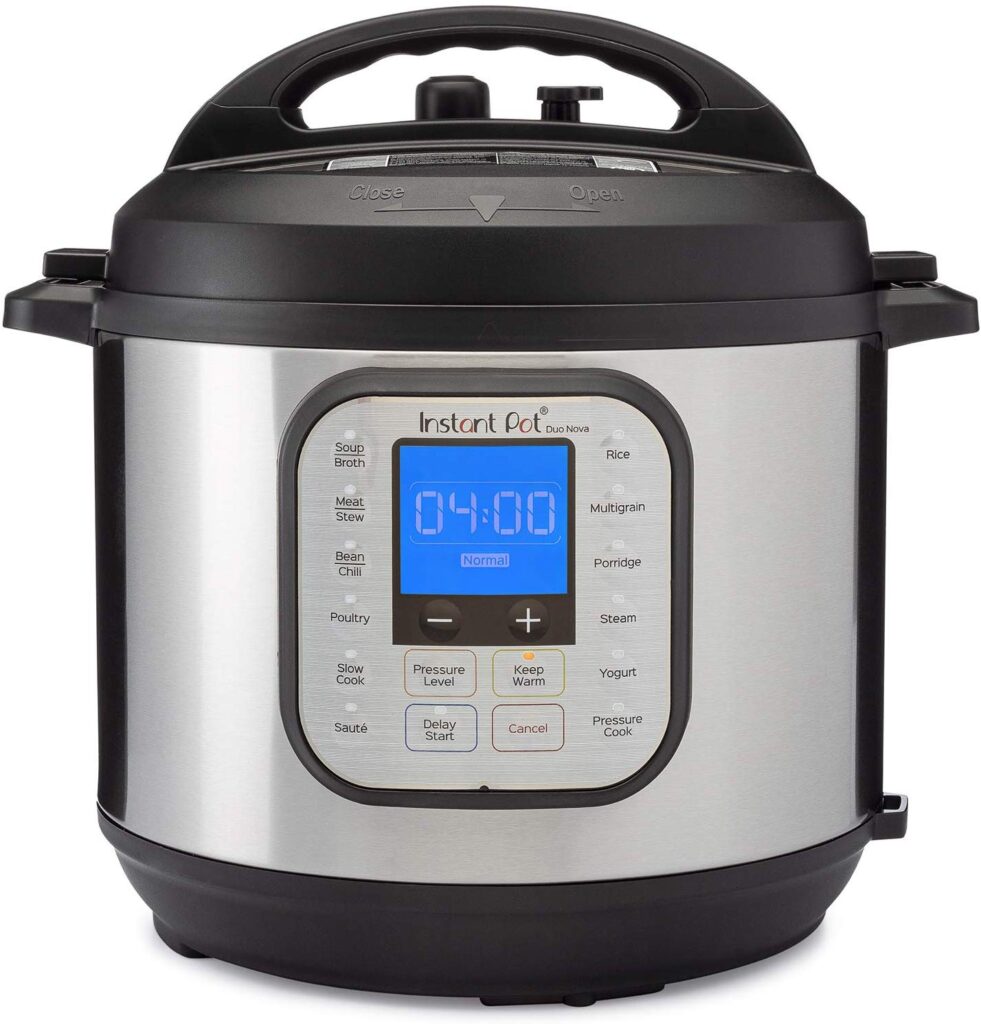 The lid on this model has been updated so that it closes the steam release valve automatically when you close the lit and therefore seals the pressure valve. It comes in 3, 6, and 8 quarts sizes.  
This model offers seven cooking functions: pressure cooker, sauté pan, slow cooker, rice cooker, food warmer, and yogurt maker. It may provide less than the other models, which offer 9-10 other functions. But, what it does have are 12-14 smart programs depending on if you buy the 3 or 6-8 quart, respectively.
Duo SV
The Instant Pot company keeps updating its design to make it better. The Duo SV is the newest smart Instant Pot in the Duo series.
It comes in 6-quart, replaces at least 10 of your kitchen cooking tools, has a bright blue display, which looks more modern, and has 18 controls.
It comes with 14 pre-set smart programs, but you can also customize the cooking time and temperature levels, so you have more control over settings.
Max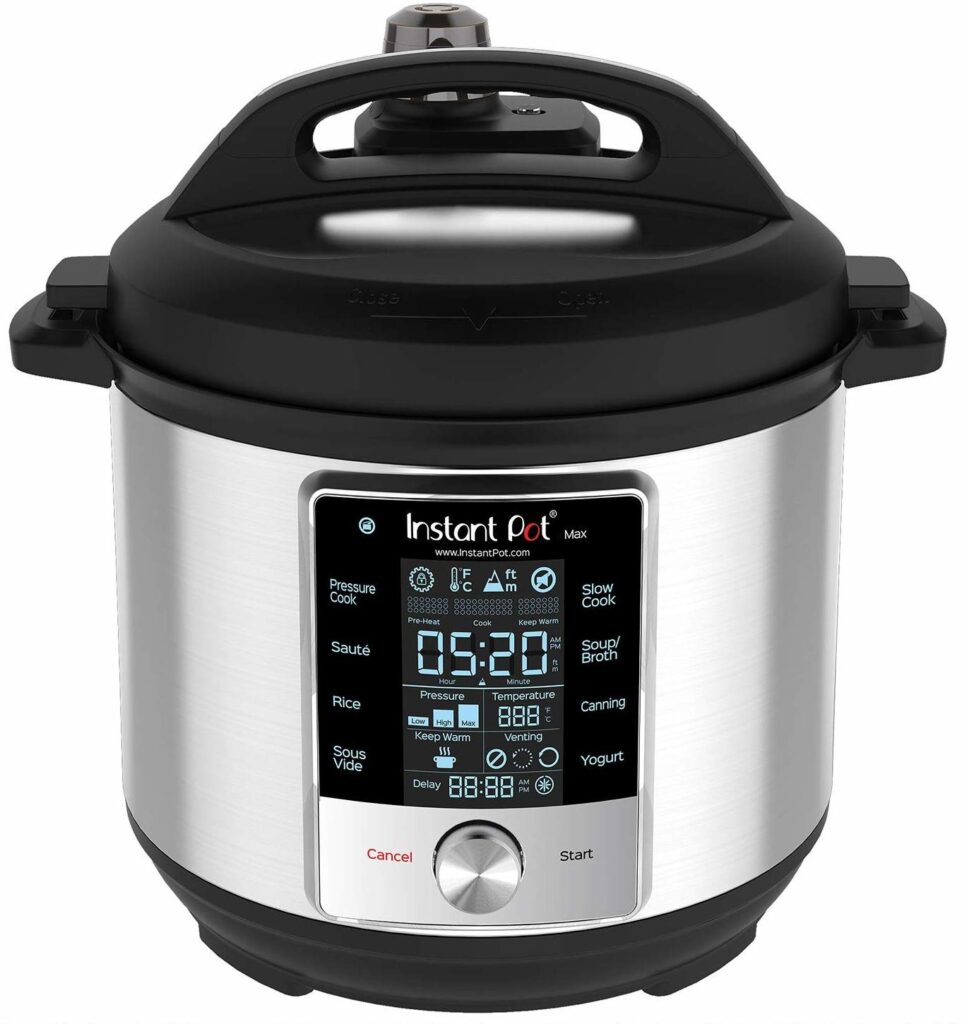 The difference between this Instant Pot and the rest is that it offers a 15 psi pressure cooking capability, which allows you to do more home pressure canning. It is a 9-in-1. It comes in a 6-quart size. It also has more accurate temperature control.
Smart Wifi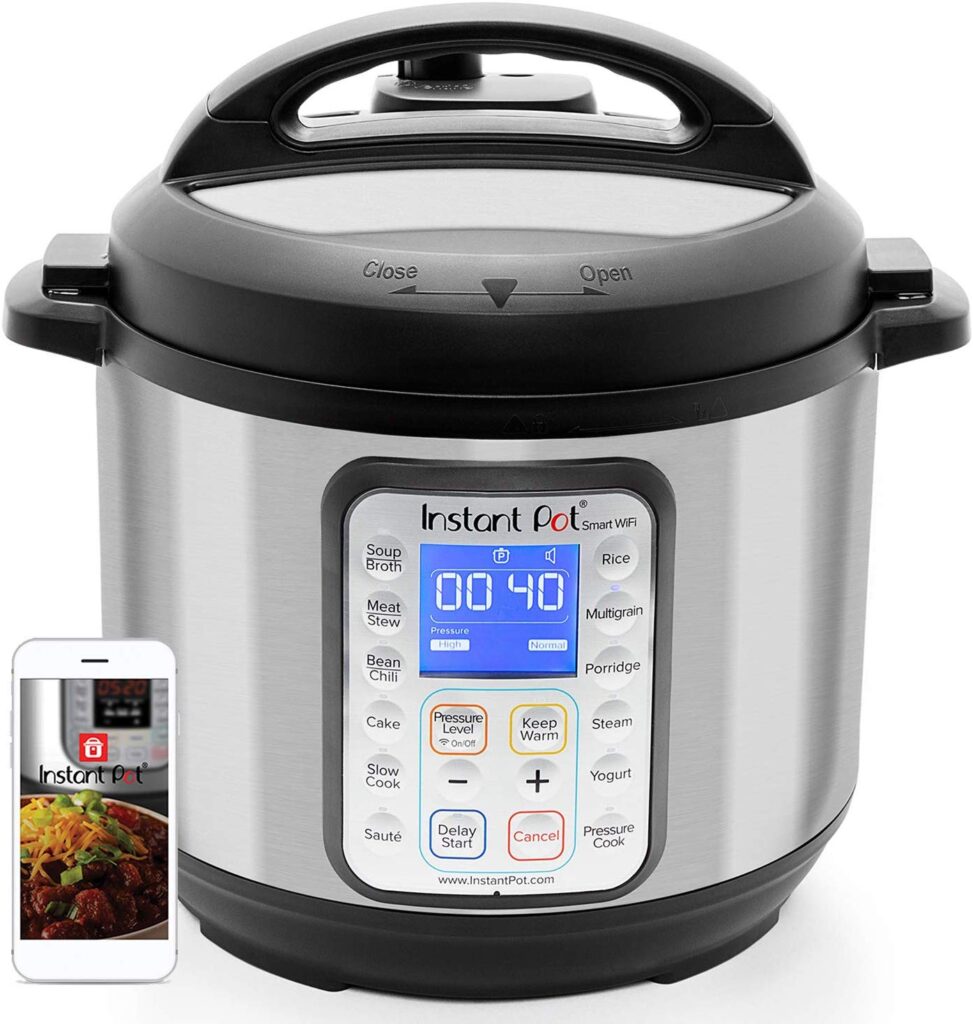 The smart wifi version of the Instant Pot is an 8-in-1 appliance that allows you to control it from your mobile devices. It allows you to cook, schedule, make adjustments, and monitor the process of the meal you are making.
Ultra 10-in-1 (Series)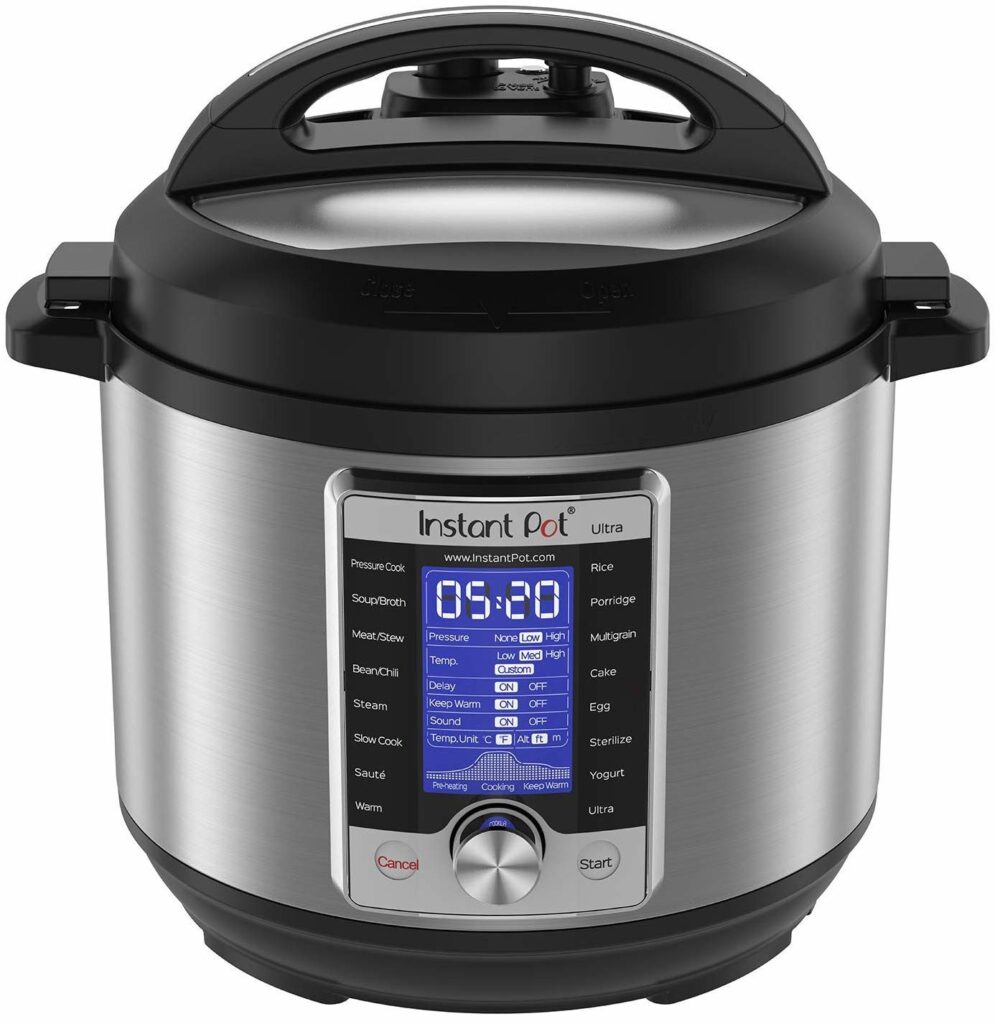 This version offers a 10-in-1 multi-use cooker. This design is for those who enjoy more customization and control over what they are cooking.
It allows you to program for pressure and non-pressure cooking. There are 16 built-in smart programs.  
It comes with a bright LCD, and you can have a 24-hour delay start.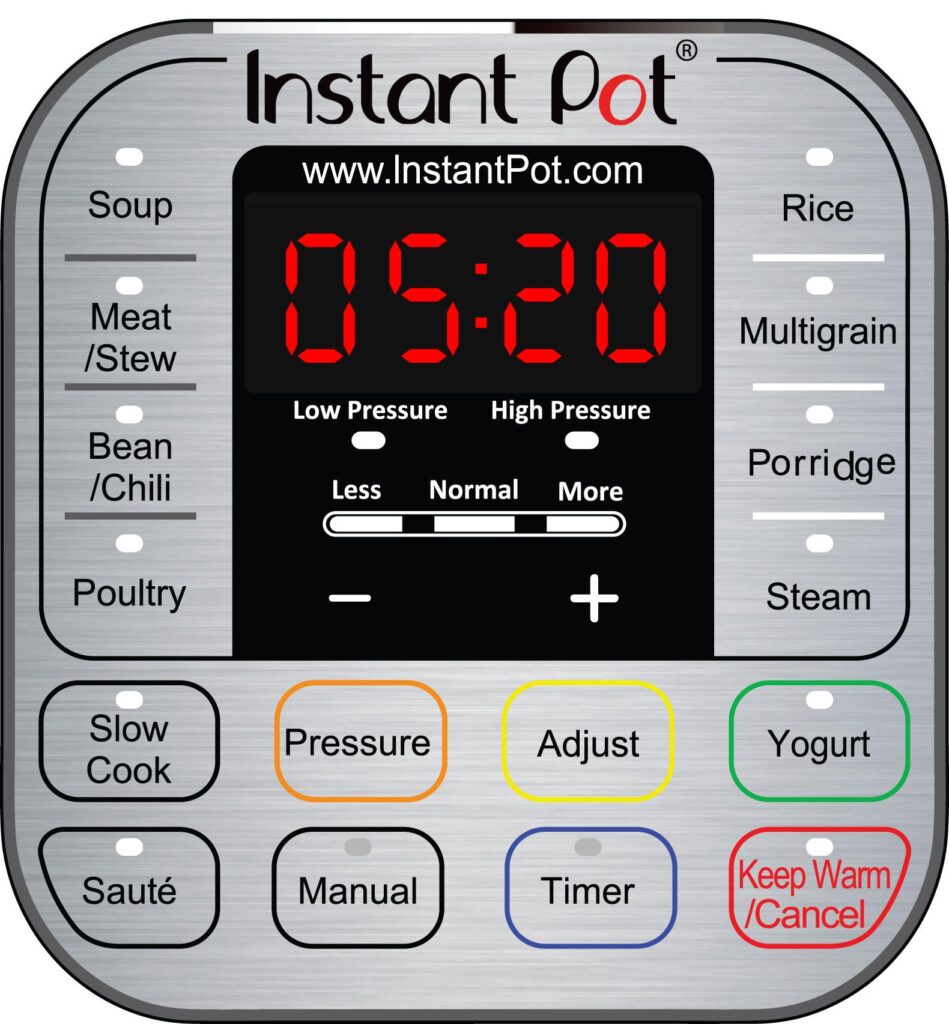 The steam release button also offers safer handling.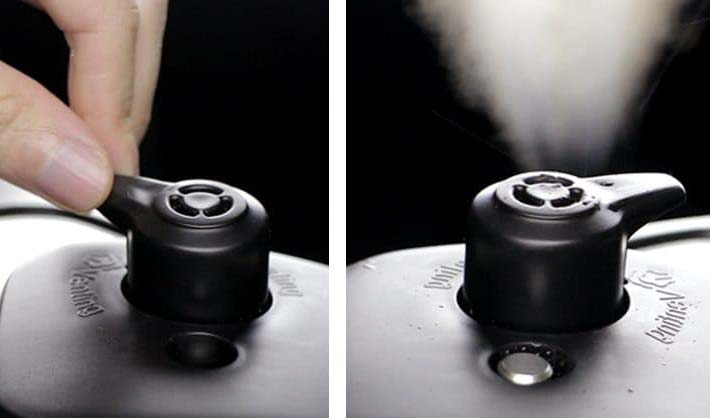 The Ultra comes in 3, 6, and 8-quart sizes.
Duo Plus 9-in-1 (Series)
This Instant Pot series is what made the Duo very popular. It comes in 3, 6, and 8-quart. While the 3-quart model offers 13 in one-touch smart programs, the 6 and 8-quart duo plus offers 15.
Viva 9-in-1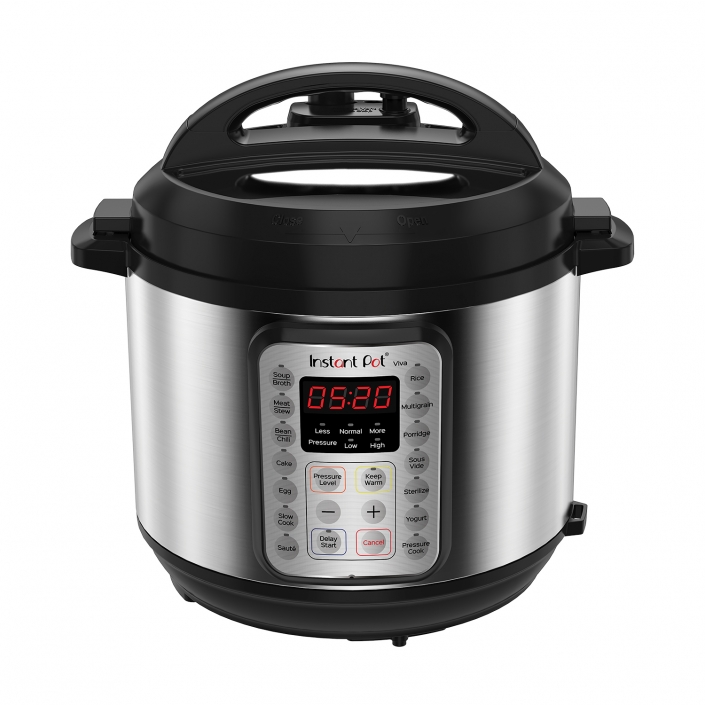 An Instant Pot, which comes in a variety of colors, offers a little more than the Duo 9-in-1 but is fairly similar. It only comes in 6 and 8-quart.
Duo 7-in-1 (Series)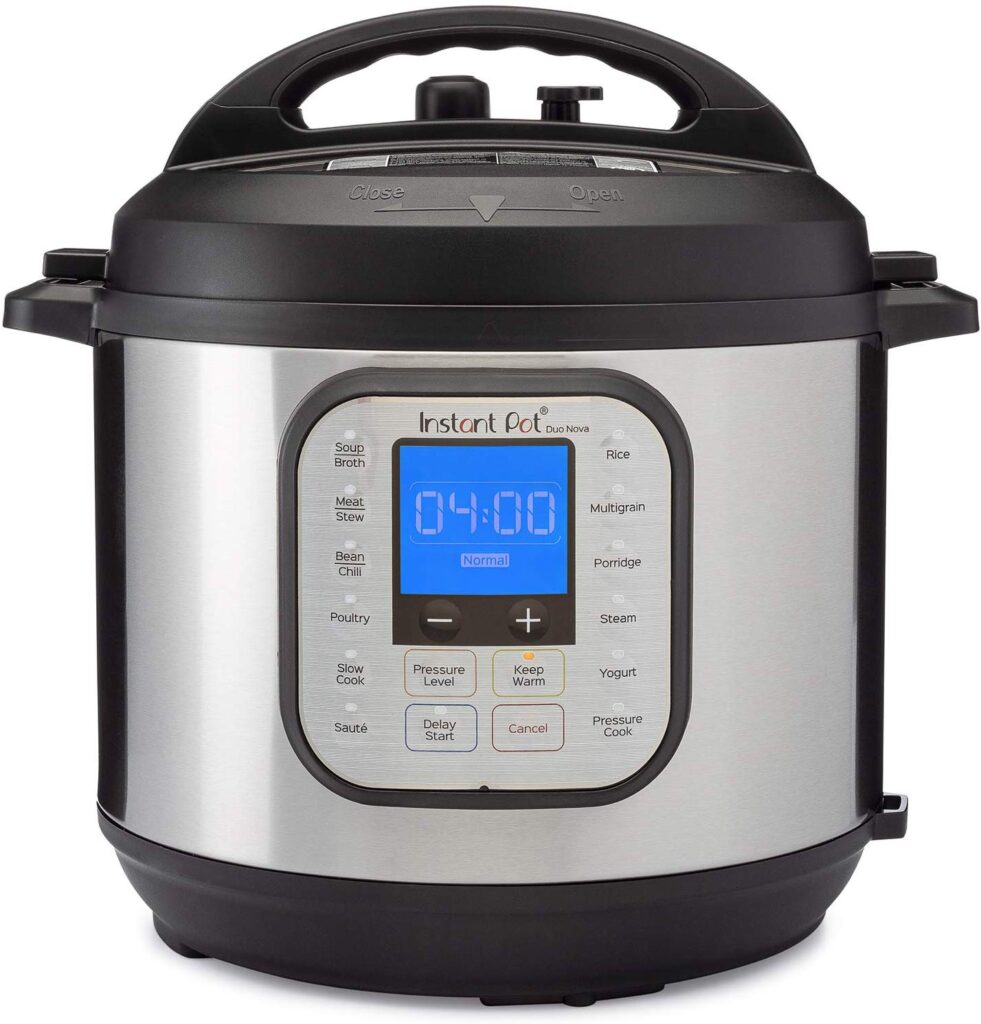 This model is also part of the Duo series, and it has 7 functions. It comes in 6 and 8-quart. The benefit of the 8 quarts is that it also offers multigrain and poultry presets.
Lux 6-in-1 (Series)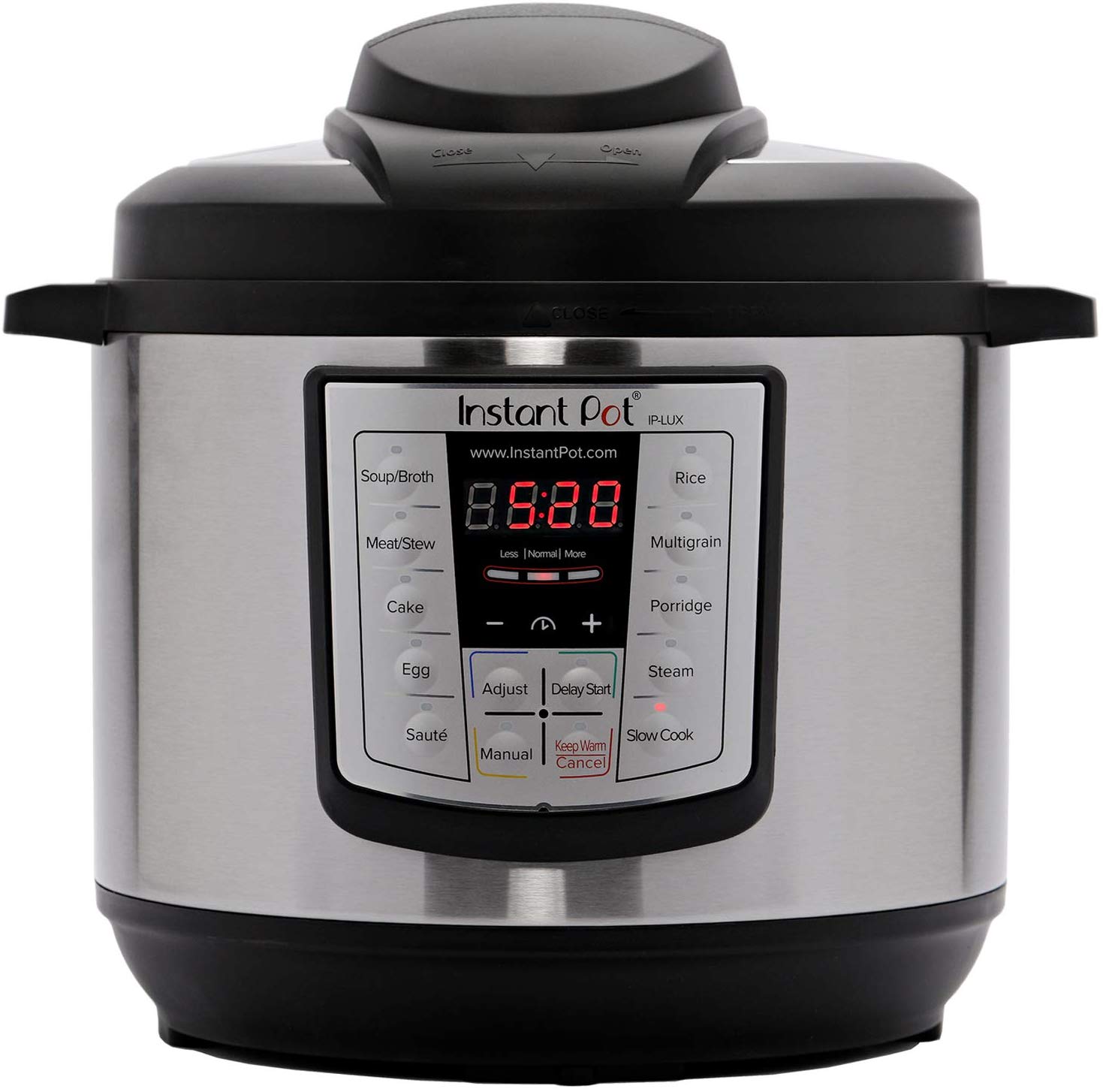 The neat thing about this series is that you can find these Instant Pots in floral colors, adding more design in your kitchen.
This is the most basic of all the Instant Pots, as it replaces only 6 appliances, but to me, it does a lot for what it is, since most of the settings are the ones we typically use: pressure cooker, slow cooker, rice cooker, sauté, steamer and warmer. It also comes with ten smart built-in programs.
Duo Crisp + Air Fryer
Although the Instant Pot replaces many kitchen appliances, one which it doesn't replace is being able to fry our food.
Although an air fryer is not the same as deep-fried foods, it is a healthier alternative.  
This Duo Crisp + Air Fryer offers 11-in-1 functionality and does what the other Instant Pots do, with the option to switch the lid so that you can air fry your food. You can use it to air fry, roast, bake, broil and dehydrate.
It only comes in an 8-quart size.
Which model should I purchase?  
There are plenty of Instant Pot options to choose from. And you're probably wondering which one is right for you.
What I've done is broken down, which one would be best for your needs. If you don't want to do intensive research, because the number of options you have to choose from can be overwhelming, or maybe it's because sometimes we just want to be told what's right for us. So I've broken down the best Instant Pots for what you're looking for.
Best bang for your buck – overall best:
Duo 7-in-1 series
Best Customizable:
Ultra 10-in-1
Best budget:
Lux 6-in-1
Best handle and stovetop cooking:
Duo Evo Plus
Wifi Feature:
Smart Wifi
Ability to air fry:
Duo Crisp + Air Fryer
Check out this chart to see which pre-set buttons each Instant Pot has to help you determine which is right for you.
Keep in mind that although a particular model might not have all the pre-set buttons, you are still able to cook that dish.
For example, if your Instant Pot doesn't have the poultry button, you are still able to cook a whole chicken.
All you have to do is change the pressure and cook time on your pressure setting. It may be a learning curve for you and may not be ideal, but I want you to know that it is possible.  
You don't have to own the Instant Pot with every single preset option.
Especially if you select an Instant Pot, which can be highly customized, such as the 10-in-1, you can do sous vide in this pot. It just doesn't have the pre-set button on it.
By the way, If you're an Instant Pot fanatic like I am, check out this cool free course here that helps you make the most of your multicooker.
Instant Pot Chart
[table id=4 responsive=scroll responsive_breakpoint=all/]
Which size should to consider?
Most people purchase the 6-quart size for average family sizes and even couples. But, if you are limited in space, you can buy a 3-quart, and if you have a larger family, you can buy the 8-quart.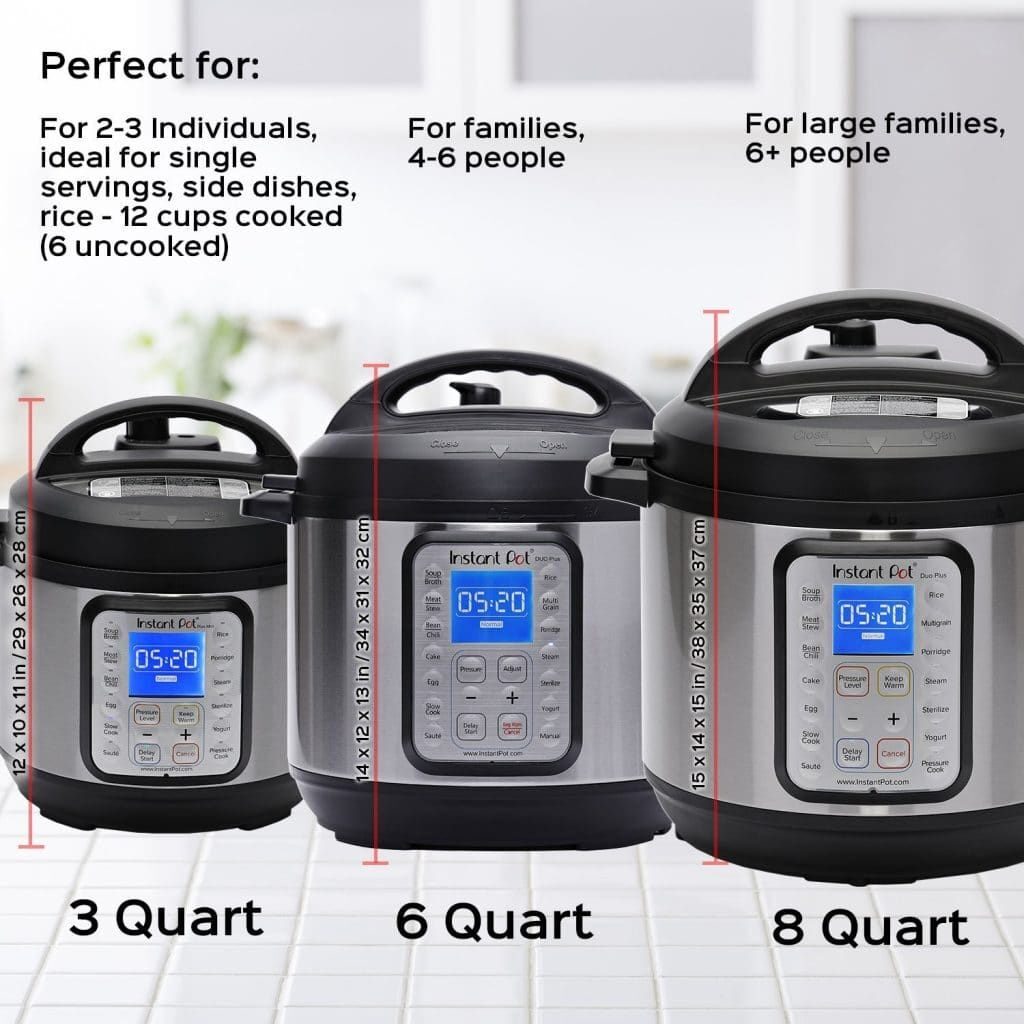 3-quart is great for cooking rice, side dishes, or meals for 2-3 people.
6-quart is the perfect size for feeding up to 6 people.
8-quart is ideal for large families of 6+ or whipping up big batches of prepared meals for the week.
How big is it?
The 6-quart sizes are 33 L x 31W x 32 H cm
The 3-quart sizes are 29.2 L x 25.9 W x 27.9 H cm
The 8-quart sizes are 37.6 L x 34.3 W x 36.8 H cm
How much does it cost, and is it worth it?
If you have not yet purchased an Instant Pot, then you are in luck, because the prices of this neat kitchen appliance have gone down. They used to be priced starting at about $99 USD, and now you can find them starting at $65 USD. They can go up to as high as $199 USD.  
Overall, I think the price you pay for it is worth it if you are looking for a versatile kitchen appliance. Think about it this way, most other appliances range from $10+, and I would say, on average, a decent kitchen appliance would be about $20 – $30, such as a slow cooker and rice cooker.
If you take five appliances that the Instant Pot replaces, and multiply it by $20.00, then you are spending $100.00 on your appliances, when you could have purchased one appliance for $65.00.  
Also, not only will you save some money, but you will also save space on your kitchen counter and in your cabinets. Instead of having, let's say, three appliances (rice cooker, slow cooker, pressure cooker) on your counter, you will only have one. 
Initially, it can be pricey, but it is an initial investment you will be making. To me, the overall answer is it is worth it, but, at the end of the day, you have to decide if it is worth it for you and your current lifestyle.
Where can I purchase it?
You can find the Instant Pot at most major retailers: Wal-Mart, Target, Best Buy, Amazon, and more.  
What can you cook in it?
You can cook almost anything you regularly cook at home in the Instant Pot. Because of the multi-cooking options, you can make your favorite dishes in the Instant Pot, to save you time and money.
Meals that take a long time to make, such as stews, soups, and meats you want to be tender and juicy, can be made in the Instant Pot and made much quicker than the standard way you have been cooking.
Can you cook frozen food?
Yes, you can cook frozen food, the only thing about it is that the Instant Pot will take longer to preheat, and the food will take longer to cook, so keep this in mind when you are cooking.
Who is the Instant Pot good for?
You don't always have to jump on the bandwagon because everyone owns or wants to own an Instant Pot these days.
Some people prefer to have more control over how they cook. For those who enjoy making pan-fried foods, such as a great sear on your steak, and more control of the temperature settings, The Instant Pot might not be ideal for you. 
The Instant Pot is suitable for people who feel they struggle to make time in their day to make delicious meals that their family will enjoy.
It is also ideal for those of us who may not be a natural at cooking, or have no enjoyment of cooking but would like to have more home-cooked meals.  
It is also for those looking to save money overall, who may have to feed a big family on a budget and are looking to simplify their lifestyle.
I also think that it's great for making dishes for potlucks and whipping up a dish for those unexpected guests.
How, do I use the Instant Pot?
My initial experience with the Instant Pot was very easy. It was a little daunting at first with so many buttons and figuring out what is quick release and natural release.  
I don't know about you, but for me, I don't even try to reinvent the wheel. Prior to opening my Instant Pot, I was already searching up dishes online, that I could make that I think I would enjoy.
Many of the dishes I found were simple-to-follow recipes.
Generally, there would be a slight sautéing and then putting the rest of the ingredients into the pot, covering it, making sure it's sealed, and then pushing a button.
There are also many dump-and-go recipes, which to me, are the best, so you simply place all the ingredients, cover it up, and push a button.
I try not to get too fancy with it, since I did purchase it to save the guessing, thinking, and efforting out of cooking.
What else comes with it?
All Instant Pots come with the programmable cooker base, the inner pot, steam rack with handles, and recipe book.
Depending on which model you purchase, other accessories can come with your Instant Pot, such as silicon gloves, a trivet/steam rack with, or without handles, a rice paddle, a soup ladle, a condensation collector, and a measuring cup.
Do I need other accessories?
For most dishes you cook, you will not need extra accessories, aside from things you already own in your home.
You can always use your oven mitts, or some people prefer using silicone mitts since they do not have to worry about the cloth getting wet.
For baking cake and other desserts, you will require extra dishes, such as cake pans, pyrex bowls, or ramekins.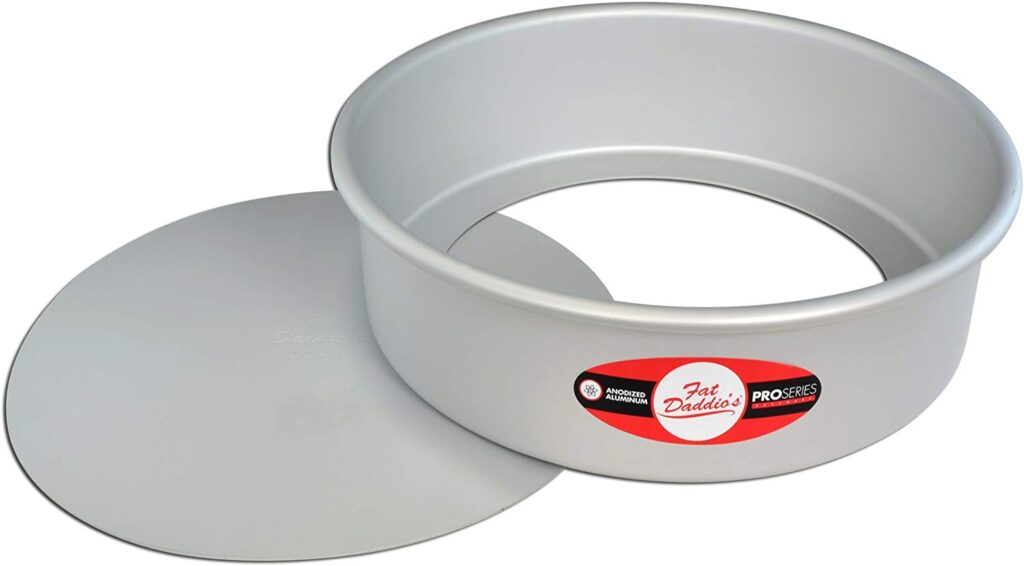 Generally, if you cook strong-smelling dishes, you may want an extra silicone ring.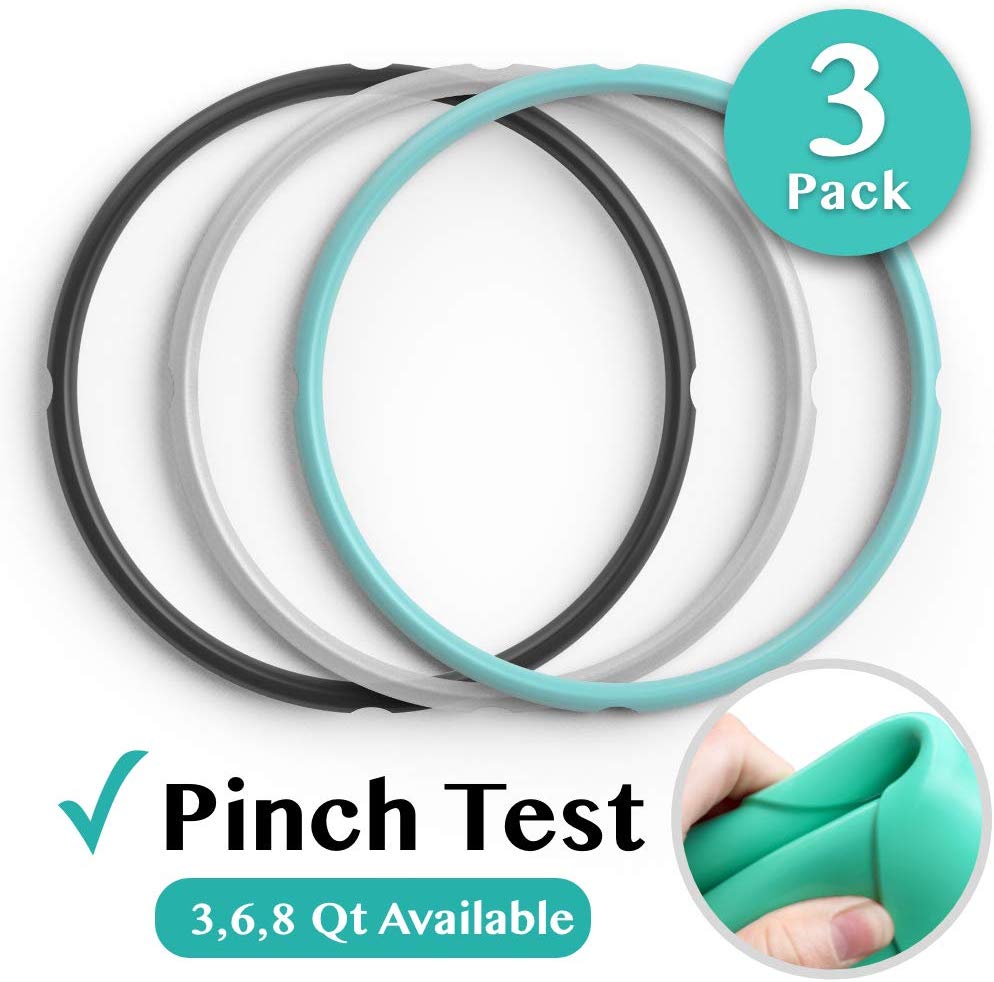 You may also want to consider a Mealthy or Sousvide Art air fryer lid if you like to fry foods, or don't have the Instant pot air fryer model (which most people don't).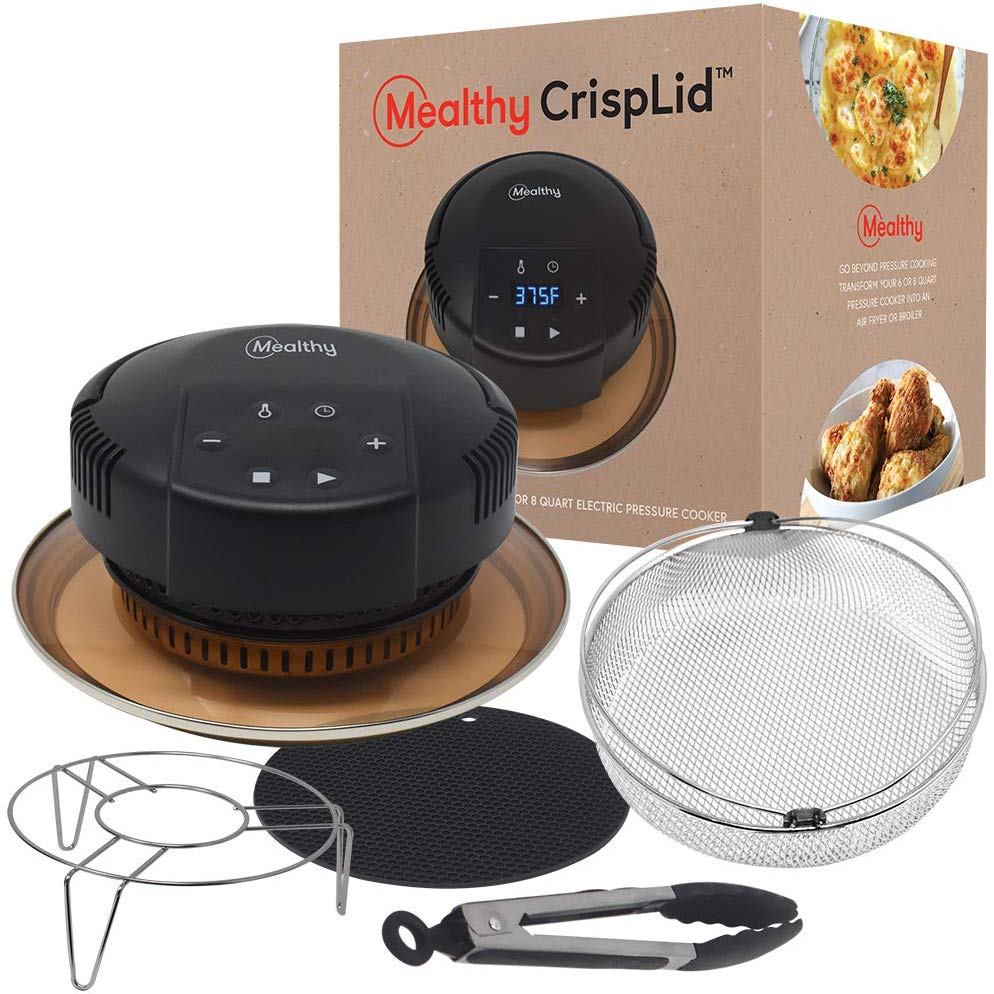 There is also a steamer pot that you can purchase if it did not come with your Instant Pot. This allows to steam vegetables without the veggies touching the water. You'll have better-steamed vegetables. You can also use the steamer pot to steam other dishes as well.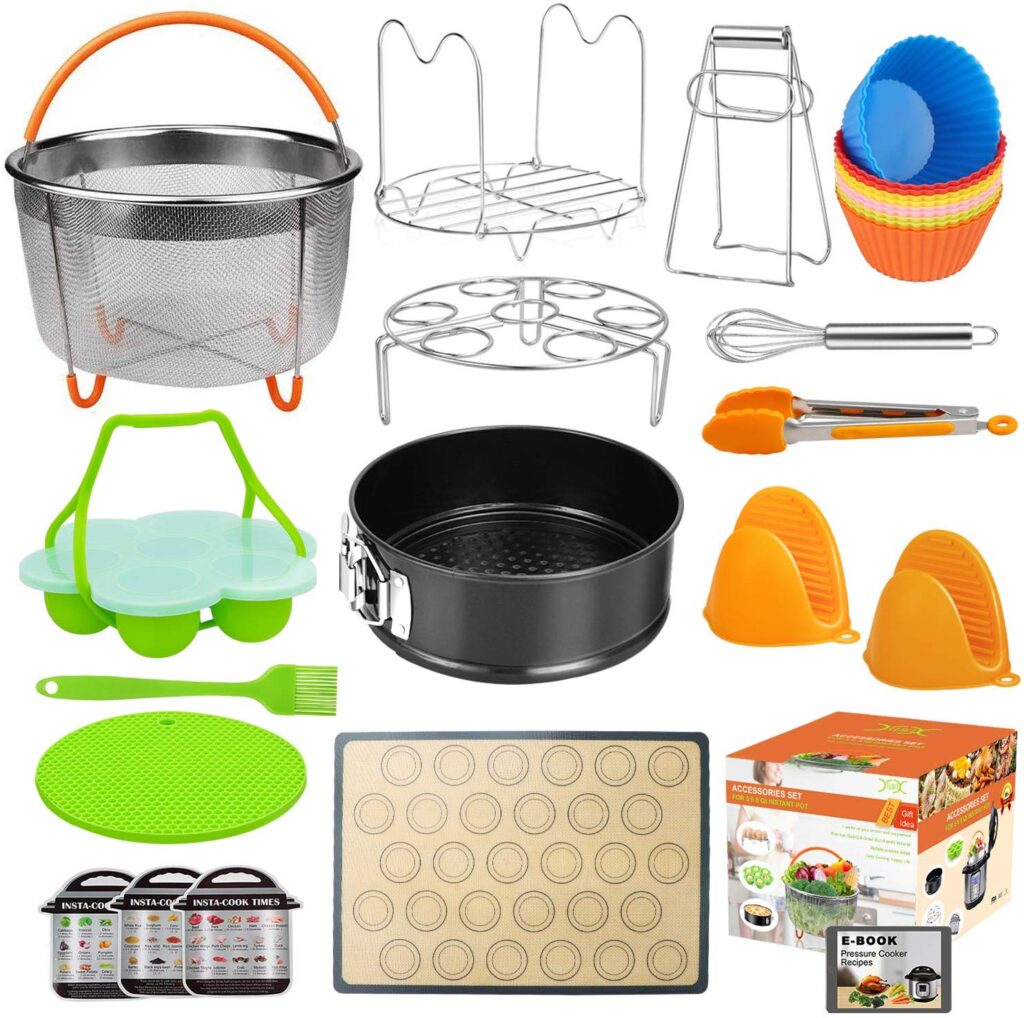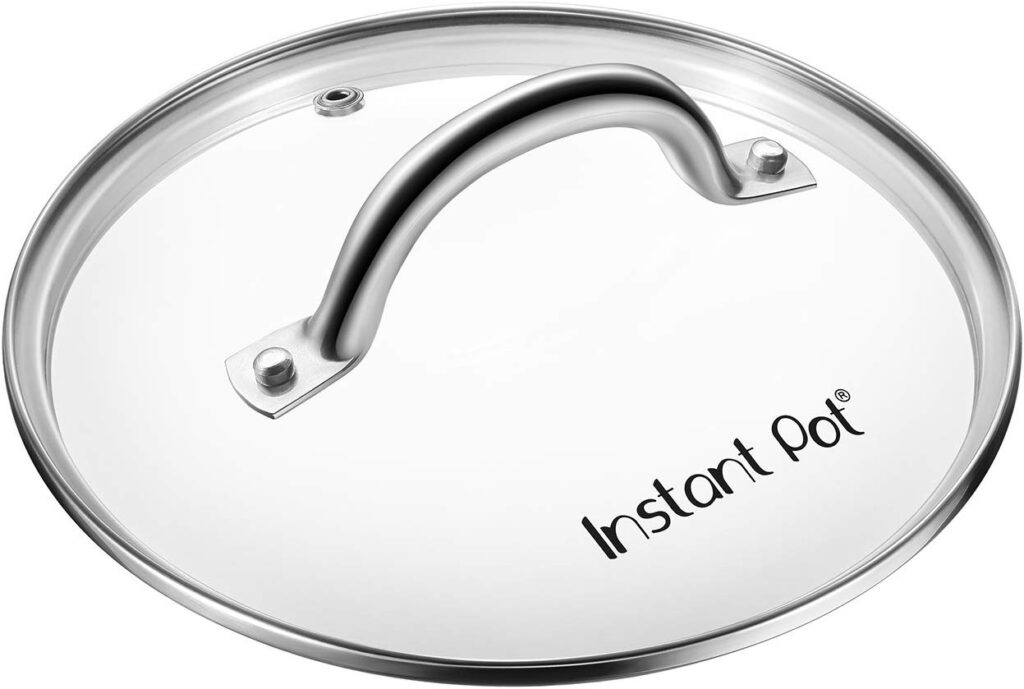 Where can I find recipes?
There are endless recipes online, so don't fret. You will always find delicious meals to cook in your Instant Pot.  
If you are feeling overwhelmed after purchasing or receiving your Instant Pot, then you can always start with the recipe book, which comes with your Instant Pot.
Can you make a whole meal?
It is possible to make an entire meal in your Instant Pot. You have options on how to do so.  
Since the Instant Pot only includes one cooking pot, if you do not purchase other pots, you will have to empty the contents out of the pot if you are making separate dishes that require different cook times.
Or, you could purchase two pots, so you don't have to clean out and then make the second dish.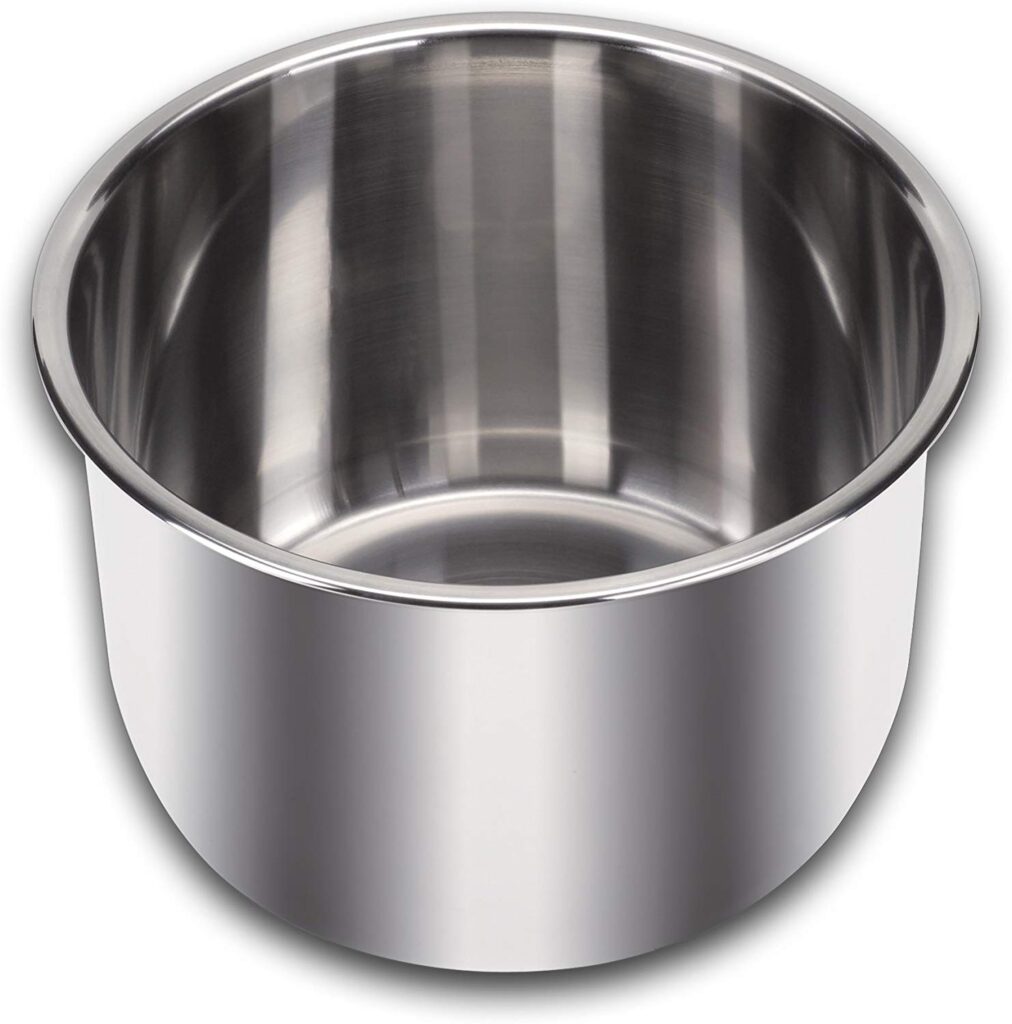 Another option, excluding dessert, you can make a meal with a side dish, such as salmon and asparagus, salmon and potatoes, and pork chops and green beans. Such as these dishes: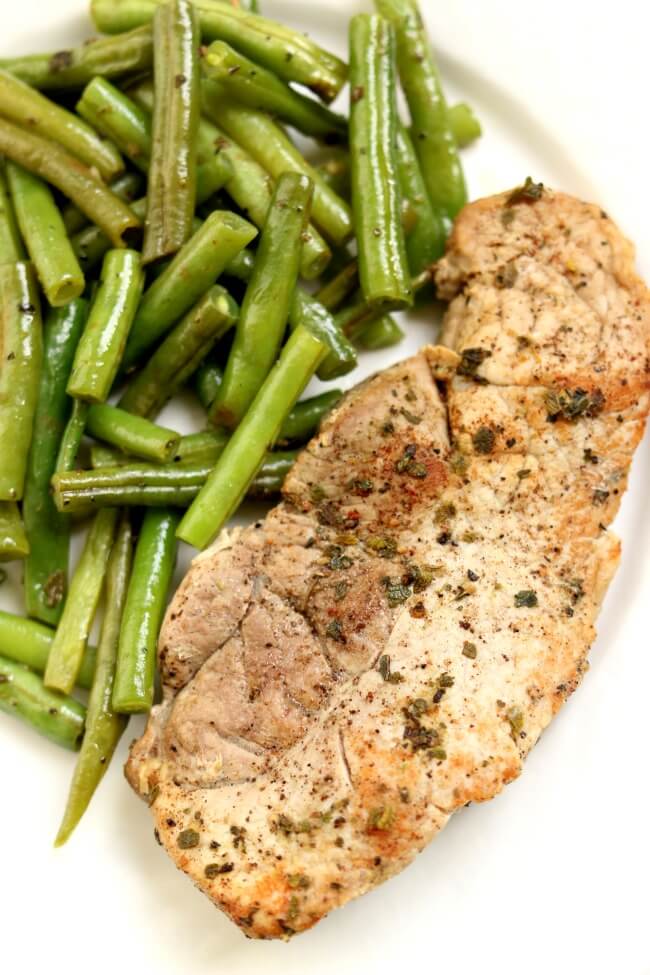 For dishes that you want to separate, you can do pot-in-pot cooking, where you would have to purchase a separate type of pot, which allows you to separate the ingredients. For example, if you are making rice and an accompanying dish, you would separate them into two different pots. Place both pots in the Instant Pot and cook.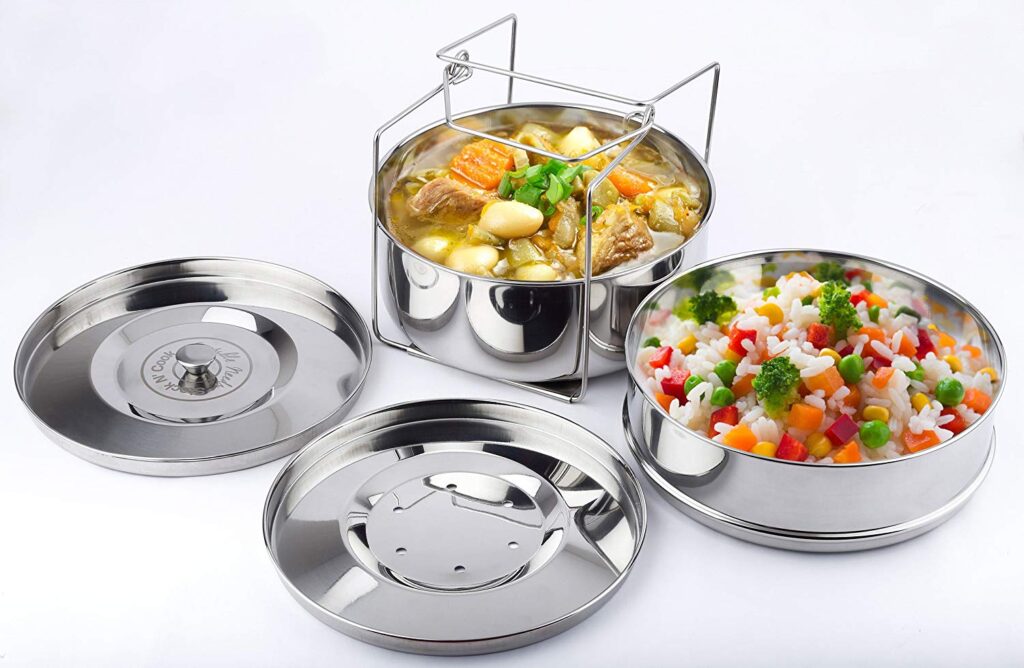 Can I make my favorite dishes using an Instant Pot?
Yes, dishes that you already enjoy making you can most likely make in the Instant Pot. There may be a bit of a learning curve with certain settings and getting used to the cook times.
As mentioned, if you do a lot of dishes where you sear your meats, just know that you will not get the same results in your instant pot.
In the beginning, you may feel overwhelmed using the Instant Pot for cooking the meals you already make at home and adjusting it to the Instant Pot.
What I recommend is that you search online for recipes similar to what you are making to get an idea of how to work with the Instant Pot.  
Also, your Instant Pot comes with recommendations on cook time for different produce. Check it out:
Do you save time cooking?
I would say overall, you are saving time when you use the Instant Pot. The idea of the Instant Pot is to cook dishes a little faster, but this is compared to the slow cooker. It was not intended solely for dishes more quickly.
What it does is it allows you to free up your hands and time by allowing it to cook on its own, with minimal supervision. This enables you to do other things with your time.
Many of the dishes you already make, the Instant Pot may not save much more time, but, it will save time since it will heat up faster and retain the heat, due to the double insulated walls.
There is less heat loss, which allows your dish to cook slightly faster than on the stovetop in pots.
There are also plenty of meals in which you place all the ingredients in the pot and set it to cook. I have come across many dishes, where much of the prep is opening cans, and jars, maybe only cutting up some onions and garlic, and you'll be able to make a delicious meal by mixing them up in your Instant Pot to cook on their own.
How to clean and maintain the Instant Pot?
Cleaning the Instant Pot is easy to do. What I do, is once my dish has finished cooking, I remove the cooking pot out of the Instant Pot if I'm not keeping it warm.  
Doing this ensures that when we scoop out the meal from the pot, it does not spill on the rim of the Instant Pot and therefore makes it easier to clean.
Once the contents are out of the inner pot, after mealtime, I soak the pot with hot water and liquid dawn soap. Then, I easily wash out the food debris.
I find that once you get comfortable with the settings on your Instant Pot, there is less chance of food contents burning and getting stuck at the bottom of the pot, which makes it easy to clean.
Then I wipe the Instant Pot down in case there is some food residue or fingerprint marks on it.
Aside from cleaning it, you should also maintain your Instant Pot, if you want it to last a very long time.
Is it healthier?
At the end of the day, you control what ingredients go into your meals. So, this has to be considered in what you make as a healthy meal in your Instant Pot.
You can say that it is a healthier option to cook with the Instant Pot since most meals you are cooking will not be deep-fried in cooking oil.
It retains the vitamins and nutrients; because of pressure cooking your meals, it retains up to 90% of those water-soluble vitamins.
Since the Instant Pot has an airtight seal, it preserves the color of the food and keeps its flavor compared to cooking on the stove where the food is exposed to oxygen, and there is heat loss, even if you have a lid on your stovetop cookware.
Because the Instant Pot allows the water to boil higher than 100°C (212°F), it destroys harmful bacteria. This means that it is good to use as a sterilization tool for jars or baby bottles, or for treating water.
Is the Instant Pot Safe?
Compared to the pressure cookers many many years ago, today's technology of the pressure cooker is much safer.
The Instant Pot is also much safer and has a few extra features, which makes them safer than a conventional pressure cooker.
The Instant Pot is double-wall insulated so that you can touch the outer pot, and it is not hot; therefore, you don't have to worry about burning yourself.  
Please make sure not to touch the lid around the rim, especially around the valve where the steam is coming out. Always use the handle, as it is safe to touch.
The Instant Pot has a suitable locking mechanism, so the pressure will only build put in the pot if it is properly sealed tight, in the lock position.
You will not be able to open it when the pressure is high inside of the pot, and this is another great safety feature.
Of course, you must still take precautions when using the Instant Pot and follow the documented safety advice when using it.
Some tips for using this Instant Pot to ensure safety:
Don't overfill past the max line
Use enough liquid, a minimum of one cup
Don't use it to deep fry/pressure fry
Be careful when using a manual release, not to leave your fingers too close to the valve
Don't put your face near the valve
Don't force open the lid when it is not ready to be opened
Replace the silicone ring when necessary
The Instant Pot design provides 10 safety mechanisms:
Instant Pot® is designed with 10 Safety Mechanisms to eliminate many common errors, which may cause harm or spoil food. The following Safety Mechanisms apply to Lux 6-in-1, Duo 7-in-1, Duo Plus 9-in-1, and Smart Bluetooth.
Steam Release – Releases excess pressure by venting steam through the steam release valve/handle.

Anti-Block Shield – A stainless steel cover that prevents food particles from entering the steam release pipe, reducing the risk of blockages.

Safety Lid Lock – When the cooker is pressurized, the lid will automatically lock to prevent opening the cooker. Do not attempt to force the lid open while the cooker is pressurized.

Lid Position Detection – If the lid is not in a safe position for pressure cooking, the cooker will not allow cooking to begin.

Automatic Temperature Control – Regulates heating to ensure the inner pot remains within a safe temperature range, based on the program.

Overheat (Burn) Protection – Overheating may occur if:
 • After Sautéing, the inner pot has not been deglazed— food is stuck to the bottom
 • The pressure cooker is being operated without sufficient cooking liquid
 • The inner pot is not making full contact with the heating element
 • The inner pot encounters a heat distribution issue, such as when starch accumulates on the bottom of the inner pot.
 The cooker will reduce the risk of burning food by lowering the heat output.
7. Automatic Pressure Control – Maintains working pressure levels. Suspends heating if pressure exceeds pressure level limits.
8. Electrical fuse – Cuts off power if the electrical current exceeds safety limits.
9. Thermal Fuse – Cuts off power if the internal temperature exceeds safety limits.
10. Leaky Lid Detection – If there is steam leakage from the lid (such as the sealing ring not installed or steam release handles being in "Venting" and not "Sealing" position), the cooker will not pressurize. Loss of steam may cause food to burn. The cooker monitors the pre-heating time and lowers heat output if working pressure is not reached within 40 minutes.
Manual and natural pressure release?
There are three ways to release the pressure in the Instant Pot once cooking is complete.
You can manually release the pressure by pushing the value release button away.
You can allow for a natural release when the food cooks. All you do is leave it alone, and the pressure will naturally decrease on its own, this can take 10-30 minutes depending on the dish you made in your instant pot.
Finally, you can do a combination of both, where you allow the pressure to release naturally. Then after about 10 minutes, you can manually push the valve to release the rest of the pressure.
Instant Pot Tips
Aside from the safety tips listed, there are a few other tips for you to know before using your Instant Pot for the first time.
Read the manual
I highly recommend that you read the manual; this will give you confidence in using the Instant Pot. There is a bit of a learning curve, especially if this is a new way of cooking for you. But the other functions may be familiar, such as the rice cooker option and slow cooking.
Keep the chart handy
Your instant pot comes with a convenient chart, which is a great guide for you to use when cooking. It tells you the cooking times.
Be patient
There are many recipes out there that claim that they offer the perfect timing for cooking, and while most of them are pretty accurate, you have to be a little cautious.
The reason is cooking depends on the cut of the meat. For example, if you have a thick cut of salmon, this will require more cooking time than a recipe calls for. So, don't blame the recipe; not everything is always going to turn out perfect. 
It's like cooking for the first time, and you will learn as you go. It's a quick learning curve, you will be able to get the hang of your cook times, and honestly, they don't vary too often from the recipe, maybe just a minute or two.
Register your Instant Pot
Make sure to register your instant pot once you receive it, you will have a warranty for 1 year.
Check out the online community
The Instant Pot is a big movement, and if you need some advice, there is a huge community of people willing to share their experiences and tips with you.
What do the buttons mean/do?
Plus and Minus:
In your Instant Pot, there are two buttons, and they are the plus and minus buttons. These are the most important buttons because you can change the cooking time and the amount of pressure you want to cook with (Low or High Pressure).  
You could cook many dishes, and you don't necessarily need the Instant Pot with all the button pre-sets. These are the two buttons that will allow you to cook all those other dishes even if your Instant Pot doesn't come with those preset buttons.
Rice
This function is what makes your Instant Pot a rice cooker. Simply put the amount of desired rice and water level, you can use the cheat sheet Instant Pot provides you, and push this button to make perfect rice each time.
Multi-grain
There are some Instant Pots in which the multigrain setting is a different button from the rice setting. You use this if you are cooking brown rice or wild rice.
You can cook rice in this setting, but it may not end up being the desired texture, so make sure you use your plus/minus buttons again.
If you don't have the multi-grain option, you can also use the standard rice setting and adjust your settings accordingly.
Soup/Broth, Meat/Stew, and Chilli
You can find pre-sets in many of the Instant Pots, and they are pretty self-explanatory. They are great buttons for people that like to set and forget.  
You can make your dish a little more customizable depending on what you are looking for by pressing those plus and minus buttons.
Poultry
The poultry setting is only in a couple of Instant Pots and will cook any bird you put in it really well. Keep in mind the size of the bird, and adjust for more cooking time if necessary.
Porridge
You can use this porridge setting for regular porridge, oatmeal, congee, rice, and beans, but you will have to play around with the cooking time, depending on what you are making.
Steam
The steam mode is perfect for steaming fish and seafood. If you are going to cook vegetables, select the less mode, and if you want to steam meat, use the more mode.
Sauté
The sauté function is like using a pan on your stovetop. You can use this to brown your meat, and precook some vegetables so you can enhance the flavor in your stews, soups, and chilis.  
You can use this to stir fry and even thicken your sauce to make a delicious gravy.
Pressure Cook
The pressure cook option is what turns your Instant Pot into a pressure cooker. Cooking with this allows you to cook foods faster than other methods, and makes your meats tender and juicy.
Once your ingredients are in your pot, close the lid and select this option. You can change the pressure setting to low or high and also use the plus/minus button(s) to choose the amount of time you want to cook it.
Slow cook
If you were hesitant about getting the Instant Pot because you love your slow cooker, well, don't fret, as the Instant Pot also does slow cooking.  
Slow cooking allows you to cook your meals slower, and in a real set it and forget it so that you can have your meal cooking throughout the day, and when you come home from work, your meal is ready for you to eat and serve.
Yogurt
Unfortunately, this one button does not allow you to set it and forget it. You do have a little work to do when making yogurt.
You need to first pasteurize your milk by pressing yogurt to the more mode and then press the yogurt button to ferment the milk.
Delay Start
Being able to delay the start of your cooking is a great option to have. Life sometimes likes to throw things at you.
You think you're ready to make your meal, but something comes up.
It's okay, all you have to do is hit the delay start button, set the amount of time you want to delay your cooking by, and the Instant Pot will start cooking once the timer is done.
You don't have to stop your cooking, you can do what you need to do, and then when you're done, your meal is ready for you.
Keep warm
Although there is an option for keeping food warm, you will typically not need to hit the button, after your meal is finished cooking, it automatically goes into keep warm mode (except yogurt or sauté mode). You can use this option if you want to set a specific time you want to keep your food warm.
Sterilize
Some Instant Pots have this sterilization option, and it is used to sterilize baby bottles, utensils, and canning jars. Put some water in your Instant pot, and put your bottles in there, and hit the sterilize option.
Another great feature about the Instant Pot is that it remembers your last settings. For meals that you make regularly, there is less work for you to do and remember, all you have to do is select that previous button you used, and it's ready to go.
The downsides to Instant Pot
The Instant Pot is not designed for deep frying. You may be able to do a little shallow frying, using the sauté function, but it is not meant for stir-frying or deep frying. 
You will have soggy vegetables if you try to stir-fry your veggies in your instant pot.
If you enjoy deep-fried foods, you may consider an alternative, such as air-frying. If you do not have the Instant Pot Air Fryer, then an alternative is using an add-on accessory created by Mealthy, which allows you to turn any pot into an Air Fryer. 
For those who like a great sear on their meat dishes, and steaks, The Instant Pot will not do this.
And although you can make a cake in the Instant pot, you will not be able to bake any cookies.
Since the pot is a bit taller, it may be challenging for you to see what's inside, if let's say you are sautéing and want to see if your food has browned enough. 
I have a little foldable stool I use to peer into the pot when I need to see what's going on. This is such a lifesaver! 
The first few dishes may not be as perfect as you imagine, but I believe that you'll be able to get the hang of it after a couple of tries.
Typically you'll see them go on sale during Black Friday, the holiday season, but you can keep an eye out on Amazon or other retailers, I'm sure you'll be able to find one at a reasonable price.
Be sure to make room on your countertop. If you're like me, the Instant Pot will become one of your main cooking appliances.
Although it replaces many appliances and offers many ways of cooking plenty of meals, it doesn't do every kind of cooking. If you enjoy a nice seared steak or fried foods, you will not get those dishes made in your Instant Pot.
Other multi-cooker brands
There are other brands out there, which are also multi-functioning pots. Here are a few:
Crock-Pot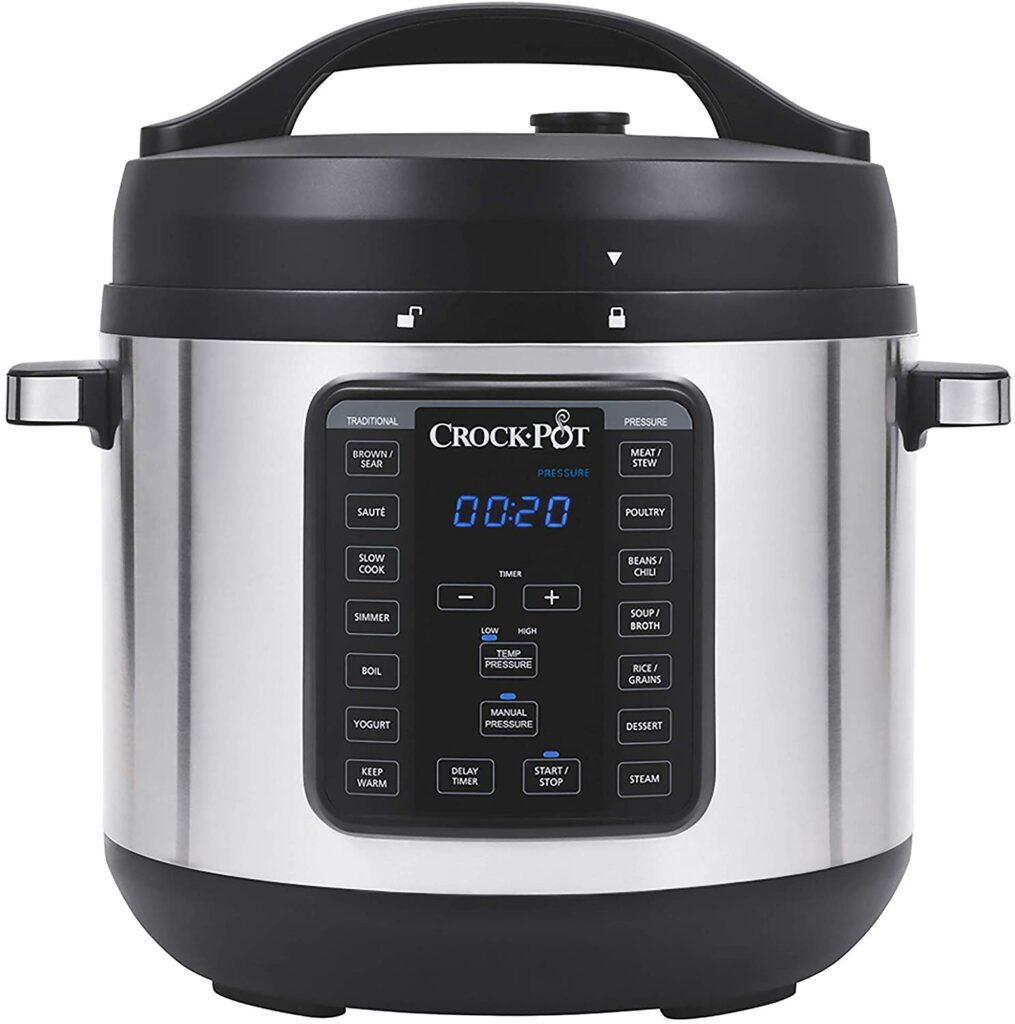 Mealthy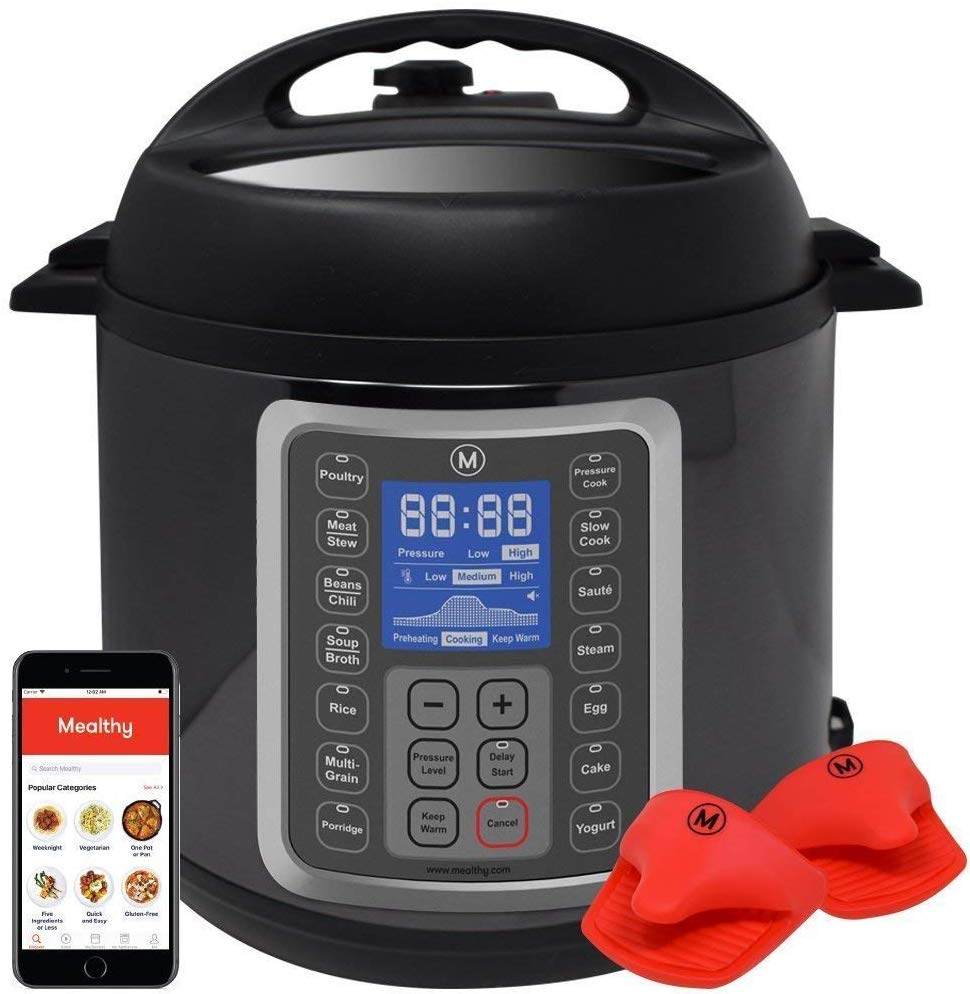 Breville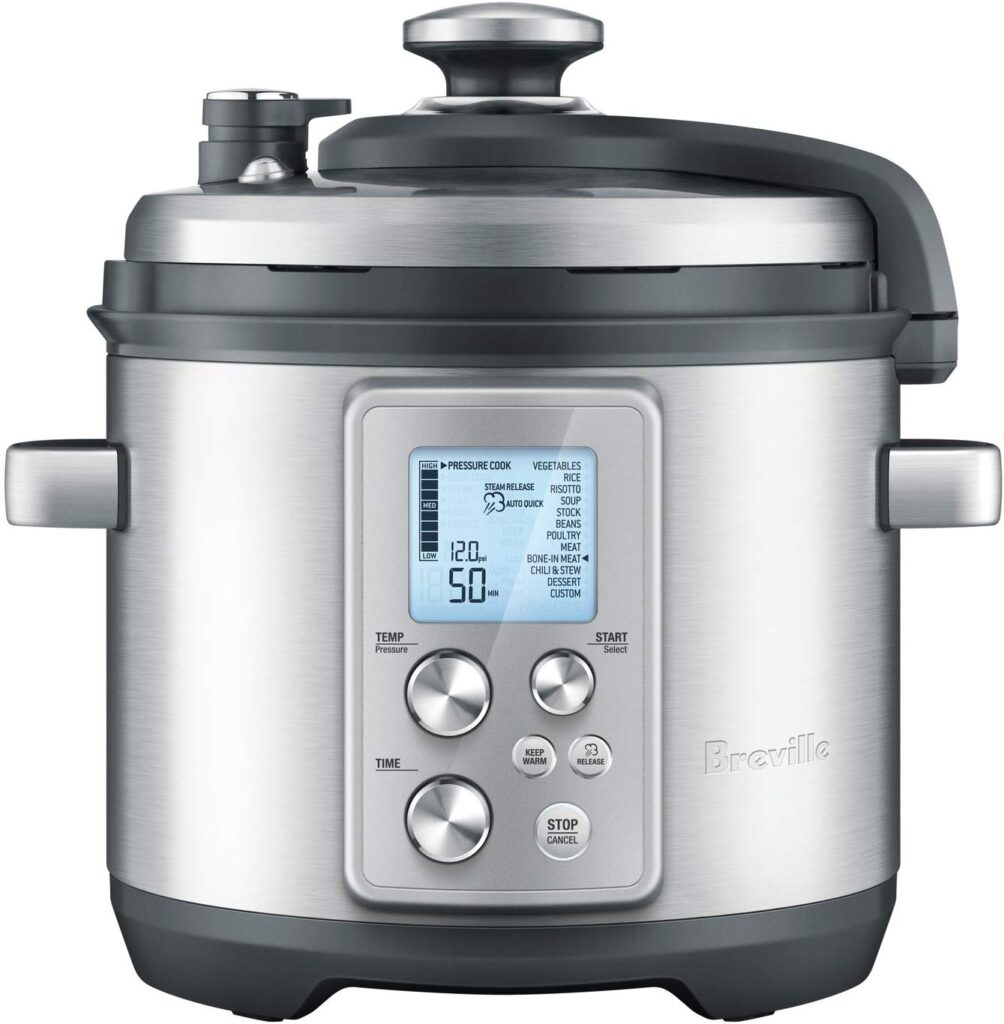 Ninja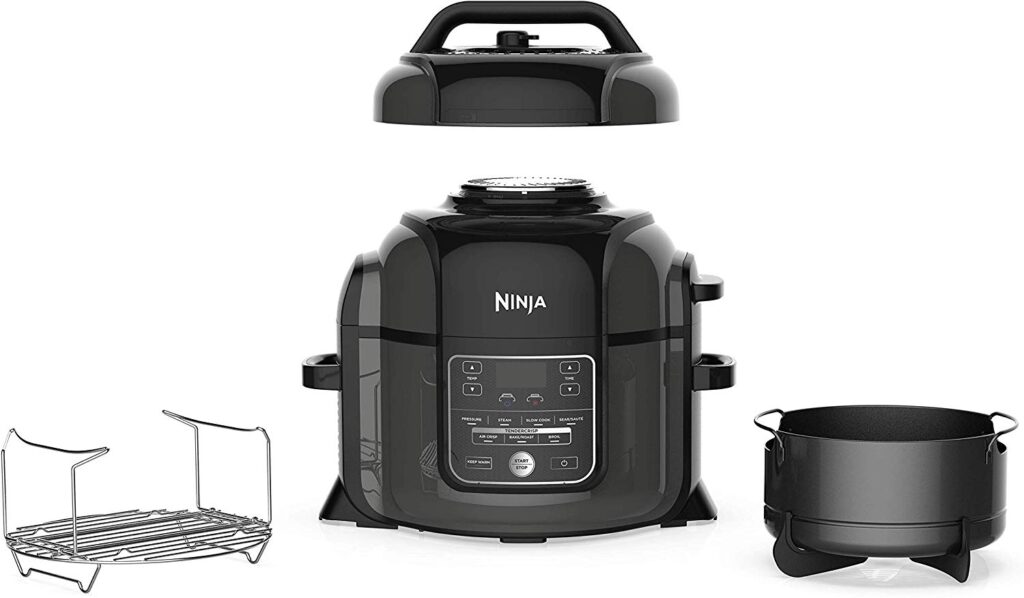 Conclusion
Honestly, I don't think you can go wrong with any Instant Pot you decide to purchase or use. If you are someone who likes to weigh all your options, then I hope you found the information I provided helpful.
There are some things you should know and learn when first using your Instant Pot, but overall, I think it's pretty easy to use from the jump!
Although it is really cool that they provide us with many different models and options, it can be confusing for many of us.
If you have any doubt, go back to the section about which model is right for you, and I am sure you'll be happy with the decision you make.
Don't forget to join the community of like-minded users and check out all the different recipes either online or in the many Instant Pot cookbooks out there.
Happy Instant-Potting!