Are you living more than 2,000 feet above sea level or higher? Or are you thinking of going camping in the mountains and taking some cooking supplies and your Instant Pot along? Well, this article will provide you all you need to know about high altitude cooking in an Instant Pot.
An Instant Pot works by building pressure and raising the temperature on the inside of the pot. 
As the temperature rises, the cooker locks in the steam that resulted from boiling the cooking liquid. 
How do high altitudes affect this process? At high altitudes, the air pressure is lower; therefore, the boiling point of water is lowered. 
With this being so, there are some things that you must take into consideration when operating your Instant Pot at higher altitudes. 
Unfortunately, at higher altitudes, your Instant Pot will not prepare your favorite dish at the same speed it would if you were cooking at 2,000 ft and below. 
Let's discuss how exactly high altitudes affect your cooking and some adjustments that are necessary when cooking at higher altitudes.
How Does Altitude Affect Cooking?
Many people living at higher altitudes will admit that their more culinary-inclined colleagues have recommended that they get a pressure cooker such as the Instant Pot. The question is, how does being at a higher altitude really affect cooking?
Well, as mentioned earlier, at a higher altitude (beyond 2,000 ft.), the thin air does not have as much atmospheric pressure, oxygen, or as much moisture. This results in longer cooking time for all your recipes containing water.
The majority of the cooking we do is about controlling water in its various states. There is water in most of the foods we eat. Even popcorn, which visually looks dry, has a small amount of water in the center of the kernel. 
The oil and water embedded within its hard inner shell heats up and allows the kernel to pop into the off-white puffy delicious treat, which we know and love. 
Liquids evaporate more quickly from your food at High-Altitudes. In addition to this, gases tend to expand more rapidly at high altitude. The popular book, New High-Altitude Cooking by Beverly Anderson, shares that "cooking time under pressure should be increased by 5 percent for every 1,000 feet after 2,000 feet above sea level."
Pressure Cooker High-Altitude Cooking Time Adjustments
Altitude
Normal Cooking Time (mins)
Cooking Time Adjustment
High Altitude Cooking Time
(mins)
3,000 ft
30
5%
31.5
4,000 ft
30
10%
33
5,000 ft
30
15%
35.5
6,000 ft
30
20%
36
7,000 ft
30
25%
37.5
8,000 ft
30
30%
39
9,000 ft
30
35%
40.5
10,000 ft
30
40%
42
Beverly Anderson also shares that there are other things that must be taken into consideration when calculating high altitude cooking time adjustments. The additional factors include the type of meat and the size and age of the vegetables being prepared. 
A one to two-minute increase in cooking times is usually sufficient for most vegetables, except for dense roots such as potatoes, beets, and the like. At an altitude of 5,000 feet, these require an additional 5 minutes of cooking time." 
Formula for Calculating High-Altitude Cooking Time in Your Instant Pot
While Anderson points out that there are several factors to consider, on average, you will need to increase pressure cooking time by 5% for every 1,000 feet above 2,000 feet of elevation.
As an example, let's say the altitude where you live is 6,000 feet. If your favorite recipe typically requires 30 minutes of cooking time in an instant pot, you will need to look at the above chart, find the percentage increase, and do the calculation. According to the chart, you will need to increase your cooking time of 30 minutes by 20% at 6,000 feet. Here's the calculation:
30 x 1.2 = 36 minutes
Since liquids evaporate more quickly at high-altitude
it is recommended to add water to your dish. 
According to Jacob Burton, a professional chef adding 1 – 2 tablespoons of water to your receipt at the 3000 ft level of elevation. Percentage-wise that works out to 3% additional water. 
For every 1000 ft increase above 3000 ft 
Keep in mind the additional water recommendation above is a starting point. You may need to adjust how much water you need depending on the type of food you're making. 
Instant Pot Ultra and Max for High Altitude Cooking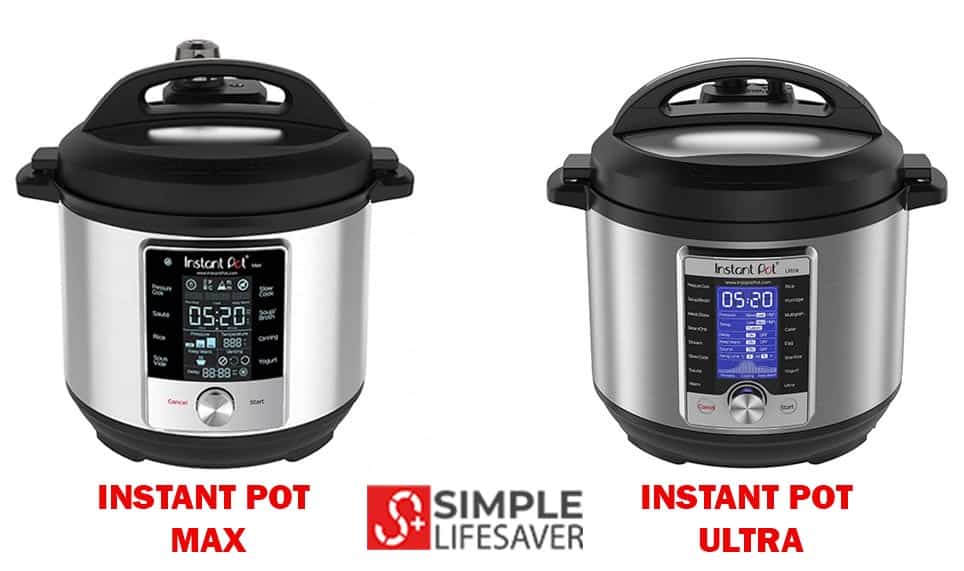 Now, let's discuss how to adjust your instant pot ultra and max models for automatic altitude adjustment. 
These two Instant Pot models come equipped with an altitude setting. 
This setting permits you to input your current altitude, and the cooker will automatically adjust cooking times. 
This is extremely helpful and will save you from having to do the calculations manually.
Here's how it's done:
Place your Instant Pot cooker in 'Standby' mode by pressing the 'Cancel' button
Squeeze the central dial until you hear your Instant Pot beep and go into the system-level settings change mode
Rotate the central dial to 'Alt' and press select to rotate to your altitude. The models will give you the opportunity to choose whether you are entering the numbers in feet or meters.
After determining which measurement you will be using, press the dial and go into 'Altitude Adjustment Mode, then press the 'Start' key on your Instant Pot to save the changes and exit. 
Changing Altitude setting on Instant Pot [Video]
Please note that you will only need to set the altitude once. These Instant Pot models will apply the altitude adjustment to all cooking modes such as soup/broth, meat/stew, and the others. 
There will be no blatant indicator on the Instant Pot Ultra or Max that it has been adjusted for a higher altitude, but you will notice a change in the length of time of each cooking mode.
Bear all of this in mind when you are using your Instant Pot at high altitudes. Yes, you will still get to cook all your favorite meals. 
No, your family will not be deprived of those tasty, mouthwatering dishes. 
As long as you consider the adjustments needed for your altitude, you will have no issues cooking. 
It will take a little longer, but the time difference isn't uncomfortably large.
The next time you cook, simply use the chart above as a guide, make the calculations and then make the requisite adjustment to your cooking time. 
You could also consider purchasing an Instant Pot Ultra or an Instant Pot Max. 
Since these models allow for an attitude adjustment, they can be quite convenient to use. They will save you the time that you would typically spend calculating the different cooking times based on your altitude. 
This information will ensure that your next high-altitude cooking session will be without frustration or confusion. Happy cooking!